As an Amazon Associate we earn from qualifying purchases.
Two years ago, I was invited to a potluck for Thanksgiving up in San Francisco. At the time, I was really on a gnocchi kick, and I really wanted to make a dish that included this. I ended up going a bit overboard and made around 200 butternut squash gnocchi dumplings!
Luckily, they were a huge hit both at the potluck and my family dinner the next night, so I ended up with no leftovers. 
Ever since then, I've wanted to revisit this recipe and actually formalize it so I could make these delicious butternut squash gnocchis for years to come. 
What are Butternut Squash Gnocchi?
Gnocchi are Italian dumplings made from potato and flour. Butternut squash gnocchi takes the potato and substitutes it out for butternut squash. The end result is a little denser since squash doesn't have the same texture as a potato does, but the taste is much more sophisticated.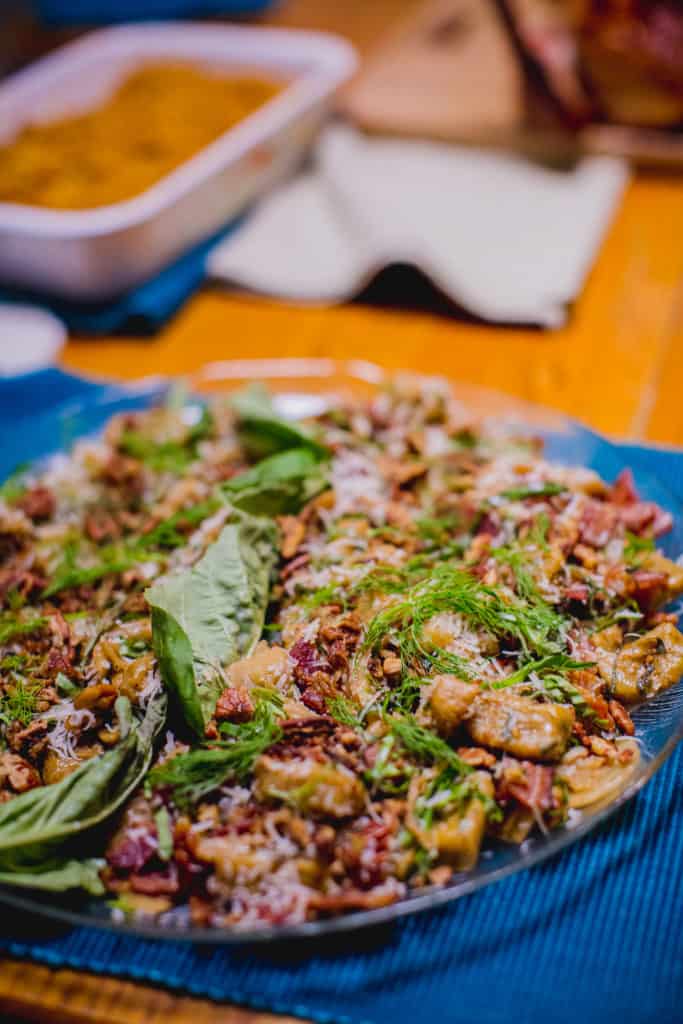 My Approach to Butternut Squash Gnocchi
Since I was really looking to make a season dish, I went with butternut squash. It is a very fall and winter-friendly gourd with a slight sweetness and orange color. Cooking it down, I incorporated baking spices like cinnamon, nutmeg, and cloves. This added a lot of complexity to the flavor profile. 
For the dish overall, I skipped a sauce and served it up with caramelized fennel, bacon, brown butter sage, spiced candied pecans, basil, and fresh Parmesan. For my family, I did make half of the dish vegetarian-friendly, so I'll mark what steps to change if you are looking for a veg-friendly version.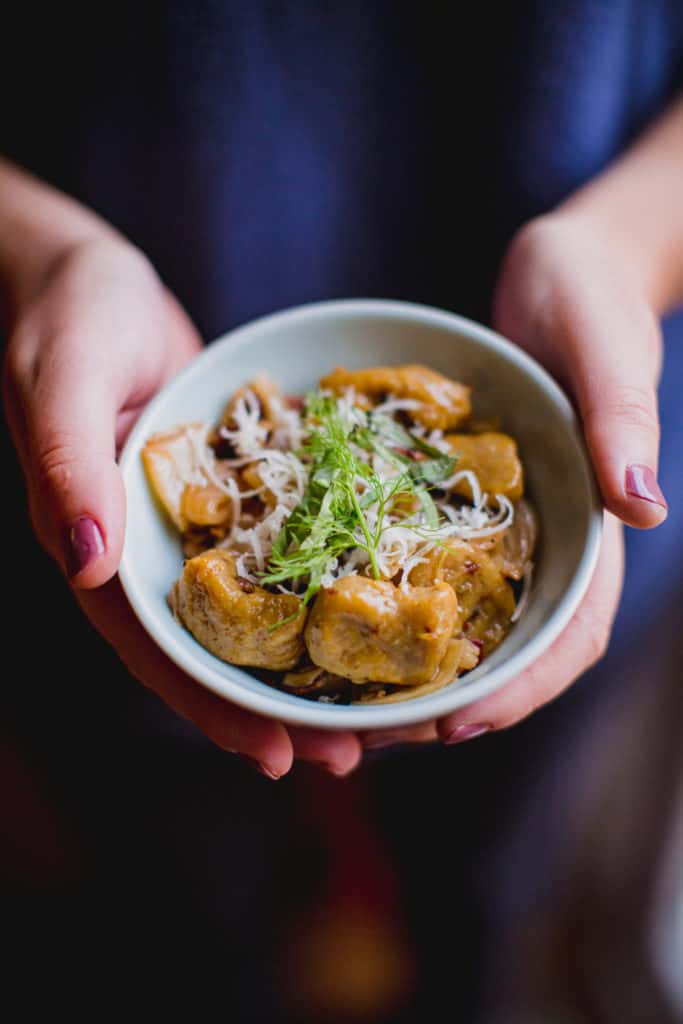 Developing Flavors
This is definitely one of the more complex dishes on this site so I wanted to breakdown why I chose the specific ingredients I did:
Cinnamon, nutmeg, clove: I wanted to accentuate the sweeter flavor profile of the squash compared to the potato. Additionally, these spices are heavily associated with fall and winter. 
Caramelized Fennel: Fennel as a licorice flavor, and when cooked down, it has a texture similar to an onion. This adds complexity and sweetness to the dish. 
Bacon: The bacon bits are there to be bright bombs of smoky and salty flavor. They contrast the sweet, neutral, and fresh flavors of the rest of the dish. 
Brown butter sage: This has a very savory, salty, bitter, nutty aromatic quality. Most of the flavors are fat-soluble as well, so this works well as a consistent glue tying flavors together. Also, since this dish has so many things going on, covering it with a traditional sauce would mask the flavors.  
Spiced candied pecans: I have considered switching this to walnuts, as pecans are a very sweet nut, but it definitely adds to the winter feel of the dish. If you prefer something a little less sweet, go with walnuts.
Basil: You want some fresh, sweet notes as well. This dish is heavy so the basil will perk it up and make it taste a bit lighter. 
Fresh fennel: This also helps to add some lightness to the dish, and it also ties in the caramelized fennel. 
Parmesan cheese: This is salty, fruity, and rich, which is everything I want this dish to be. 
Pairing Ideas
This is the consomme of side dishes. I made this dish to be a side because you only need a tiny bit of it to be satisfied. You could very easily replace an entire main course with this dish, as it is very hearty. That said, bring on any ham, roast, or turkey and this will go great on the side.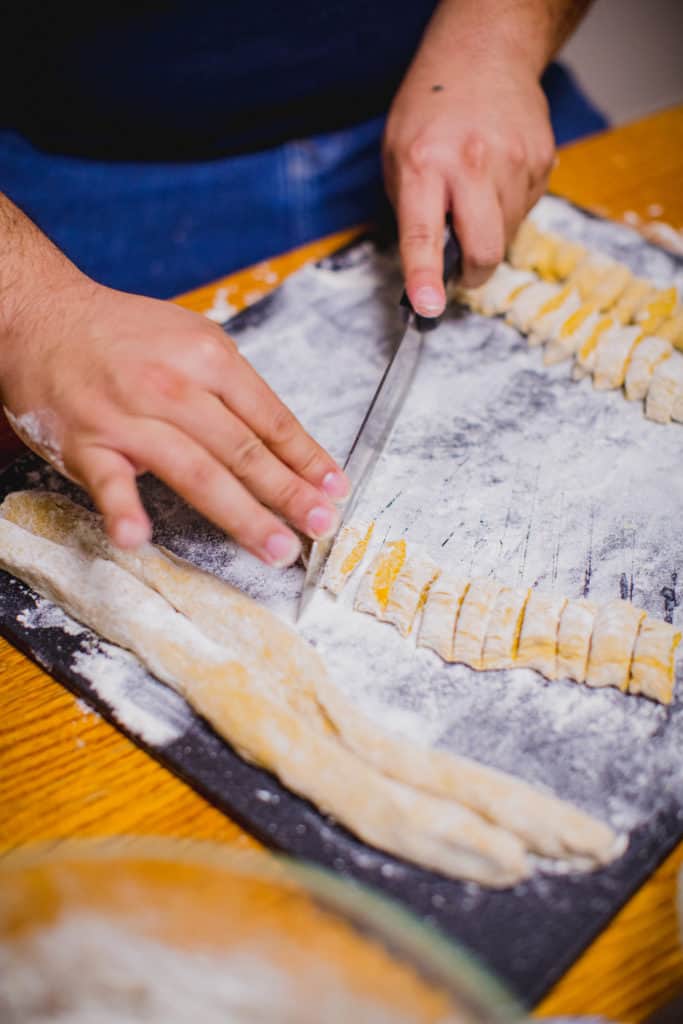 Tools Required
This recipe will make about 100 gnocchi dumplings. If you are making this as a side dish, this will create about 15 servings. As an entree, this will make 4-6 servings. Either way, the dumplings work well as leftovers if you don't finish them all right away. 
You will need the following tools for making your gnocchi:
1 large mixing bowl to make the dough
1 cutting board for cutting veg and rolling the dumplings 
1 baking sheet for the spiced pecans
1 large pan to roast butternut squash, fennel, and bacon, a rondeau pan can work well for this recipe
1 wooden spoon or potato masher to smash the squash
1 small saucepan to brown the butter and fry the sage
1 large casserole dish or plate to put them (again this recipe makes about 100 pieces)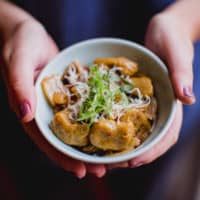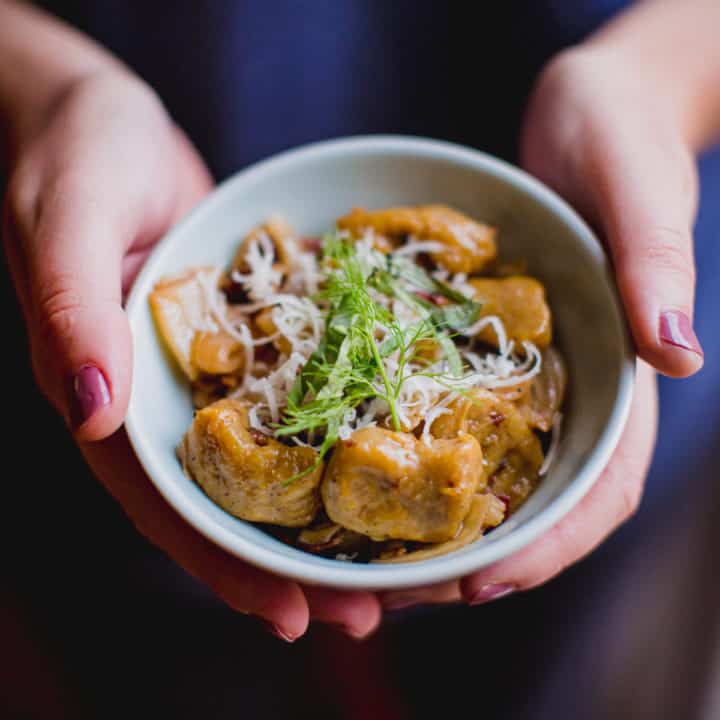 Ingredients
Gnocchi Dumplings
2

tablespoons

olive oil

1

pound

butternut squash

1

teaspoon

cinnamon

1

teaspoon

nutmeg

1

teaspoon

clove

2.5

cups

flour
Toppings
2

tablespoon

butter

5

leaves

sage

1

pound

applewood smoked bacon

1

large fennel

1

bunch basil

2

ounces

parmesan

Black pepper to taste
Spiced Pecans
1

cup

pecan

1

tablespoon

cinnamon

1

tablespoon

white sugar

1

tablespoon

brown sugar
Instructions
Prepare the ingredients
Wash and dry all vegetables and set aside

Cube the squash by doing the following:  Cut the top and bottom off, cut the neck off, cut the skin off (saving as much meat as possible), cut in half the long way and remove seeds, and then cut into 1 inch cubes. Set aside until cook time.

Slice the fennel. Cut off the green parts and set aside for the topping. Then, cut off the bottom, as it is very hard. Slice the rest very thinly like an onion, and set aside until cook time.

Slice sage. You want tiny little strips, so cut the short way across the leaves about 1/6 an inch thick. Set aside until cook time.

Grate cheese and set aside until needed for the topping 

Toss the pecans with the cinnamon and sugars in a bowl (you can use the bowl you will later use for your dough)

Place the spiced pecans on a baking sheet and place in the oven for 7 minutes. Watch carefully to ensure it does not burn (pecans burn really fast, if you see them going dark brown pull it out). Set aside for topping later

Prep the meat (skip this for vegetarian version). Cut the bacon into quarter inch strips, and set aside until cook time. 

Wash your board with soap and hot water and let it dry. You will need the board later to roll the gnocchi. 
Make the gnocchi
In a large sauté pan, heat olive oil on medium and add squash, cinnamon, nutmeg, and clove

Once squash can be cut easily with a fork you can add them to the mixing bowl.

Mix squash with a potato masher or wooden spoon until it resembles paste

Let mixture cool, since you'll be using your hands in the next step

Add flour to mixing bowl and mix to combine (do not mix heavily – we do not want gluten to form) 

Once combined, use your hands to form it into a ball and then a cylinder

Flour your cutting board 

Tear the cylinder into 4 pieces, this will make it easier to roll out

Roll each cylinder until it is about as thin as your thumb

Using your knife, cut pieces off the cylinder, about ½ inch long

Optional but traditional: use the tines of a fork and press 1/4th of the way into each top to give them little ridges
Cook the bacon (skip this for vegetarian option)
Add bacon to sauté pan and cook on medium. We want the fat to render since we're going to use it.

Remove bacon and set aside, leaving the fat in pan 

Cook the fennel in the bacon fat (use olive oil for vegetarian version) 

Add fennel to the bacon fat (or oil) and cook on medium high until soft 

Add to bacon and set aside until topping (just set to side for vegetarian version)
Cook the gnocchi
Bring a large stock pot to boil 

Boil gnocchi in batches, about 7 minutes a batch (do a taste test – they should NOT taste like raw flour if cooked through)

Drain gnocchi and add to serving dish 
Make the brown butter sage 
Add butter to a small saucepan and cook on medium high until it starts to turn brown (about 5-10 minutes) 

Add sage in and remove from heat (the butter will fry the sage) 

Set aside for topping
Add the toppings
Add bacon fennel mixture, butter sage mix, and half the pecans to the gnocchi and mix

Add the parmesan on top and do not mix

Add the remaining pecans and do not mix 

Chiffonade (ribbon cut) the basil and top the dish with it. To chiffonade, stack the leaves together, roll them up tight, and slice thinly to create ribbons 

Tear the the soft green fennel (that looks like dill) and top the dish 

Crack some black pepper to taste

Serve
Nutrition
Calories:
1198
kcal
|
Carbohydrates:
91
g
|
Protein:
32
g
|
Fat:
80
g
|
Saturated Fat:
24
g
|
Polyunsaturated Fat:
14
g
|
Monounsaturated Fat:
38
g
|
Trans Fat:
0.4
g
|
Cholesterol:
100
mg
|
Sodium:
1061
mg
|
Potassium:
1085
mg
|
Fiber:
10
g
|
Sugar:
12
g
|
Vitamin A:
12488
IU
|
Vitamin C:
31
mg
|
Calcium:
318
mg
|
Iron:
6
mg
8 Beginner Cooking Tips I Wish I Had Known