As an Amazon Associate we earn from qualifying purchases.
A Rondeau pan is otherwise known as a brazier, is a perfect addition to the kitchen if you are cooking for a group or family. Stews, braises, and oven roasts all work very well in a Rondeau pan.
Top Rondeau Pan Reviews
I've reviewed the best rondeau pans that you can get and covered what I like (and don't like) about each one. If you don't want to read all of the reviews and just want to know my top pick, I like the Winwear Stainless Steel 15 Quart Brazier. It's a perfect size for families, easy to clean, and induction friendly.
Brand
Winware Stainless Steel 15 Quart Brasier with Cover
Heritage Steel 6 Quart Rondeau with Lid
Winware Stainless Steel 30 Quart Brazier with Cover
Product
Brand
Winware Stainless Steel 15 Quart Brasier with Cover
Product
Brand
Heritage Steel 6 Quart Rondeau with Lid
Product
Brand
Winware Stainless Steel 30 Quart Brazier with Cover
Product
Winware Stainless Steel 15 Quart Brasier with Cover
First on my list is the Winwear Stainless Steel 15 Quart Brazier which prides itself as heavyweight stainless steel with an encapsulated bottom. At 15 quarts, you should keep in mind this pan has dimensions of 19 x 15 x 7.75 inches on your stovetop, so it takes up a decent amount of space.
As a stainless steel product, you can cook anything in it, they clean relatively easily, and they are not too heavy to lift.
The lid of this pan is a heavy gauge stainless steel which makes it difficult for steam to escape. By extension of this, flavors are kept trapped in the pan preventing your food from drying out.
Pros
Easy to clean
Cooks meals fast
Even heat circulation
Induction friendly
Cons
Need a full size kitchen and oven to make full use of due to the size of it
Need to wash in warm soapy water before use
Heritage Steel 6 Quart Rondeau with Lid
The Heritage Steel 6 Quart Rondeau comes with varying capacities but usually has a capacity of 6 quarts. With fully clad 5 ply stainless construction, Heritage provides a premium stainless cooking experience.
The addition of titanium to the steel increases the hardness and longevity of the pan. Heritage provides a lifetime warranty for any flaws in manufacturing, as production entails both domestic and imported materials.
At 6 quarts, this is a great rondeau for families of 2-4 people and will be a great item to hand down through the years.
Pros
Cleans easily
Titanium for extra corrosion resistance
Lifetime warranty, good heirloom
Handle is heat-proof
Induction friendly
Cons
Cost is at top end for its size class at 6 quarts
Heritage Steel 6 Quart Rondeau with Lid - Titanium...
TITANIUM-STRENGTHENED: Specialty 316Ti cooking surface is strengthened with titanium for 20x...
EASY TO CLEAN: The cooking surface cooks evenly, readily releases food, and cleans easily.
5 PLY CONSTRUCTION: We use multiple layers of metal including 3 layers of aluminum for enhanced heat...
Winware Stainless Steel 30 Quart Brazier with Cover
The Winware Stainless Steel 30 Quart Brasier comes from a famous manufacturer, WINCO, which began in 1992 and has been dedicated to producing quality Kitchenware focusing on households and catering establishments.
Like the Winless Stainless Steel 15 Quart Brazier, this Rondeau Pan is of proven culinary pedigree.
At 30 quarts, this is the biggest rondeau on my list and is ready to take on any family or party meal you have. The dimensions are 24.5 x 20.5 x 8.5 inches wide, making this a 2 burner affair on the stovetop.
Keep in mind this is not even the biggest rondeau they sell! However, unless you are working in a commercial kitchen, you likely do not want one any larger than this 30 quart pan.
The Winware Stainless Steel 30 Quart Brazier is an amazing value for money for those looking to cook large quantities of food.
Pros
Great value for the size of pan
Stainless steel durability
Cons
Most likely only good for large family get togethers and parties
Should not put it in the dishwasher regularly
Mauviel Made In France M'Cook 5 Ply Stainless Steel 5.8-Quart Rondeau
Since 1830, Mauviel has been providing very great kitchenware solutions for households and foodservice providers all over the world. This Mauviel Made In France M'Cook Rondeau is designed with fully clad 5 ply stainless construction that will help distribute heat evenly over time.
The dimensions are 11 x 11 x 3.5 inches, making it a great 2-4 person unit. This French product is what you need to bring all of your culinary fantasies to fruition.
While not meant to be used in a hot oven, you could probably get away with using this in a French Door toaster oven.
Pros
Suitable for all stovetops including induction

Even heat distribution
Cons
Not meant for oven cooking more than 700°F
5 ply but on the thinner side at 2.6-2.7mm
Mauviel M'Cook 5-Ply Polished Stainless Steel...
Made in France. Mauviel is the leading cookware manufacturer for professional and household chefs...
High performance: M'COOK is a collection conceived for induction, solid and lasting. This range,...
Handles stay cool. Cast stainless steel elegant handles stay cool during use. Pouring rims on every...
Le Creuset Signature Round Wide Dutch Oven
While not marketed directly as a rondeau, the Le Creuset Signature Round Wide Dutch Oven can still be considered one. I also wanted to include a top-tier iron enamel option.
This Dutch oven is made from cast iron and coated in enamel to guard against chemical reactions and to prevent sticking. With dimensions 10 x 12.5 x 5.5 inches, you can see why this is a fitting alternative to the stainless options above. It's a bit smaller, making it easier to use in small kitchens or if you don't want to make a huge meal.
Pros
Even weight distribution
No burning and sticking
Preserves food very easily
Cons
Soft cleaning agents must be used
Should not use metal utensils on it, since it's enamel
Le Creuset Signature Round Wide 3-1/2-Quart Dutch...
Colorful, long-lasting exterior enamel resists chipping and cracking; interior enamel is engineered...
Sand-colored interior enamel makes it easy to monitor food as it cooks, preventing burning and...
Oversized handles provide even weight distribution and a secure grip
What to Look for When Purchasing a Rondeau Pan
Rondeau pans can be made of stainless steel, copper, or cast iron enamel. You are unlikely to find true Rondeaus with non-stick coating. These pans are taller than a frying pan but not as tall as a stockpot or a Dutch oven. Most will be around 5 inches tall.
| Products | Easy to clean? | Dimensions | Size | Material |
| --- | --- | --- | --- | --- |
| Winware 15 Quart | Yes | 19 x 15 x 7.75 in | 15 quarts | Stainless steel |
| Heritage Steel 6 Quart | Yes | 13.6 x 13.3 x 5.6 in | 6 quarts | Stainless steel |
| Winware 30 Quart | No | 24.5 x 20.5 x 8.5 in | 30 quarts | Stainless steel |
| Mauviel M'Cook | Yes | 11 x 11 x 3.5 in | 5.8 quarts | Stainless steel |
| Le Creuset Dutch Oven | Yes | 10 x 12.5 x 5.5 in | 3.5 quarts | Enamel |
Rondeau pans traditionally possess two loop handles and come with a lid for ease of use getting them in and out of an oven safely.
As its alternative name suggests, a Brazier, or Rondeau Pan, is usually used for searing, roasting, and braising food in the oven. Rondeaus also make great vessels for frying, simmering, and boiling.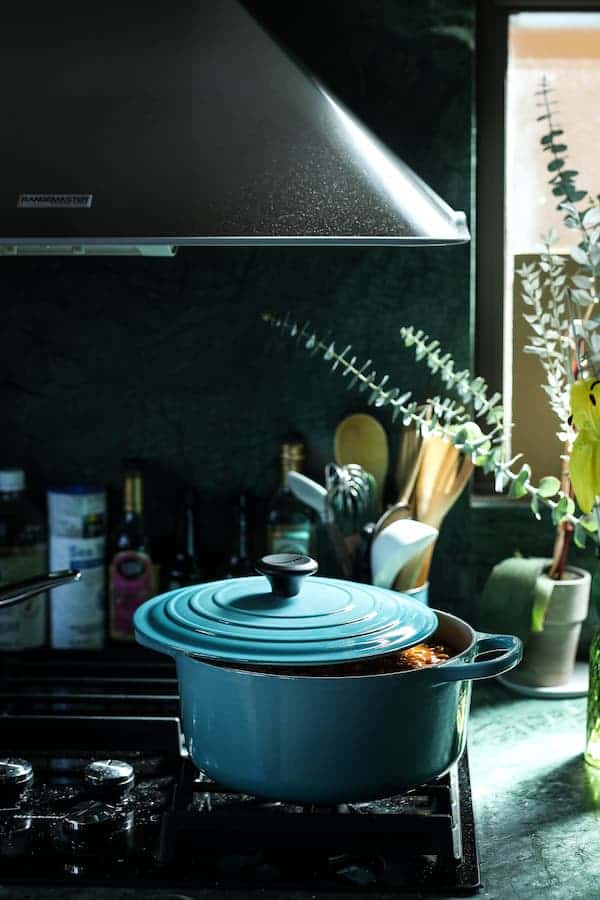 Now that you know what a Rondeau pan is and the value it can bring to your kitchen game, let's go over what to look for in purchasing the best one for you and your family. Consider the following when purchasing your next Rondeau pan:
Material the Pan Is Made Of
The material of your rondeau pan will make the biggest difference in how you ultimately use it. The material of your rondeau pan will influence how heavy it is, how durable it is, if it can be put in a dishwasher, and what foods can you cook in it.
Aluminum is great for a tight budget but will struggle with heat retention, especially as you are trying to sear large pieces of meat. As induction cooktops become more prevalent, remember that aluminum pans will not work with induction cooking.
Stainless steel in 3 or ideally 5-ply construction is a staple go to for all kitchenware including rondeau pans.
Cast iron enamel is a premium material for a rondeau and store heat better than the other materials.
Copper is going to be a very expensive option for most buyers. While copper has arguably the finest look and heat transfer of all the materials above, it is also the hardest to care for. If you don't already have a fully decked out kitchen set in copper, this may not be the best option.
Construction of the Rondeau Pan
The size of your pan directly influences how much and when you can use it. If you are a professional chef with a commercially sized oven and 50+ servings to prep a night in a restaurant, then a 30+ quart rondeau probably makes a lot of sense for you.
If you are living in a small apartment with a half-size oven, you're going to be looking for something smaller as you won't be throwing a massive dinner party anytime soon.
Weight is a critical component of a rondeau pan. If your pan is too heavy before you add anything in it, you really won't be tempted to make too many braises or stews in it, will you?
On the flip side, the weight of the pan directly correlates to the amount of heat energy it can store. Heavy pans store more heat, distribute it out for more time, and they can stand up to large cold pieces of food (like when you're searing meat).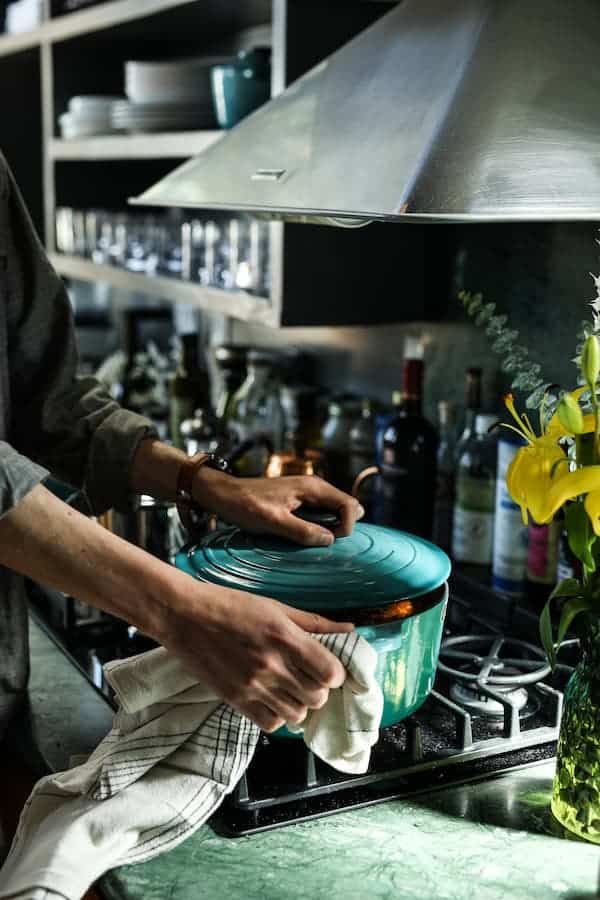 Additional Features to Consider
Features between brands and models of rondeaus will vary. What you are most looking for are things like handle temperature ratings. Can your handles go into an oven, and if so, how hot can they get? A rondeau pan that cannot go into an oven is useless.
If your lid is made of glass, it may not be able to take the same heat as the rest of the unit. While glass may not withstand high heat, if you are cooking things and need to be able to see it, cooking with glass is your only option. Remember, every time you open an oven or a rondeau it needs to heat back up to temperature.
You also want to look at the construction of the handles and how they are fastened. Do they use bolts, rivets, and are they integral to the pan itself? Rondeau pan can get heavy, especially when cooking, so having strong sturdy handles is not only safe but will help your rondeau last for generations.
The following is a list of the best rondeau pans you should consider getting.
What Cookware Do You Actually Need?
Conclusion
All of these rondeau pans are excellent options, and the two main things to consider are the size you need and the material you prefer.