As an Amazon Associate we earn from qualifying purchases.
Whether you know it as tabouli or tabbouleh, make it from bulgur wheat or couscous, or add ingredients like garlic and tomato paste, this Middle Eastern salad has become a popular champion of the region. 
What is Tabouli?
Tabouli, or tabbouleh, is a dish made from bulgur wheat (or couscous), parsley, tomato, onion, and often, mint or garlic. Tabouli is traditionally served as a meze (or mezze), an appetizer course in Middle Eastern Cuisine. Nowadays, we typically eat it as a side dish or salad.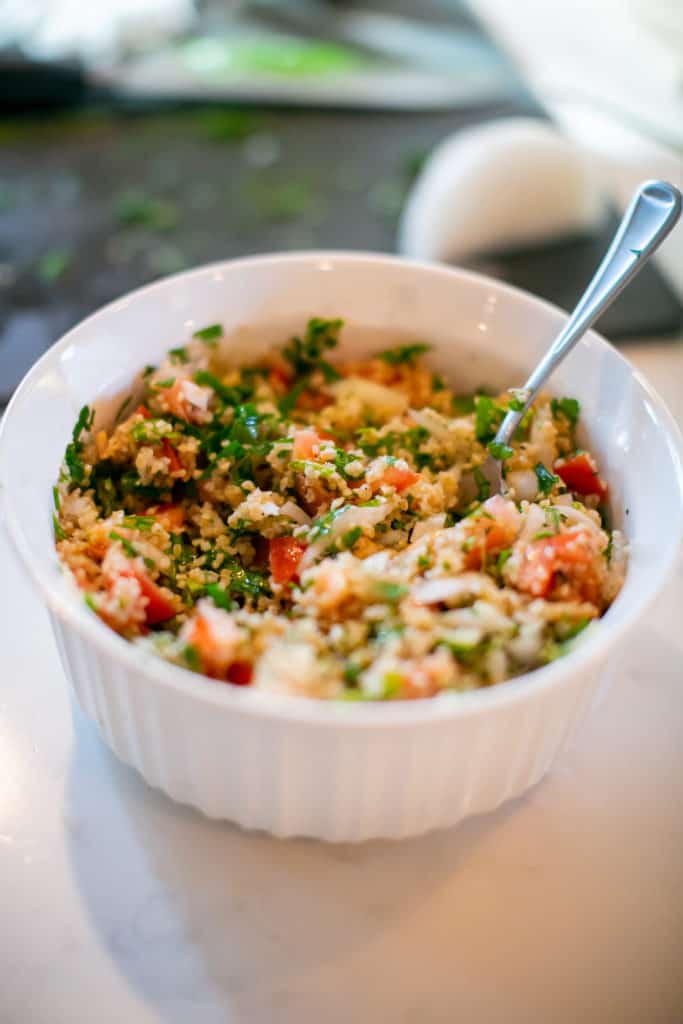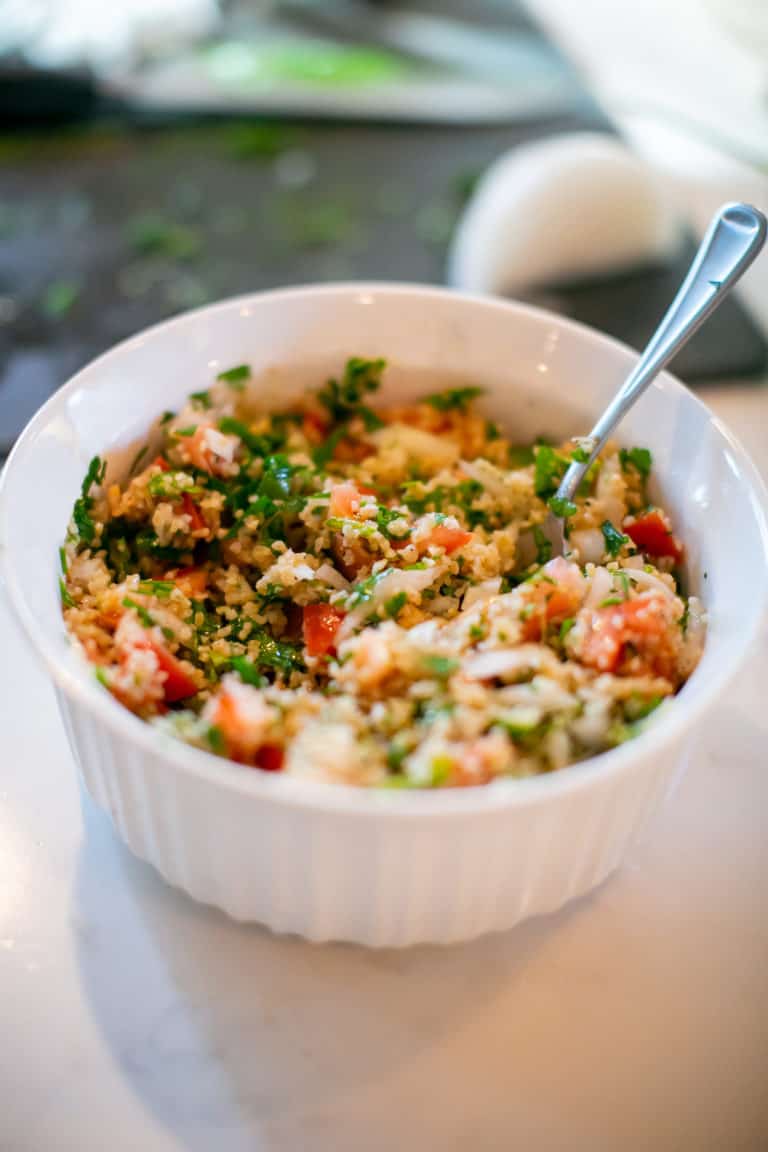 Our Approach to Tabouli
In our tabouli salad, we will be using bulgur wheat for its robust texture and earthy flavor. Couscous is a very popular substitute and can be used in place if you cannot find bulgur wheat. What you may not know is that most couscous is made from semolina, which also comes from durum wheat (just like bulgur does). 
That said, there are many other kinds of couscous as well. So, if you are going to substitute couscous, make sure you follow the specific instructions for making it. The recipe does not change significantly when substituting couscous or pearled couscous in place of bulgar wheat. 
What Makes a Good Tabouli Salad?
You know you have a good tabouli salad when you can taste the freshness of your parsley, sweet and tart flavors of your tomatoes, a bit of bite from the onion, and the texture and earthiness of your grain. A good tabouli's flavor should balance out almost like a pesto pasta in terms of vegetable to grain flavors.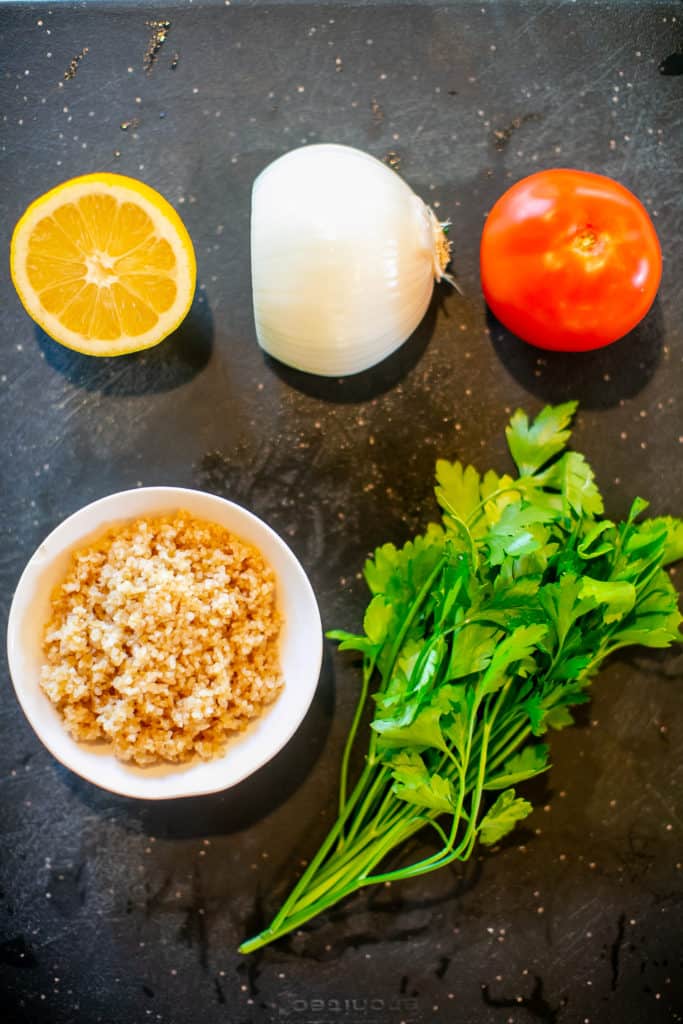 The Challenge with Tabouli
The main challenge with tabouli is making absolutely sure your grains are cooked and cooled before mixing in any fresh vegetables. The last thing you want is to throw fresh parsley and tomato into boiling hot bulgur wheat because it will cook and heat them up. 
To help with the cooling process, we're going to fluff the tabouli and then chill it in the fridge before mixing. Finally, we'll do a quick temperature check before adding in our fresh ingredients to make sure we're making a salad rather than a risotto. 
How to Maximize the Flavor
As with most salads, you will not have many chances to develop flavor in your tabouli. Making salads is like mixing drinks – it is about balancing flavors and picking really good ingredients. Here are some useful tricks and additions if you want to maximize your flavor.
Buy fresh and ripe ingredients: Salads have very little to hide behind when it comes to ingredients, and tabouli is no exception. The biggest issues you can run into here are going to be underripe tomatoes or wilted parsley.

Add in mint or roast garlic: Mint and garlic are two very common add-ins when it comes to middle eastern toublis. Mint will make your dish more fresh garlic will make it more earthy. I do not recommend adding both so pick a side and commit.

Let it marinate for a bit: Because of the porous nature of bulgur wheat, you can definitely get more flavor per bite by letting it sit in your fridge for a few hours before serving. This will allow the juice from the tomatoes, lemon juice, and olive oil to make their way into the pieces of wheat.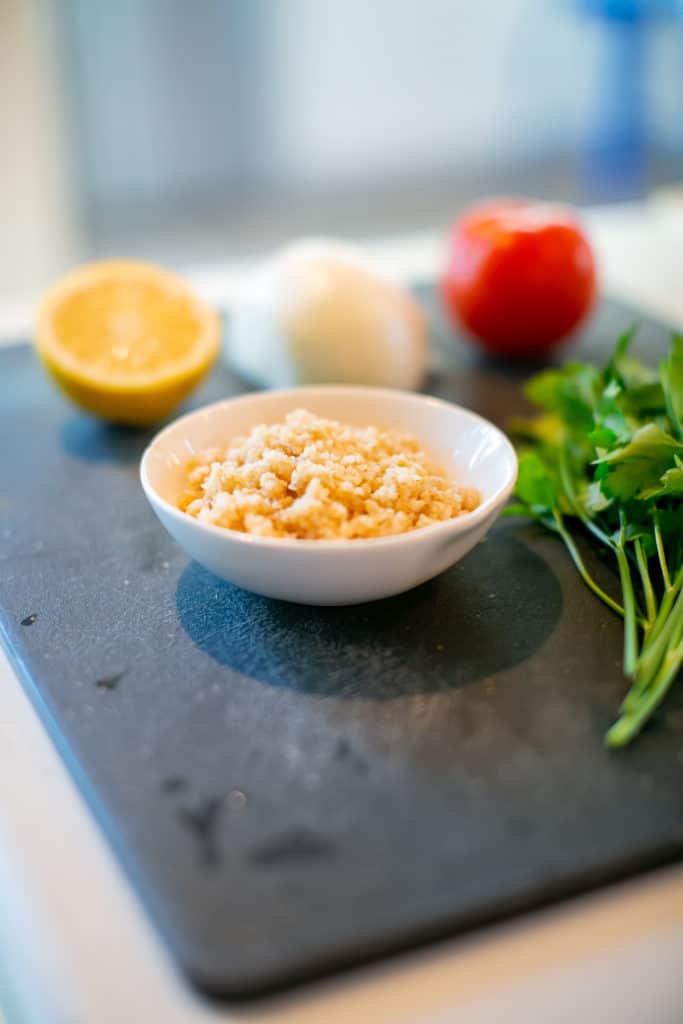 Pairing Ideas with Tabouli
If you are serving your tabouli salad as a true mezze (appetizer course), the most common foods you'd see with it are other traditional Middle Eastern dishes like tzatziki, hummus, halloumi, labneh, falafel or kibbeh. Not sure what those are? They are basically, dips, cheeses, yogurts, or fried appetizers. If you are eating your tabouli as a side dish, kebabs or grilled meats are another excellent option.  
Tools Required
To make a tabouli salad, you'll need a good cutting board and chef's knife. You'll also want a pot for boiling water and a large dish for mixing and serving the dish. 
Chef's knife and cutting board
Pot for boiling water
Mixing / serving dish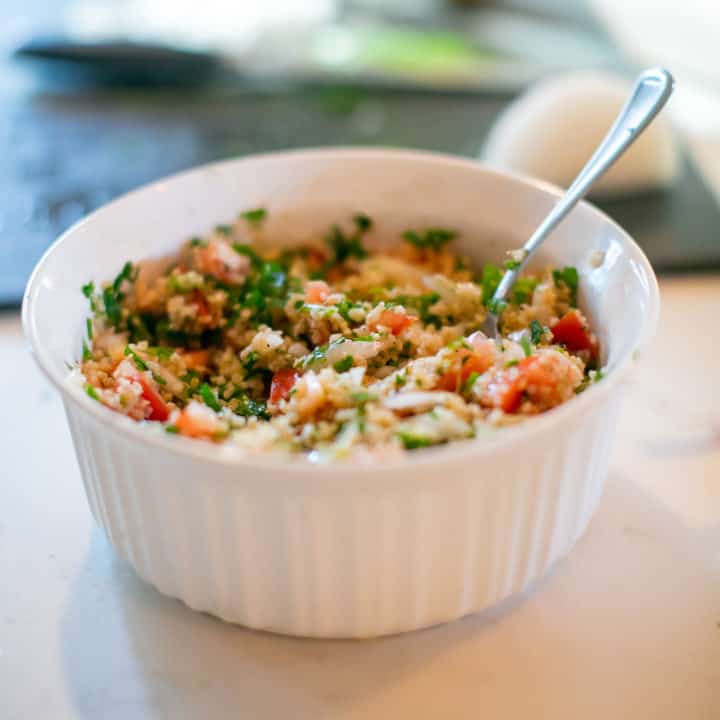 Middle Eastern Tabouli Salad
Total Time:
1 hour
10 minutes
Ingredients
1 cup bulgur wheat
1 tomato
1 bunch parsley
1/4th onion
1 tablespoon olive oil (good olive oil)
1 tablespoon lemon juice (fresh)
Salt and pepper
Instructions
Making the bulgur wheat
Boil 1 cup of water with a pinch of kosher salt
Add bulgar wheat to mixing bowl
Pour boiling water over mixing bowl cover for 15 min
Check that wheat has hydrated it should be chewy but not hard
Drain any excess water. This will prevent it from getting soggy 
Fluff with a spoon or fork. This will increase the surface area and allow more heat exchange 
Put in the fridge to cool for at least 30 minutes
Prepping the vegetables
Wash and chop vegetables
Mixing the salad
Add vegetables, lemon juice, and oil
Mix everything together
Serve
10 *LIFE CHANGING* SALAD HACKS | How To Make Salads That Don't Suck!