As an Amazon Associate we earn from qualifying purchases.
Whether you know it as tabouli or tabbouleh, make it from bulgur wheat or couscous, or add ingredients like garlic and tomato paste, this Middle Eastern tabouli salad has become a popular dish many people enjoy.
If you're a fan of fresh, zesty flavors and love exploring new cuisines, you're going to want to add this salad recipe to your cooking repertoire!
Why I'm Making a Tabouli Salad
As someone who's always on the hunt for simple yet flavorful recipes, I can confidently say that this one hits all the right notes. Made with a handful of wholesome ingredients like parsley, tomatoes, and bulgur wheat, this salad is bursting with flavor and texture. 
Whether you're looking to impress your dinner guests or simply want to enjoy a healthy and delicious meal, this salad is a great choice.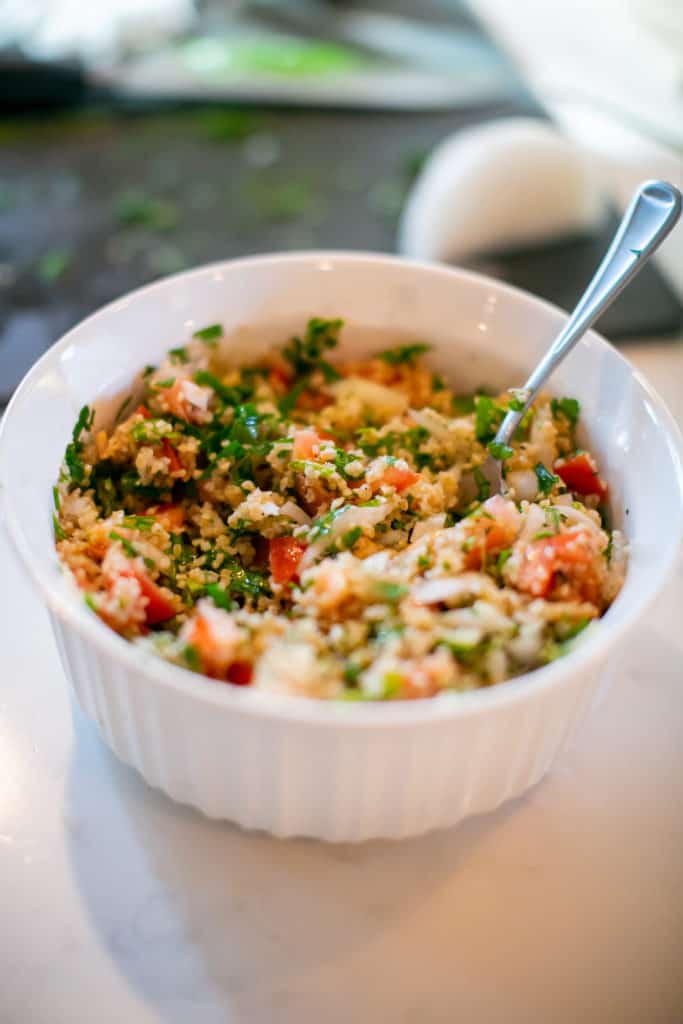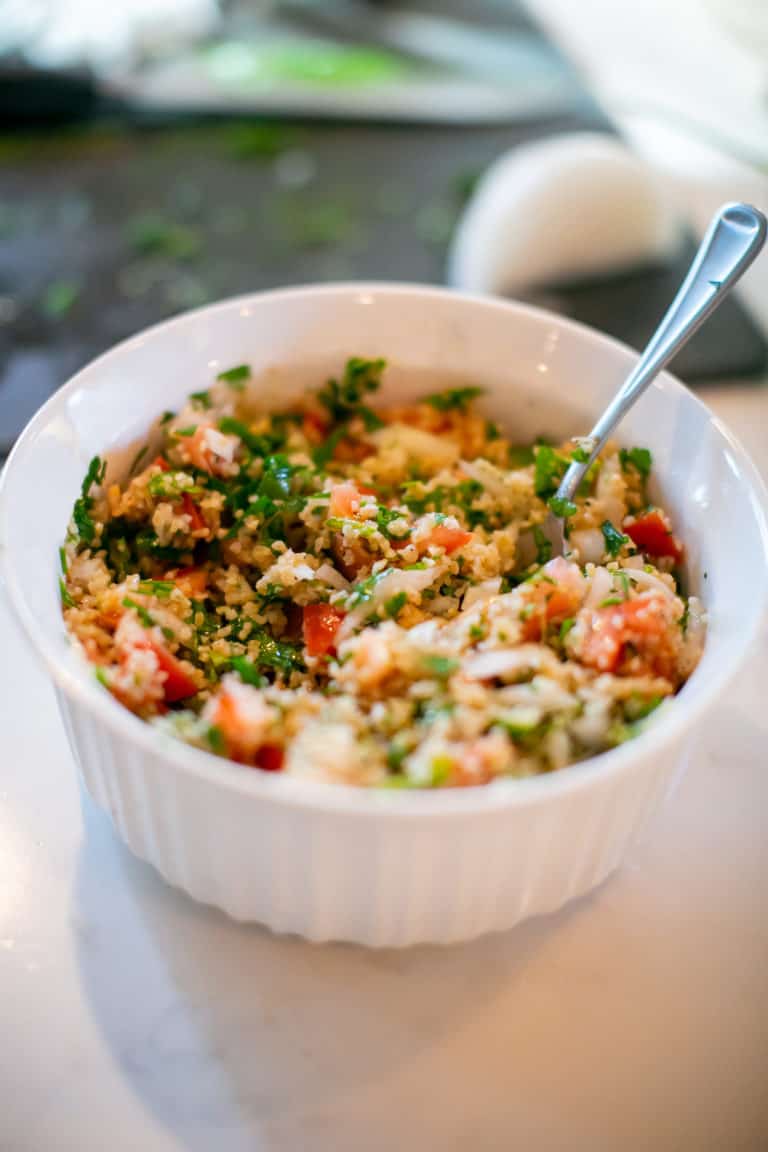 Ingredients
As with most salads, you will not have many chances to develop flavor in your tabouli. Making salads is like mixing drinks – it is about balancing flavors and picking really good ingredients.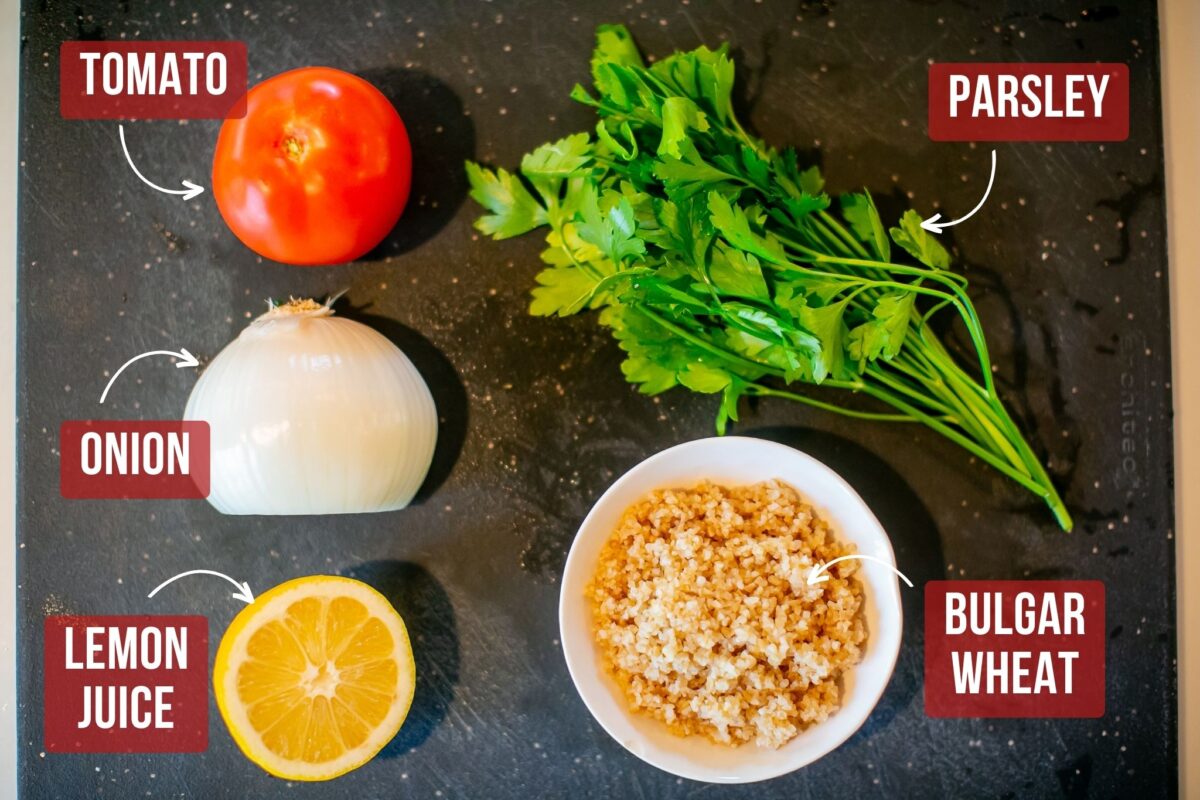 Here are the ingredients needed:
Bulgur wheat is the base of the salad, and it adds texture and earthiness to the overall dish.
Tomato brings both sweetness and tartness to the salad, along with moisture.
Parsley adds pungency to round out the flavor profile.
Onion brings an earthiness to the salad. I recommend either a sweet yellow or red onion.
Olive oil adds fat and grassy notes to the dish.
Lemon juice brightens up the flavor profile and adds acidity.
Salt and pepper enhance the overall flavor.
Recipe Instructions for Middle Eastern Tabouli Salad
Here's how to make this dish:
Step 1: Boil Water
Boil 1 cup of water in a pot on the stove. Add a pinch of kosher salt to  the water so that it infuses into the bulgar wheat.
Step 2: Combine Bulgar Wheat and Water
Add the bulgar wheat to a mixing bowl. Pour the boiling water into the mixing bowl and cover it for 15 minutes. 
Step 3: Drain Excess Water
After 15 minutes, check that the wheat is hydrated. It should be chewy but not hard. Drain any excess water. This will prevent it from getting soggy 
Step 4: Fluff Wheat
Fluff the bulgar wheat with a spoon or fork. This will increase the surface area and allow more heat exchange.
Step 5: Place in Fridge
Place the bowl in the refrigerator to cool for at least 30 minutes.
Step 6: Chop Vegetables
While your wheat is cooling in the fridge, wash and chop the tomatoes, parsley, and onion.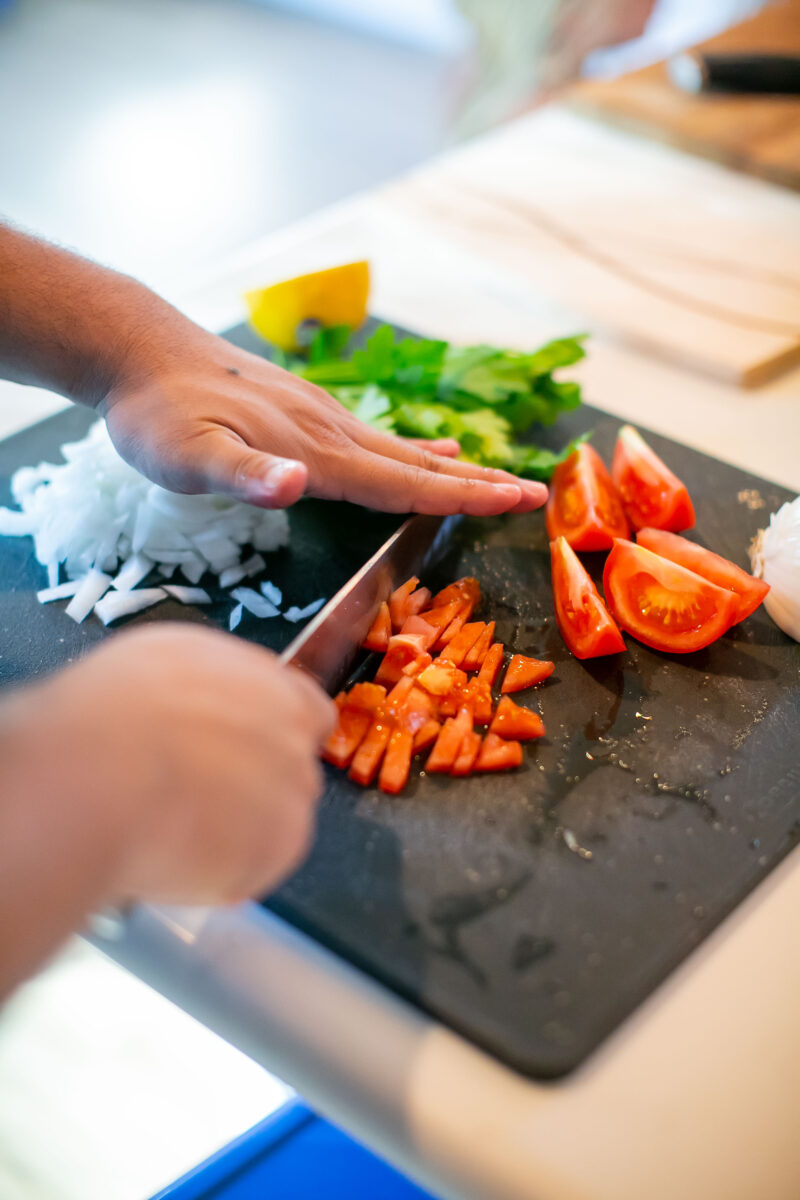 Step 7: Mix Ingredients Together 
Take the bowl out of the fridge and add the vegetables, lemon juice, and oil to it. Mix together until combined, and enjoy!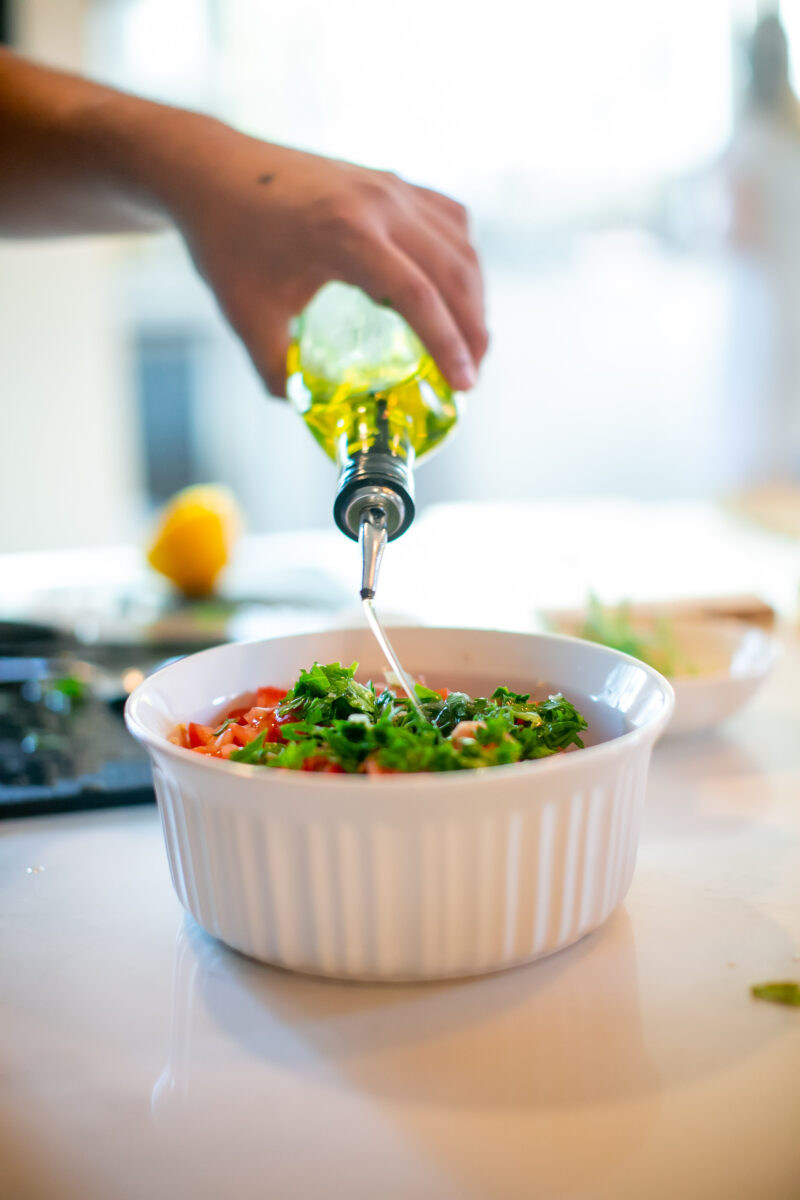 Substitutions in the Recipe
In my tabouli salad, I will be using bulgur wheat for its robust texture and earthy flavor. Couscous is a very popular substitute and can be used in place if you cannot find bulgur wheat. What you may not know is that most couscous is made from semolina, which also comes from durum wheat (just like bulgur does). 
That said, there are many other kinds of couscous as well. So, if you are going to substitute couscous, make sure you follow the specific instructions for making it. The recipe does not change significantly when substituting couscous or pearled couscous in place of bulgar wheat.
Tabouli Salad Tips
Here are a few tips when making this Middle Eastern salad:
Buy fresh and ripe ingredients: Salads have very little to hide behind when it comes to ingredients, and tabouli is no exception. The biggest issues you can run into here are going to be underripe tomatoes or wilted parsley.
Add in mint or roast garlic: Mint and garlic are two very common add-ins when it comes to middle eastern toublis. Mint will make your dish more fresh garlic will make it more earthy. I do not recommend adding both so pick a side and commit.
Let it marinate for a bit: Because of the porous nature of bulgur wheat, you can definitely get more flavor per bite by letting it sit in your fridge for a few hours before serving. This will allow the juice from the tomatoes, lemon juice, and olive oil to make their way into the pieces of wheat. 
Cool the grains: Make absolutely sure your grains are cooked and cooled before mixing in any fresh vegetables. The last thing you want is to throw fresh parsley and tomato into boiling hot bulgur wheat because it will cook and heat them up. 
Related Questions
Why is My Tabbouleh Bitter?
Tabbouleh can become bitter if too much parsley is used or the stems are not removed before chopping. Additionally, if the bulgur wheat is not soaked or cooked properly, it can also contribute to a bitter taste.
How Long do you Soak Bulgur for?
To properly soak bulgur, it should be placed in a bowl and covered with water for 15-20 minutes until it becomes tender. This allows the bulgur to absorb water and soften, making it easier to incorporate into your recipe. After soaking, be sure to drain any excess water and squeeze out any remaining moisture before using it in your dish.
How do you Cut Tomatoes for Tabouli?
To cut tomatoes for tabouli, remove the stem. Cut the tomato in half lengthwise, and then dice the remaining tomato flesh into small, uniform pieces to be used in your tabouli recipe.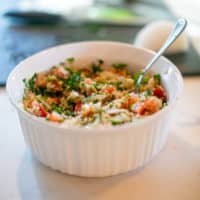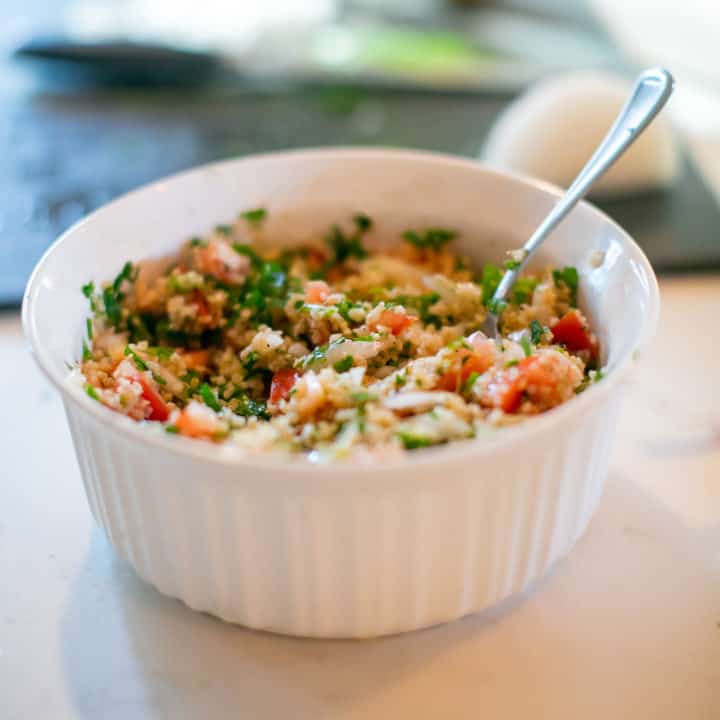 Ingredients
1

cup

bulgur wheat

1

tomato

1

bunch parsley

1/4

th onion

1

tablespoon

olive oil

(good olive oil)

1

tablespoon

lemon juice

(fresh)

Salt and pepper
Instructions
Boil 1 cup of water with a pinch of kosher salt

Add bulgar wheat to mixing bowl and pour boiling water into the bowl

Cover for 15 min, then check that wheat has hydrated – drain any excess water

Fluff with a spoon or fork toincrease the surface area and allow more heat exchange 

Put in the fridge to cool for at least 30 minutes

Wash and chop vegetables

Mix all igredients together, including the bulgar wheat from the fridge

Serve
Nutrition
Calories:
80
kcal
|
Carbohydrates:
14
g
|
Protein:
2
g
|
Fat:
2
g
|
Saturated Fat:
0.3
g
|
Polyunsaturated Fat:
0.3
g
|
Monounsaturated Fat:
1
g
|
Sodium:
4
mg
|
Potassium:
116
mg
|
Fiber:
3
g
|
Sugar:
1
g
|
Vitamin A:
140
IU
|
Vitamin C:
3
mg
|
Calcium:
9
mg
|
Iron:
0.5
mg