As an Amazon Associate we earn from qualifying purchases.
When I think of the end of the year and the holiday season, I tend to think of the colors red and green, and the appearance of spiced foods and drinks everywhere. Today I'll be coming both of those into a simple pear and pomegranate winter salad with candied pecans. 
What is a Pear and Pomegranate Salad?
A pear and pomegranate salad combine the mellow flavors of pears with the tanginess of pomegranates to create a vibrant side dish (both in how it looks and tastes).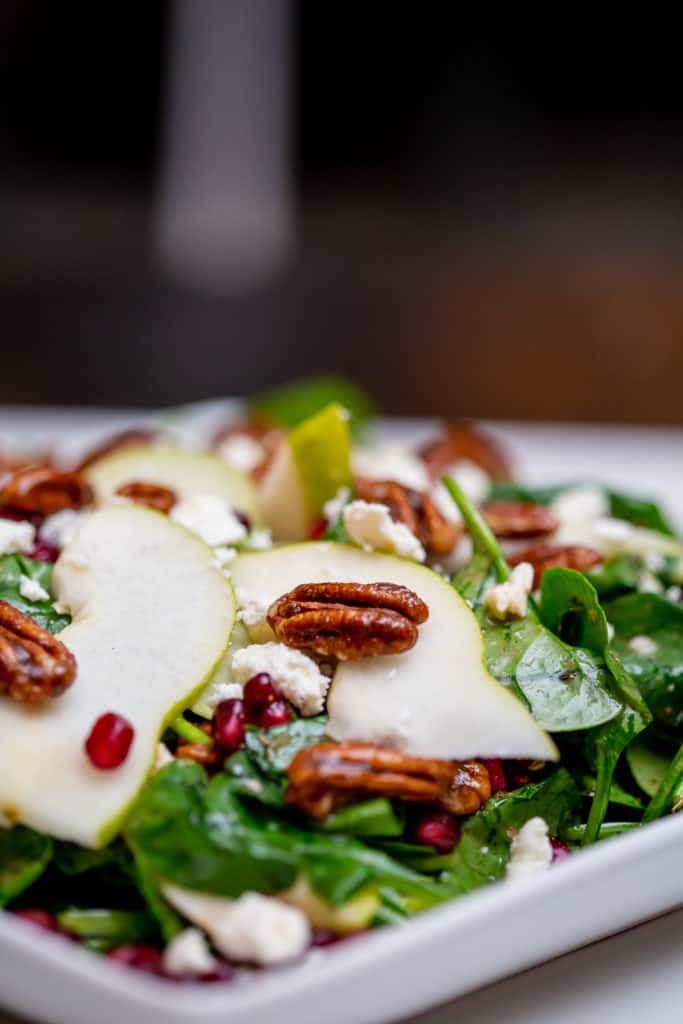 The Challenge with Pomegranates
The main challenge with this pear and pomegranate salad recipe is getting the seeds out of the pomegranates. The fastest and easiest way to do this is to fill a mixing bowl about a third of the way up with water. You will then want to cut the pomegranate in half through the equator (not through the stem). 
Then, break open each of the sections by hand in the water. The seeds will drop to the bottom of the water and the pithy white parts will all float. You can then drain off the inedible parts and strain the water so you are just left with the seeds. 
If your local grocery store sells containers of just the pomegranate seeds (like mine does), I highly recommend saving yourself some time and buying the seeds this way.
Flavor Additions and Alternatives
Here are some flavorful additions you can add to this pear and pomegranate salad recipe:
Meats: My salad recipe below is vegetarian, and if you want to make it more of a standalone meal, some protein will help. I recommend bacon or smoked chicken or turkey
Alternative cheeses: Goat cheese is a really light and tangy alternative, and shaved parmesan will give a fruitier and sharper flavor. 
Alternative nuts: Cashews are a really underrated sweet and buttery nut that work great in this salad. Almonds, paired with a little vanilla extract, can work nicely, especially if you pair this salad with a white wine that contains vanilla notes. If you're adding meat to the dish, walnuts are a great option.
What Pairs with a Pomegranate and Pear Salad?
This salad goes really well with roast poultry, so if you are doing a turkey or chicken, or even pork carnitas, this is a great side. This salad also makes a great option for leftovers if you are getting tired of turkey sandwiches. Just shred or cut some pieces of meat into the salad and you can eat it as an entire meal. 
Tools Required
Baking sheet and foil or parchment for pecans
Measuring cups
Measuring spoons  
Knife and cutting board for pears
Mixing bowl for salad
Something to mix dressing in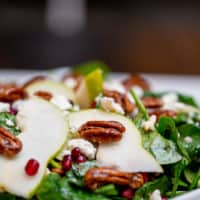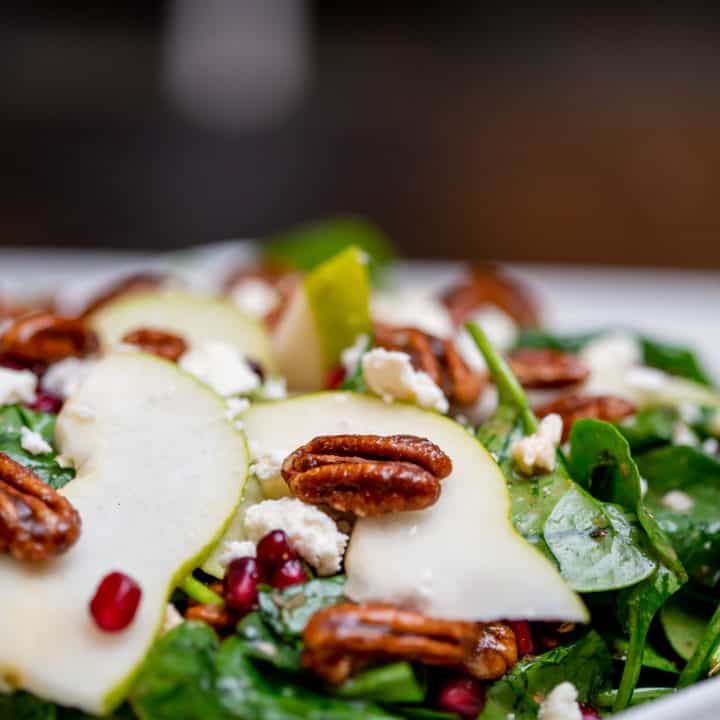 Candied Pecan Pear and Pomegranate Winter Salad
Print
Pin
Rate
Ingredients
1

cup

pecans

1

tablespoon

honey

1

tablespoon

brown sugar

1

tablespoon

white sugar

½

teaspoon

cinnamon

½

teaspoon

nutmeg

½

teaspoon

clove

1/4

th cup apple cider vinegar

1/4

th cup olive oil

1

tablespoon

honey

1

dash of Italian herb seasoning

4

cups

spinach

2

pears

1

pomegranate

½

cup

feta cheese
Instructions
Candied pecans
Preheat oven to 375°F

On a foil or parchment-lined baking sheet, mix together nuts, sugars, and spices

Add honey and mix to coat the pecans

Bake for 10 minutes and watch closely to ensure they do not burn

Set aside
Dressing
Add apple cider vinegar, olive oil, and Italian herb seasoning into mixing vessel

Mix vigorously until well combined
Pear salad
De-seed pomegranate 

Wash pears and spinach

Place spinach into bowl

Slice pears

Add half the pears, half the pecans, half the pomegranates, and half the cheese to the bowl with the spinach 

Drizzle dressing into salad (if you prefer to have your dressing pre-mixed within the salad)

Toss salad  

Top the salad with remaining ingredients and serve
Nutrition
Calories:
395
kcal
|
Carbohydrates:
47
g
|
Protein:
7
g
|
Fat:
23
g
|
Saturated Fat:
4
g
|
Polyunsaturated Fat:
6
g
|
Monounsaturated Fat:
11
g
|
Cholesterol:
17
mg
|
Sodium:
242
mg
|
Potassium:
566
mg
|
Fiber:
9
g
|
Sugar:
34
g
|
Vitamin A:
2934
IU
|
Vitamin C:
20
mg
|
Calcium:
165
mg
|
Iron:
2
mg