As an Amazon Associate we earn from qualifying purchases.
It's hard to think there was once a time where the humble potato was not ubiquitous around the world. Before the Colombian Exchange, there was not a single potato in Europe. What did people eat, you might ask? Rutabagas, turnips, and parsnips.
If you are looking for a high-flavor potato alternative, look no further than parsnips.
Why I'm Making Mashed Parsnips
I wanted to make parsnips as a healthier alternative to potatoes, since they have a lower glycemic index. Even though they're called "mashed" parsnips, mashed refers to the dish, not the preparation of the parsnips. While it is possible to mash the parsnips, the most common preparation is to puree them.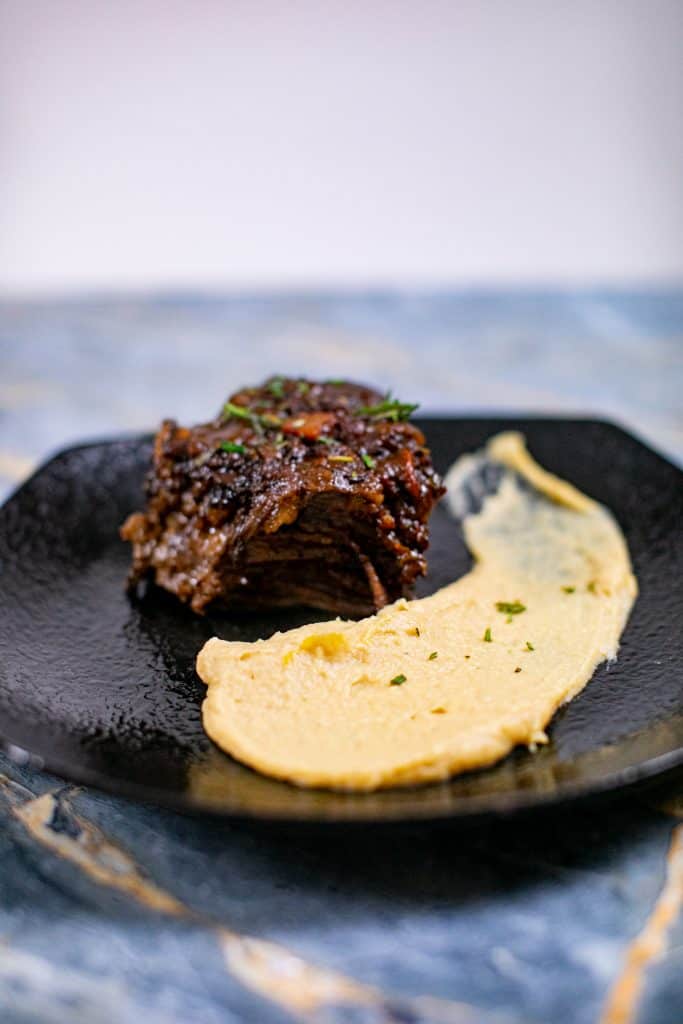 Ingredients
Here are the ingredients needed for mashed parsnips: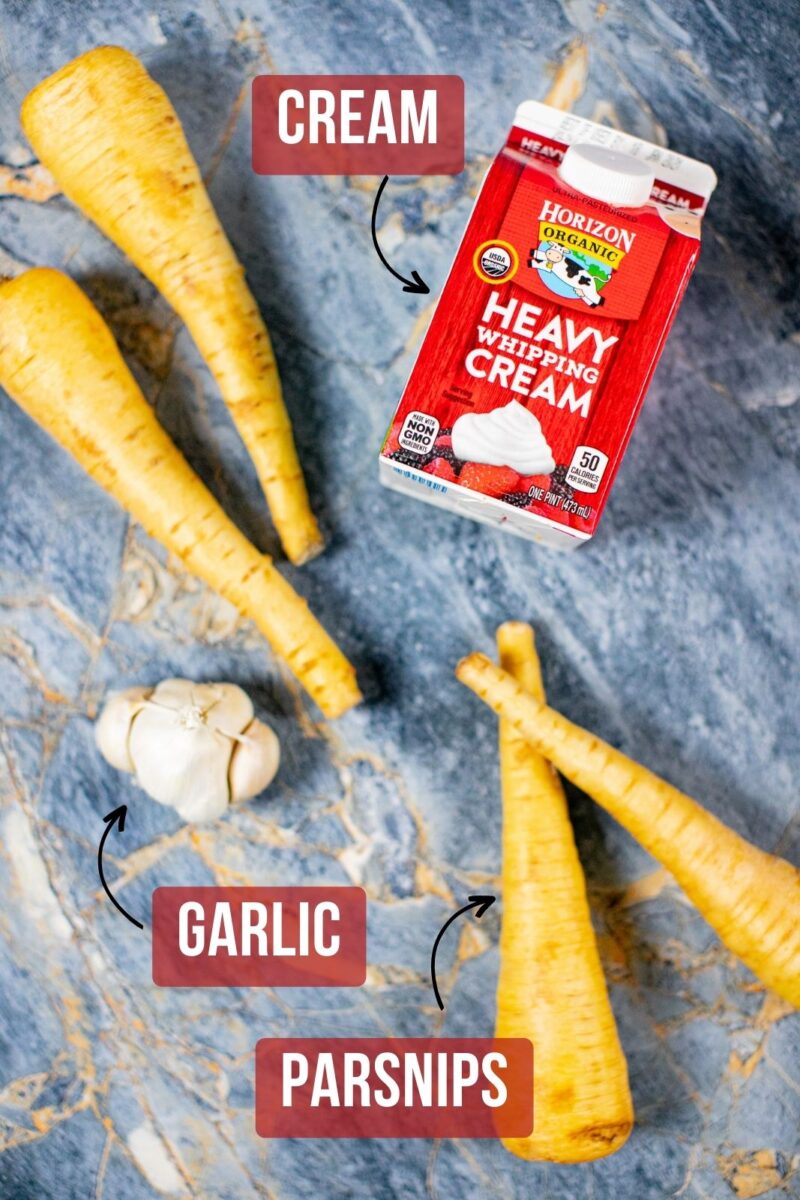 Parsnips are the starch I'm using. Ideally, look for ones that are not dry or cracked.
Olive oil conducts heat when cooking and adds flavor.
Garlic adds the garlic flavor to the recipe.
Cream will bind and fill out the texture of mys mashed parsnip puree. Just like mashed potatoes, mashed parsnips benefit from a bit of fat.
Salt is a flavor enhancer, and you can season it to your preference.
Recipe Instructions for Middle Eastern Tabouli Salad
Step 1: Prep Parsnips
Wash, peel, and chop the parsnips. It doesn't matter too much how you chop the parsnips, since you'll be blending them up later.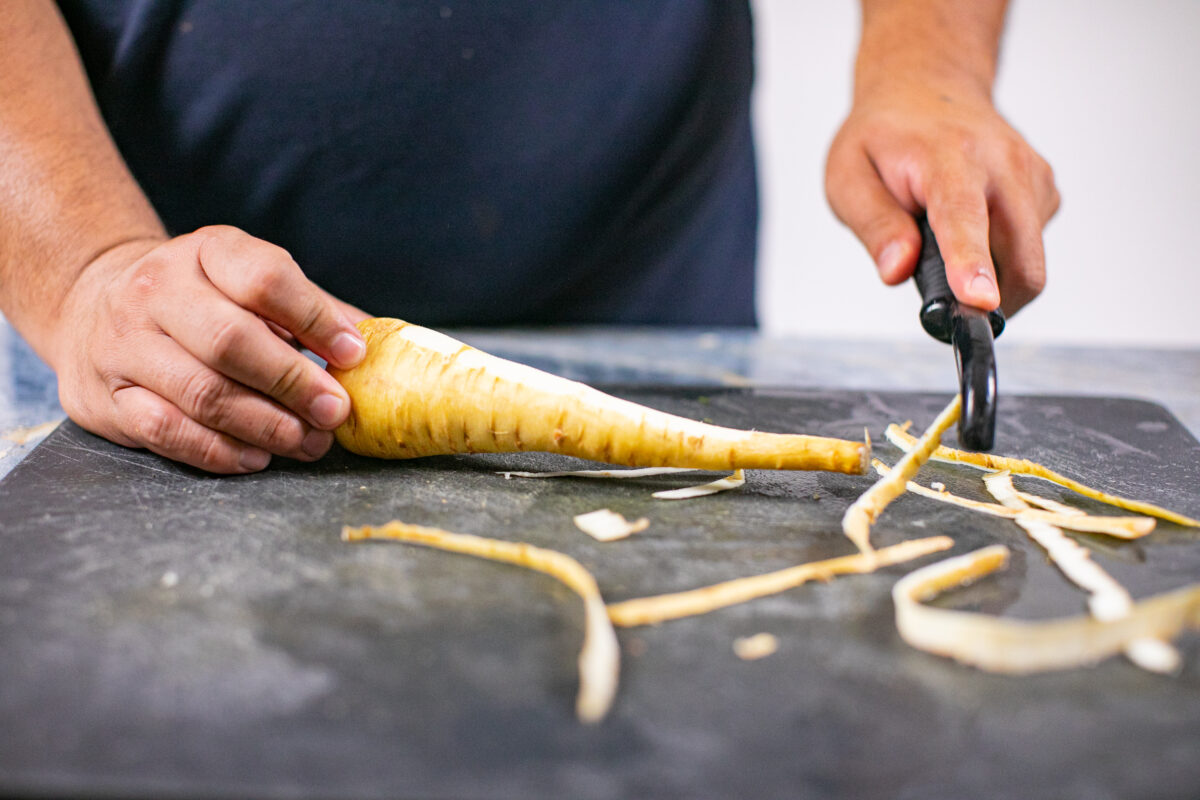 Step 2: Chop Garlic
Chop the 4 cloves of garlic. The finer you chop, the more garlic flavor you'll get.
Step 3: Roast Half the Parsnips
Take half the parsnips and place them in a baking sheet. Roast them with salt, olive oil, and garlic for 1 hour at 350°F.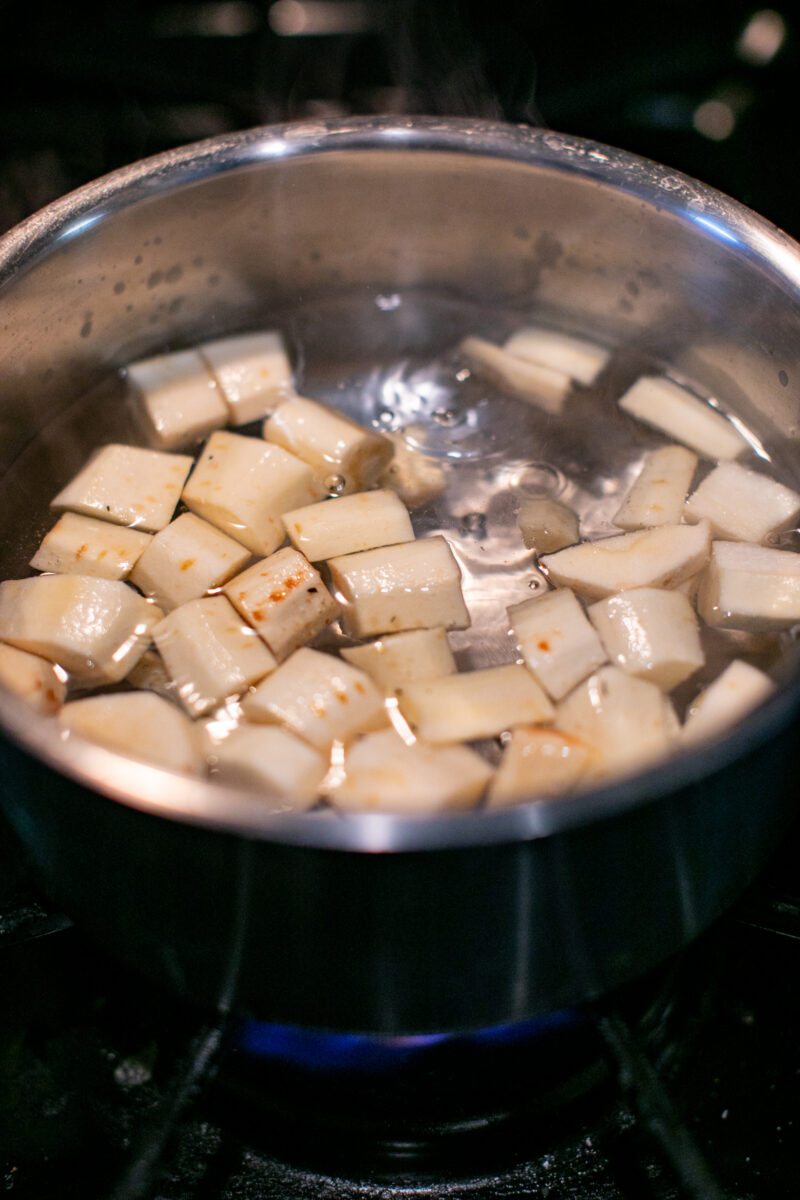 Step 4: Boil Half the Parsnips
Take the other half of the parsnips and boil for 10 minutes or until fork tender. Be sure to save the boiled water for the next step.
Step 5: Blend
Add all of the parsnips to a blender or food processor with cream and 1/4 cup of the boiled water you used to cook the parsnips in. Blend on high until pureed and smooth.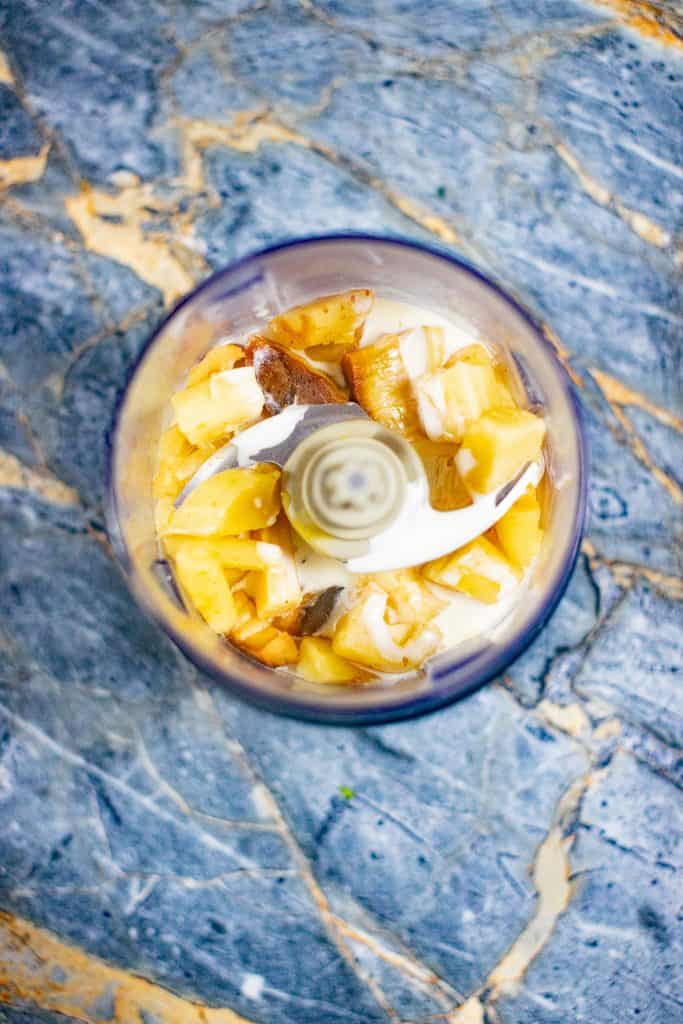 Step 6: Top and Serve
Serve with melted butter, cracked pepper, and herbs of your choice
Recipe Parings
Mashed parsnips can be used anywhere you would typically use mashed potatoes. Some of the most common applications are with hearty foods like steak, bone-in ribs, or pot roast dishes. 
Garlic Mashed Parsnips Tips
One of my go-to tips for mashed parsnips is to split the parsnips up into 2 batches. One batch will go into the oven and roast to develop nutty caramelized flavors. 
The other batch will be boiled to maintain a soft luxurious texture to the final dish. The added benefit of boiling the parsnips is you get parsnip-flavored water which can be used to dilute the texture of your final product. 
Related Questions
What is the Difference Between Mashed Parsnips and Parsnip Puree?
Most of the time, mashed parsnips and pureed parsnips are the same dish. Parsnips are much less starchy than potatoes, so they do not become as gloopy when pureed in a food processor or blender. 
If you are looking to physically mash your parsnips, you can still boil them down and pass them through a ricer or metal sieve. Roasted parsnips will be very hard to mash as they do not break down easily without liquid. 
What Do Parsnips Taste Like?
Parsnips are much closer in texture and taste to a carrot. They famously have a very slight licorice or anise flavor to them as well. This means parsnip dishes will always be a tiny bit sweeter than a potato version. 
Why is my Parsnip Puree Gummy?
If your parsnip puree is gummy, it's likely due to overcooking the parsnips or using too much liquid when pureeing. To avoid this issue, try cooking the parsnips until they are just tender and using only enough liquid to achieve the desired consistency. You can also add some cream or butter to the puree for a smoother texture.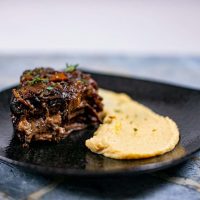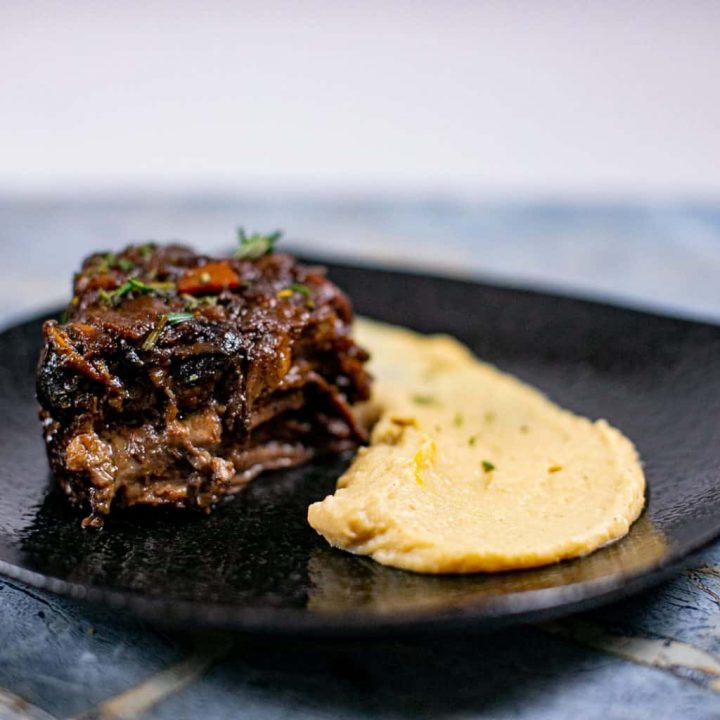 Ingredients
2

tablespoons

olive oil

2

cups

parsnips

4

cloves

garlic

1/4

cup

cream

Salt
Instructions
Wash, peel, and chop the parsnips

Chop the 4 cloves garlic

Take half the parsnips and roast them with the salt, olive oil, and garlic for 1 hour at 350°F

Take the other half of the parsnips and boil for 10 minutes or until fork tender (be sure to save the boiled water for the next step)

Add all parsnips to blender with cream and 1/4 cup of the boiled water you used to cook the parsnips in, and blend on high until pureed

Serve with melted butter, cracked pepper, and herbs of your choice
Nutrition
Calories:
334
kcal
|
Carbohydrates:
27
g
|
Protein:
3
g
|
Fat:
25
g
|
Saturated Fat:
9
g
|
Polyunsaturated Fat:
2
g
|
Monounsaturated Fat:
13
g
|
Cholesterol:
34
mg
|
Sodium:
23
mg
|
Potassium:
551
mg
|
Fiber:
7
g
|
Sugar:
7
g
|
Vitamin A:
438
IU
|
Vitamin C:
25
mg
|
Calcium:
79
mg
|
Iron:
1
mg