As an Amazon Associate we earn from qualifying purchases.
Have a pantry full of cans to use up? Chances are you probably have a can of sweet corn in there. Today I'm going to transform that can of golden kernels into a creamy, cheesy, classically decadent side dish using just one pan for cooking. 
What is Creamed Corn?
Creamed corn originally is made from sweet corn and the milk from the pulp on the cob. Over time, the corn milk has been replaced or supplemented with dairy milk, cream, or thickening agents like corn starch or tapioca flour.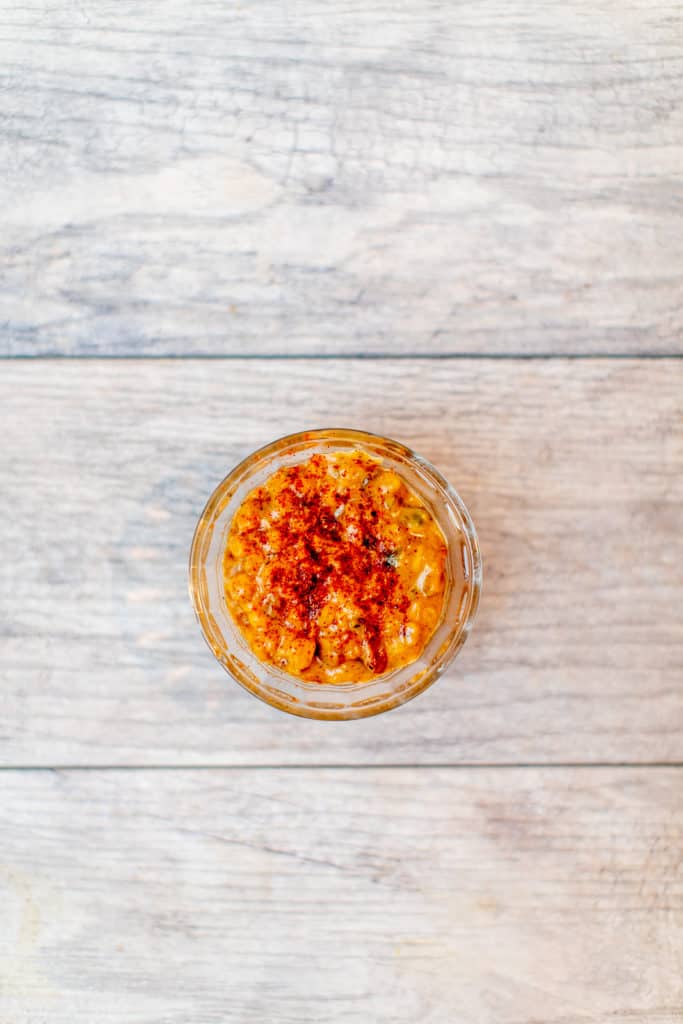 My Approach to Homemade Creamed Corn
When you think of canned food, you probably think, bland, boring, one-note foods. My approach to my creamed corn recipe is to take this preconceived notion and develop a deep, complex flavor profile in simple steps using just one pan. 
My southwest creamed canned sweet corn recipe will be following the more modern interpretation of the dish with a bechamel of butter, flour, milk, and cream for the "creamed" component of the dish. I'll also be introducing heat from jalapenos, along with protein and a smoky flavor from the bacon.  
Developing Flavors
My creamed corn recipe is a textbook example of developing and layering flavors together. 
I will be using bacon fat instead of oil. Bacon fat will do everything oil does but brings so much more flavor and texture to the recipe. Obviously, this is not as healthy, but for dishes that are already a cheat day, why not go all out?
I will be browning the corn and jalapenos. When I brown the corn I am not only changing the color but the flavor and texture as well. Browning the corn gives it a stronger outside texture and a nuttier flavor. Browning the jalapenos in the corn and bacon fat will allow the peppers to sweeten up as well as disperse their heat compounds into the oil and eventually the rest of the dish.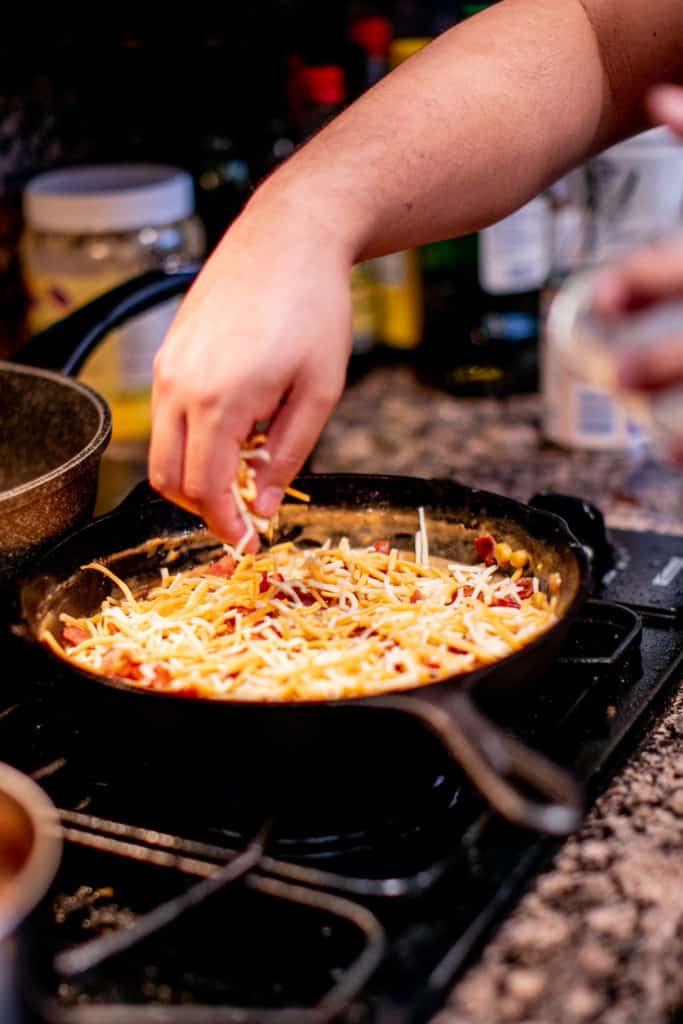 I do not recommend using sugared bacon for this dish. I use bacon to provide oil for cooking as much as the flavor. Sugared bacon often leaves caramel or burned sugar in the pan which counteracts the lubrication of the oils. The dish will already be a little sweet from the corn and cream.  
If you do want a lighter version of this recipe, replace the bacon with 2 tablespoons of olive oil and a pinch of salt.  Also, reduce the flour to ½ tablespoon, and skip the cream and cheese. 
What Pairs with Creamed Corn?
This creamed corn recipe is meant to be rich, so I recommend having it with heavier entrees like BBQ, roast meats, and of course, Thanksgiving style dishes and feasts. 
Tools Required
Here are the tools you'll need to make this creamed corn dish: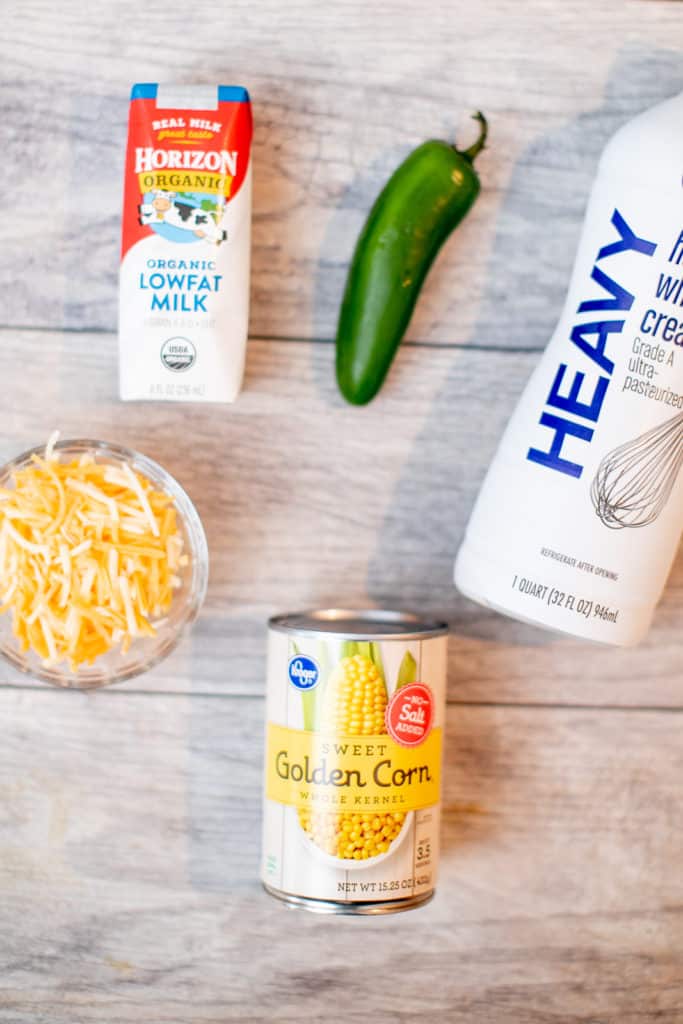 Chef's Knife for slicing bacon and dicing peppers
Medium Size Cutting board to cut the peppers and bacon on 
Can opener (if your canned corn does not have a pull top)
Measuring cups and spoons
Small microwaveable bowl or cup to soften the butter and mix the flour in 
Wooden Spoon
Cast Iron or other oven-safe pan: If you want a baked top you'll want this to minimize the dirty dishes. If you do not have any oven-safe cookware like a rondeau pan, you can use a casserole dish but baked cheese can be tough to wash at the end of the day.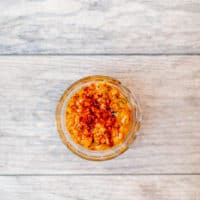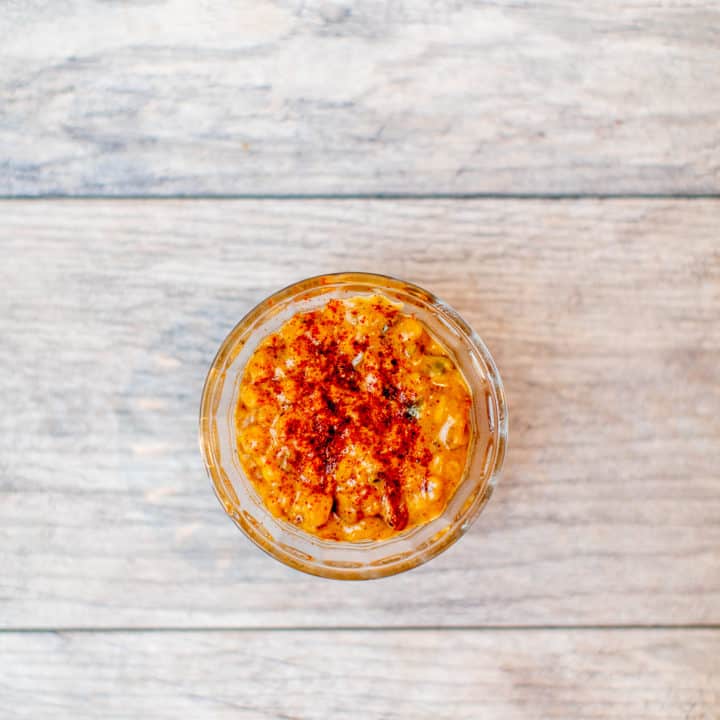 Ingredients
1

can yellow sweet corn

(If making fresh, use 2 corn cobs)

1

jalapeno

1/4

pound

bacon

(about 4 slices of ¼ inch thick cut bacon, 6-8 of thin cut)

1

tablespoon

butter

(salted or unsalted is fine)

1/2

tablespoon

flour

1

cup

milk

2

tablespoons

cream

(optional)

1

cup

melting cheese
Instructions
Cut bacon into quarter inch strips

Cook bacon on medium high heat until crisp

Dice jalapenos and shred cheese (if not pre-shredded)

Remove bacon from the pan

Add corn and jalapenos to pan on medium heat

Microwave butter in a small bowl for 15 seconds or until melted

Add flour to the butter bowl and mix thoroughly into a paste

Once corn has browned, add the butter flour mix to the corn in the pan

Immediately follow with 1 cup milk and stir constantly until sauce thickens

Add cream (optional)

Add in bacon and mix everything together in the pan

Preheat oven to 400°F

Top pan with shredded cheese

Bake for 15 minutes or until cheese begins to brown

Remove from oven and serve
Notes
Here are a few helpful tips about some of the ingredients needed:
Flour: You can use anything between ½ to 1 tablespoon of flour. ½ makes a thinner end product, while 1 tablespoon will make it a little closer to a pudding consistency.
Milk: We are using Horizon Low Fat Organic and shelf stable milk which conveniently comes in 1 cup packs. The fat percentage in the milk does not matter, so you can use the standard milk you normally buy.
Cheese: We are using colby jack in our recipe, but you can substitute mozzarella, cheddar, provolone, monterey jack, or any other common melting cheese. Avoid sharp hard crumbly cheeses, as they don't melt smoothly and can result in a grittier texture.
Nutrition
Calories:
315
kcal
|
Carbohydrates:
5
g
|
Protein:
13
g
|
Fat:
27
g
|
Saturated Fat:
14
g
|
Polyunsaturated Fat:
2
g
|
Monounsaturated Fat:
9
g
|
Trans Fat:
0.2
g
|
Cholesterol:
67
mg
|
Sodium:
405
mg
|
Potassium:
189
mg
|
Fiber:
0.1
g
|
Sugar:
3
g
|
Vitamin A:
563
IU
|
Vitamin C:
4
mg
|
Calcium:
294
mg
|
Iron:
0.4
mg