As an Amazon Associate we earn from qualifying purchases.
There are few joys in food like breaking into a warm cheesy biscuit and tasting that buttery flaky goodness. While buttermilk biscuits are by far my favorite type of biscuit, I rarely seem to have buttermilk on hand. It's not quite practical to have it constantly stored in the fridge. Because of that, I am going to make a cheesy biscuit with no buttermilk recipe that you can easily make! 
What Are Cheesy Biscuits Without Buttermilk?
Biscuits are baked quick-breads, which means they are leavened chemically not using yeast. Cheesy biscuits are obtained by adding cheese to the biscuit mix before cooking. Generally, you make biscuits with buttermilk; however, if you don't have other needs for buttermilk, I'm sharing how to still create gooey, cheesy biscuits using buttermilk substitutes.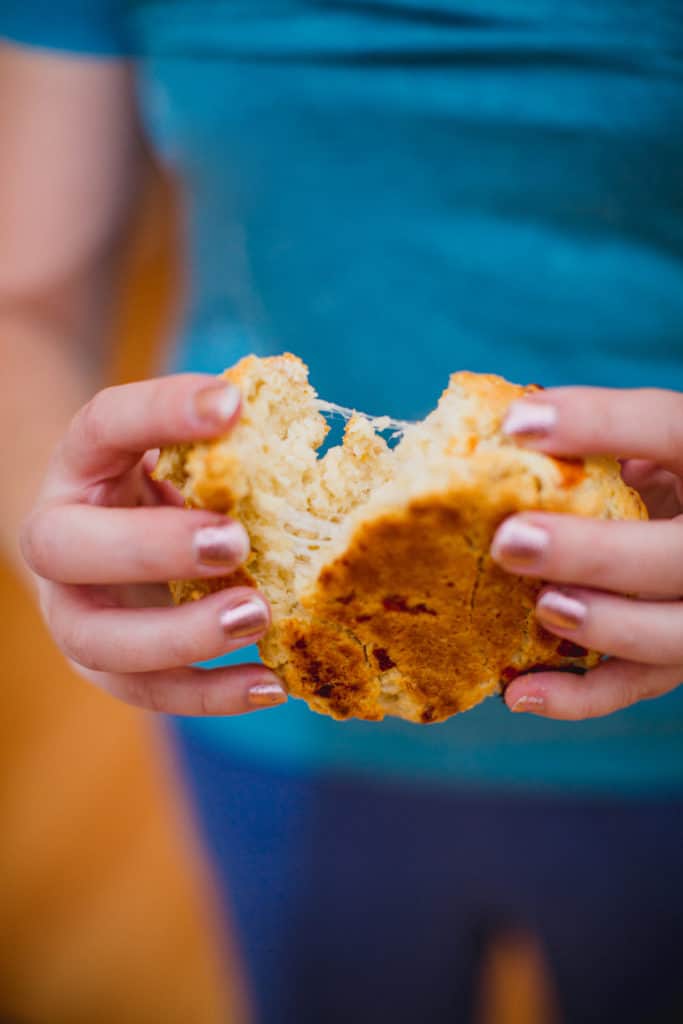 My Approach to Cheesy No Buttermilk Biscuits
Before I can replace buttermilk in a recipe, I need to understand what buttermilk is and why it works so well in making foods like biscuits and pancakes. Once I know what buttermilk does, I can work on trying to replicate the effects through other means. At the end of the day, this is a substitution play. I'll be trading out authenticity for ease and convenience. 
What is Buttermilk?
Back in the day (before the 20th century) all-butter was a fermented product. The milk leftover from churning butter was "buttermilk." Today, most buttermilk is intentionally cultured. This means that buttermilk is a slightly acidic (sour dairy product). This part is really important, as quick bread are chemically leavened. 
Did you ever create a volcano for a school science project? If so, you may remember that acid + soda = CO2 (bubbles). What do I want in foods like biscuits and pancakes? Bubbles. 
That is half the reason buttermilk works so well in these dishes! 
The second half it works so well because of the fat. Compare buttermilk to everyday skim or 1% milk, and there is a huge difference. The closest thing to buttermilk is whole milk at about 9g per cup. Since most people don't normally have whole milk on hand either, I'm going to need to add some fat back in to my recipe. 
Buttermilk Substitutes
Okay so now that I know what buttermilk does, how do I replace it?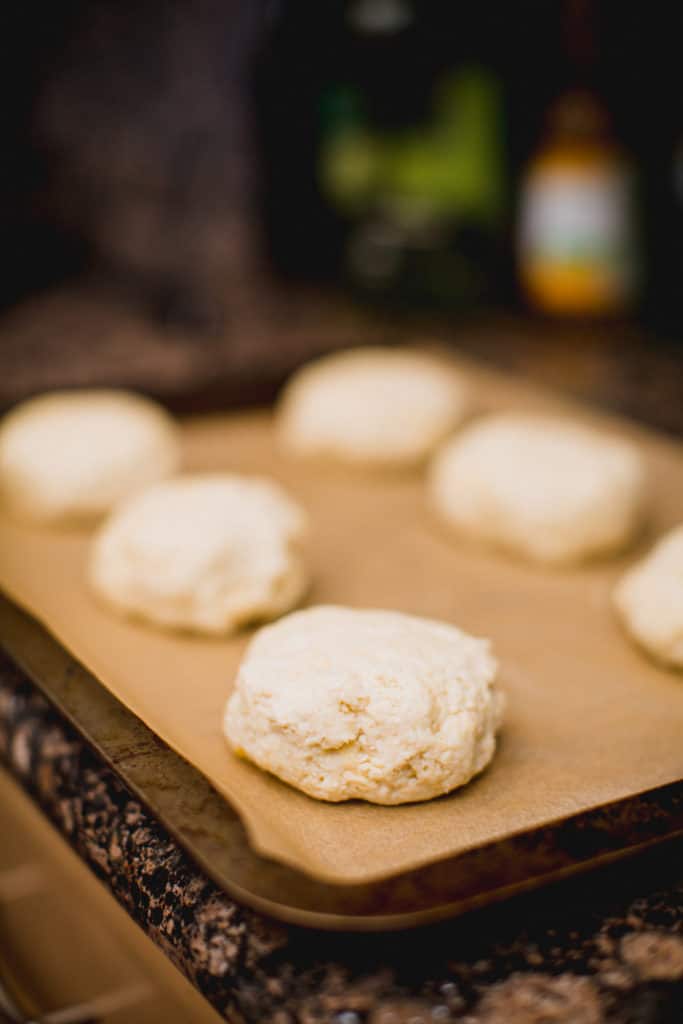 The next best option to replace buttermilk would be whole milk. If you don't readily keep this in your fridge, 1% or 2% milk can also work.
My options for acidity are cream of tartar, lemon juice, or vinegar. My options for fat are cream, butter, or oil. 
For this recipe, I am going to be using the cream of tartar, as it is the most neutral flavored of those three options. For fat, I am sticking close to the source with butter. Buttermilk is a side product of butter, so butter is the closest fat to it. 
Developing Flavors in the Cheesy Biscuits
I am using Muenster cheese for my biscuits. Honestly, this is because this is the type of cheese I currently had in the kitchen (though it does work well!). You can easily substitute muenster for any sharp cheese you have available, such as cheddar. 
When adding the cheese, it's best to use small chunks (such as ¼ inch) rather than shredded cheese. Shredded cheese tends to be incorporated into the dough, whereas small cubes give you pockets of ooey-gooey cheese throughout.
You can add additional items like green onions or chives to your biscuits. I recommend stopping there because too many mix-ins will weigh down your dough. This can prevent it from rising and cooking evenly.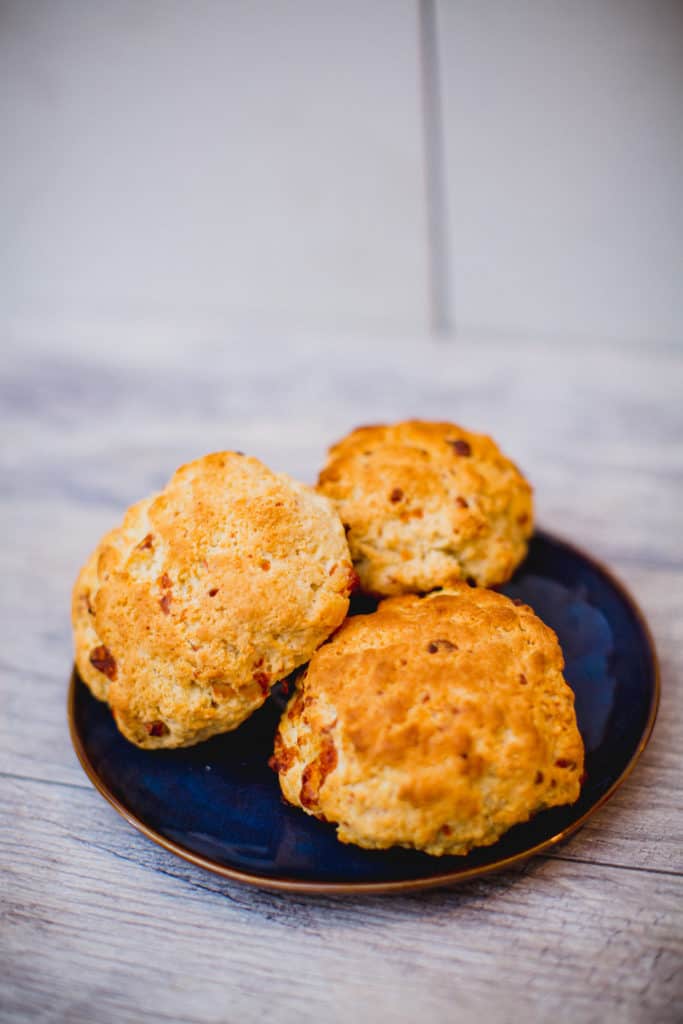 Tools Required
To make biscuits you will need the following tools:
Mixing bowl
Measuring cups and spoons
Something to mix with
Baking sheet
Parchment paper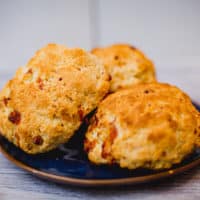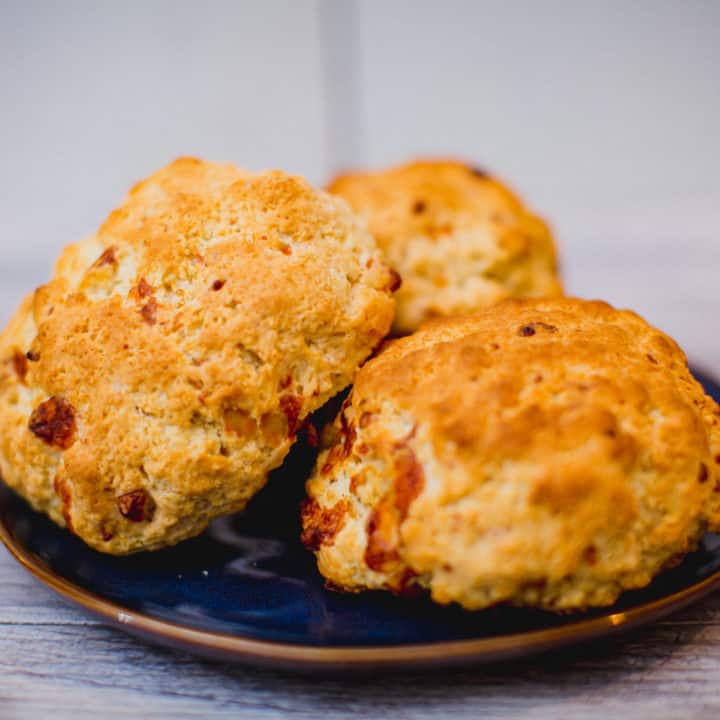 Easy Homemade Cheesy Biscuits Without Buttermilk
Print
Pin
Rate
Ingredients
1

cup

cheese

(¼ inch cubes)

1/3

cup

butter

(chilled)

1/3

cup

butter

(room temperature)

1.5

cups

buttermilk substitute

(whole milk is best, but you can also use 1-2% milk)

1.5

tablespoons

cream of tartar

3

cups

flour

4

teaspoons

baking powder

1

teaspoon

of baking soda

1

teaspoon

salt
Instructions
Chill your butter in the freezer for 20 minutes. This will allow you to cut it into little pieces and not melt too fast.

Preheat oven to 425°F

Mix cream of tartar with milk and let it sit until it curdles (about 1 minute)

Line cookie sheet with parchment paper if you have it

Add flour, baking powder, baking soda, and salt into bowl and mix

Add room temperature butter to dry mix

Cut your chilled butter up into tiny pieces like the size of a pea

Add buttermilk substitute and cheese into the bowl

Mix to combine (do not over mix or mix vigorously, as that will create gluten which we do not want) .

Spoon about ⅓ cup size ball of dough onto cookie sheet, spacing 2 inches apart 

Bake for 425°F for 12 minutes or until the tops are beginning to just turn lightly golden brown.

Serve warm and enjoy.
Nutrition
Calories:
800
kcal
|
Carbohydrates:
81
g
|
Protein:
19
g
|
Fat:
44
g
|
Saturated Fat:
27
g
|
Polyunsaturated Fat:
2
g
|
Monounsaturated Fat:
11
g
|
Trans Fat:
1
g
|
Cholesterol:
119
mg
|
Sodium:
1806
mg
|
Potassium:
1168
mg
|
Fiber:
3
g
|
Sugar:
5
g
|
Vitamin A:
1377
IU
|
Calcium:
562
mg
|
Iron:
5
mg