As an Amazon Associate we earn from qualifying purchases.
Baked cinnamon spice acorn squash is one of the easiest dishes you can make to get your family in the holiday mood. When you pop these squash into the oven your home will smell of sweet spicy goodness. 
What is a Cinnamon Spice Acorn Squash?
Acorn squash is a winter squash, also sometimes known as the pepper squash or Des Moines squash. You can identify an acorn squash by its distinctly acorn shape. It will often be dark green, and occasionally, they will have a single splash of color on top with vertical ridges. 
While other winter squash can keep for months on end, acorn squash is more likely to stay fresh only a few weeks. This is still very good compared to summer squash like zucchini, but its winter squash siblings can definitely last longer.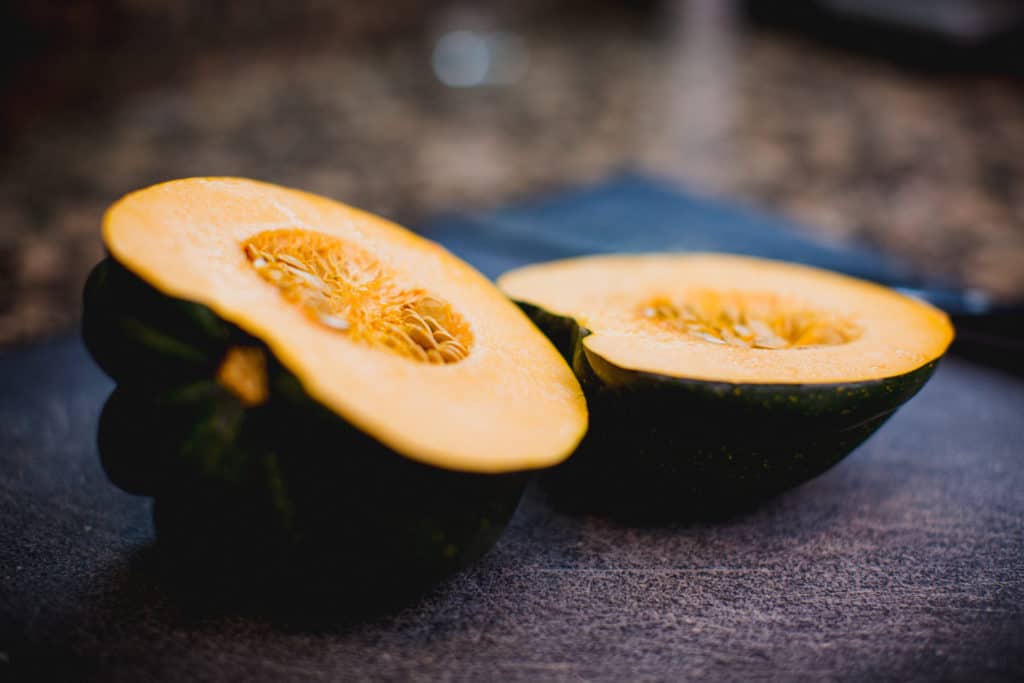 One of the best parts of the acorn squash is its edible skin. This is great for me, as I do not need to peel it!  
Our Approach to Acorn Squash
Sweet spices are going to be our focus with the acorn squash. I want this squash to be equally home with sweet and savory applications. I recommend cinnamon, nutmeg, and ground clove if you have it. I'll also use some sugar and butter to round out the flavor profile. 
What Makes a Good Baked Acorn Squash
The best acorn squashes are slightly crisp. They should have more of a potato wedge consistency than mashed potatoes. This point of doneness will give me the ability to incorporate the squash into both wet and dry dishes without it breaking apart.  
The Challenge with Acorn Squash
By far the most difficult part about acorn squash (and almost all winter squash) is cutting through the thick skin. Luckily the acorn squash has one of the thinnest skins when it comes to winter squash so it isn't that bad comparatively. 
My solution is to use a very sharp, sturdy knife. Place the squash stem down (this should be the flattest side). Cut from the point to the stem in half. Now you should be able to lay the squash cut sides down giving you a flat stable bottom to cut through.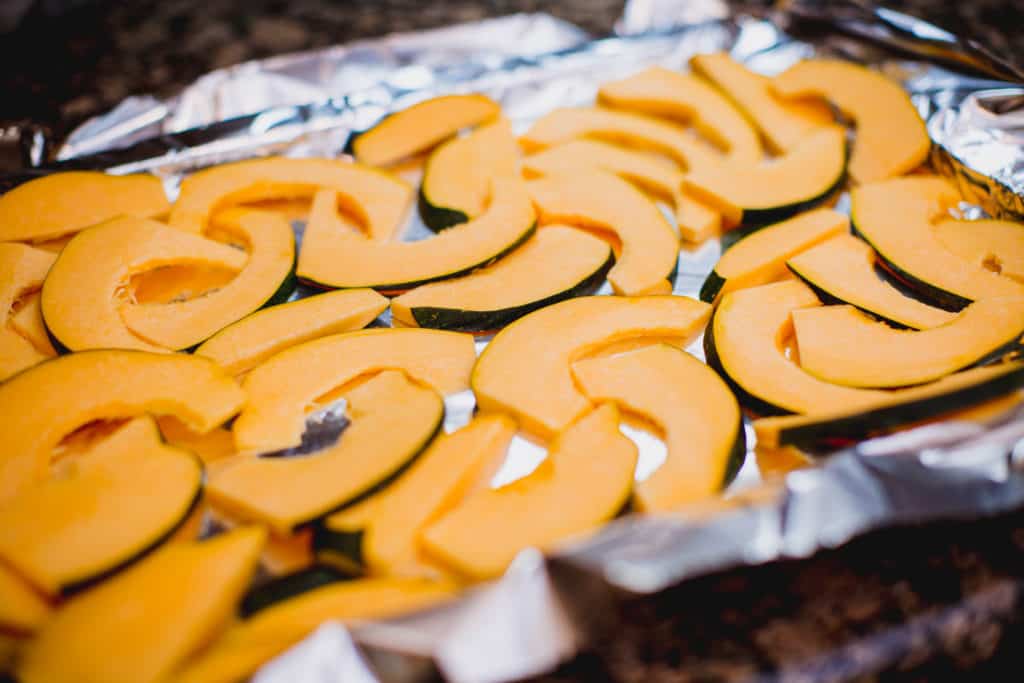 Developing Flavors
The majority of the flavors I am going for are from the browning of the butter and the spice mix. I really think clove is an underrated spice that shines well in a squash dish like this. Some other options you may prefer are:
Cayenne for a spicy squash
Chili powder for a smokey earthier flavor 
Cardamom and star anise for a more floral sweeter flavor (goes really good with ice cream)
Ground fennel for a complex licorice flavor 
What Pairs with Baked Cinnamon Spice Acorn Squash?
I really like this squash dish for two reasons:
It is really easy to make and tastes delicious
It pairs both savory and sweet 
This squash makes a perfect alternative starch for your holiday meals – swap out the sweet potatoes or yams for these anyday. They also serve well both hot and room temperature, and they go great in spinach salads during the winter.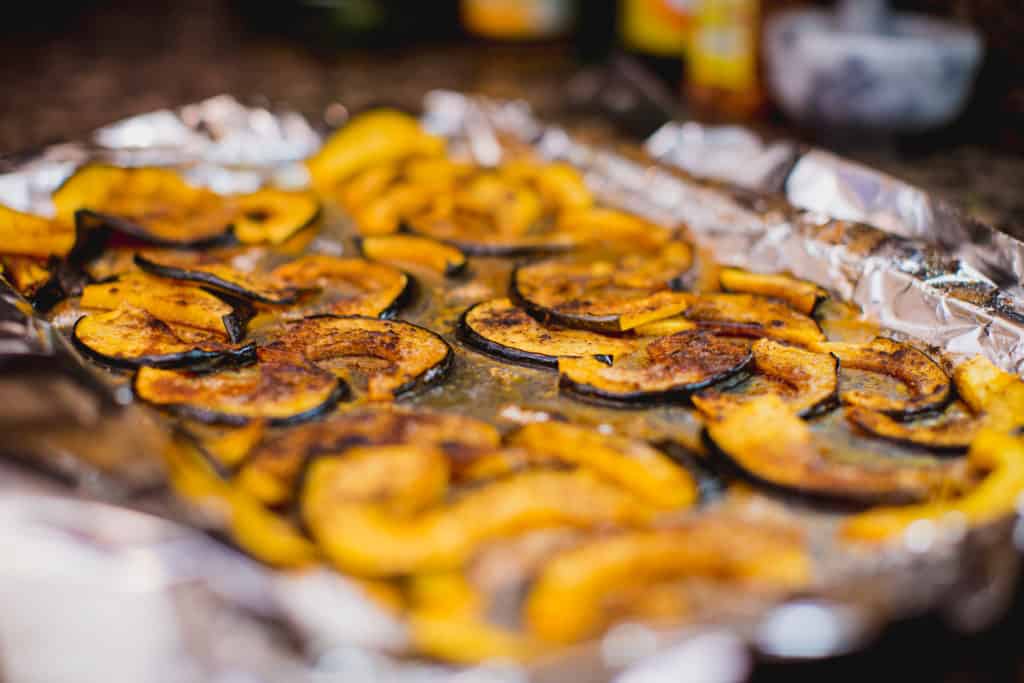 Tools Required
To cut the squash, here are the tools you need:
Cutting board
Knife 
Soup spoon
Baking sheet
Measuring spoons
It is really important you use a sharp, sturdy knife, as squash are thick to cut. To deseed it, I just use a soup spoon, because you can slightly cut into the squash with the spoon to detach the fibers. You'll want a baking sheet for cooking and some measuring spoons for your spice mix.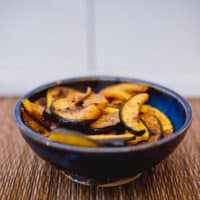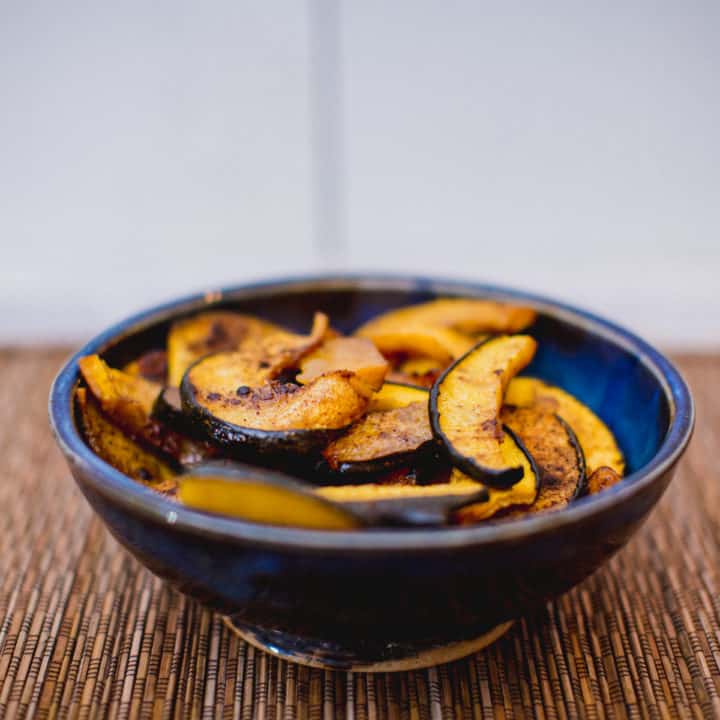 Ingredients
1

acorn squash

2

tablespoons

sugar

1

tablespoon

brown sugar

1

teaspoon

clove

cinnamon, nutmeg to taste

2

tablespoons

butter
Instructions
Preheat oven to 300°F

Wash the squash

Cut in half vertically and deseed

Cut into half moons about 1/6th of an inch thick

Place squash pieces onto baking sheet

Season liberally with sugar, brown sugar, clove, cinnamon, nutmeg, and butter

Bake for 45 minutes

Let them cool before serving

Nutrition
Calories:
128
kcal
|
Carbohydrates:
20
g
|
Protein:
1
g
|
Fat:
6
g
|
Saturated Fat:
4
g
|
Polyunsaturated Fat:
0.3
g
|
Monounsaturated Fat:
1
g
|
Trans Fat:
0.2
g
|
Cholesterol:
15
mg
|
Sodium:
50
mg
|
Potassium:
382
mg
|
Fiber:
2
g
|
Sugar:
9
g
|
Vitamin A:
571
IU
|
Vitamin C:
12
mg
|
Calcium:
41
mg
|
Iron:
1
mg