As an Amazon Associate we earn from qualifying purchases.
Showcasing a wonderful exhibit of layering in cocktails, the tequila sunrise is as beautiful to look at as it is refreshing and easy to drink. With the hues of red and orange, it's easy to understand how it got its name. I'm going to take the standard tequila sunrise and give it a festive twist, resulting in a cranberry tequila sunrise cocktail.
Why I'm Making a Cranberry Tequila Sunrise Cocktail Recipe
I love experimenting with new cocktails during the holidays and infusing them with holiday flavors. I ended up making a bit too much cranberry sauce this year, so I wanted to find additional ways to use it. I figured I'd try creating a recipe that combined a tequila sunrise and cranberry sauce for a tangy holiday drink.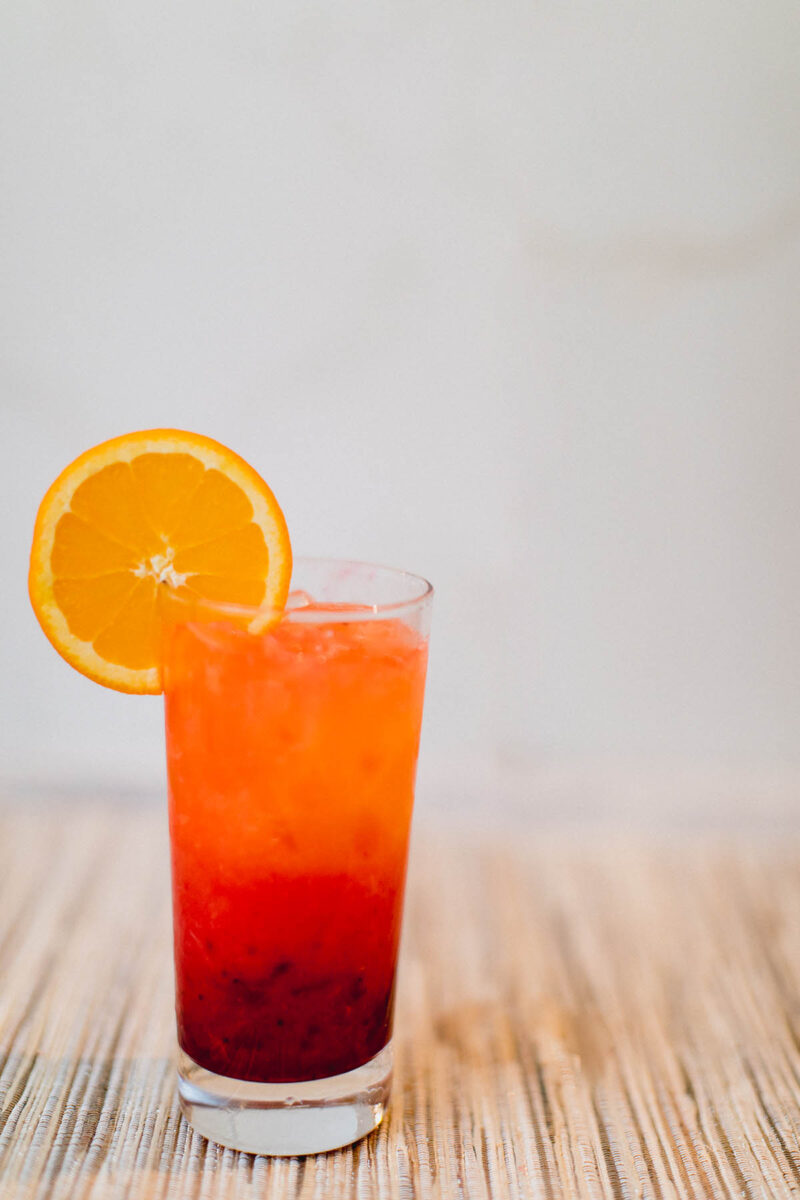 In my cranberry tequila sunrise I'm going to augment the bottom layer of grenadine with cranberry sauce to give more substance to the drink without making it quite so sweet. This cranberry tequila sunrise cocktail is perfect for the holidays and for people who prefer less sweet-tasting cocktails. 
Ingredients
A tequila sunrise cocktail is a layered drink using tequila, with the overall effect of the layering to resemble a sunrise. The most common version today is made with tequila, orange juice, and grenadine. Here's what you need: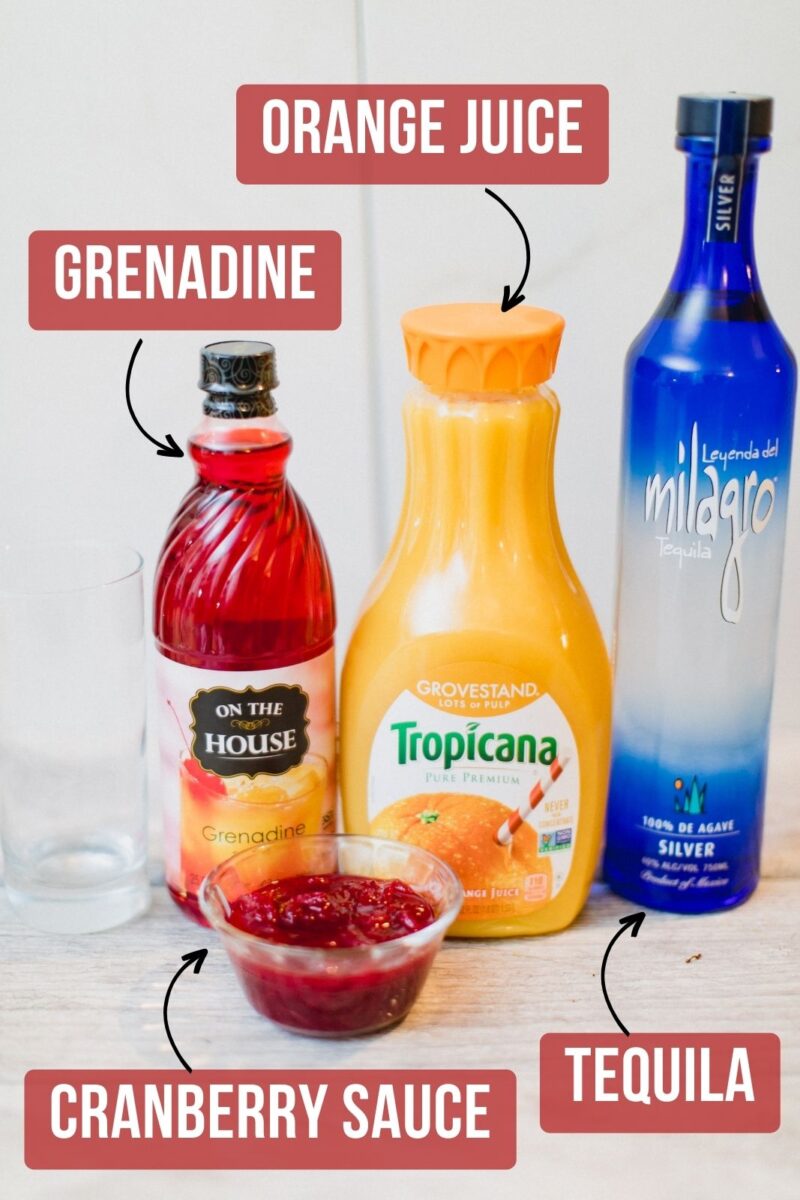 Cranberry sauce adds cranberry flavors and sweetness to the drink. If you don't have cranberry sauce, you can use cranberry juice. Just know that the flavor and thickness of the drink will be weaker.
Ice is a staple for mixed drinks. I'll be using cubed ice for this.
Tequila is the standard alcohol used in a tequila sunrise. I've found Milargo to be a good brand for mixed drinks. Ideally, use a silver tequila since it has a more neutral flavor.
Orange juice adds some tanginess to the drink. You can use pulp or pulp free, since the cranberry sauce is also a bit chunky.
Grenadine adds more sugar to the drink, a slight pomegranate flavor, and a vibrant color.
Recipe Instructions for a Tequila Sunrise with Cranberry
Step 1: Add Cranberry Sauce to Glass
Start with a tall glass, such as a Highball or Collins. Add cranberry sauce to the bottom of the glass. If you want to have a clean presentation, be careful not to have the sauce touch the sides for a clean look.
Step 2: Add Ice
Add ice to the glass to fill about 3/4 of the glass.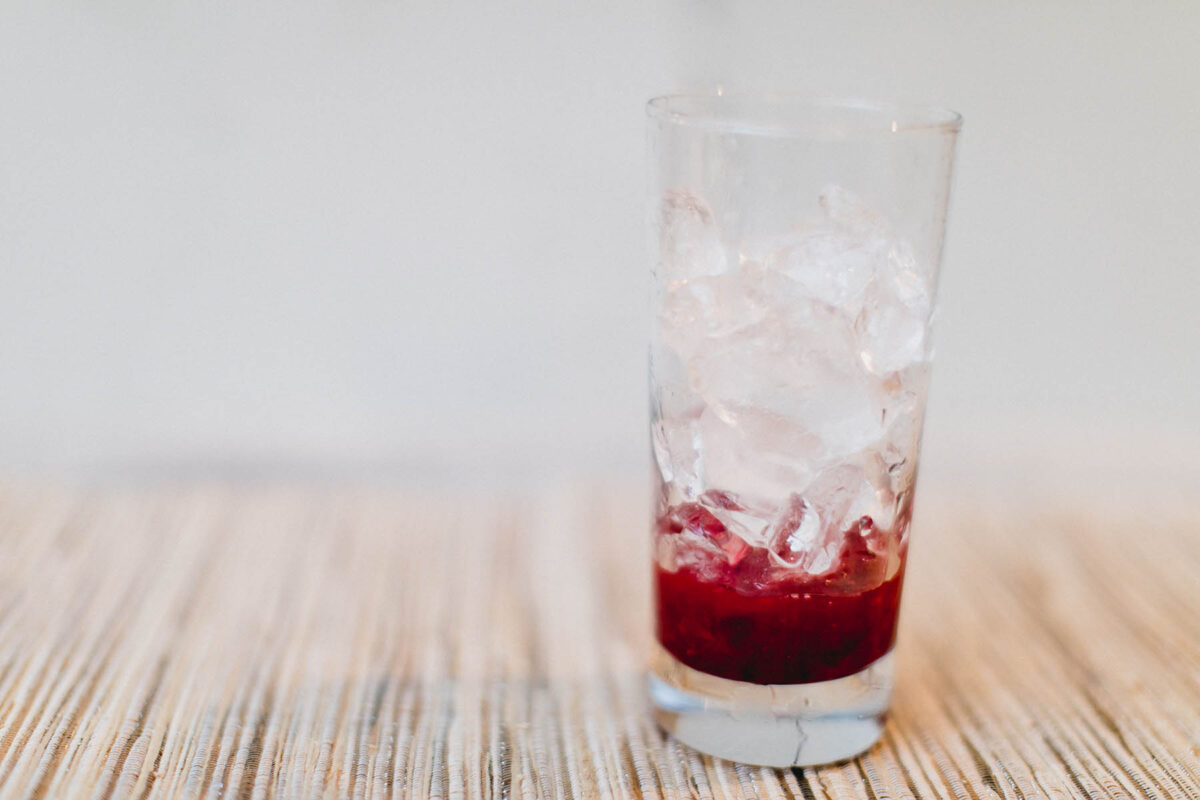 Step 3: Drizzle with Grenadine
Drizzle the grenadine and allow a few seconds for it to settle.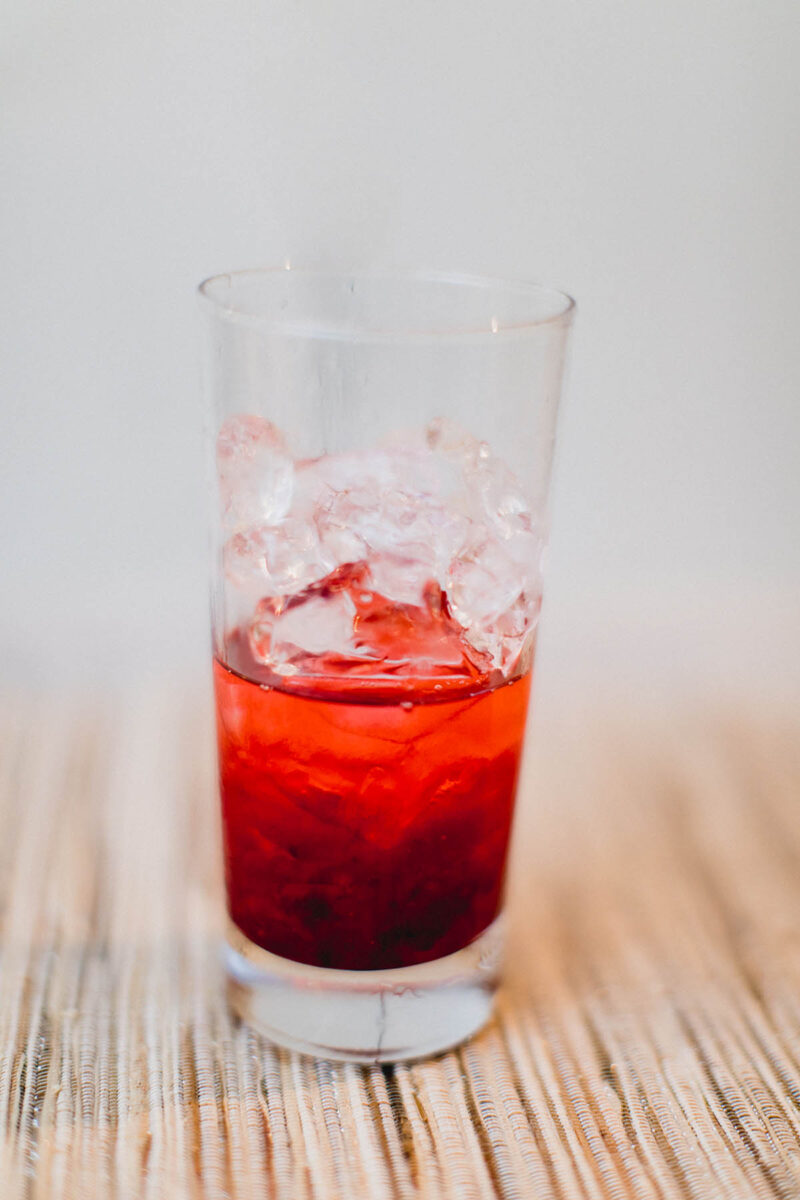 Step 4: Add Tequila
Pour 1.5 ounces of tequila into the glass.
Step 5: Add Orange Juice
Fill the rest of the glass with orange juice. This will be about 3 ounces.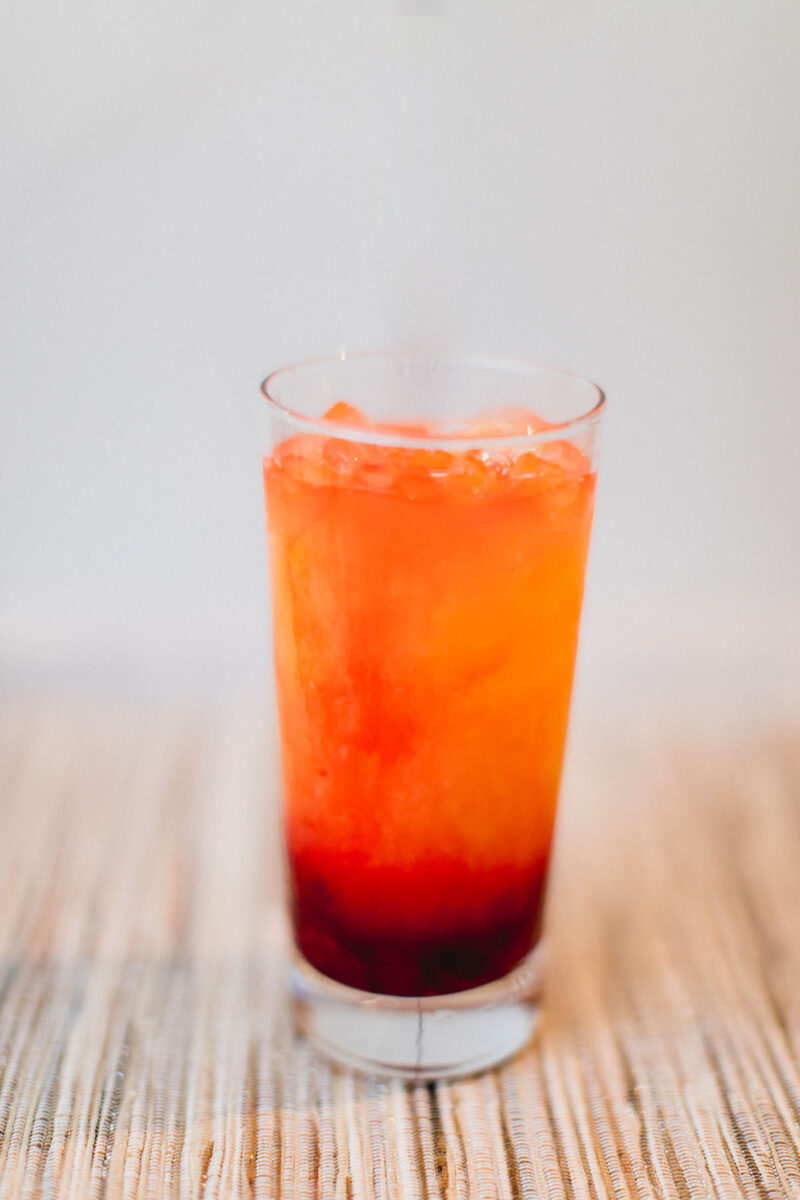 Step 6: Add a Garnish
Add a garnish to the drink if you want, such as a cranberry, orange, strawberry, lime, or cherry.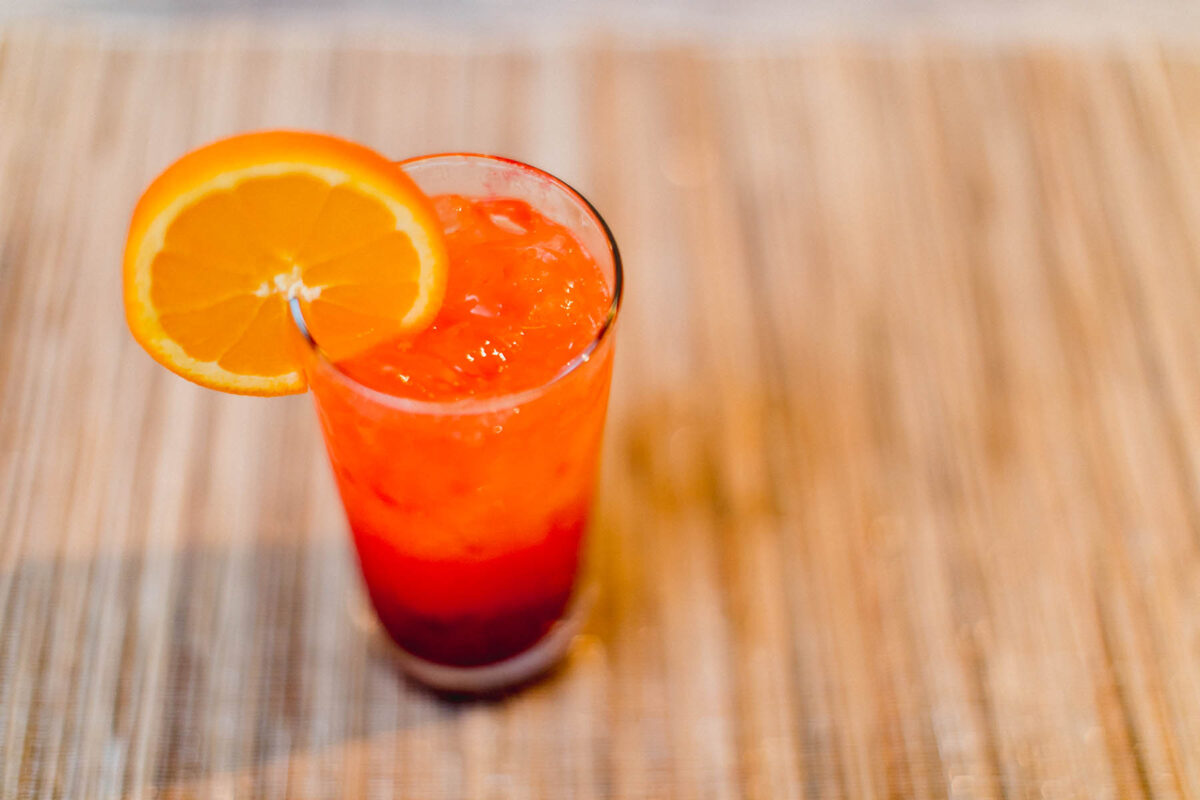 Step 7: Mix and Enjoy
Stir the drink with a spoon or straw just enough so the ingredients combine. Drink responsibly and enjoy!
Cranberry Tequila Sunrise Cocktail Tips
Here are some tips when creating this cocktail:
Since I want this to be a layered cocktail, ingredients that contain a lot of sugar will be added to the drink first. This is because sugar is heavy and will sink. The cranberry sauce will be the heaviest ingredient (both because of the sugar and thickness of the sauce), so that will sit at the bottom of my glass.
Typically, you shake drinks that contain citrus and ice. However, in order to get the layered effect that tequila sunrises are known for, I'm not going to shake it. But, you can stir it before drinking.
Related Questions
What Tequila Is Best for a Cranberry Tequila Sunrise?
The best tequila to use is a high-quality 100% agave tequila. Blanco or reposado tequilas are typically used as they provide a smoother taste and won't overpower the orange juice and grenadine flavors in the cocktail. I used Milagro tequila, which is a blanco (or silver) tequila.
What Is the Red Syrup in Tequila Sunrise with Cranberry?
The red syrup in a tequila sunrise is grenadine, a sweet and tangy pomegranate-flavored syrup. It adds a burst of fruity flavor and a vibrant red hue to the cocktail, creating a beautiful sunrise effect when mixed with orange juice, tequila, and cranberry sauce. It's a classic ingredient in this popular cocktail and a must-have in any home bar.
Why Is a Cranberry Tequila Sunrise Unmixed?
A cranberry tequila sunrise is actually a mixed cocktail, despite its layered appearance. The reason for its unmixed appearance is due to the specific way the ingredients are layered in the glass. 
The denser cranberry sauce and grenadine sink to the bottom due to their weight, while the lighter orange juice and tequila float on top, creating the iconic sunrise effect. To enjoy the full flavor of the cocktail, it's recommended to give it a gentle stir before drinking.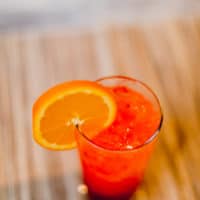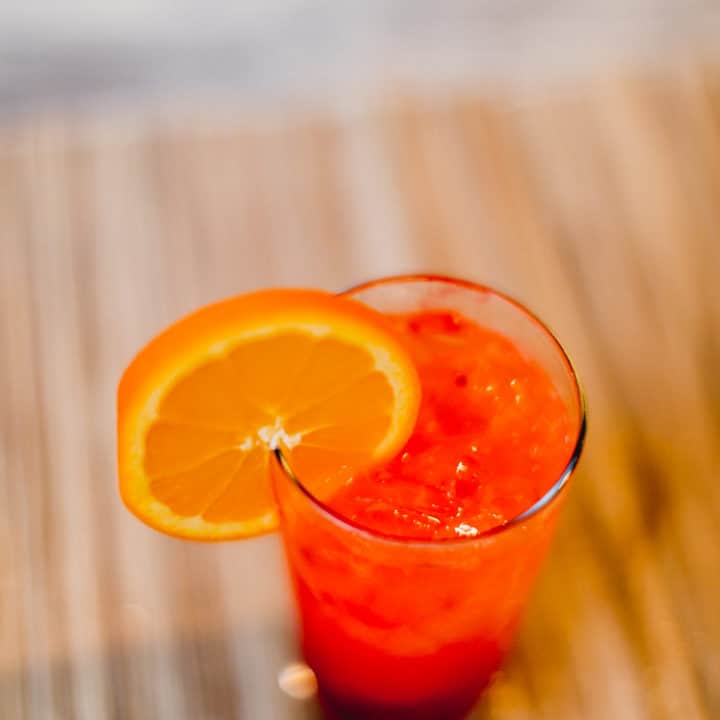 Ingredients
1

tablespoon

cranberry sauce

Handful of ice

1.5

ounces

Tequila

3

ounces

orange juice

¼

ounces

Grenadine

Garnish

optional: cherry, cranberry, strawberry, orange, or lime
Instructions
Start with a tall glass (highball / collins), and add cranberry sauce to bottom of it

Drizzle the grenadine down the side of the glass or on the back of a spoon and allow a few seconds for it to settle  

Top off with orange juice

Add Garnish (optional) 
Nutrition
Calories:
179
kcal
|
Carbohydrates:
20
g
|
Protein:
1
g
|
Fat:
0.2
g
|
Saturated Fat:
0.02
g
|
Polyunsaturated Fat:
0.03
g
|
Monounsaturated Fat:
0.03
g
|
Sodium:
4
mg
|
Potassium:
177
mg
|
Fiber:
0.3
g
|
Sugar:
15
g
|
Vitamin A:
176
IU
|
Vitamin C:
43
mg
|
Calcium:
10
mg
|
Iron:
0.3
mg
Beginner's Guide to Mixed Drinks and Cocktails