As an Amazon Associate we earn from qualifying purchases.
As summer fades and fall and winter settle in, I get really excited because it's a sign that squash season is beginning! When it comes to the holiday season, the most popular dish in my family has to be this roasted butternut squash recipe (or BNS as I call it at home). 
Squash is so versatile, and I'm pretty amazed by them. You can use them equally in savory and sweet dishes. They can be starchy enough to replace potatoes and can also be used for spaghetti replacements. Butternut squash, in particular, sits perfectly at the crossroads of sweet and savory cooking.    
What is Roasted Butternut Squash?
This roasted butternut squash recipe is the perfect way to enjoy this festive gourd. To get a good roast on the butternut squash, I'll be cooking mine on the stovetop, and it is also possible to cook this in the oven or elegant toaster oven as well. The main difference with cooking it on the stovetop is that you'll get a delicious crust that forms on the edges of the squash.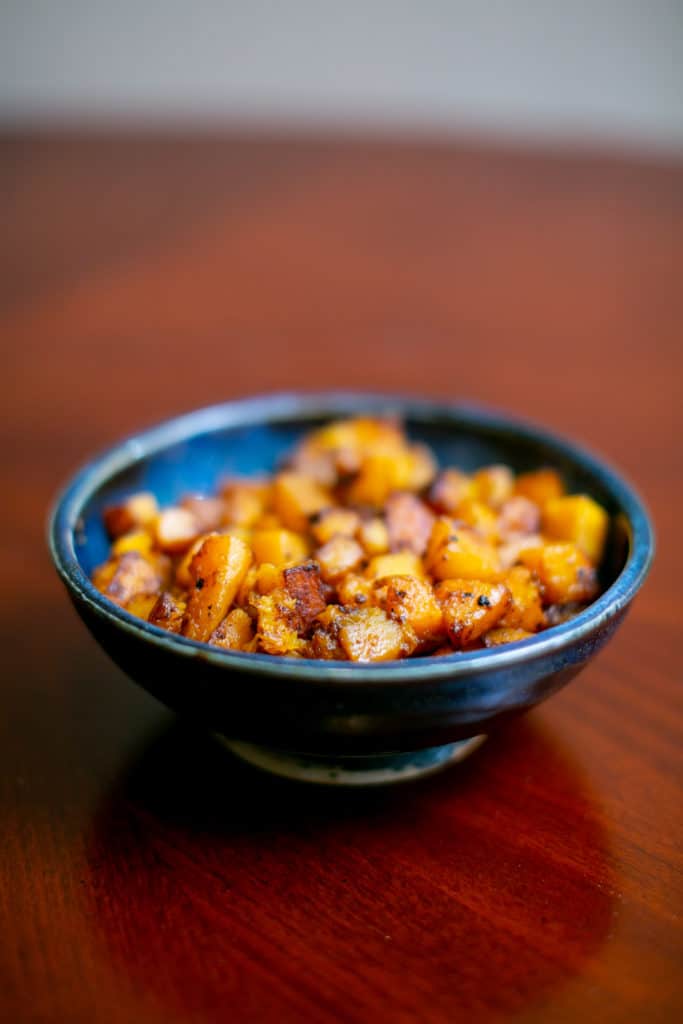 My Approach to Roast Butternut Squash
I want to highlight the savory and sweet characteristics of the squash while staying savory enough to keep out of dessert territory. To do this, I'll be adding spices and butter to the mix and allowing my squash to develop in those flavors as it softens. 
What Makes a Good Butternut Squash Dish 
The #1 way to make a good butternut squash dish is by cooking your squash all the way through. That might sound simple, but you wouldn't believe how many undercooked butternut squashes I've experienced at friends and family members' homes! 
All the best flavors and textures in squashes and potatoes are tied up in the starch. The only way to release them is by fully cooking it. Do not serve friends or family undercooked squash.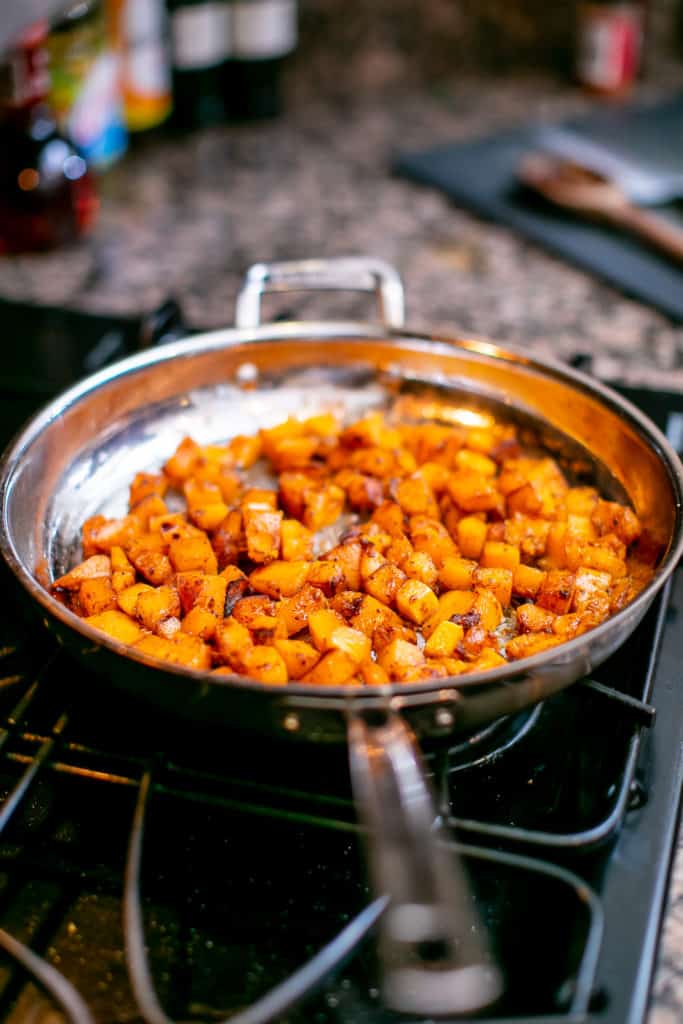 The solution is to cook low enough to not burn the outside of your squash while still staying on the heat long enough to cook all the way through. 
Before taking it off the heat, test the biggest pieces of butternut squash by actually tasting it. Tasting food as it cooks is a good habit to get into and is the only true way to tell if a dish is prepared correctly. 
Developing Flavors
When it comes to developing flavors in my roasted butternut squash recipe, there are two things I want:
Browned butter
Roasted crust
When butter starts to caramelize and turn brown, it releases this delicious nutty flavor that is exactly what I want for my squash. I also want to get a roasted crust on all sides of the squash if possible. The more sides of your squash you can brown, the better the flavor of your dish will be due to the caramelization of the sugars in the squash. 
Pairing Ideas for Roast Butternut Squash
Any holiday meat entree tends to go pretty well with butternut squash. So whether you are having turkey, chicken, or ham, know that this roasted butternut squash recipe will make a wonderful side.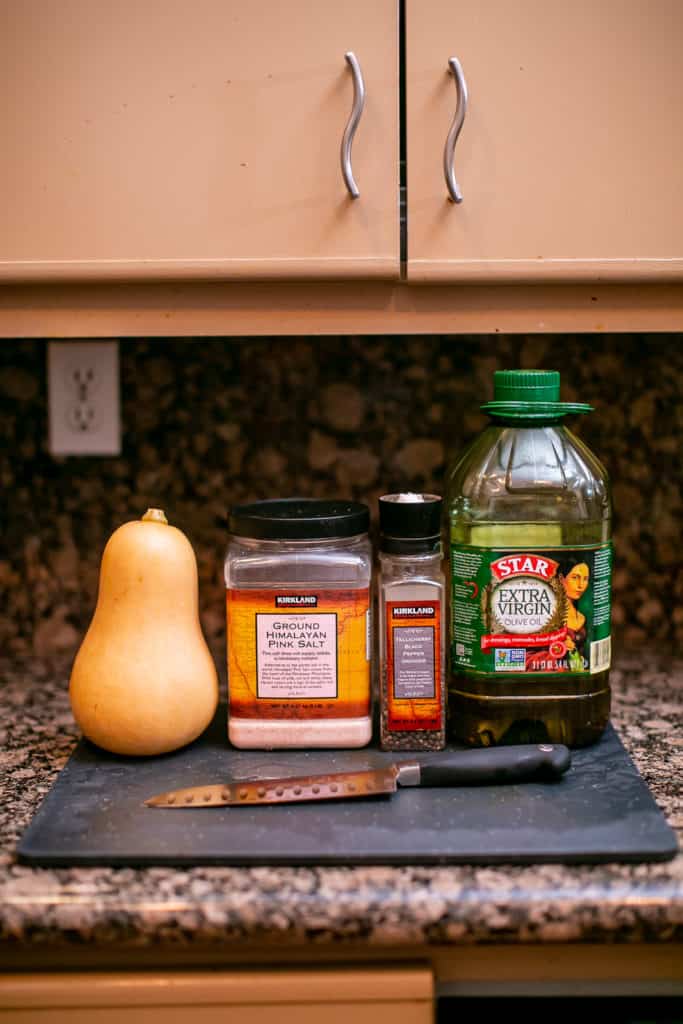 If you want to add an additional flavor to this butternut squash side dish, a tangy cranberry sauce goes wonderfully. Ideally, you will want to make this from scratch, and I recommend adding some orange zest to it!
Tools Required
There are minimal tools needed for this squash recipe. You will need a chef's knife and cutting board to break down the butternut squash. You will also need a pan for roasting the squash, a rondeau pan can work as well.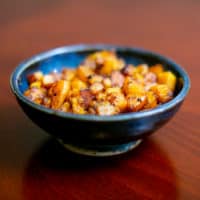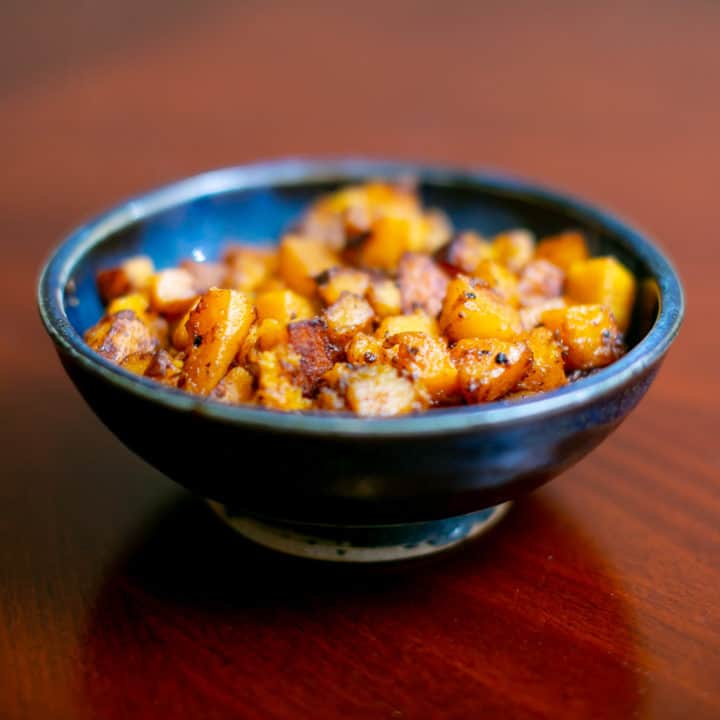 Ingredients
1

butternut squash

2

tablespoons

butter

2

tablespoons

oil

1

teaspoon

cinnamon

1

teaspoon

nutmeg

1

teaspoon

pepper

1

pinch

of salt
Instructions
Cut butternut squash into 1/2 inch cubes. Start by cutting the stem and neck off. Cut the skin off of the neck one strip at a time. Cut the skin off the body one strip at a time.

Heat pan on medium high.

Add oil.

Add cubed squash.

Cook for 10 minutes, stirring every minute.

Lower heat to medium low.

Add butter and seasonings.

Cook for another 20 minutes or until fork soft.
Nutrition
Calories:
202
kcal
|
Carbohydrates:
23
g
|
Protein:
2
g
|
Fat:
13
g
|
Saturated Fat:
4
g
|
Polyunsaturated Fat:
2
g
|
Monounsaturated Fat:
6
g
|
Trans Fat:
0.3
g
|
Cholesterol:
15
mg
|
Sodium:
62
mg
|
Potassium:
672
mg
|
Fiber:
4
g
|
Sugar:
4
g
|
Vitamin A:
20111
IU
|
Vitamin C:
39
mg
|
Calcium:
100
mg
|
Iron:
1
mg