As an Amazon Associate we earn from qualifying purchases.
While there is no replacement for real, slow wood smoked ribs, I want to see how close I could get to using other methods of cooking. Since the whole premise of smoking food is to cook it low and slow while imparting smokey flavor, sous vide cooking was the obvious alternative for how I'd cook my baby back ribs. Here's how I sous vide ribs.
What are Sous Vide Ribs?
Baby back ribs, despite their name, do not come from baby pigs. The rib cage of a pig varies in the length and curvature of the bones and tapers over the length of the animal. Specifically, baby back ribs come from the top of the rib cage just below the loin muscle and between the spare ribs and the spine.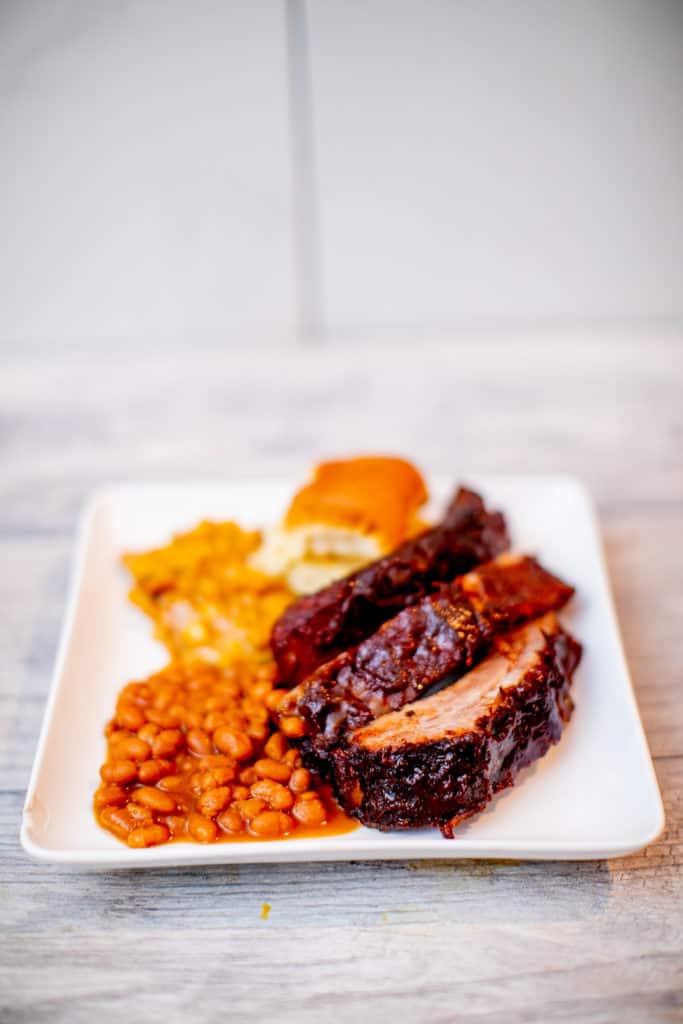 You might also hear ribs also called pork ribs, and you can sous vide pork ribs following this same recipe that I'm using to sous vide baby back ribs. 
Meatier baby back ribs tend to be more mild in flavor than their spare rib cousins. This mild flavor means I need to be extra careful with moisture and dilution. Cooking the baby back ribs in a sous vide helps mimic the low and slow controlled application of heat that smoking.
Sous vide cooking also allows me to limit the addition of moisture that could dilute the flavor of the ribs.  In using this sous vide process to cook ribs in a water bath, I will end up with tender ribs that are incredibly flavorful.  
My Approach to Baby Back Ribs
I dry brined the ribs, because pork dries out easily. Dry brining the ribs before hand (up to 3 days) will help break down and relax myosin fibers in the muscle, preventing moisture from being pushed out of the meat. Don't worry though, I'm still going to have tender ribs at the end of this since I'm cooking in a water bath.  
Next, we'll be using liquid smoke to impart some smoke flavor to my ribs. Liquid smoke is actually made from real wood smoke that has been condensed and dissolved into liquid.
That said, liquid smoke does not taste the exact same as real smoke, but it is as close as we can get without using hardwood. Finally, rub and cook low and slow. 
What Makes Good Sous Vide Baby Back Ribs
Texture is what makes ribs so good. The perfect balance between fall-off-the-bone and a solid mouthfeel is the sweet spot I am trying to recreate by using a sous vide. 
Growing up, I actually used to always think baby back ribs should fall apart like a braised short rib or carnitas, and boy was I wrong. There is something to be said for the succulent texture of baby back ribs or pork ribs that is really lost if you break them down too far. 
To get the right texture on BBQ ribs, it comes down to how long you cook it in the sous vide. For the sous vide cook time, you can sous vide the ribs between 3-24 hours (I prefer closer to the 24 hour mark).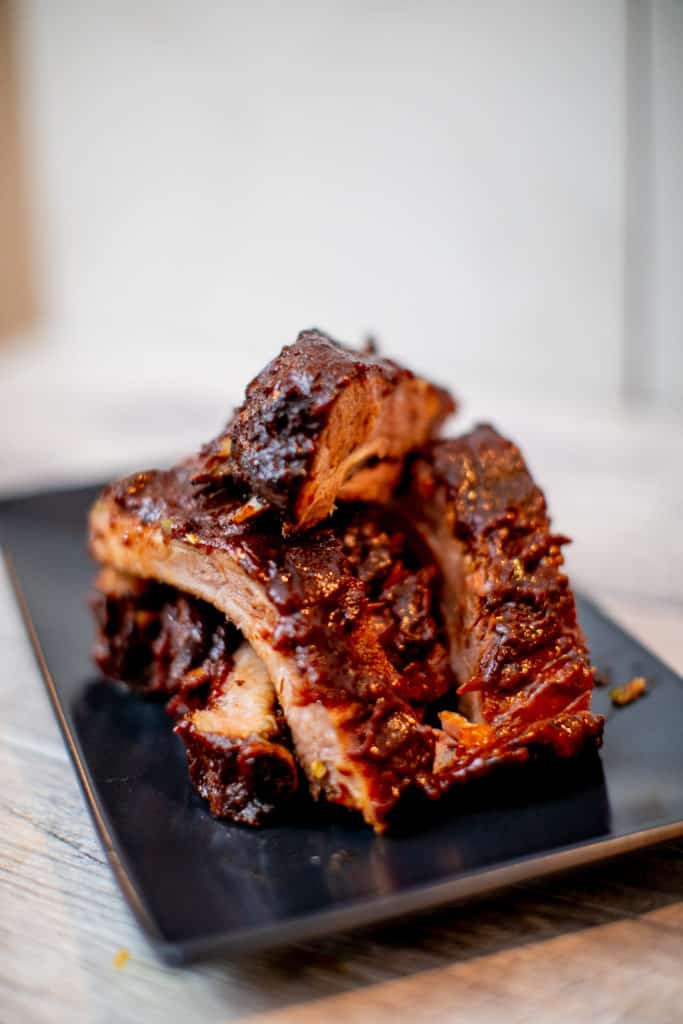 The Challenge With Sous Vide Baby Back Ribs
A sous vide is maybe one of the easiest ways to cook food. You can put food in a bag, drop it in water, and walk away. 
But, one of the dangers of cooking ribs in this fashion is the bones. Nothing will spoil your day more than waiting hours for ribs only to find out your bag was punctured, and you've been cooking a really weak soup this whole time because water has filled the bag.
I had a similar fiasco happen back on Valentine's Day 2019 with a dry rub 2 pound bone-in ribeye that ripped the bag, and it was devastating! Let's just say it took me a long time to salvage that meal. 
As a simple solution though, double bag it, especially if it has bones! You could also try using a sous vide bag, which is specifically meant to use in a sous vide water bath. I have yet to try this, but they probably work better than Ziploc bags. 
Developing Flavors
Flavor wise, I'm going to give my recommendations on a rub but feel free to substitute whatever spices or ratios you want. Make sure you taste your rub before applying it! 
My recommendation is to avoid herbs in the rub, as they won't help develop bark during the final bake. They are also prone to burning or falling off (taking flavor with them), and can even suck up critical amounts of juice from your ribs. 
What Pairs with Sous Vide Ribs?
For me, this is a total barbecue meal even though I'm using a sous vide bath rather than a gas grill to cook. That means the staple sides are a variation of garlic mashed potatoes, baked beans, creamed corn, corn on the cob, coleslaw, and french fries.
It goes without saying, but BBQ sauce also goes with this sous vide recipe. While you can spread barbecue sauce on the ribs after they're done cooking, I recommend basting the cooked ribs in the sauce to get a nice crust. This way, you have tender ribs with a nice crunch as you bite into the BBQ ribs. When your ribs go in the oven, you can use aluminum foil to cover them, but it's not required.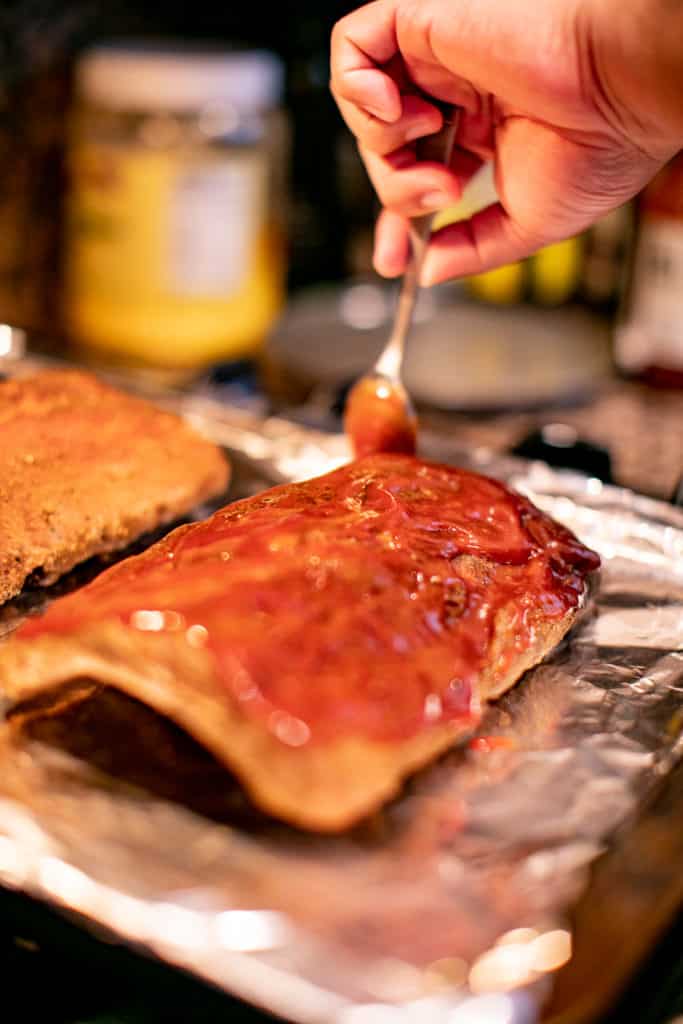 Tools Required
Below are the tools you'll need for making sous vide baby back ribs. You can also use the same tools if you are going to sous vide pork ribs:
1 large baking dish or casserole dish 
Butter knife
Plastic wrap
1-2 gallon freezer airtight bag or vacuum sealer  
1 sous vide
Tub or pot large enough to fit ribs
Baking tray
Paper towel (to use while eating)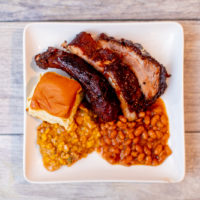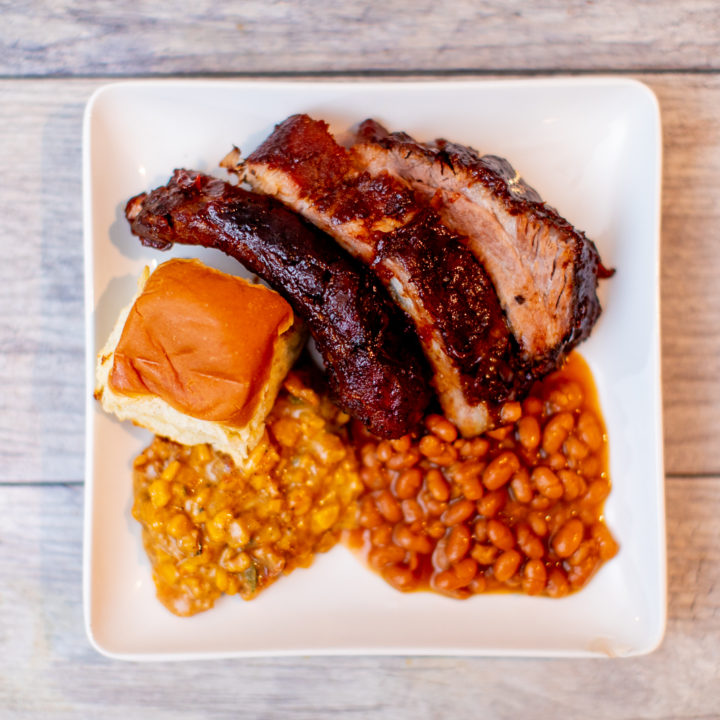 Ingredients
1

full rack baby back ribs

6

tablespoons

salt

1/4

cup

brown sugar

1

tablespoon

pepper

2

tablespoons

paprika

1

tablespoon

garlic powder

1

tablespoon

cayenne

optional

1

cup

bbq sauce of your choosing

optional
Instructions
Place ribs in a large baking or casserole dish

Loosen silver skin on bottom side of rack with a butter knife

Pull to remove silver skin entirely from bottom

Season both sides liberally with 2 tablespoons salt

Cover with cling film and chill in fridge for 1 day (optional)

Set sous vide for a precise temperature of 145°F

Rub both sides of ribs with seasoning mixture: brown sugar, 4 tablespoons salt, pepper, paprika, garlic powder, and cayenne

Vacuum seal pork or submerge and seal into freezer bags (recommend double bagging)

Cook for minimum 3 hours and maximum 24 hours (recommend getting as close to 24 hours as you can)

Remove ribs from bags and pat dry

Preheat oven 325°F

Baste ribs with BBQ Sauce of your choosing

Bake for 30 minutes on a baking tray

Serve and enjoy (don't forget some paper towels and an extra size of BBQ sauce!)
Nutrition
Calories:
358
kcal
|
Carbohydrates:
48
g
|
Protein:
15
g
|
Fat:
13
g
|
Saturated Fat:
4
g
|
Polyunsaturated Fat:
2
g
|
Monounsaturated Fat:
5
g
|
Trans Fat:
0.1
g
|
Cholesterol:
49
mg
|
Sodium:
11271
mg
|
Potassium:
510
mg
|
Fiber:
3
g
|
Sugar:
38
g
|
Vitamin A:
2428
IU
|
Vitamin C:
1
mg
|
Calcium:
82
mg
|
Iron:
2
mg