As an Amazon Associate we earn from qualifying purchases.
When I was younger, I used to hate coleslaw. It was a dish that I'd put a tiny scoop of onto my plate just to please my parents or not offend friends or co-workers. It wasn't until I got older and started cooking more when I really started to understand why I disliked it so much and how to fix coleslaw to be an enjoyable side dish. 
What is a Coleslaw?
Coleslaw is the anglicization of the Dutch word "koolsla" meaning cabbage salad. Coleslaw normally consists of finely shredded cabbage with either vinegar or mayo-based dressing and various mix-ins. In America, I often eat it as a side dish most notably with barbeque.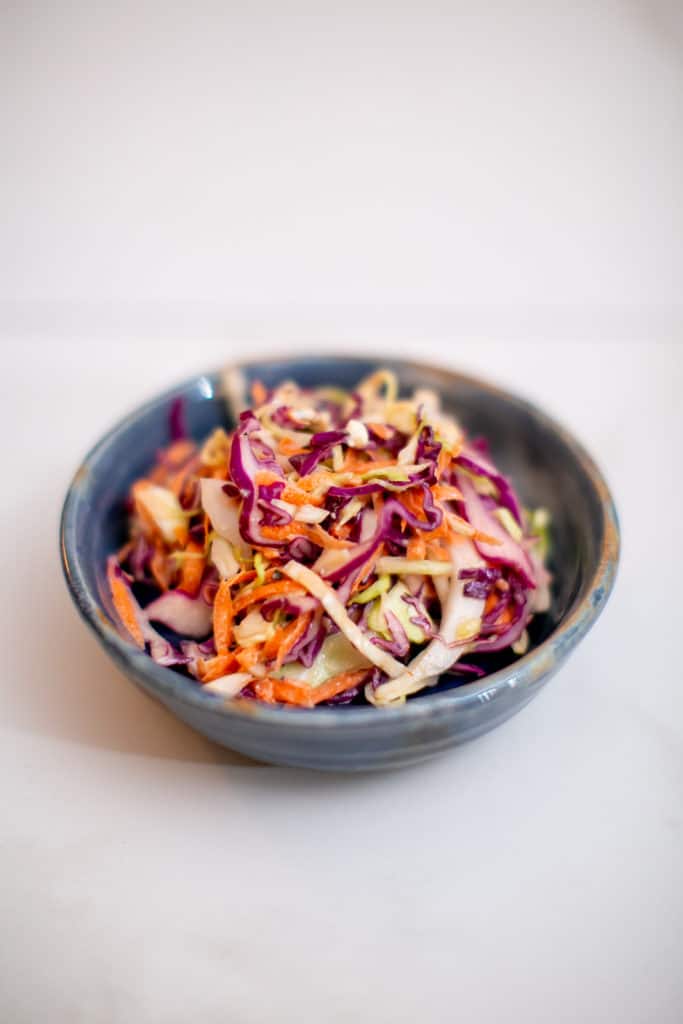 The flavor and texture of cabbage are what had bothered me in the past. In my blue cheese coleslaw recipe, I'll address these two major challenges and show you how to make coleslaw that your friends and family will dive right into. 
What Makes a Good Blue Cheese Coleslaw? 
First, I need to ask myself what makes a good coleslaw. The key to a good coleslaw is texture. Many people do not like cabbage (for the same reason I don't like the white part on a head of lettuce). The texture of raw cabbage is rough, quite literally.
So, to save everyone's jaws from excessive chewing through roughage, I'll be doing a lot of cutting during the preparation of this blue cheese coleslaw recipe. By cutting the cabbage very paper-thin, I remove the need to break down as much of the cabbage with my teeth. This is exactly like when you cut a small piece of meat from a big one, making it easier to chew through. 
Next, I want to really address the blue cheese aspect of this coleslaw. You really want to be able to taste a bit of blue cheese in each bite you take. In this blue cheese coleslaw recipe, I will be using quite a bit of cheese to ensure the flavor is well dispersed.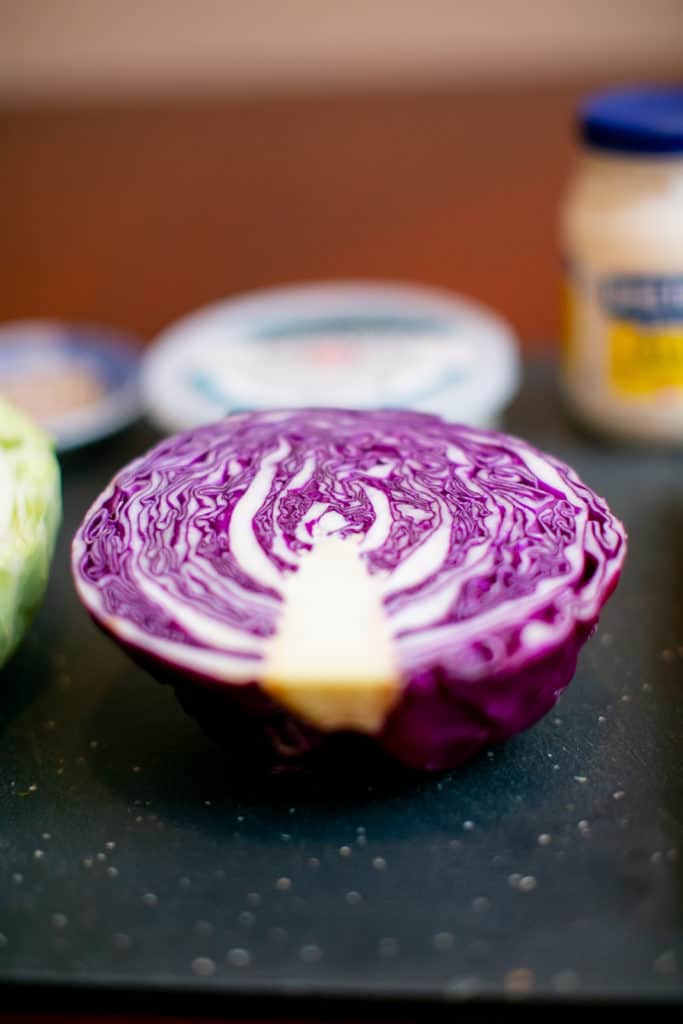 The Challenge with Coleslaw
The challenges with coleslaw stem from the cabbage itself. Cabbage is neither a soft leafy vegetable like redleaf or spinach nor is it very flavorful like arugula or butter leaf. Because of this, I'm up against the challenge of texture and adding flavor.
My Solution to Coleslaw 
My solution to great coleslaw is cutting the cabbage into paper-thin shreds. This is going to aid in texture and mouthfeel because it is so much easier to chew through and eat. What may not be immediately obvious is that it will also help with flavor. 
Let's switch gears into geometry for a second. What you may recall from your 8th-grade geometry class is the idea of surface area and volume. Surface area is the area of the faces of shape, and volume is the amount of stuff that shape contains. The ratio between these is the secret to more flavorful coleslaw and many more of your favorite foods. 
By cutting my cabbage very thin, I allow more of my dressing to coat the surface area of each piece of cabbage relative to the amount of unflavored inside volume. In short, smaller pieces means more "outside parts." 
The easiest example I can give you is french fries. Think of the difference between a giant wedge or steak fry and a super thin shoestring fry. The giant wedge has a thin coat of crispiness on the outside, and after that, you're basically eating a baked potato on the inside. The shoestring fry seems to be almost entirely crunch, and that is because the surface area to volume ratio of the shoestring fry is so high. It quite literally is almost all outside fried parts. 
Flavorful Flavors to Add into Blue Cheese Coleslaw
For flavorful additions, if it goes well with blue cheese, it will likely go great in this coleslaw. I highly recommend some of the following:
Bacon: Add bacon for that classic, 4th of July coleslaw. This is a BBQ staple, bacon will add a lot of body to your dish.
Green apple: If you want some additional tang in your coleslaw, green apples pair amazingly with blue cheese.
Walnuts: get some likable crunch back into your coleslaw without having to resort to big chunks of cabbage. 
What Pairs with Blue Cheese Coleslaw?
Heavy meats and sweet meats pair well with coleslaw. There is a reason I see it as so many barbeques. Coleslaw has also found its way into my pulled pork, pressure cooker pork carnitas, and pastrami sandwiches for this same reason.  
Tools Required
You will need a good chef's knife to slice the cabbage thin by hand. Alternatively, if you have a mandolin, v-slicer, or food processor you may use that as well. A vegetable peeler is recommended to take care of the carrots. You'll also want a pretty large bowl for the final product.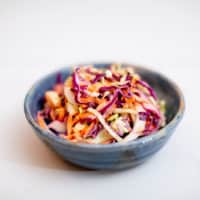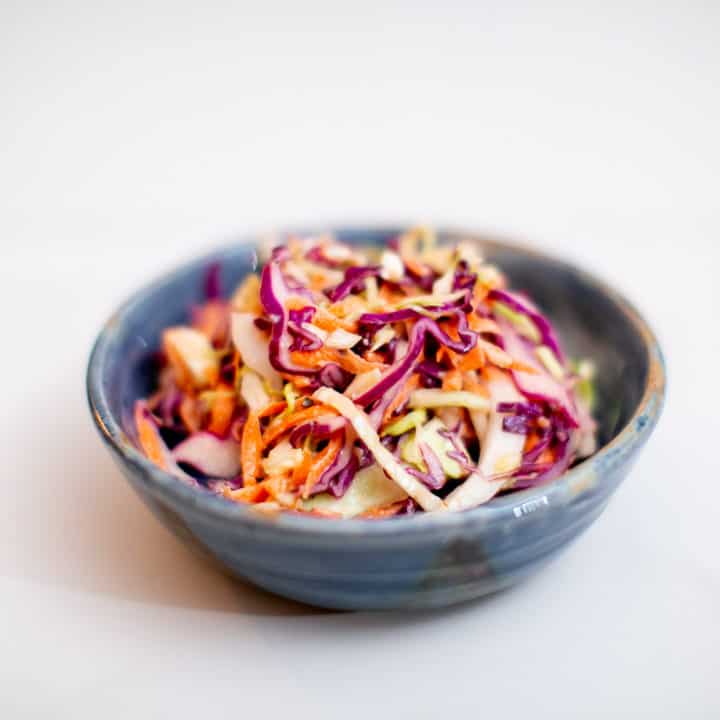 Ingredients
2

carrots

1/4

th red cabbage

1/4

th white cabbage

1/2

cup

blue cheese

6

tablespoons

mayo

1

tablespoon

apple cider vinegar

1/2

teaspoon

pepper

1/2

teaspoon

sugar
Instructions
Wash vegetables

Cut cabbage in half through the equator 

Peel skin off carrots and then make ribbon sized slices with peeler 

Cut cabbage into paper thin pieces

Place shredded carrots and cabbage into bowl

Add blue cheese, mayo, vinegar, pepper, and sugar into bowl

Mix everything together and serve
Nutrition
Calories:
83
kcal
|
Carbohydrates:
4
g
|
Protein:
2
g
|
Fat:
7
g
|
Saturated Fat:
2
g
|
Polyunsaturated Fat:
3
g
|
Monounsaturated Fat:
2
g
|
Trans Fat:
0.01
g
|
Cholesterol:
7
mg
|
Sodium:
124
mg
|
Potassium:
125
mg
|
Fiber:
1
g
|
Sugar:
2
g
|
Vitamin A:
1960
IU
|
Vitamin C:
17
mg
|
Calcium:
50
mg
|
Iron:
0.3
mg