As an Amazon Associate we earn from qualifying purchases.
While probably only the 3rd or 4th most popular taco meat after carne, pollo, and picadillo (ground beef), carnitas is perhaps one of my all-time favorites. To me, carnitas is the first of the rarer and higher-brow taco meats, like the spit-roasted al pastor (adobaba), braised and slow-cooked birria, and breakfast favorite, chorizo sausage. 
These are meats demonstrate much more technique in cooking, and the flavor they develop is a testament to these more advanced methods.   
What is a Carnitas?
Carnitas, which means "small meats," is a slow-cooked braised pork dish often used to fill tacos, burritos, or to go with rice and beans. Carnitas is often cooked in lard at low temperatures, making it very close to the French confit method of cooking. 
There are two types of carnitas here in San Diego. The first is traditional wet style carnitas, which is pulled straight out of the juices and fat that it was cooked in. The second is the crispy kind, which takes the first type and fries it up for more texture. 
My Approach to Carnitas
To make it fast I'm going to be using a pressure cooker to make my pork carnitas recipe. As you may know, water boils at 212°F. You may also know from chemistry or from experience that water boils at lower temperatures up in the mountains and on airplanes. This is all due to air pressure, which is what keeps water in a liquid state. The lower the air pressure, the easier it is to turn water to steam. 
You may also recall from my oven-baked chicken recipe that water limits the temperature you can cook at since it absorbs heat energy on its way to transforming into steam. All this to say, if you are cooking something in a water-based solution, it will not get much hotter than 212°F. 
This means breaking down something like a whole pork shoulder is going to take some time. This is where a pressure cooker comes in! By keeping the contents of the pressure cooker "under pressure," I am increasing the temperature at which water can boil (meaning, more heat can be conducted by the solution you are cooking in). 
What Makes a Good Pork Carnitas
Good pork carnitas must be fall-apart tender. If you cannot cut it with a fork or even just by squishing your fingers together, it is not tender enough. Traditionally, carnitas must also be juicy and moist. Because carnitas is usually cooked in lard, it pretty much always maintains a finger-licking texture and mouthfeel.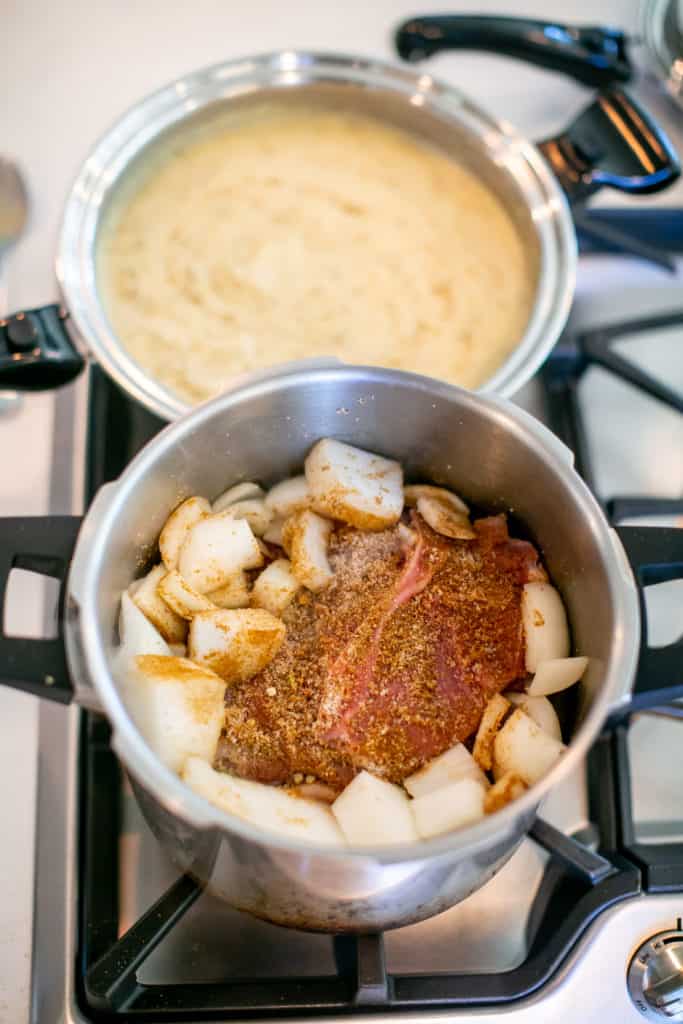 The Challenge with Carnitas 
Time is the biggest challenge with carnitas. It is a labor of love, and like the American pot roast or french coq au vin, it is not a quick meal. To combat this I'm going to do two things with this pork carnitas recipe:
First, use a pressure cooker. Pressure cookers allow me to cook faster at higher heats.
Second, make a lot of carnitas at once. This doesn't really change the cooking time, and it gives you so much more fruit for your labor. There is also the reality that you can't really buy pork shoulder in small pieces, so you should cook the entire piece at once.
Developing Flavors in Your Carnitas 
While not traditional, the fried or pan-fried approach to carnitas is very popular down here in San Diego, and for good reason. While the wet style carnitas is really good on rice with beans, it does not make for very good tacos. I mean, no one really wants soggy tortillas, so when I pan fry or deep fry my carnitas, I reduce the amount of water hitting the taco. 
I personally prefer a pan-fried approach. This is where you reduce down the juices and lock them into the carnitas. This greatly concentrates the flavor in each bite. Finally, you will also have a chance to develop some crust or bark on the meat, which is probably the best part. 
Tools Required
I highly recommend using a pressure cooker for this pork carnitas recipe but realize not everyone will have one of these. If you do not own a pressure cooker you can use this same recipe and just bake the carnitas covered tightly with foil for 45 minutes a pound (will normally be about 4-5 hours).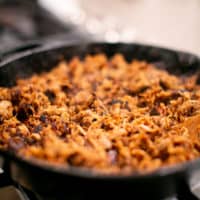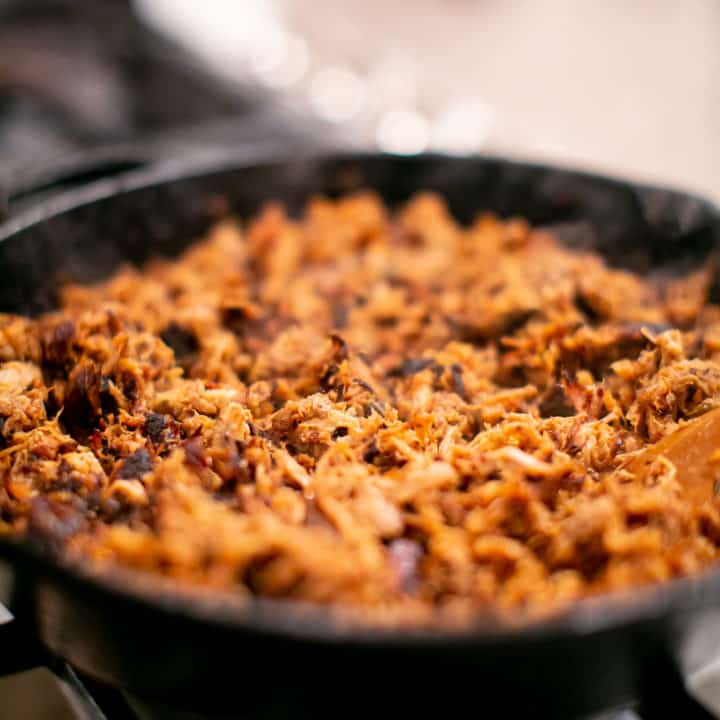 Ingredients
1

Pork shoulder

2

tablespoons

cumin

1

white onion

1

jalapeno pepper

2

cups

chicken broth

1

orange

1

sprig oregano

1

tablespoon

salt

1

tablespoon

pepper

1

lime
Instructions
Cut onion and jalapeno

Peel oranges and slice

Salt and sear pork on high heat for 2 minutes per side

Add pork, onion, peppers, chicken broth, orange slices, and oregano into pressure cooker

Cook for 2 hours, starting on high heat. As the pressure line on the pressure cooker reaches the high setting, reduce the heat to low.

Pan fry servings for 10-15 minutes on medium-high heat (optional)

Squeeze lime juice on and serve
Nutrition
Calories:
364
kcal
|
Carbohydrates:
6
g
|
Protein:
30
g
|
Fat:
24
g
|
Saturated Fat:
9
g
|
Polyunsaturated Fat:
2
g
|
Monounsaturated Fat:
11
g
|
Cholesterol:
109
mg
|
Sodium:
1177
mg
|
Potassium:
527
mg
|
Fiber:
1
g
|
Sugar:
3
g
|
Vitamin A:
95
IU
|
Vitamin C:
15
mg
|
Calcium:
70
mg
|
Iron:
3
mg
Beginner Guide to Cooking Meat