As an Amazon Associate we earn from qualifying purchases.
For the longest time, precision cooking had only been available to the top professionals at the fanciest restaurants. Within the past few years, there has been an explosion of precision cooking or "sous vide" technology that has emerged. Why does this matter? Now, you can replicate the most perfectly cooked dishes with minimal effort and skill, including this lemon herb chicken recipe.  
What is Sous Vide Lemon Herb Chicken?
Sous vide lemon herb chicken is an entree where the chicken is coated with lemon juice and herbs and cooked thoroughly in sous vide. Using a sous vide allows me to fully cook the chicken breasts without overcooking the meat and still keeping the tenderness of it.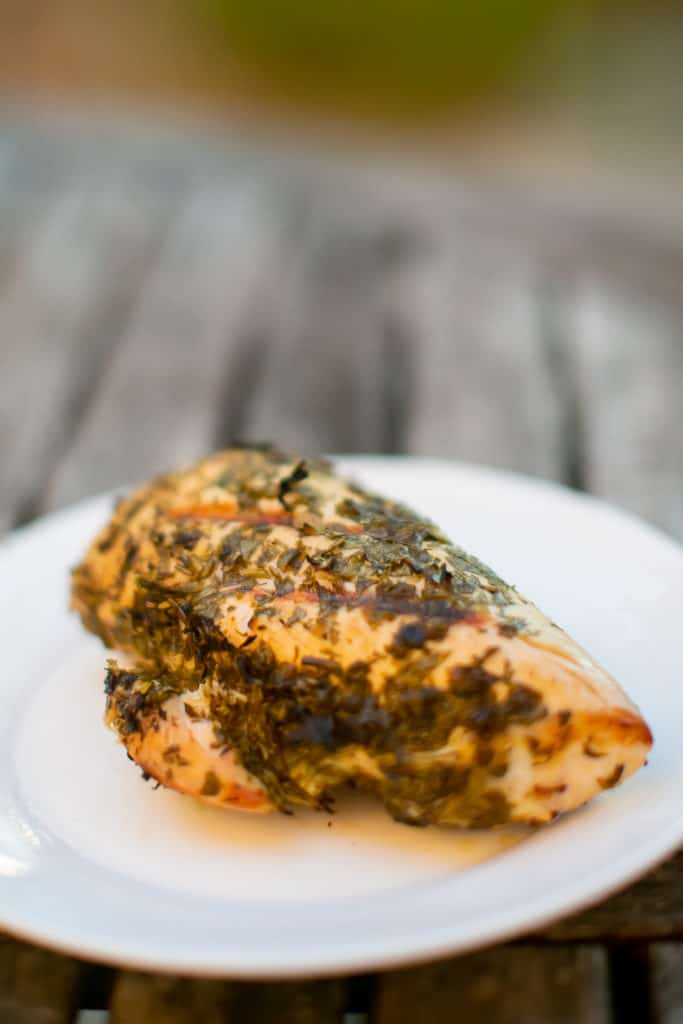 Using a Sous Vide for Cooking Lemon Herb Chicken
Sous vide is French for "under vacuum." It is a technique for cooking food in a plastic bag, submerged in precise temperature-controlled water. 
Chicken is a notoriously hard food to make both safe to eat and tender and juicy. This is because food safety common sense would tell me to heat my chicken to 165°F to kill everything living in it. 
Unfortunately, the temperature that the muscle fibers start toughening and constricting all the water and juice out of the meat is at about 145°F. The truth of the matter is pasteurization of food (getting rid of the dangerous microbes) is a factor of both temperature and time.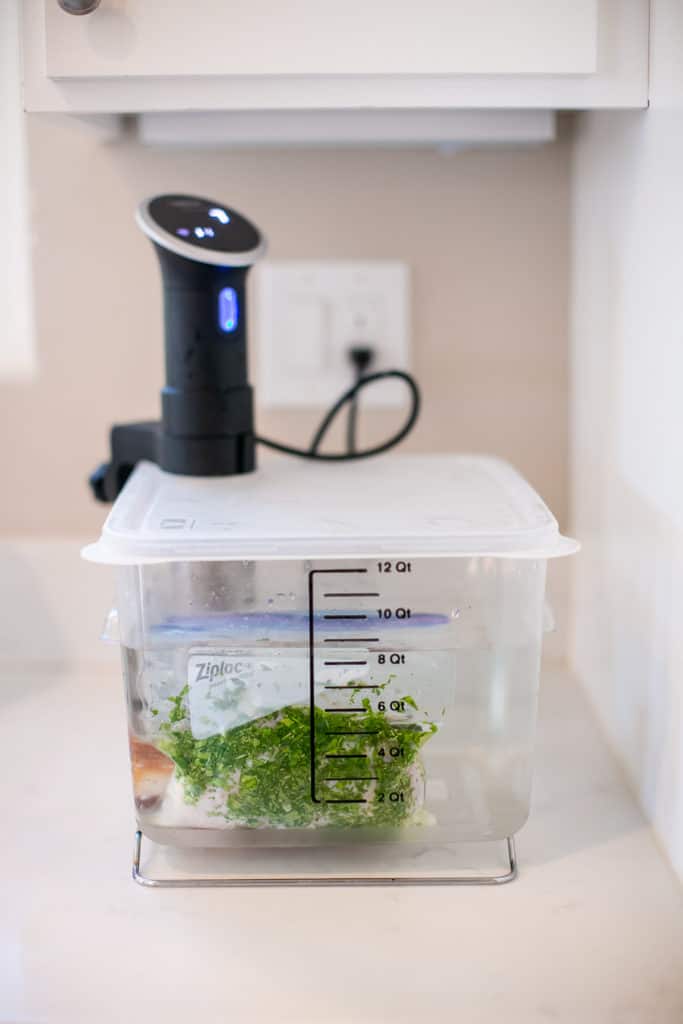 This means that while 165°F may kill things instantly, 140°F will also kill them – it will just be over a longer period of time. 
This is where a sous vide shines, because it is meant to hold a single temperature for a very long time. In my case of chicken, that will be about 2 – 2.5 hours. 
Tools Required
You will, of course, need a sous vide for this recipe. My personal model is the Anova 900W with bluetooth. This model allows me to heat water faster, keep more of the water warm, and monitor the cook while I am still at the office. If you don't want to spring for the 900W, I'll also share some tips for effectively using the Anova 750W. 
Here are the tools you will need:
Sous Vide precision cooker 
Ziploc freezer bags

If you have a vacuum sealer, this can be useful for fully sealing your meat in. I don't own a sealer, so I'll be using Ziploc bags.

Skillet, grill, or blow torch for searing (Yes, I do own a blow torch. I was gifted one, and now I torch food 3-4 times per week! If you love kitchen gadgets as I do, you can find them online for a reasonable price.)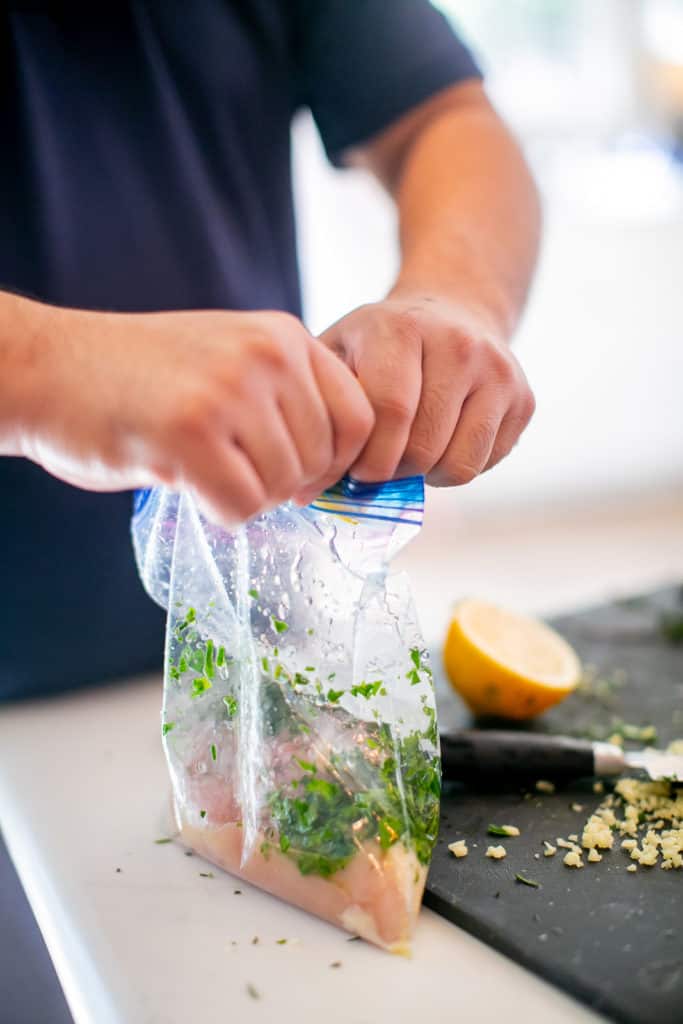 How to Make Sous Vide Lemon Herb Chicken
I'm going to keep this lemon herb chicken recipe really simple, yet it's going to deliver a mouthful of flavor and juiciness. This will mostly be due to the cooking technique I am using. Since the meat cooks in a bag for a couple of hours, whatever seasonings I put into the bag have ample time to flavor and penetrate the chicken.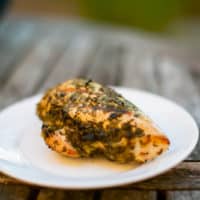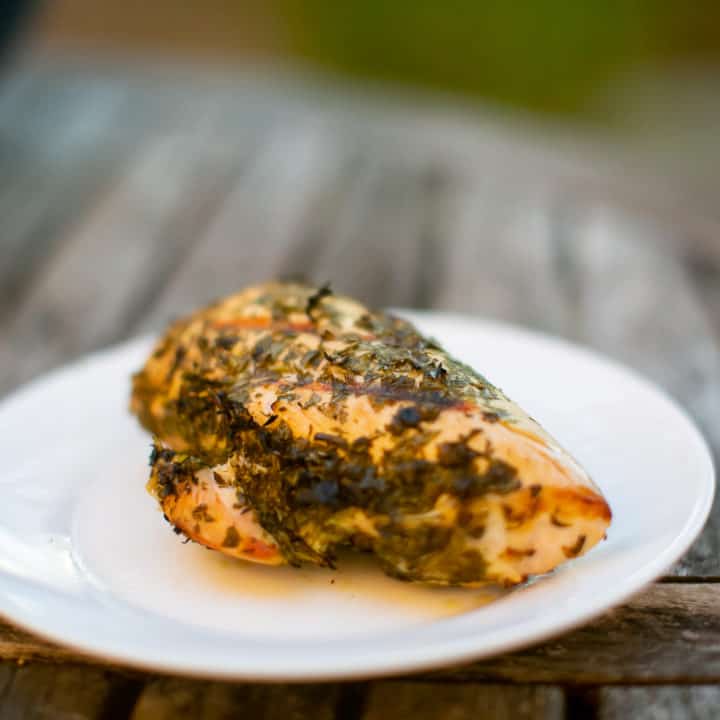 Ingredients
1

chicken breast

We recommend boneless and skinless. You can use fresh or frozen chicken, and the timing below will still be the same

1

bunch of rosemary

Juice of ½ lemon

fresh

2-3

cloves

garlic

1

pinch

salt / pepper

1

tablespoon

butter
Instructions
Set your sous vide for 140°F and start it. If you're using the Anova 750w and want to speed up the time it takes the water to heat up, boil water in a pot on the stove and fill the sous vide with about 50% tap water and 50% boiling water. Since boiling water is 212°F, you will jump instantly to about 140°F.

Chop your garlic and rosemary.

Salt and pepper your chicken.

Fill up your sous vide container with water. 

Get a Ziploc bag and check for leaks by filling it with water and seeing if any comes out.

Empty the ziploc bag of all water.

Put chicken, butter, lemon juice, garlic, and rosemary into bag.

Leaving the open part of the bag dry, submerge the rest of the bag into container full of water to get the air out.

Seal the bag.

Cook chicken in sous vide for 2 – 2.5 hours.

Remove from sous vide and bag and dry thoroughly with paper towel.

Sear on grill, skillet, or with a blow torch for 2 minutes on each side of the chicken.

Serve
Nutrition
Calories:
367
kcal
|
Carbohydrates:
2
g
|
Protein:
48
g
|
Fat:
17
g
|
Saturated Fat:
9
g
|
Polyunsaturated Fat:
1
g
|
Monounsaturated Fat:
5
g
|
Trans Fat:
0.5
g
|
Cholesterol:
175
mg
|
Sodium:
392
mg
|
Potassium:
865
mg
|
Fiber:
0.2
g
|
Sugar:
0.1
g
|
Vitamin A:
421
IU
|
Vitamin C:
5
mg
|
Calcium:
27
mg
|
Iron:
1
mg
8 Beginner Cooking Tips I Wish I Had Known