As an Amazon Associate we earn from qualifying purchases.
While not the most common way I eat pasta today, traditionally pasta is served as a secondi or second course, not a main dish. Taking that concept into today's one course meals, sometimes pasta works best as a side to compliment your main dish. This lemon and capers pasta sauce recipe celebrates that idea.  
What is Lemon and Capers Pasta Sauce?
A lemon and capers pasta sauce is a light, tangy sauce that works well on linguini-style pastas.  
My lemon caper pasta sauce is based on the pan sauce that sometimes accompanies chicken piccata. Chicken piccata isn't even always served with pasta but when it is, the pan sauce is ladled onto the pasta rather than making a second sauce.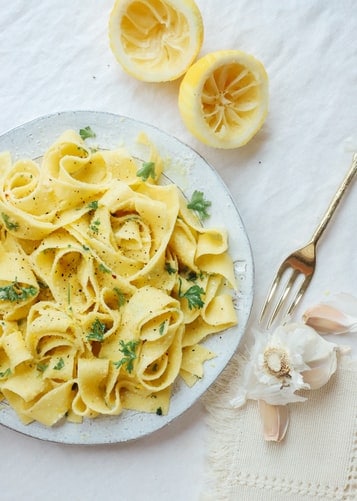 From that baseline, I use chicken broth to impart body, pasta water to give texture and replicate the starch that would have been in the pan sauce, and then lemon and capers are a 1:1 with a piccata.  
The Challenge with Lemon and Capers Pasta Sauce
Controlling the level of acidity is most important, since you do not want this to be lemonade. Both the lemon and the capers are bringing a lot of acidic brightness to the dish, so you'll also be adding salt. Using the olive oil and broth will help counteract this. 
Finally, the addition of peppery herbs like Italian flat leaf parsley and the umami from the Parmesan will complete the flavor profile.
The other main challenge with the pasta sauce is that overall, it is a pretty thin sauce. From a visual standpoint, it might look like your pasta does not have much sauce coated on it. 
When I first started cooking, if something looked too thin, I would immediately want to find ways to thicken it up, because I thought that equated to the dish having more flavor. Even though it is thin, this sauce packs a punch when it comes to flavors.
Developing Flavors
Depending on your timeframe, you can concentrate extra flavor in by reducing more chicken broth, going up to a ½ cup or even a full cup. Cooking it down will bring extra body and flavor. 
The addition of white wines like Pinot Grigio, Sauv Blanc, or Chardonnay also go great into a sauce like this. Just make sure that if you are adding any liquids in you reduce them down until the sauce can coat the back of a spoon and stick.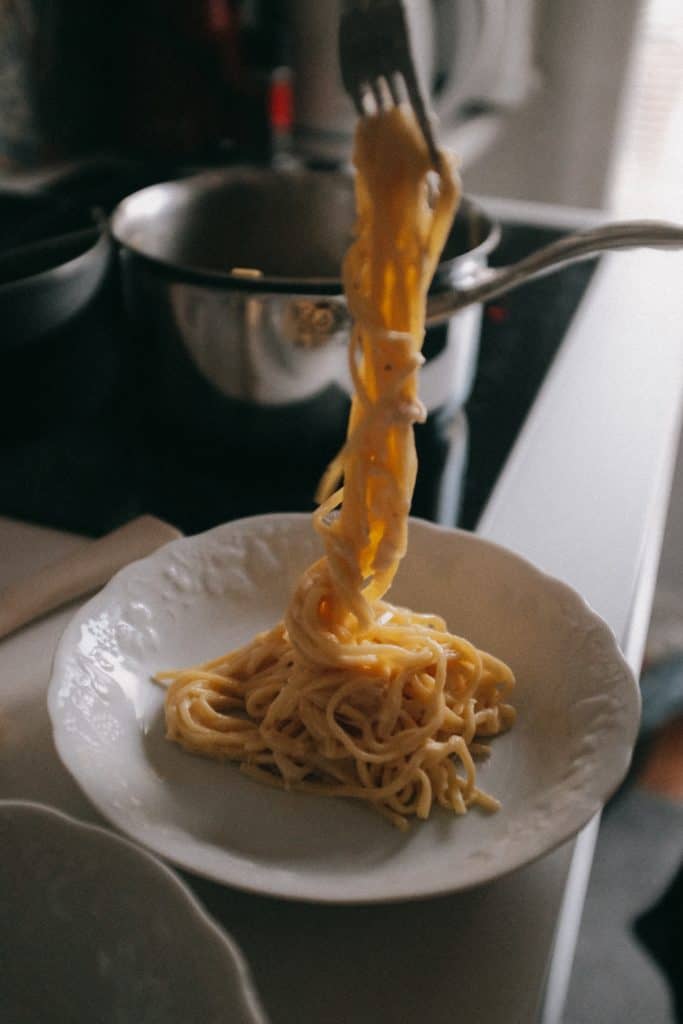 Pairing Ideas
As a tangy light flavored side, I recommend pairing with white meats like chicken, pork, or fish. Avoid red meats and red wines with this one. 
Tools Required
To make this pasta sauce, use the following tools:
Large pot
Large skillet
Measuring cups
Mixing spoon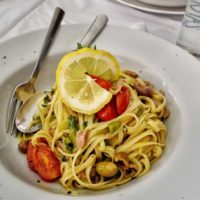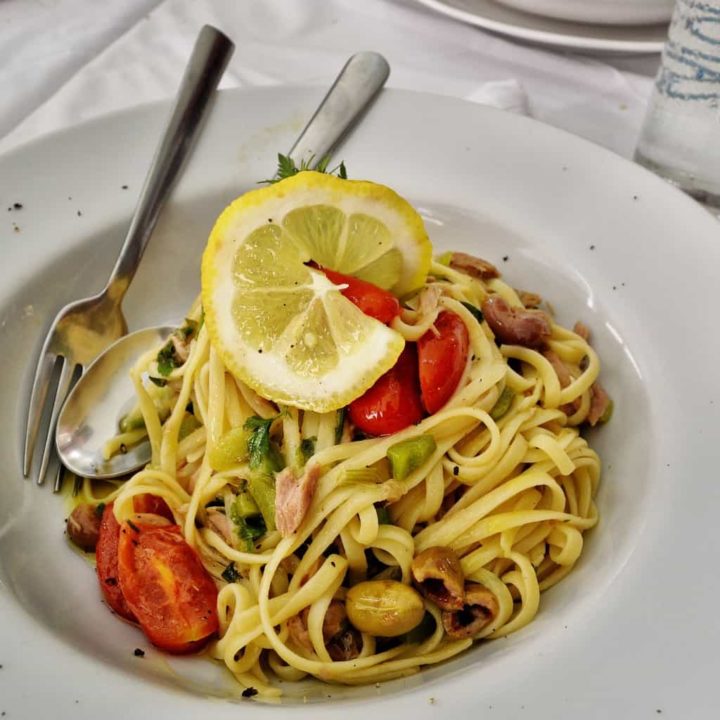 Ingredients
1

pound

pound linguine

3

tablespoons

olive oil

6

cloves

garlic

minced

1

3.5 ounce jar capers

2

tablespoons

lemon juice

1/4

th cup chicken broth

Parmesan cheese to taste

1

tablespoon

parsley

chopped

1-2

tablespoons

salt
Instructions
Bring a large pot of water to a boil and salt liberally (about 1 – 2 tablespoons)

Cook dried pasta according to pasta directions

Reserve 1/4 cup pasta water

Drain pasta

In a large skillet, heat olive oil over medium heat.

Cook garlic and capers in oil just until fragrant, about 30 seconds

Add in lemon juice

Add ¼ cup reserved pasta water and ¼ cup chicken broth

Stir in pasta and toss to coat completely

Add Parmesan cheese and parsley

Serve 
Nutrition
Calories:
522
kcal
|
Carbohydrates:
87
g
|
Protein:
15
g
|
Fat:
12
g
|
Saturated Fat:
2
g
|
Polyunsaturated Fat:
2
g
|
Monounsaturated Fat:
8
g
|
Sodium:
1756
mg
|
Potassium:
285
mg
|
Fiber:
4
g
|
Sugar:
3
g
|
Vitamin A:
85
IU
|
Vitamin C:
6
mg
|
Calcium:
35
mg
|
Iron:
2
mg
Beginner's Guide to Making Sauces