As an Amazon Associate we earn from qualifying purchases.
Have you ever bought a clamshell of cherry or grape tomatoes only to find you never use them all? This happens to me all the time, so rather than constantly throwing them into salads for the next 5 days, I prefer to turn them into a fresh, spicy pasta sauce.  
What Makes a Good Spicy Cherry Tomato Sauce
A good spicy tomato sauce recipe should have a kick of heat, though it should not numb your mouth. You will need to keep in mind that the acidity of the tomatoes makes peppers more pungent than normal. To help calibrate the spice level of my sauce, I'm going to use cayenne powder. This is a very all-purpose, low flavor impact, easily scalable heat component.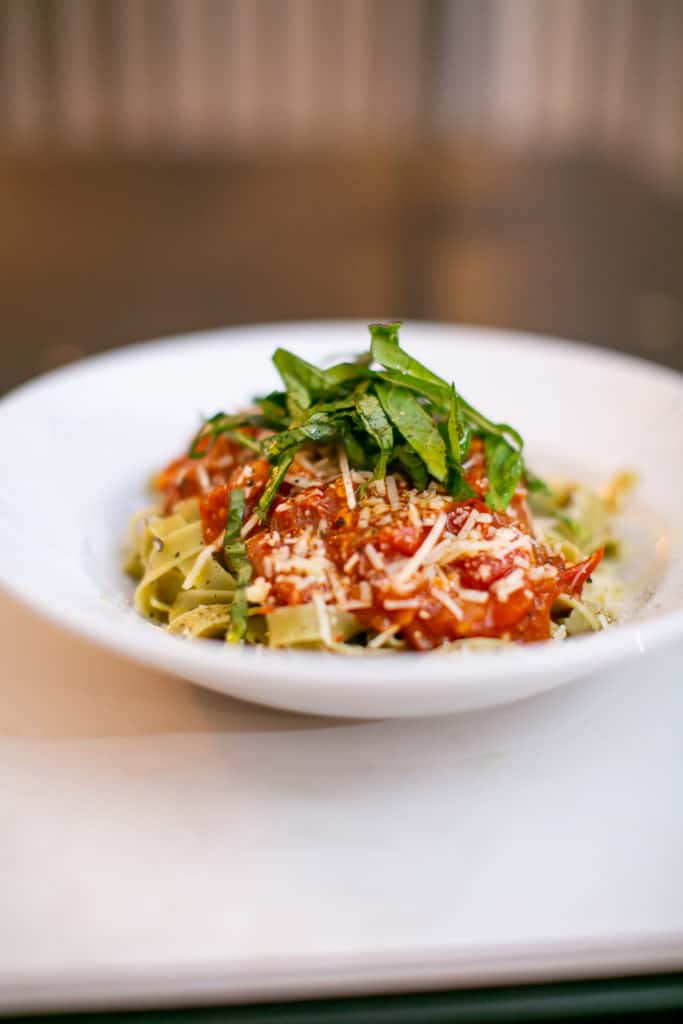 My Approach to Spicy Tomato Sauce
This recipe is going to be a one-pan dish, you can use a sauce pan or, a rondeau pan for this as well. All of the ingredients will into the same pan at different times to layer flavors together, resulting in a fully developed tomato sauce. 
The Challenge with Cherry Tomato Sauce 
Cherry tomatoes can be difficult to pin down with a utensil because of how slippery they are. If you have ever tried to spear the last cherry tomato in a salad, you know how frustrating these vegetables can be. 
To deal with this challenge, I'm going to throw them into the pan whole and cook them until they break down (pop). This is going to do a couple things: 
It will develop some roasted flavors as the skin blisters from the heat
Allow me to grip them once they can't roll around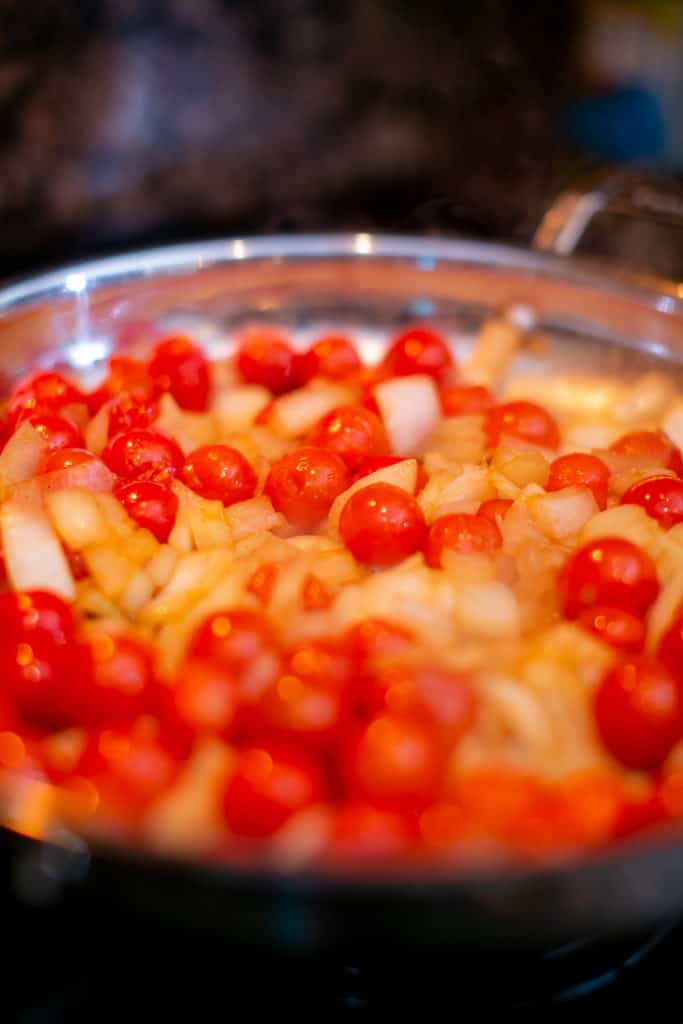 Pairings with Cherry Tomato Sauce
As you might have guessed, pasta goes extremely well with this sauce. Pair it with a red pepper pasta dough to bring out more of the tomato flavors. When it comes to proteins, I recommend sweet Italian sausage. A sweet protein will bring more complex flavors to the dish, rather than having a one-note flavor profile.
How to Make Spicy Cherry Tomato Sauce
The real secret with this tomato sauce recipe is in the multiple layers of flavor that you are developing with the ingredients. Before I dive into the directions for this recipe, let's go over what flavors are developing throughout the process of making this sauce:
Olive oil fennel and chili

By roasting your spices until fragrant, you release the oils that contain the flavor compounds. 

Olive oil, cherry tomatoes, and onions in the pan

This will generate roasted flavors when the skin starts blistering and lightly charring. You will also concentrate the tomato flavors by removing water and caramelize the sugars in the tomato. 
You will also caramelize the sugars in the onion and further concentrate their flavor by removing water.

Balsamic vinegar and sugar

When cooked down, the vinegar sugar mixture is similar to adding pomegranate syrup or barbeque sauce to your sauce. It is going to add complex fruit flavors and greatly increase the richness of your sauce.  

Chicken stock

I'll be reducing the chicken stock down to give a meatier concentrated flavor to my sauce 

Worcester and tomato paste

Worcester adds umami to my sauce and tomato paste brings a lot of tomato flavor in as well.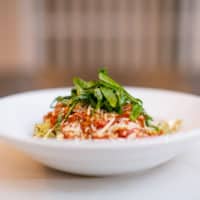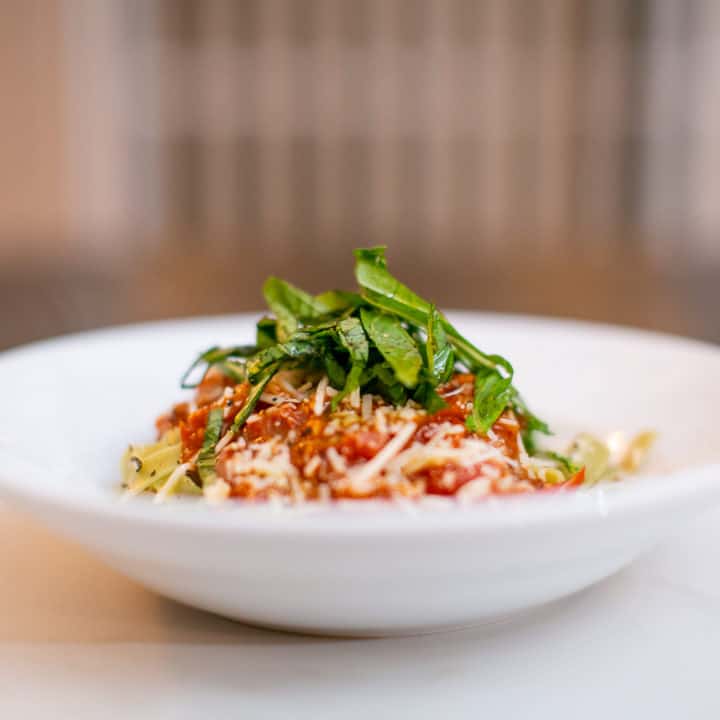 Ingredients
1

tablespoon

olive oil

1

tablespoon

fennel

1

tablespoon

red chili flake

2.5

cup

cherry tomatoes

1

onion

1

tablespoon

salt

1

tbsp

tomato paste

1

shake of Worcester

1/2

cup

chicken stock

1

tablespoon

balsamic

1

tablespoon

sugar

5

cloves

of garlic

1/2

teaspoon

cayenne pepper or to taste
Instructions
Dice onion

Add olive oil to pan

Add fennel and chili flake to pan and toast until fragrant 

Place tomatoes, onion, and salt in pan and cook on medium heat

As soon as your tomatoes start popping or breaking down, add chicken stock, balsamic vinegar, sugar to the pan

Once sugar is dissolved add Worcester and tomato paste and stir

Once the sauce has reduced down (this can take about 20 minutes), add in chopped garlic cloves to finish

Add Cayenne 1 tsp at a time, stir, and taste till you are satisfied with heat level

Serve with your favorite pasta and enjoy!
Nutrition
Calories:
104
kcal
|
Carbohydrates:
16
g
|
Protein:
3
g
|
Fat:
4
g
|
Saturated Fat:
1
g
|
Polyunsaturated Fat:
1
g
|
Monounsaturated Fat:
3
g
|
Cholesterol:
1
mg
|
Sodium:
1869
mg
|
Potassium:
392
mg
|
Fiber:
2
g
|
Sugar:
9
g
|
Vitamin A:
1220
IU
|
Vitamin C:
26
mg
|
Calcium:
36
mg
|
Iron:
1
mg
Beginner's Guide to Making Sauces