As an Amazon Associate we earn from qualifying purchases.
For those who do not regularly eat seafood or live near the ocean, you may not be that familiar with swordfish in cuisine. It might sound like an exotic fish that is a bit intimidating to eat; however, it actually has a very mellow taste and is great for cooking.
What is Swordfish?
Swordfish is definitely not as common as tuna, bass, or halibut is. Even though it is not the most common fish, don't underestimate it – it's actually a very meaty fish. Swordfish are big muscular predatory fish. This active lifestyle gives their meat a much firmer texture that flaky fish like bass do not have.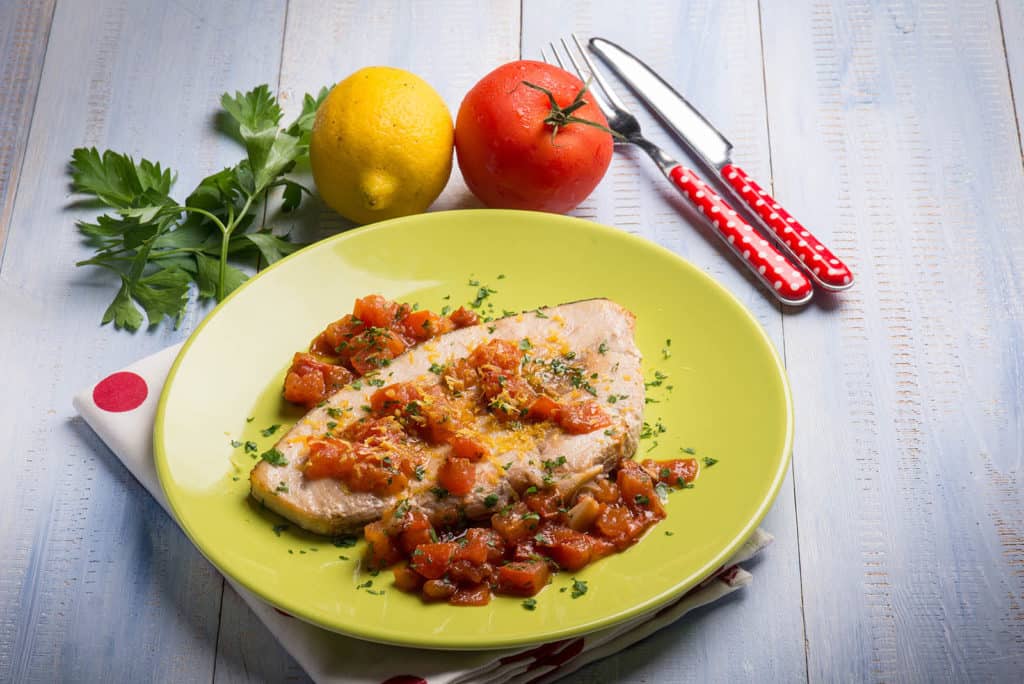 Is Swordfish Safe to Eat? 
In short, swordfish is safe to eat, but moderation is very important. As a large predatory fish, swordfish does experience biomagnification of heavy metals like mercury (biomagnification being the increased concentration of a substance per unit of weight as you go up the food chain). 
Basically, if there is a little bit of mercury in seaweed or plankton, there is a little more proportionately in small fish, and much more proportionately in bigger predator fish. 
All that to say, yes, swordfish is more dangerous than eating seaweed, but no more dangerous than eating tuna. What is most important is that heavy metals are removed from the body over time, so just don't go eating any predatory fish daily and you will avoid biomagnification in yourself. 
To put this in perspective, I believe somewhere around 10+ cans of tuna per week is the level where it starts becoming dangerous to humans.  
What is Lemon and Garlic Swordfish?
Lemon garlic swordfish is one of the simplest ways to cook this versatile fish, and I think it's a great way to start getting more into seafood. If you have young ones or seafood naysayers in your house, swordfish is a great alternative to chicken.  
My Approach to Lemon and Garlic Swordfish
Sous vide is the way to go for cooking this, since swordfish is fairly lean and very chicken like. I do not want to overcook it because it will get dry. I'll cook it low and slow until the inside is perfect, and then pat it dry and do a quick sear for flavor. 
What Makes a Good Lemon and Garlic Swordfish
When cooked right, you are going to want it to be juicy, fresh, and firm enough to cut like a chicken breast would be.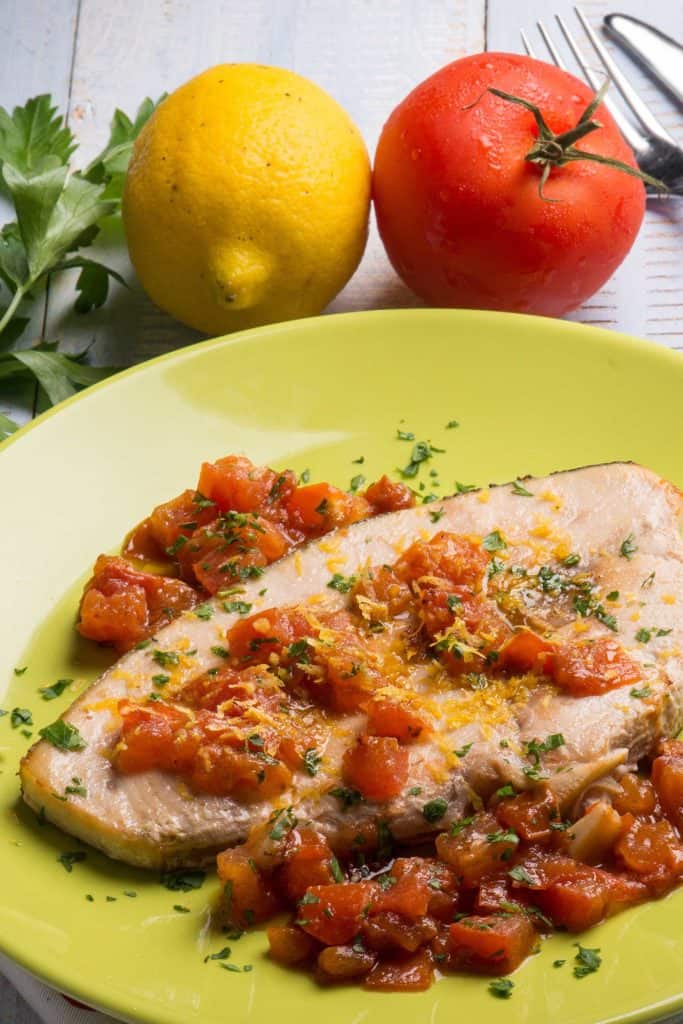 Developing Flavors
Looking to develop even more flavor in your swordfish? The longer you can salt or marinade your fish, the more flavor it will pick up. If you have the time, try salting the fish and adding the lemon 1 day before and let it sit in your fridge overnight. 
Pairing Ideas
I would highly recommend a lemony, buttery, oaky Chardonnay wine with lemon garlic swordfish. Starch wise, you don't want to go too heavy like potatoes, but some alternatives like celery root or sunchoke work very well. 
Tools Required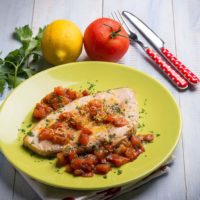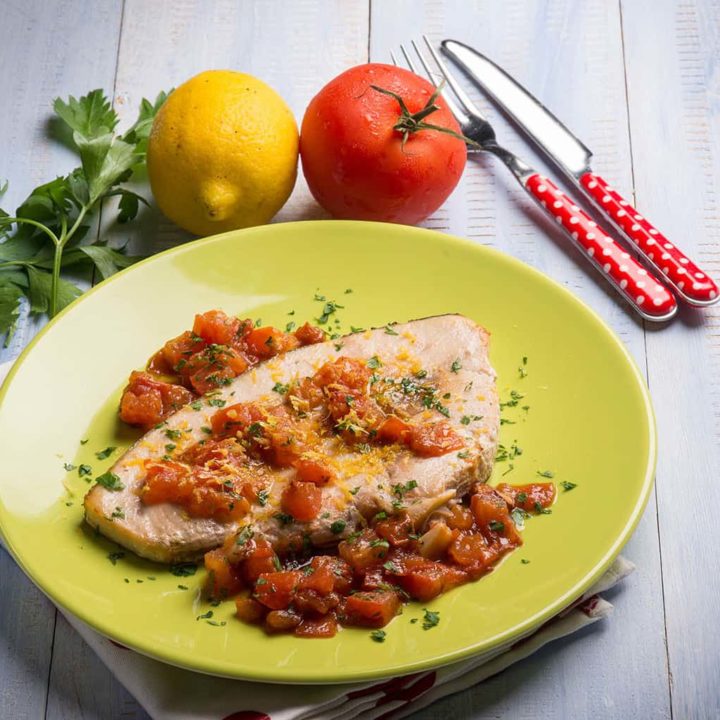 Ingredients
2

tablespoons

butter

2

tablespoons

olive oil

8

cloves

garlic

minced

1/4

teaspoon

red pepper flakes

1/4

cup

white wine

Grated zest from 1 lemon

1

tablespoons

lemon juice

2

tablespoons

parsley for garnish

chopped
Instructions
Put the swordfish in a ziplock bag with 1 tablespoon of olive oil per piece of fish

Cook the swordfish in the sous vide for 45 minutes at 130°

When the swordfish is done, reverse sear on a hot cast iron pan, 30 seconds per side

Add the butter and olive oil to a small skillet, and melt over low heat

Add the garlic and red pepper flakes, and cook over very low heat until the garlic browns

Add the white wine and bring to a simmer over medium heat. Cook for 2-3 minutes, stirring constantly, to reduce the volume.  

Remove from the heat, and stir in the grated lemon zest and lemon juice

Pour over the swordfish, and garnish with the parsley
Nutrition
Calories:
251
kcal
|
Carbohydrates:
5
g
|
Protein:
1
g
|
Fat:
26
g
|
Saturated Fat:
9
g
|
Polyunsaturated Fat:
2
g
|
Monounsaturated Fat:
13
g
|
Trans Fat:
0.5
g
|
Cholesterol:
30
mg
|
Sodium:
101
mg
|
Potassium:
98
mg
|
Fiber:
0.5
g
|
Sugar:
0.4
g
|
Vitamin A:
762
IU
|
Vitamin C:
12
mg
|
Calcium:
34
mg
|
Iron:
1
mg
6 Tips for Cooking Fish (so it Actually Tastes Good!)