As an Amazon Associate we earn from qualifying purchases.
This oven baked chicken breast recipe, while one of the simplest on my site, is one of the most important ones to me. When it comes to learning how to cook and how to understand food, there is so much I can learn from something as simple as a piece of oven cooked chicken. 
My mission is to make cooking easy to understand and to give my readers the tools and skills they will need to develop into better home cooks. 
What Makes a Good Oven Baked Chicken?
A good oven baked chicken needs to be juicy and flavorful. That said, there are limits to what can be accomplished with an oven baked approach. I'll discuss these limitations on cooking and what is actually happening in your chicken so you can tailor the final product any way you want.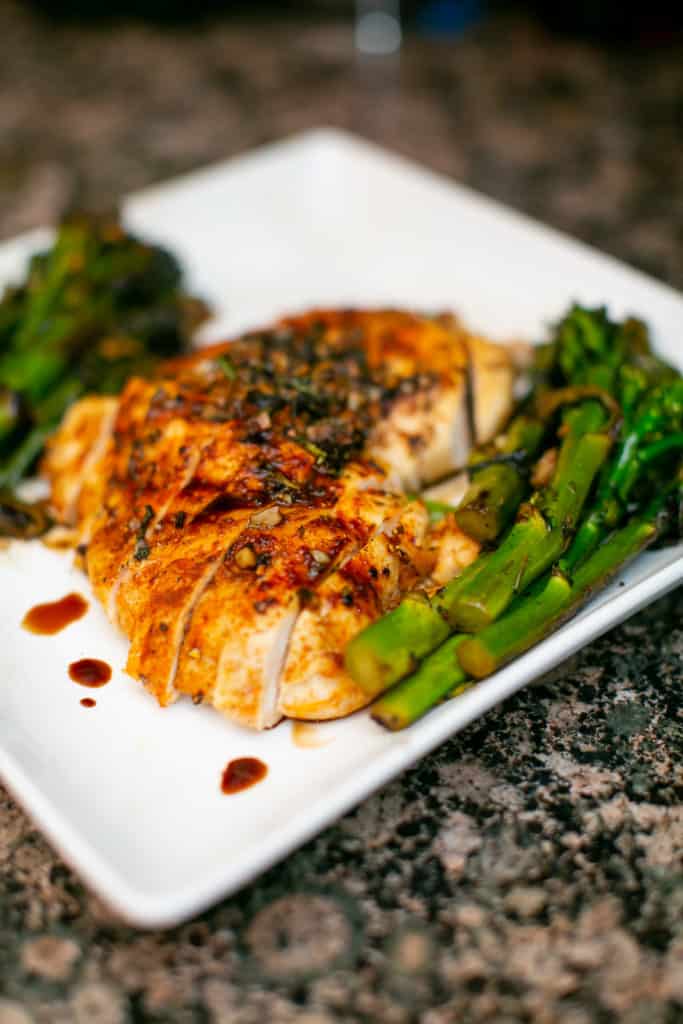 My Approach to Oven Baked Chicken
With this oven baked chicken breast recipe, I want to provide my readers with a solid baseline and understanding of cooking techniques and ingredient handling. My hope is that you take this basic recipe and develop it into something unique and personal.  
The Challenge with Oven Baked Chicken 
There is one major challenge when it comes to cooking chicken (especially chicken breasts), and that is dryness. Chicken breast is very lean, meaning there is not much fat in the breasts, and thus nothing to keep the meat moist and juicy. 
While you might think it is water that makes food juicy, that is not strictly true. It is both water and fats that keep my food moist. Your goal with roasting chicken is to hit 165°F, since this is the safe range for poultry.  The challenge with this temperature is that it's also about 20 degrees past the point where the muscle fibers in a chicken breast give up all their juices.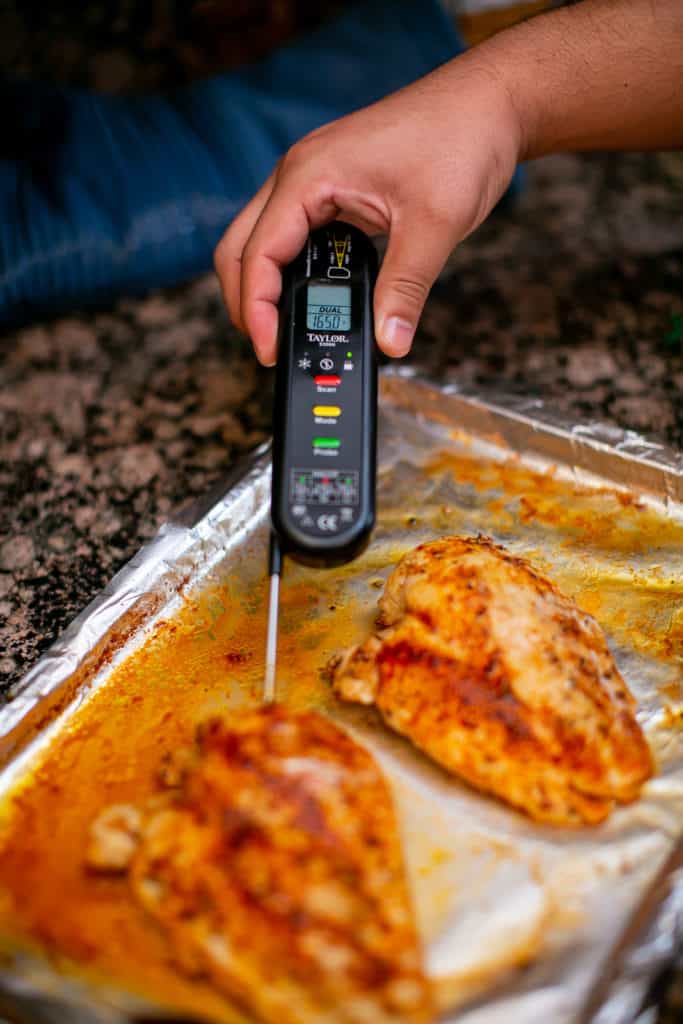 Here are some other challenges you may encounter with oven baked chicken: 
Chicken is uneven in shape: Uneven shaped things cook unevenly. If you have the time, flatten your chicken breast by covering it with cling film and rolling it over with a rolling pin.

Muscle fibers lose water: At 140-145°F the muscle fibers of the chicken will start losing their water. This means you will automatically lose some juiciness as the chicken heats to 165°F.

At 212°F water boils and turns to steam : Until this physical process completes the water will not get hotter.

This means any way on the surface of the chicken will impede cooking and force the chicken to cook in the oven longer and come out less browned and less appetizing


Sugars can burn: At 350°F or higher, any sugars will begin to caramelize and can eventually burn. If you start making adjustments or seasonings that involve sugar, this is your burn zone. Don't let the sugar get much past this temperature or it will taste very unpleasant. 
My Solution
The easiest solution to help keep your chicken breast moist is to add fat. You will not be able to save the water but as stated earlier, water is only part of the equation when it comes to juiciness. There is an added benefit of adding fat to the cook – water and oil (fats) do not mix, so you will get a tiny bit of water insulation on your chicken by cooking it with fat.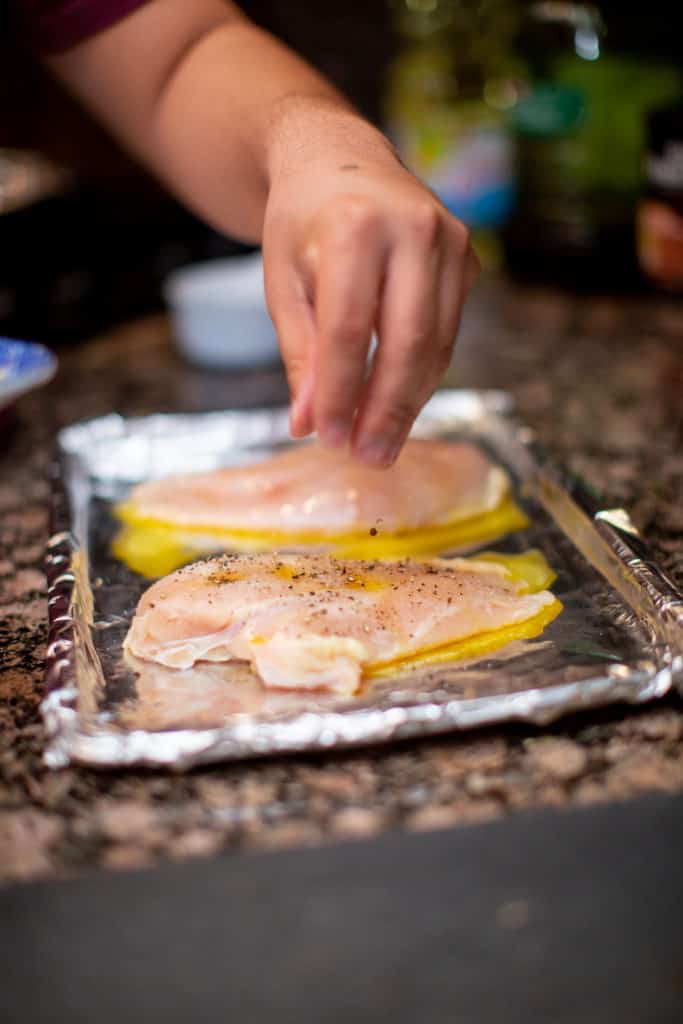 Developing Flavors of Oven Baked Chicken
When it comes to the flavors of an oven baked chicken, I am mostly talking about the maillard reaction. This produces the brown color and roasted flavor. In order for this reaction to happen, I need to expose my chicken to some heat (this is why even when you sous vide chicken you still sear it). 
To aid in this process I'm going to do a couple things during my preparation of this oven baked chicken recipe: 
I'm going to make sure my chicken is bone dry before going into the oven. Nothing stops browning more than water. Any water on your chicken will need to turn into steam before the chickens surface temperature can increase past 212°F. 
I'm going to season the outside of my chicken with salt and pepper. Salt specifically will not only add flavor but it will draw up water-soluble proteins to the surface of the chicken for the maillard reaction to work with.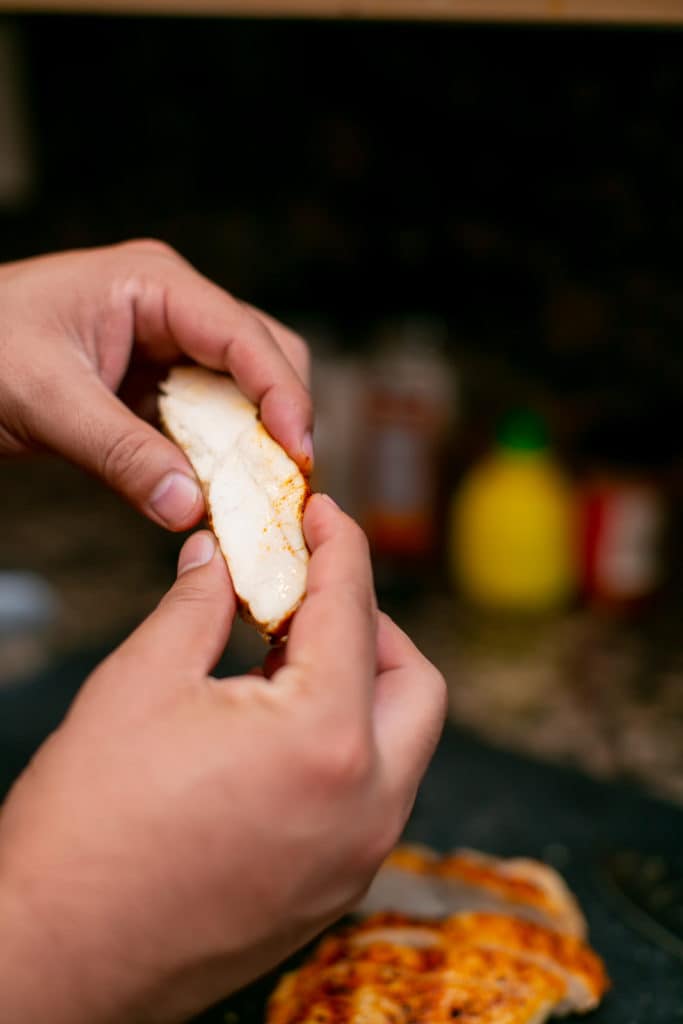 Pairing Ideas for Juicy Oven Baked Chicken
The beauty of this dish is there are so many foods you can pair it with. Any dish you have that requires cooked chicken can be done with my recipe. If you need some chicken for a salad or a sandwich, this recipe will work. If you want some chicken for a BBQ or pesto chicken pizza, you can make the chicken with this recipe (check out my basil spinach pesto recipe!). You can even pair this with a side of vegetables and have a very healthy meal.
Tools Required
The beauty of this entree is that you only need one tool. All you will need for this is a baking sheet. I like to line it with foil to make clean up easy, though this is optional. 
Now, if you're not happy with your oven, you could also pick up the best French Door Toaster Oven. This elegant looking appliance is often more precise than your built in oven.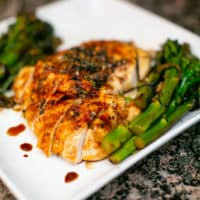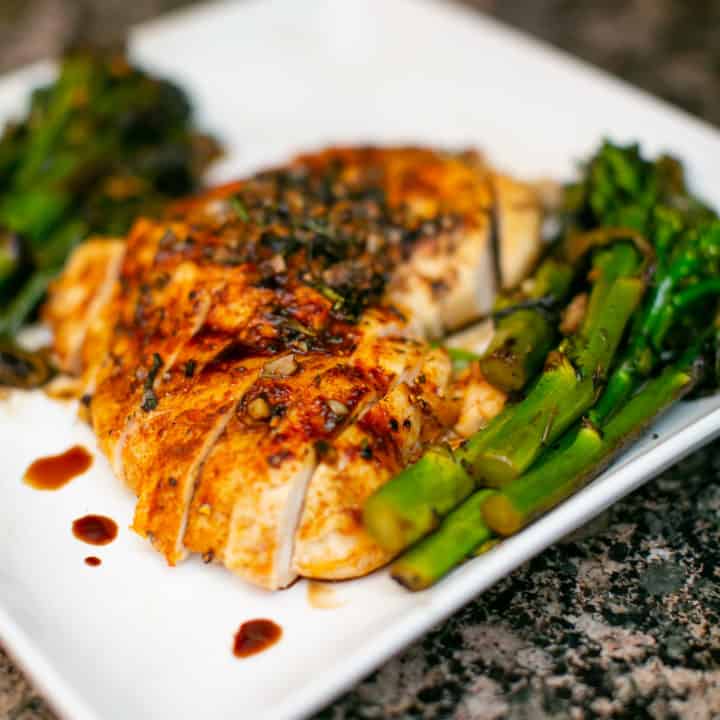 Ingredients
2

Boneless skinless chicken breasts

2

tablespoons

Butter or Vegetable Oil

Salt + Pepper to taste
Instructions
Preheat your oven between 325°F – 450°F (see the notes below for how to determine the best temp to use)

Line a baking sheet with aluminum foil

Place 2 boneless skinless chicken breast on the sheet spaced evenly apart

Season your chicken as desired

Place in the oven and cook between 18-30 minutes (see the notes below for how to determine the best time to use)

Pull the chicken out of the oven and cut one in the middle to ensure it's cooked (if it is not, place back into the oven until cooked).
Notes
Preheat your oven accordingly:
Any seasoning with sugar or sugary items in it: 325°F
Any seasoning with herbs or garlic: 375°F
Any seasoning that is only salt or spice: 450°F
Place in the oven and cook for the appropriate amount of time:
325°F for 30 minutes
375°F for 25 minutes
450°F for 18 minutes
Additional Notes:
If your chicken has a bone in it the cook time with be different as bones take a long time to cook
If your chicken has skin on it you would ideally want a two temperature cook method, initial high temperature to crisp up the skin, then a lower temperature to finish the meat. As this is much more complex we recommend forgoing skin for now.
Nutrition
Calories:
249
kcal
|
Protein:
24
g
|
Fat:
17
g
|
Saturated Fat:
3
g
|
Polyunsaturated Fat:
8
g
|
Monounsaturated Fat:
4
g
|
Trans Fat:
0.1
g
|
Cholesterol:
72
mg
|
Sodium:
131
mg
|
Potassium:
418
mg
|
Vitamin A:
34
IU
|
Vitamin C:
1
mg
|
Calcium:
6
mg
|
Iron:
0.4
mg
8 Beginner Cooking Tips I Wish I Had Known