As an Amazon Associate we earn from qualifying purchases.
When it comes to pasta sauce, Bolognese is the king of sauces. The rich, meaty, tomato-y goodness used to top pasta and fill lasagnas has become a keystone part of Italian food here in America. 
What is a Bolognese?
You may know it as ragu alla Bolognese, you may know it as ragu, or you may know it as Bolognese. Whatever name you call it, this is the quintessential red meat sauce.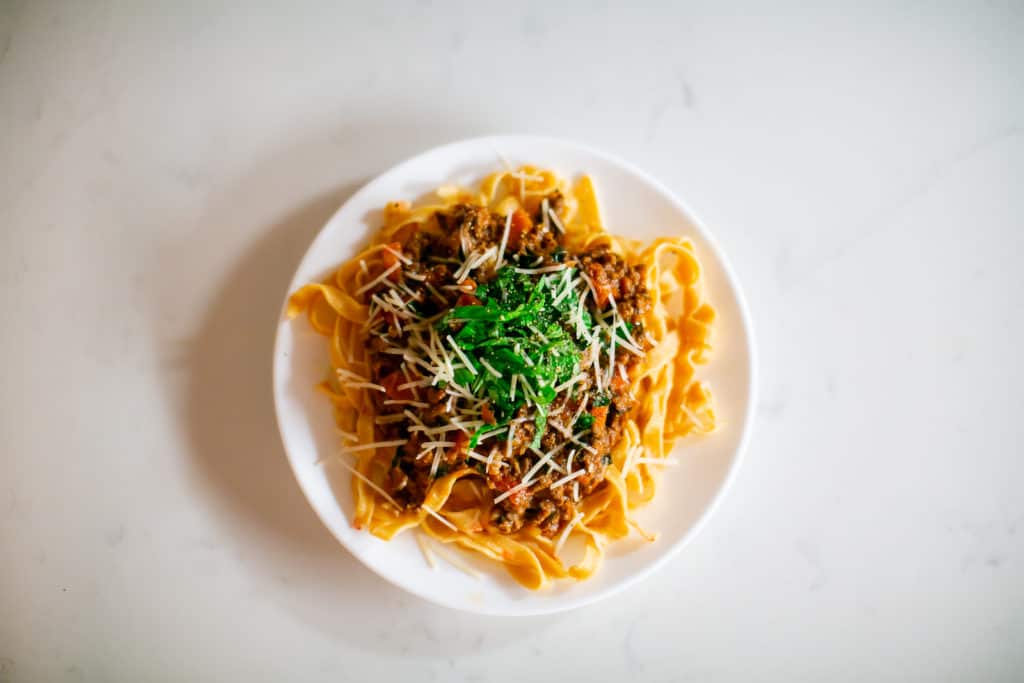 Qualities of a Good Bolognese Pasta Sauce 
A good Bolognese should be a rich, deep, and flavorful sauce. To accomplish this, I will develop layers of flavor with multiple stages and techniques for cooking. Here's a quick guide to how you can properly develop flavors in your Bolognese:
Saute your Vegetables
To "saute" means to cook over medium-high heat with a little bit of fat. Here are some quick tips for sauteing:
Use a saute pan or something non-stick like a rondeau pan. 
Use an oil with a high smoke point (the point that the oil burns or literally smokes). Some common options are canola, safflower, or peanut oil. 
Let the pan come up to heat first before adding in the ingredients. 
Don't crowd the pan. It should be one layer of food deep only. Keep the ingredients moving – don't let them sit.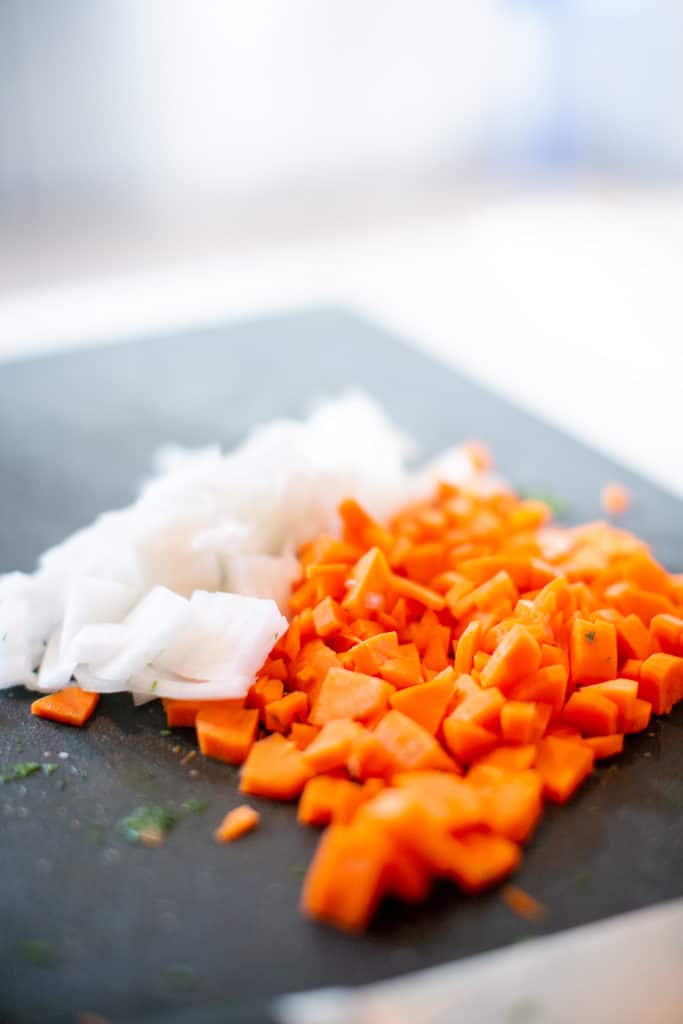 This is very different from "sweating" your vegetables. When you sweat them, you are just looking to cook off the water from them. When you saute, you are allowing the food to brown through the maillard reaction, creating deep flavors between the proteins and sugars. 
Braise your Meat
Braising is just a fancy word for fast, high-heat dry cooking, and then slow low-wet cooking. As I shared above, sauteing develops flavor through the maillard reaction. When I then cook the food slow and low in a liquid, I allow those flavors to intermingle and mix, making it perfect for a sauce like Bolognese.
Reduce Liquid to Concentrate Flavors
If you haven't checked out my strawberry milkshake recipe, you might not have heard my stance on water vs. flavor. In short, water is the enemy of flavor. Just like with strawberries and milk, when I add tomatoes, milk, or wine I am also adding lots of water. 
Reducing forcefully removes water through evaporation, and it will take all the flavors of my ingredients and concentrate them down. This is key is getting a flavorful Bolognese sauce!
Uses for Beef Bolognese
By far, the #1 thing to put Bolognese on is pasta. Traditionally, wide noodles like tagliatelle, pappardelle, or even fettuccine are the most popular kinds of pasta for a Bolognese.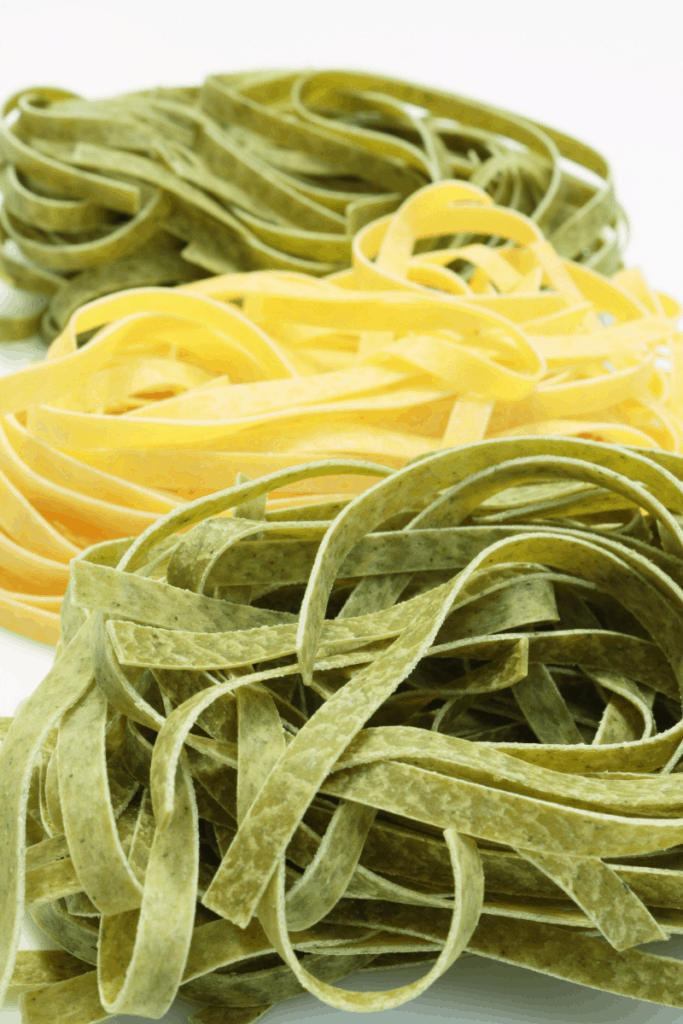 You can, of course, put it on any pasta you want, with spaghetti al Bolognese becoming a popular American dish. You can also use it in casseroles like lasagna or baked ziti. 
Tools Required
While the cooking process for this beef Bolognese recipe is complex, luckily the tools you need are simple. All you will need is a saute pan, a wooden spoon, and measuring cups to make this sauce. That's it – this is basically just a one-pan sauce. 
How to Make Beef Bolognese Pasta Sauce
When making this beef Bolognese recipe, you will need to plan ahead in terms of cooking time. Between prep and cook, the sauce will take about 4 hours before it's fully completed. The bulk of that time is used to allow the sauce to simmer to develop its deep flavor profile.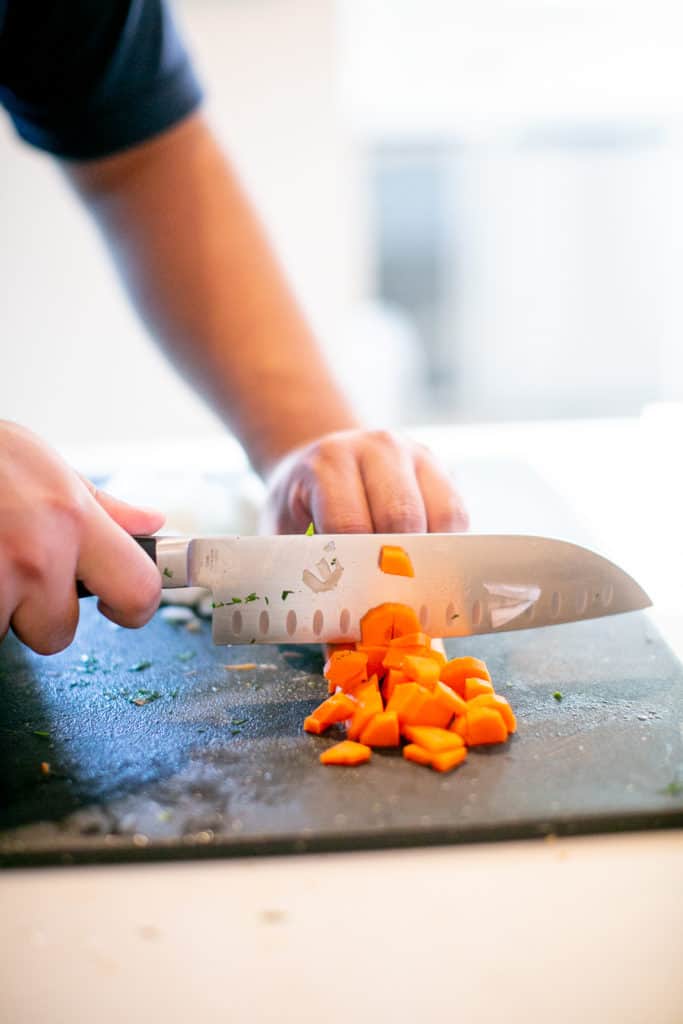 Alternative and Additional Ingredients
While I am sticking to the more traditional ingredients in my beef Bolognese recipe, there are some alternative ingredients you can use. 
Use more than one type of meat. You can turn the flavor and texture dial-up significantly by using a mixture of equal parts beef, lamb, pork. Beef is still your end base, but the lamb will up the flavor and the pork the texture.
Use red wine. This point will likely be contentious for some of my readers because a Bolognese is typically made with white wine, whereas a Napoletano is made with red. That said, using a full-bodied red wine will give you a fuller-bodied sauce. 
Increase the herbs. While traditionally a Bolognese is not a herbed sauce, adding items like bay leaf, oregano, or basil will help increase the flavor profile. 
Start with a traditional mirepoix or soffrito as your vegetable base. When combined, carrots, onion, and celery make up what the French call a "mirepoix" and the Italians call a "sofrito." This is the classical basis for many sauces and dishes. Veteran cooks will notice a clear missing ingredient from my list below: celery. I leave the celery out due to personal taste; however, you are more than welcome to add it back in.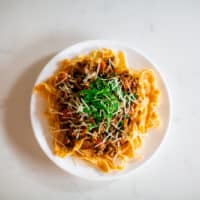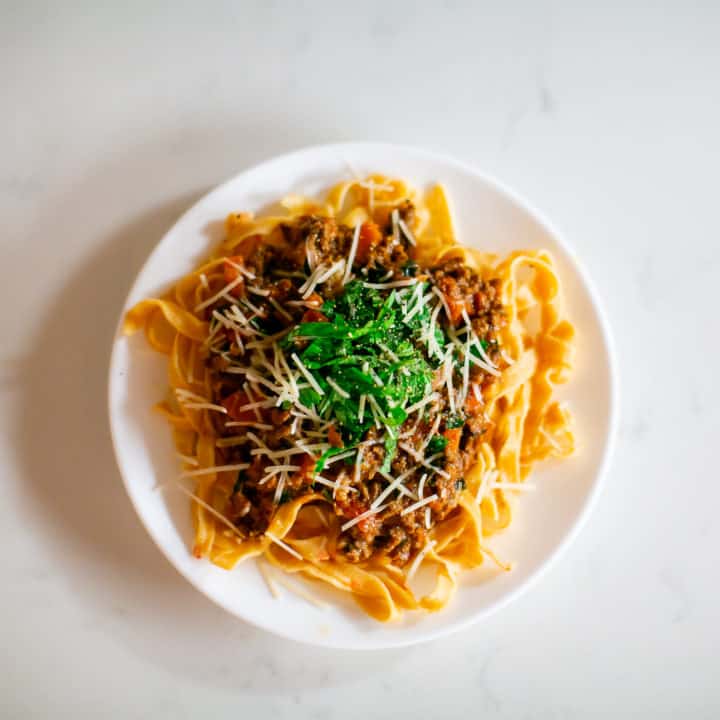 Ingredients
1

large carrot

1

onion

white or yellow recommended

1

pound

ground beef

80% lean 20% fat is recommended

1

cup

white wine

Sauvignon Blanc or Pinot Grigio are recommended, though Chardonnay is fine too

1

cup

milk

2% or whole milk recommended

1

can diced tomatoes

yes you heard that right can

1

tablespoon

tomato paste

4

cloves

garlic peeled

Basil to taste

Parmesan to taste
Instructions
Small dice the carrots and onion. Small dice means to cut into ¼ inch pieces. This is critical as the small size pieces are perfect for sauteing. The larger your pieces, are the worse your saute will be. This causes less flavor to develop, as there is lower surface area in contact with the heat source. 

Saute vegetables in olive oil and salt until browned (about 10 minutes).

Add in the ground beef and garlic. Cook until browned (about 10 minutes). Depending on the size pan you are using, you might be running low on space here. If you risk layering meat on top of the vegetables, remove the vegetables from the pan and just cook the meat on its own.

Add in the wine, milk, tomatoes, and tomato paste. Do not add the milk in first since there is a small risk it could burn, giving your bolognese a burnt flavor. Pour the milk in after you have added the wine.

Simmer uncovered for 3 hours. If sauce becomes dry, add ½ cup milk to maintain consistency.
Nutrition
Calories:
378
kcal
|
Carbohydrates:
13
g
|
Protein:
23
g
|
Fat:
25
g
|
Saturated Fat:
10
g
|
Polyunsaturated Fat:
1
g
|
Monounsaturated Fat:
10
g
|
Trans Fat:
1
g
|
Cholesterol:
88
mg
|
Sodium:
295
mg
|
Potassium:
756
mg
|
Fiber:
2
g
|
Sugar:
8
g
|
Vitamin A:
2829
IU
|
Vitamin C:
15
mg
|
Calcium:
149
mg
|
Iron:
4
mg
Beginner's Guide to Making Sauces