As an Amazon Associate we earn from qualifying purchases.
I am a huge fan of sous vide cooking at my house, probably most so when it comes to beef. Of all the cuts of beef out there, there is maybe none so perfectly matched for sous vide cooking other than tri tip. 
If you are a family that likes varying degrees of doneness (from medium rare to well), this recipe isn't for you, and I recommend you grill your tri tip. But, if you are a family that prefers your beef juicy and tender, the sous vide is the best way to go. 
What is a Sous Vide Tri Tip?
Sous vide tri tip is a tri tip cooked in a vacuum sealed bag in precisely controlled temperature water. What this does is prevent any piece of the meat from exceeding the ideal temperature of doneness.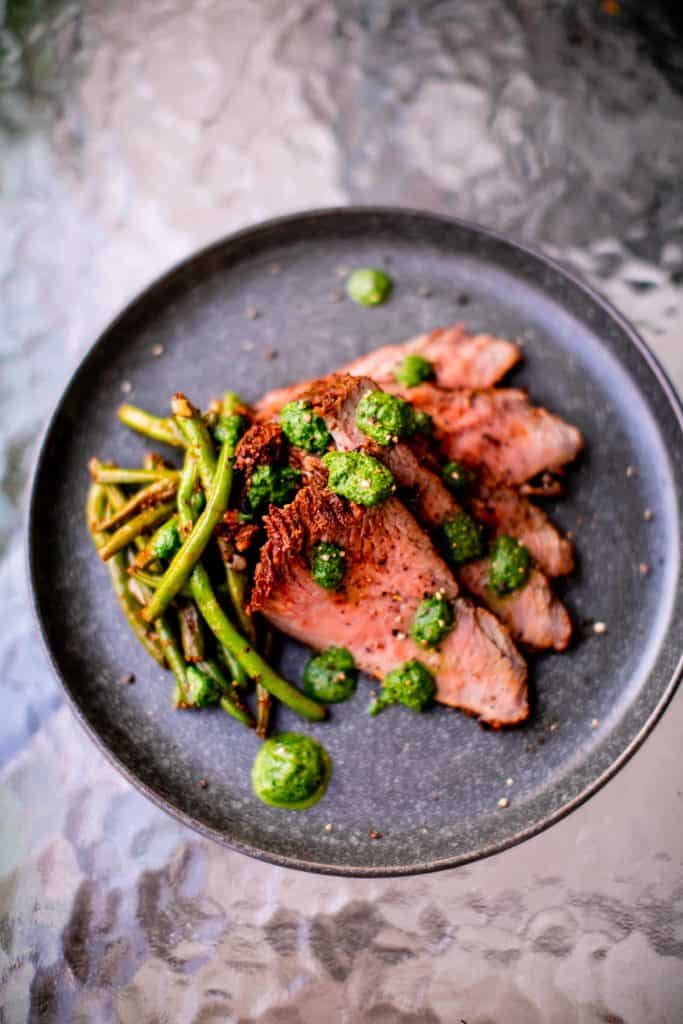 My Approach to Sous Vide Tri Tip
When it comes to larger pieces of meat, your prep word really pays off. I dry brine almost all large and or tough cuts of meat (tri tip being one of them). 
Even more so, I brine first and then season after the water has had a chance to recede back into the meat. What you don't want is your seasoning to suck up and hold all the water. 
What Makes a Good Sous Vide Tri Tip
Tri tip is perfect for the sous vide because it is such a weird shape. A tri tip goes from a tiny point to a thick steak, and under any other kind of cooking, this pretty much ensures the point will always be overcooked. 
With sous vide, because the temperature of the water never exceeds the desired final temperature, it is impossible to overcook the tip. This gives you the perfect cook all the way through.
The Challenge with Cooking a Tri Tip Sous Vide
The main challenge with cooking a sous vide tri tip is prepping it in advance. Tri tip isn't a ribeye, so the muscles are much denser and pronounced. As such, you can either brine it, age it, or cook it down over a long period of time.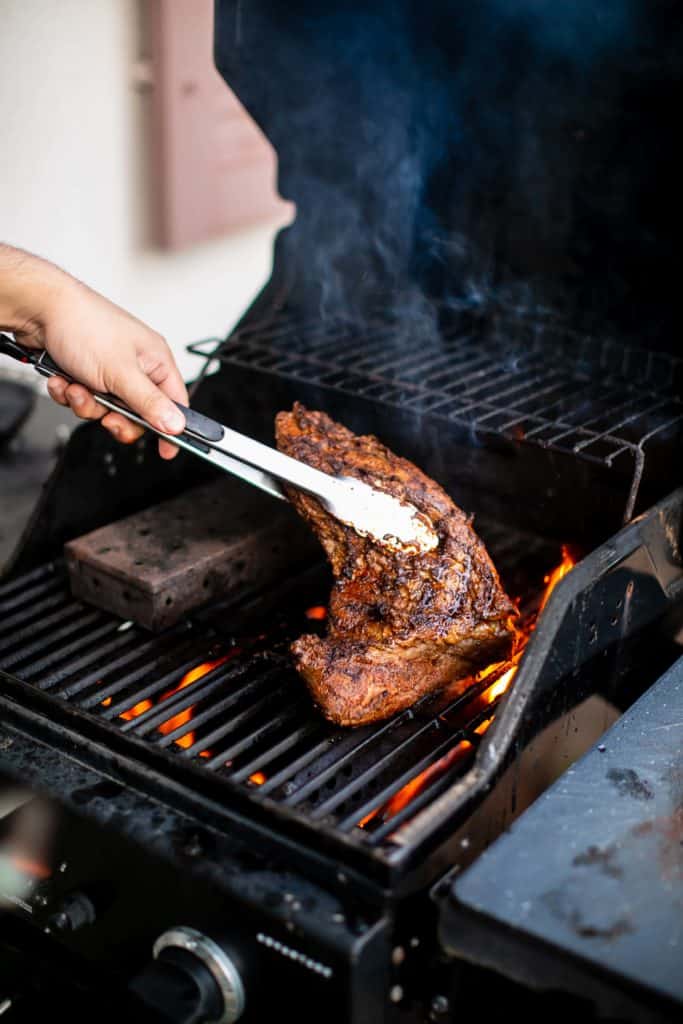 I think dry aging for most people at home is a bit out of the question, so brining it is my recommended method for relaxing these fibers. If you don't have time to brine but can spare time to cook, you can also increase the cook time up to 1 full day to further tenderize the meat. 
In the best of both worlds, you can do both. I did this for Christmas last year with a dry brined 15 hour tri tip and a final sear over mesquite charcoal bricks.  
Developing Flavors
Liquid smoke, like mesquite or hickory, works well in longer cook times and will add to the final product when seared. Additionally, coffee grounds or chili powder really help give your tri tip an earthy full flavor. 
Even dark chocolate cocoa powder can be added to give your tri tip some extra complexity. What I don't really recommend is a bunch of fresh herbs or anything citrus until the very end after the sear. 
What Pairs with Sous Vide Tri Tip?
One of my favorite uses of tri tip is thinly sliced in sandwiches. I happened to have some sweet Hawaiian rolls on the day I made this dish. Toasting those up with some tri tip and barbeque sauce was an amazing combination. The other pairing for me is chimichurri made from parsley, garlic, olive oil, and vinegar.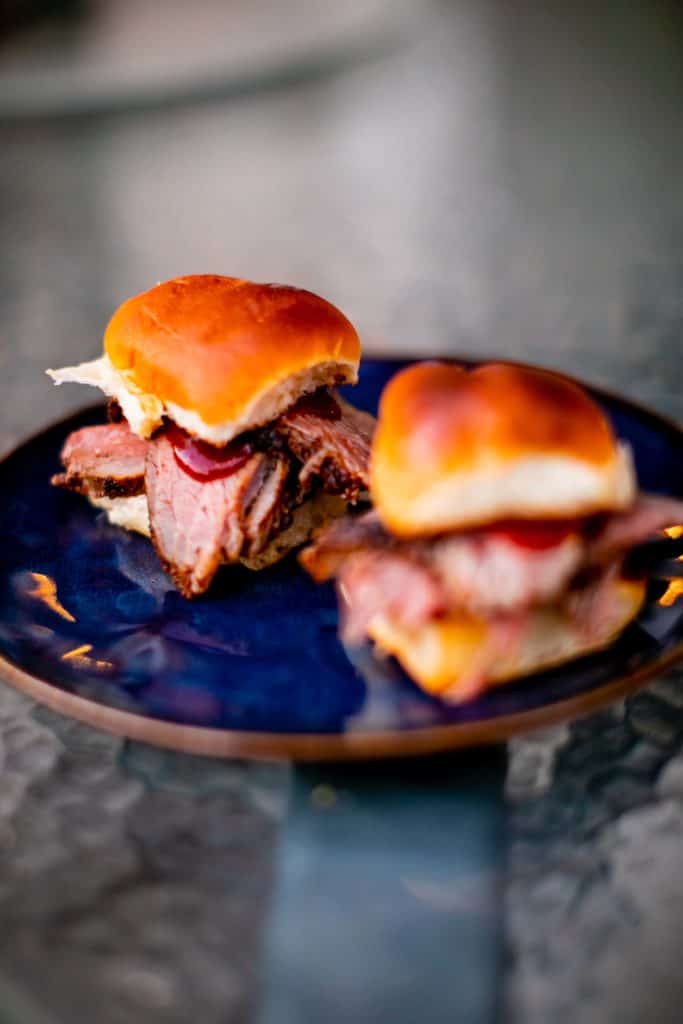 Tools Required
Sous Vide + Cooking Vessel
Freezer bags and or vacuum bags
Grill or cast iron pan
Tongs
Spoon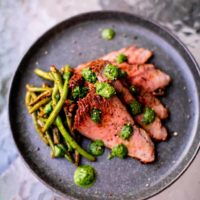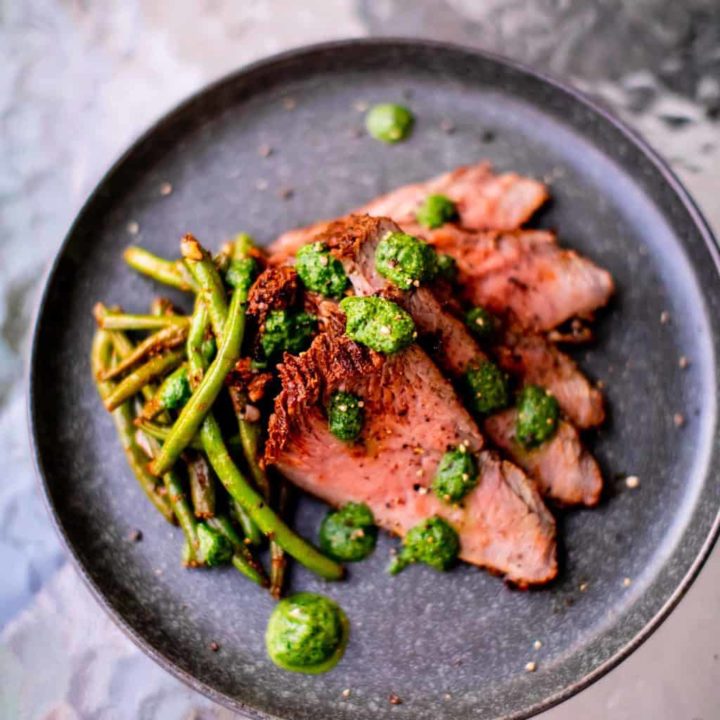 Ingredients
1

tri tip

2

tablespoons

kosher salt

1

teaspoon

liquid smoke

1

tablespoon

black pepper

1

tablespoon

paprika

1

tablespoon

cayenne pepper

1

teaspoon

coffee grounds
Instructions
Salt the tri tip liberally on both sides and store in fridge overnight and up to 3 days

Set sous vide for 130°F

Season tri tip with the liquid smoke, black pepper, paprika, cayenne, and coffee grounds

Place tri tip in freezer bag or vacuum seal it

Cook for 2-24 hours in the sous vide

Remove and pat dry

Set grill or cast iron stove on highest setting until fully heated

Sear each side for 1-2 minutes

Serve
Nutrition
Calories:
55
kcal
|
Carbohydrates:
2
g
|
Protein:
6
g
|
Fat:
3
g
|
Saturated Fat:
1
g
|
Polyunsaturated Fat:
0.3
g
|
Monounsaturated Fat:
1
g
|
Cholesterol:
19
mg
|
Sodium:
2343
mg
|
Potassium:
147
mg
|
Fiber:
1
g
|
Sugar:
0.2
g
|
Vitamin A:
927
IU
|
Vitamin C:
1
mg
|
Calcium:
17
mg
|
Iron:
1
mg