As an Amazon Associate we earn from qualifying purchases.
A couple of years ago, my best friend gifted me with a pasta maker for Christmas. I had made pasta from scratch before, but until I had my own pasta maker, I didn't realize how much I actually loved making my own pasta! 
After testing all the staple flavors, like roast garlic, spinach, and basil pasta, my favorite is definitely red pepper pasta dough. While it may be hard to beat the cool green color of a spinach pasta, the deeper flavor you get from red pepper puree is seriously the best. If you have a pasta maker or are looking to get into flavored homemade pasta, this red pepper pasta dough recipe is a great place to start. 
What is Red Pepper Pasta Dough?
Red pepper pasta dough is made from semolina flour, all purpose flour, egg, and red pepper puree. The red pepper puree is what gives the dough its flavor and color. You can use this red pepper pasta dough for any type of noodles, such as linguine, pappardelle, ravioli, or even lasagna.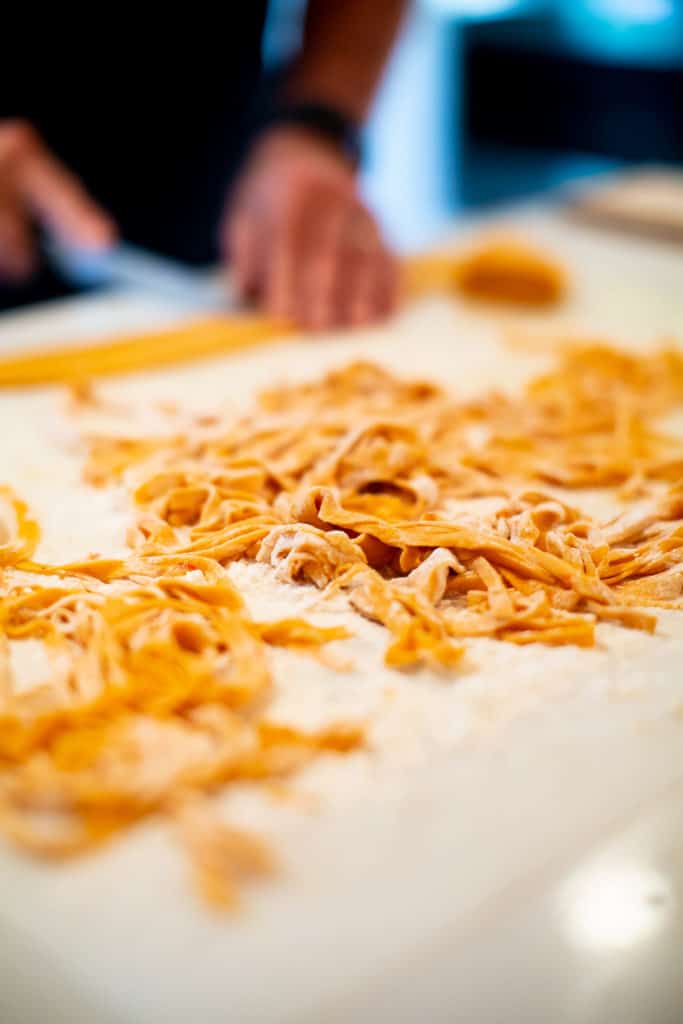 This pasta dough also works well with a variety of sauces. For a savory dish, try it topped with a creamy garlic Alfredo sauce. If you want something fresh-tasting, pair it with an earthy, basil and spinach pesto sauce.
The Challenge with Homemade Pasta Dough
The main challenge with making homemade pasta is the process for making it. The ingredients are very simple (eggs, flour, salt, and some elbow grease). When it comes to the process, there are 3 main parts that can be a bit complicated:
Dry dough
Not enough gluten
Too sticky
Dry Dough
The first challenge to overcome is getting your dough wet enough so it is pliable (dry dough will crack and break), but not so wet that it gets sticky and gummy. To do this correctly, make sure you add water very slowly. You just want to add a few drops at a time. 
You are looking for the consistency of hard putty, or as unappetizing as it sounds, chewed gum. If your dough gets sticky or gummy, you can incorporate more flour and re-knead it. It should take adequate pressure to shape your dough, and that is why I use a pasta machine. 
Not Enough Gluten
The next potential pitfall has to do with developing gluten. You are going to want strong connections in your dough, ie gluten. Make sure you knead the dough thoroughly (30+ times) to form the gluten. Also, it is critical to rest the dough covered and oiled after you knead it. This will allow it to be pliable for rolling.
Too Sticky
The final challenge is pasta dough that is too sticky. Don't let your pasta stick around together! Dust it with flour and hang it on anything you can to keep it from clumping together. If your dough gets too sticky, drop it into boiling water and cook it in batches (cooked pasta won't stick anywhere near as bad as the fresh dough).
Tools Required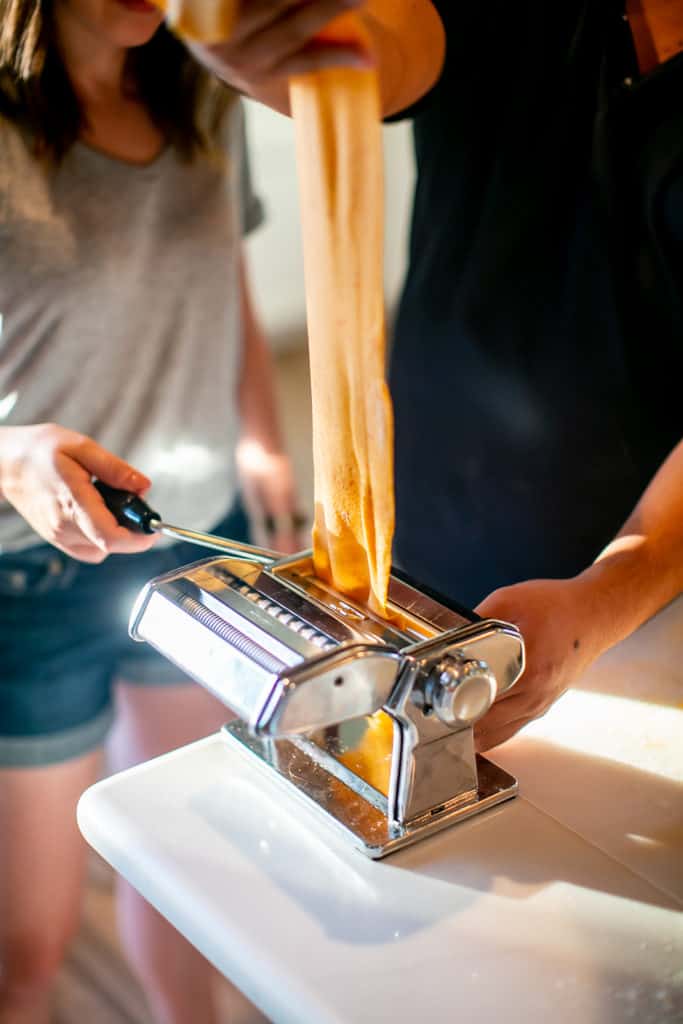 You will need a pasta maker for this recipe. This can be done by hand with a rolling pin (the old fashioned way), but it will be very hard to get the right dough thickness and consistency without a pasta machine. If you are trying this by hand, your target is about 2mm or 1/12 inch thick per sheet before cutting. 
How to Make Homemade Red Pepper Pasta Dough
Since the process of making pasta is a bit complex, I want to keep the ingredients as simple as possible. You will only need a red pepper, egg, flour, and olive oil. In the instructions below, I'll outline how to make the pasta dough using a pasta maker. 
When it comes to actually cooking your pasta, the cooking time is going to vary depending on the type of pasta you're planning to make. In general though, you will only need to boil it for a few minutes.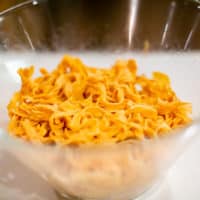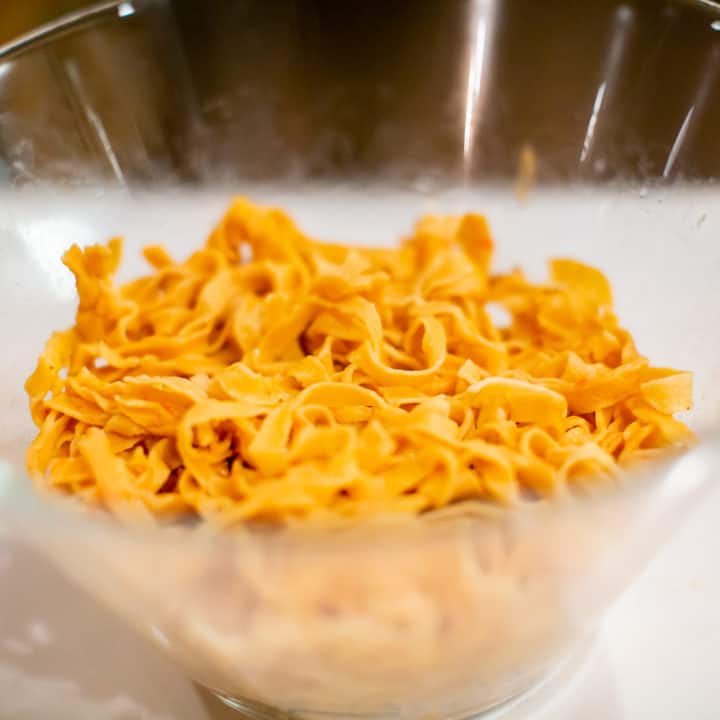 Ingredients
1

red pepper

1

egg

1/2

cup

All Purpose flour

1/2

cup

Semolina flour

1

tablespoon

olive oil

Water as needed to hit consistency

it will be very little
Instructions
Roast red pepper

Puree red pepper using a food processor, blender, or mortar and pestle 

Make a mound of All Purpose Flour and Semolina Flour (mixed)

Make a depression in the top of the mound and add egg

Begin mixing

Add red pepper puree

Knead the dough 30 times

Cover in oil and wrap in cling film for 30 minutes

Cut into fist size pieces 

Using your pasta maker, take 1 piece of dough and roll it on Setting 0 for 3 times before moving to Setting 1. Then, roll your dough on Setting 1 for 3 times. Continue this same process until you have rolled 3 times on Setting 5.

Cut dough with your pasta cutter, machines cutter, or by hand about ¼  inch for fettuccine size pasta. The length, width, and overall thickness of your pasta will change depending on the type of pasta you want to make.
Nutrition
Calories:
187
kcal
|
Carbohydrates:
29
g
|
Protein:
6
g
|
Fat:
5
g
|
Saturated Fat:
1
g
|
Polyunsaturated Fat:
1
g
|
Monounsaturated Fat:
3
g
|
Trans Fat:
0.01
g
|
Cholesterol:
41
mg
|
Sodium:
17
mg
|
Potassium:
134
mg
|
Fiber:
2
g
|
Sugar:
1
g
|
Vitamin A:
991
IU
|
Vitamin C:
38
mg
|
Calcium:
14
mg
|
Iron:
2
mg
8 Beginner Cooking Tips I Wish I Had Known