As an Amazon Associate we earn from qualifying purchases.
Today, we're making the ultimate fall and winter salad, complete with spiced acorn squash, juicy pomegranate seeds, and bright green spinach to add to the holiday colors.  
What is an Acorn Squash Salad?
Our acorn squash salad recipe takes common ingredients found in a spinach salad and elevates them by making the acorn squash the focal point of the dish. Overall, we wanted to develop a recipe that incorporated seasonal elements to really get into the holiday spirit.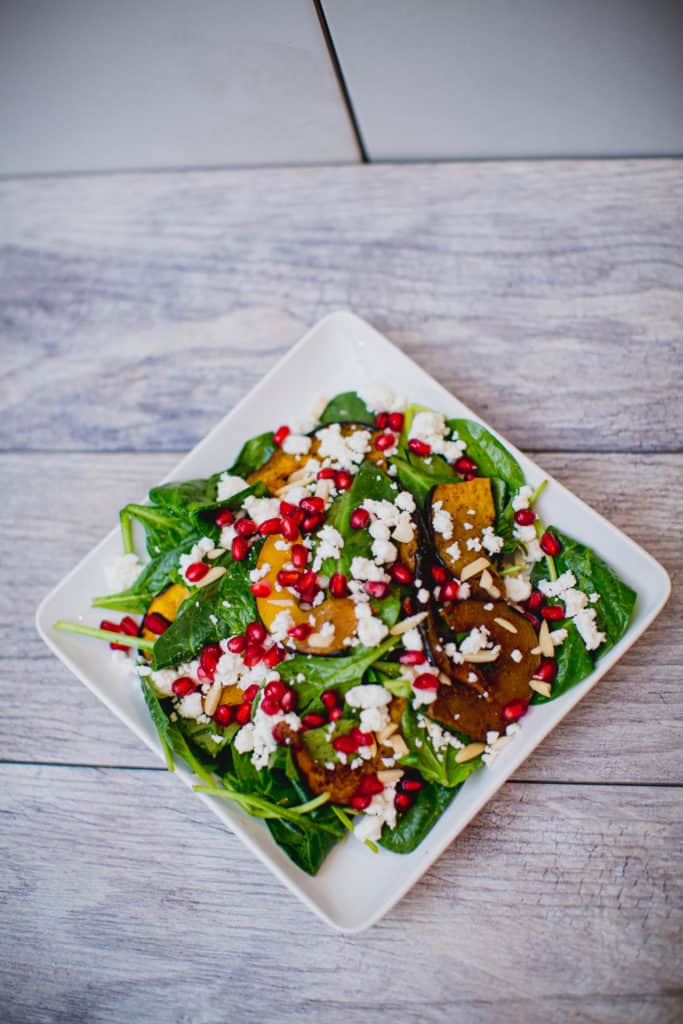 We focused on finding ingredients you can find during fall and winter and combined them into a dish that evokes the feelings and tastes of the season. To note, it is possible to find these ingredients year-round (with the potential exception being the squash which will be regionally available). 
Our Approach to a Salad with Acorn Squash
The core of this salad is simplicity. Making main dishes during the holidays is tough enough. We wanted to make a recipe that you could quite literally throw together and still be an elegant crowd-pleaser. 
For the acorn squash itself, we roasted the acorn squash by baking it, and we outline our exact recipe for baking the squash here. We added spices such as clove, cinnamon, and nutmeg to really enhance the holiday vibes of this dish. 
What Makes a Good Acorn Squash Salad
To make a good salad, you need a fresh taste and distinct characteristics. Followers of our blog know my thoughts on salad and non cooked dishes (I think they can be very boring if not executed properly). 
The lower the prep and cook time, the more important the ingredients are. Salads are a lot like cocktails in that regard – it is a balancing act between only a handful of things, but they can make or break your dish. 
Developing Flavors
We added our spiced acorn squash as the "meat" or body of the salad. Some options you have are: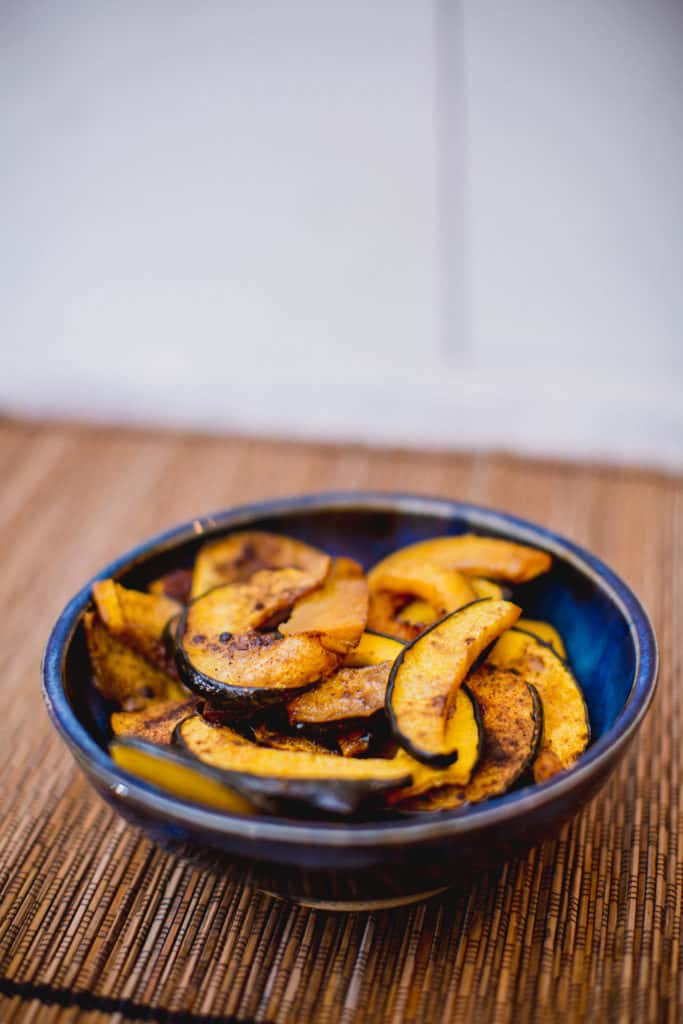 Change out the spinach for different greens. You could use arugula to make your salad more peppery and bitter. We do not recommend using red/green leaf or iceberg lettuce, as they have almost no flavor and limited nutrient content comparatively.
Add in meat. Depending on when you are making this, turkey or chicken makes a great topping if you want this dish to be a main course. We left ours vegetarian, as it goes very well as a side dish to turkey. 
Pairing Ideas
This salad was originally developed to be a side dish for turkey so that is what we would recommend using it for. That said, chicken is an obvious substitute as well. 
Tools Required
The beauty of this salad is that if you have already made your acorn squash for a side dish (like we did), then you just need a bowl to put it in. The dressing will be a bit better if you mix it separately, but seriously, you can put everything into the bowl and toss.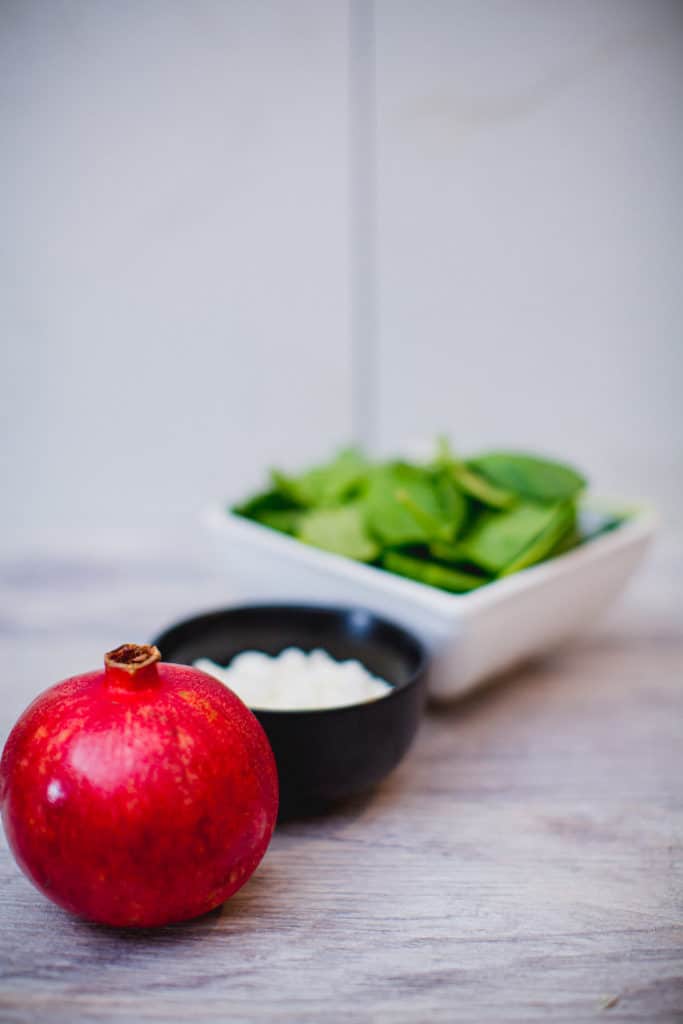 If you still need to roast your squash, here are the tools needed:
Cutting board
Small bowl
Large salad bowl
Knife 
Wooden spoon
Baking sheet
Aluminum foil
Measuring spoons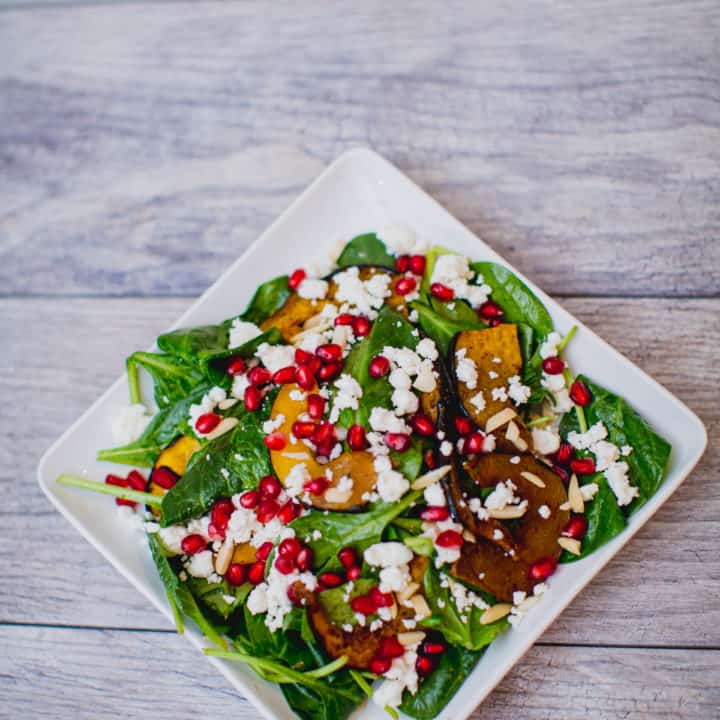 Roasted Acorn Squash and Pomegranate Spinach Salad Recipe
Total Time:
1 hour
5 minutes
Ingredients
14oz Spinach (this is about 1 box or bag)
1 pomegranate (you will only use about half the seeds)
1/4 cup feta
1 acorn squash
2 tablespoons sugar
1 tablespoon brown sugar
1 teaspoon clove, cinnamon, nutmeg to taste
2 tablespoons butter
2 tablespoons apple cider vinaigrette
1 tablespoon cranberry juice
2 tablespoons olive oil
Black pepper to taste
Instructions
Preheat oven to 300°F
Wash the squash and spinach 
Cut squash in half vertically and deseed with the wooden spoon
Cut into pieces 1/6th of an inch thick (we recommend half moon shapes)
Place squash pieces onto baking sheet - it's okay if they overlap slightly
Season with sugar, brown sugar, clove, cinnamon, nutmeg, and melted butter
Bake in the oven for 45 minutes
While the squash is baking wash and deseed pomegranate
Cut it open across the equator
Whack it really hard with a wood spoon into a bowl of water 
The seeds will sink and white pith will float
Drain so you have just the seeds 
Add spinach into salad bowl
Add vinegar, oil, cranberry juice to a cup and mix thoroughly (this can also be added directly into the salad bowl
Take out squash from the oven and let cool
Add acorn squash to the salad
Gently toss salad 
Top with squash, feta, and seeds 
Serve  
10 *LIFE CHANGING* SALAD HACKS | How To Make Salads That Don't Suck!