As an Amazon Associate we earn from qualifying purchases.
I think we can all agree there is nothing quite like the smell of freshly baked chewy chocolate chip cookies coming right out of the oven. If the smell doesn't reel you in, the first bite of that warm, chewy goodness will draw you in for more cookies than you should probably eat in one sitting.    
What are Chewy Chocolate Chip Cookies?
There are two main categories when it comes to chocolate chip cookies: chewy cookies and crispy cookies. Chewy chocolate chip cookies are soft when you bite into them, but have just enough firmness to not fall apart in your hand.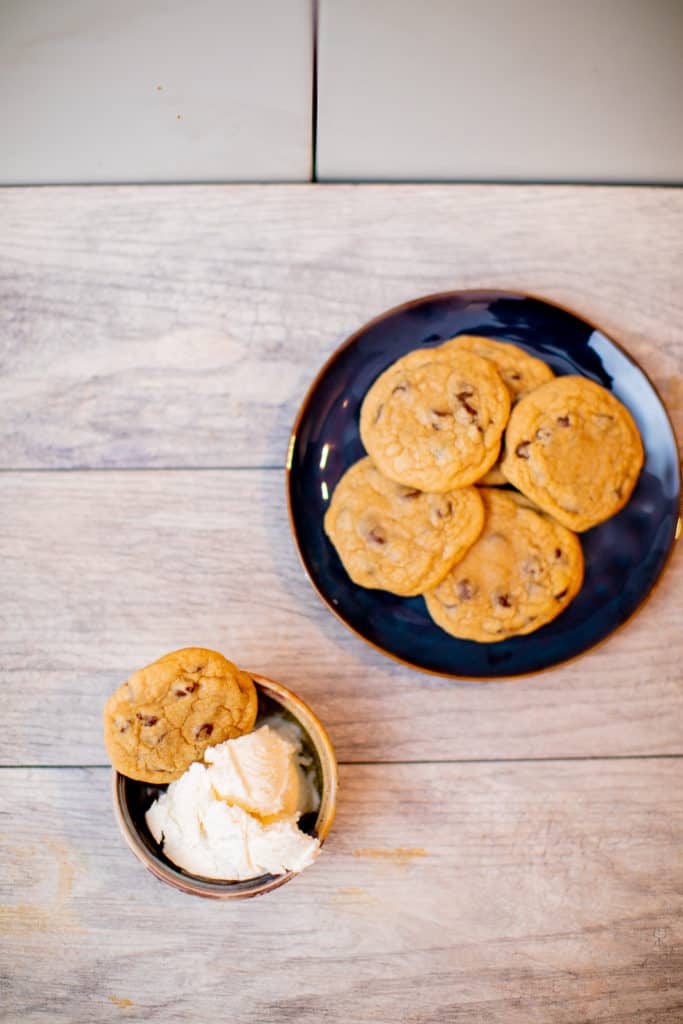 This is definitely my preference as the superior cookie. When I think of a chocolate chip cookie, I want it to be decadent, soft, and dark.  
Our Approach to Chewy Chocolate Chip Cookies
We are going to base our ratios on the smallest singular item in our recipe, which is 1 egg. That said, this recipe will still make 6 medium size cookies (like a Pepperidge Farm size) or 12 small ones (think Chips Ahoy size). 
To make extra sure our chocolate chip cookies stay chewy, we're going to incorporate some liquid sugar in the form of maple syrup. The maple taste is negligible and works with alternatives like agave or karo syrup as well.
The best part is, this buys us a lot of insurance for potential oven hot spots and thermostat inconsistencies, thus ensuring chewy cookies.  
What Makes a Good Chocolate Chip Cookie
I am a firm believer you cannot have good cookies without a tiny bit of salt. Either from salted butter or a small pinch into the batter, salt really helps bring your chocolate to life and gives the batter (cookie part) a "gotta have more" quality. 
The Challenge with Chocolate Chip Cookies
When removing these cookies from the oven, they are going to be very soft – like, fall apart if you touch them soft. That said, you are going to need to let them cool closer to room temperature before removing them from the trays.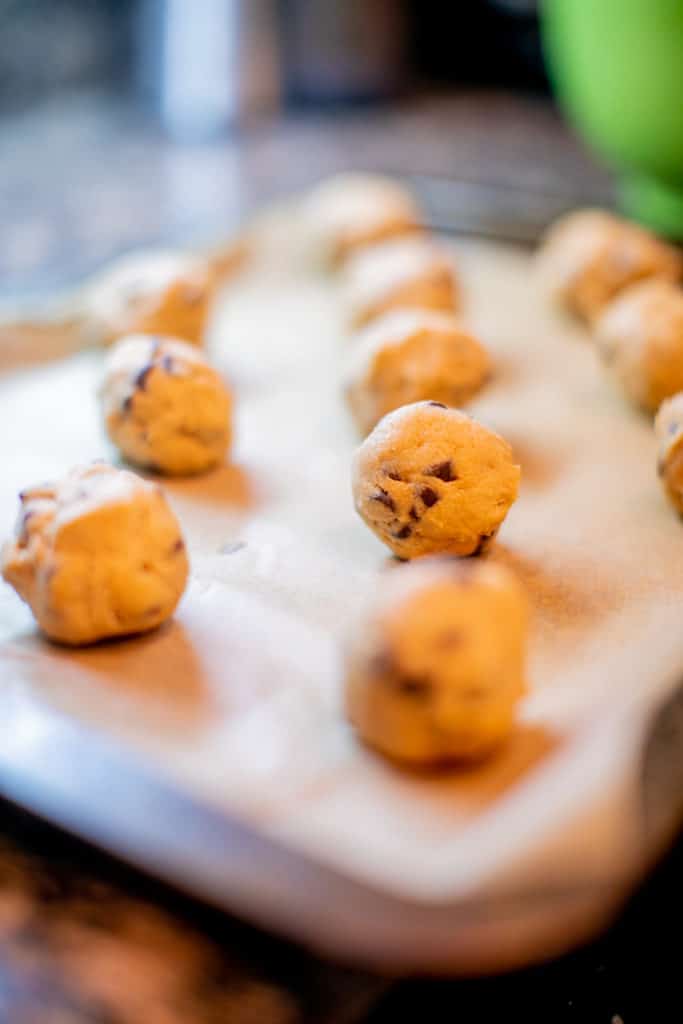 I recommend 20 minutes on a cool and freshly cleaned countertop but if you are in a rush, you can always put them in front of a fan or open door to cut the time in half.
Flavorful Additions
We have experimented with a couple different versions of this recipe and have found a lot of success adding nuts to the chocolate mix. Walnuts are one of my personal favorites for pairing with chocolate, but you can easily substitute pecans, peanuts, hazelnuts, or macadamia nuts if you are feeling fancy. 
Don't like nuts or chocolate? The batter in this recipe will work well for many cookie bases. Sprinkles work great in this recipe if added right on the way into the oven (don't mix them or the dye normally runs). You could also add raisins, though I'm personally not a fan. 
What Pairs with Chewy Chocolate Chip Cookies?
Even with this being a beginner site, we think it's pretty obvious what you're going to want to pair these cookies with – either an ice cold glass of milk or some freshly scooped ice cream. Some less common pairings would be espresso or a creamy homemade milkshake.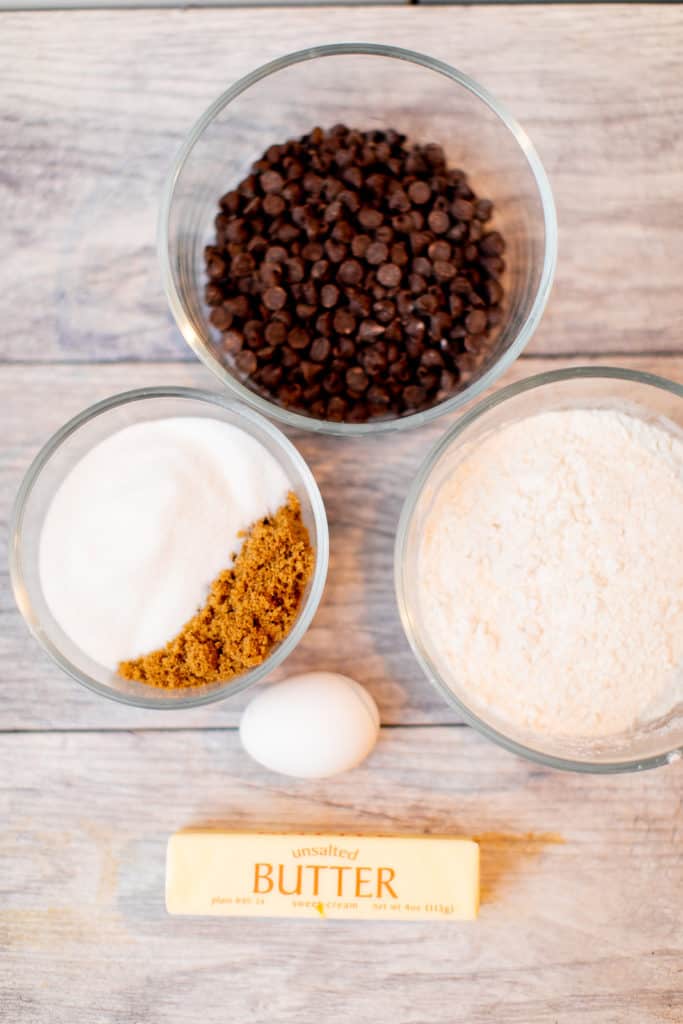 Tools Required
Here are the tools needed to make these chewy cookies:
Mixing bowl
Mixing spoon
Microwaveable mug or bowl to heat butter and vanilla
Baking sheet
Parchment paper (optional but recommended)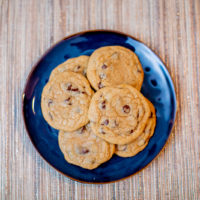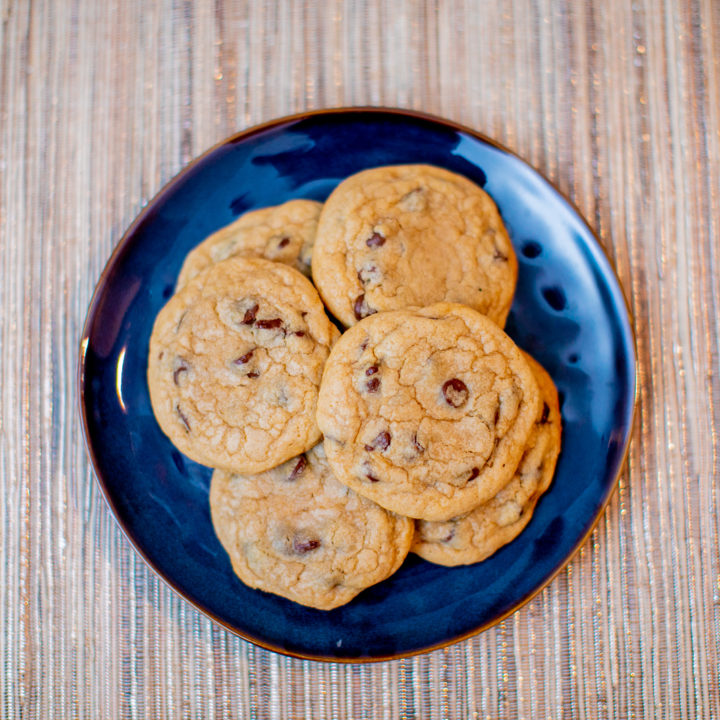 Ingredients
1/2

cup

butter

1/2

cup

white sugar

1/2

cup

brown sugar

2

tablespoons

maple syrup

1

egg

1

teaspoon

salt

1

teaspoon

vanilla extract

1

tablespoon

hot water

1/2

teaspoon

baking soda

1.5

cups

all-purpose flour

1

cup

chocolate chips
Instructions
Soften butter in microwave for 20 seconds

Mix together butter, sugar, syrup, eggs, vanilla, salt, hot water, baking powder in a mixing bowl until it is creamy

Add flour and mix to combine

Add chocolate chips and mix to combine

Put in freezer for 30 minutes

Preheat oven 350°F

Remove dough from freezer

Separate into 12 balls and space evenly on cookie tray

Bake for 10-12 minutes, cookies will be VERY soft when you take them out

For best results, let chill for at least 20 minutes (optional)

Enjoy
Nutrition
Calories:
564
kcal
|
Carbohydrates:
82
g
|
Protein:
4
g
|
Fat:
25
g
|
Saturated Fat:
15
g
|
Polyunsaturated Fat:
1
g
|
Monounsaturated Fat:
4
g
|
Trans Fat:
1
g
|
Cholesterol:
68
mg
|
Sodium:
618
mg
|
Potassium:
175
mg
|
Fiber:
1
g
|
Sugar:
56
g
|
Vitamin A:
512
IU
|
Calcium:
58
mg
|
Iron:
2
mg
8 Beginner Cooking Tips I Wish I Had Known