As an Amazon Associate we earn from qualifying purchases.
Sometimes you just want something tasty, simple, fast, and healthy to put on the table. This green bean salad is just that. Ready in just minutes, you will want to have a few sides like this in your arsenal for dinner.  
What is a Green Bean Salad?
A green bean salad is a vegetable side dish composed of green beans tossed in a dressing and often topped with nuts or berries. It is meant to be light and refreshing.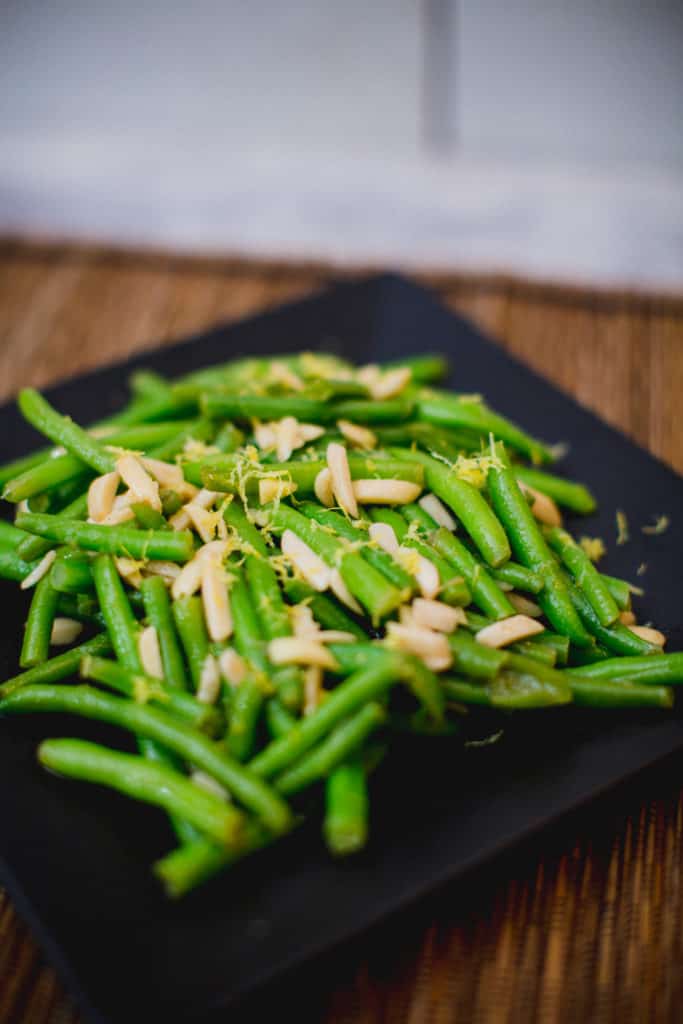 My Approach to Green Bean Salad
While you can enjoy this dish all year round, I've seen that during the holidays, you tend to have 2 things: green beans and cranberries. Putting the two together gives you an easy, yet sophisticated side dish to accompany your turkeys, hams, and roasts. I'm going to create a cranberry vinaigrette dressing to go with my green beans.
With all the heavy foods you'll likely be eating during the winter months, this side dish also works really well as a palette cleanser. It is a very light dish, with fresh citrus and bright acidity, making it perfect to counteract heavy winter foods. 
Making this during the summer? Serve it chilled for a refreshing summer break from the heat!
What Makes a Good Green Bean Salad
Followers of this blog will likely know what I'm going to say. When it comes to salads, you need to taste the ingredients in it and they need to be good. That said, the fresh flavor of the green beans is paramount. 
Luckily, the fresh flavor does not mean you need to spring for the fresh beans. I'm going to be blanching some frozen beans to give them texture and bite back. What is critical is you do not overcook your beans. If they become limp, you have overcooked them. 
The Challenge with Green Beans
It is important that you do not let them sit in tepid warm water and do not let them boil for too long. Both these things can cause the green beans to become waterlogged or break down their cellular structure, causing mushy beans (which are horrible for salads).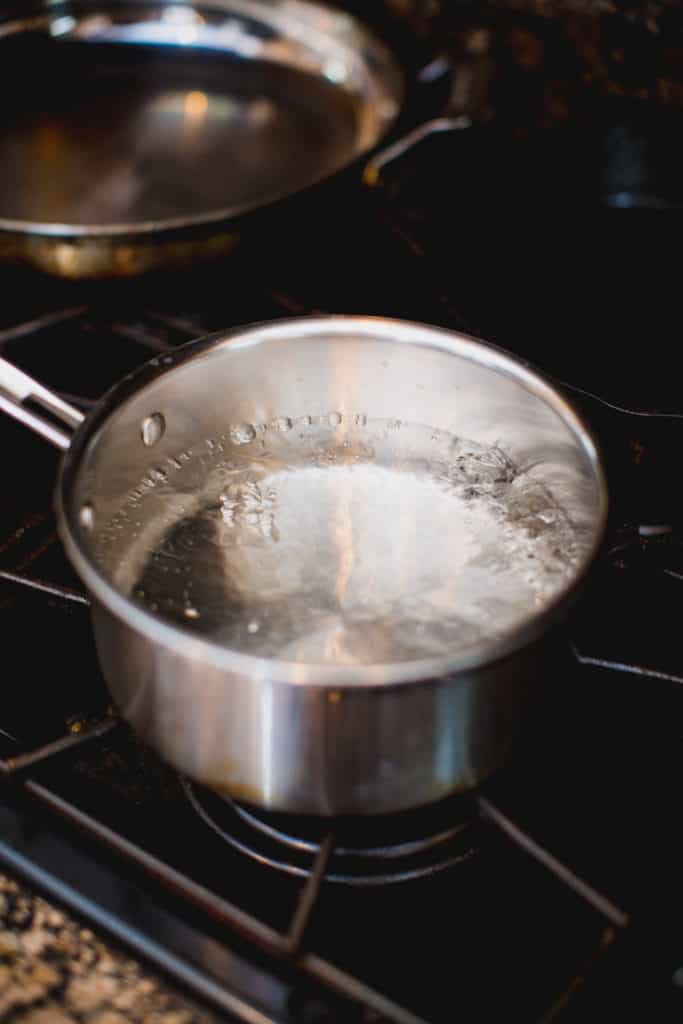 My Solution
To avoid mushiness, blanch your beans. Blanching means to boil quickly then submerge in ice-cold to immediately stop the cooking. When done correctly, your beans will be brighter green, taste fresher, and have a firmer crunch and snappiness when you eat them (this is all very good for salad). 
Developing Flavors
It's very important to salt your water. A tiny bit of salt enhances the flavors of pretty much everything. Since green beans can be mild, I want to make sure I accent them. Additionally, if you have dried cranberries (craisins) these go really well into this dish to add a tad of sweetness to the mix. 
What Pairs with Green Bean Salad?
I developed this recipe to go with turkey, with the citrus and cranberry notes complementing the main dish. That said, I have tested it with other meats as well and it goes equally well with hams and pork chops. You can definitely serve it as a side for steak or roast, but it just won't be as cohesive as with those lighter citrus paired meats.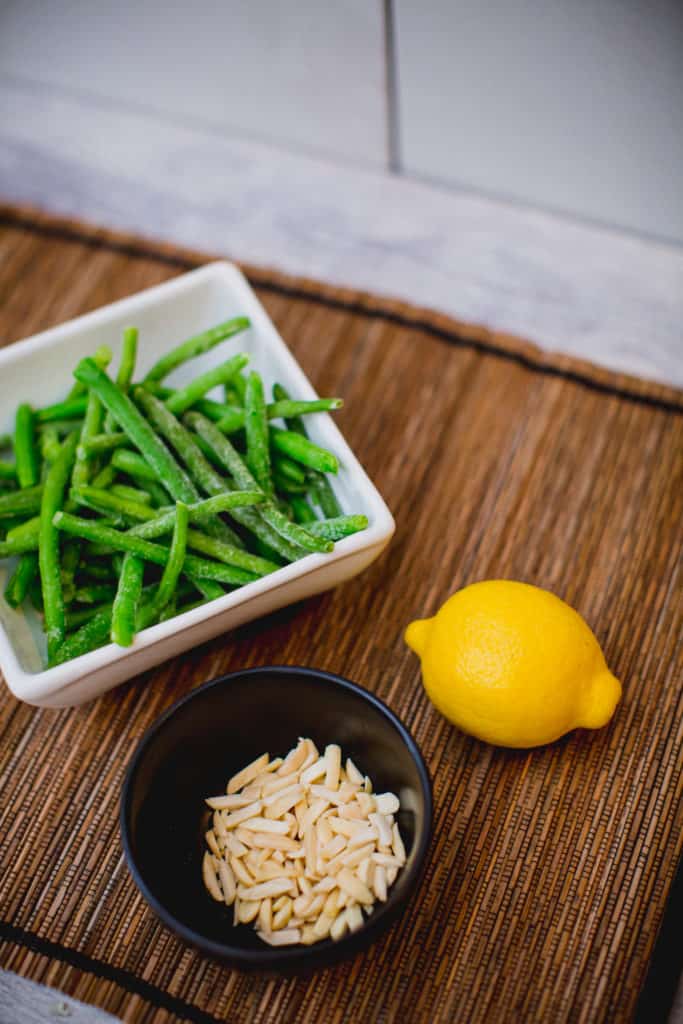 Tools Required
For this recipe, here are the tools you'll need:
Pot big enough to hold your beans and boiling water.
A big bowl filled with ice water
Small cup or bowl to mix your dressing in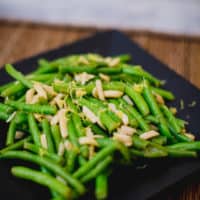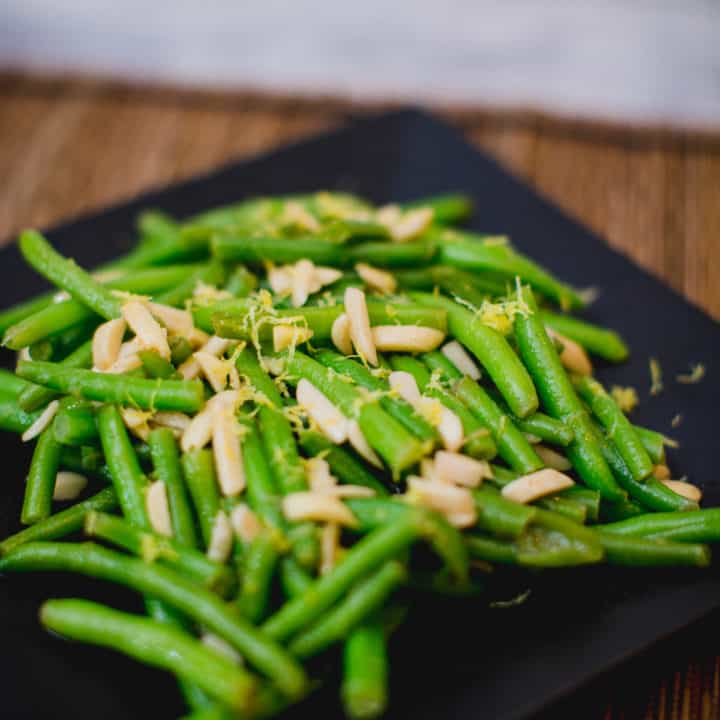 Simple Green Bean Salad with Cranberry Vinaigrette
Print
Pin
Rate
Ingredients
Green Beans
2

cups

green beans

2

cups

ice

(recommended but can also use cold water)

1/4

cup

slivered almond

1

pinch

salt
Dressing
1

tablespoon

apple cider vinegar

1

tablespoon

extra virgin olive oil

1

tablespoon

cranberry juice

(substitute cranberry sauce if you have it)
Toppers
1

lemon zested

Top with craisins

(optional but recommended)
Instructions
Bring pot of water and salt to a boil. 

In your large bowl, add in ice (or really cold water).

In your small cup, add apple cider vinegar, olive oil, and cranberry juice or sauce for the dressing.

Mix dressing vigorously and set to the side.

When water is boiling, add green beans in and cook for 1 minute from fresh or 2 minutes from frozen.

Immediately drain water and dunk beans into the ice water. If using cold water drain immediately and run cold water over it. (this will keep the temperature down) 

Drain and dry the beans.

In the same big bowl, add the dressing and toss.

Top with lemon zest, almond slivers, and craisins if you have them. 

Serve. 
Nutrition
Calories:
181
kcal
|
Carbohydrates:
12
g
|
Protein:
5
g
|
Fat:
14
g
|
Saturated Fat:
2
g
|
Polyunsaturated Fat:
3
g
|
Monounsaturated Fat:
9
g
|
Sodium:
39
mg
|
Potassium:
347
mg
|
Fiber:
5
g
|
Sugar:
5
g
|
Vitamin A:
764
IU
|
Vitamin C:
18
mg
|
Calcium:
89
mg
|
Iron:
2
mg