As an Amazon Associate we earn from qualifying purchases.
When you think of a daiquiri, a tall, frozen fruit slush likely comes to mind. However, daiquiri are actually one of the big old school cocktails! The original daiquiri was a refined and simple drink that was not frozen. Today, I'm going to revisit the classic style of this drink and make one adjustment to it by adding cranberry into the mix. 
What is a Cranberry Daiquiri?
A cranberry daiquiri is a chilled rum based drink made with lime, sugar, and cranberry sauce or juice. My cranberry daiquiri recipe will be based on the older origins of the drink.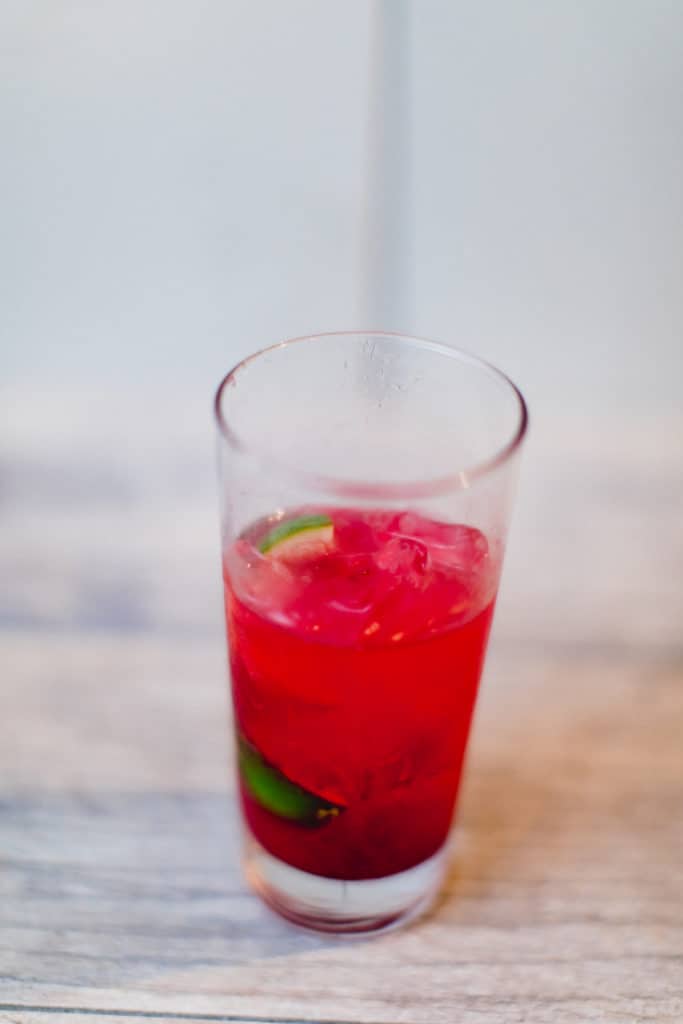 I will not be blending anything, and I will not be using simple syrups. I will be using a tall glass filled with ice that is topped with sugar, citrus juice, cranberry sauce, and mixed with white rum. 
What are the Origins of the Daiquiri?
The daiquiri has been around since the turn of the 20th century with origins going back into the turn of the 18th century. Sugar cane was a big cash crop of the new world prior to items like tobacco and cotton. One of the major sugar byproducts was, of course, rum. 
Recipes for a sailor's grog drink was essentially the same as my recipe for a daiquiri today, just without ice. For most of its history, however, rum suffered with a poor reputation. Rum was generally considered a low brow drink for the poor and destitute with no other options. 
It wasn't until World War II and the rationing of Whiskey and Vodka (coupled with the favorable trade with Latin America) that led to rum being the cocktail juggernaut I am familiar with today.  
What Pairs with a Cranberry Daiquiri?
Since there is an unmistakable flavor of lime running through the daiquiri, that's the flavor I want to build my pairings off of.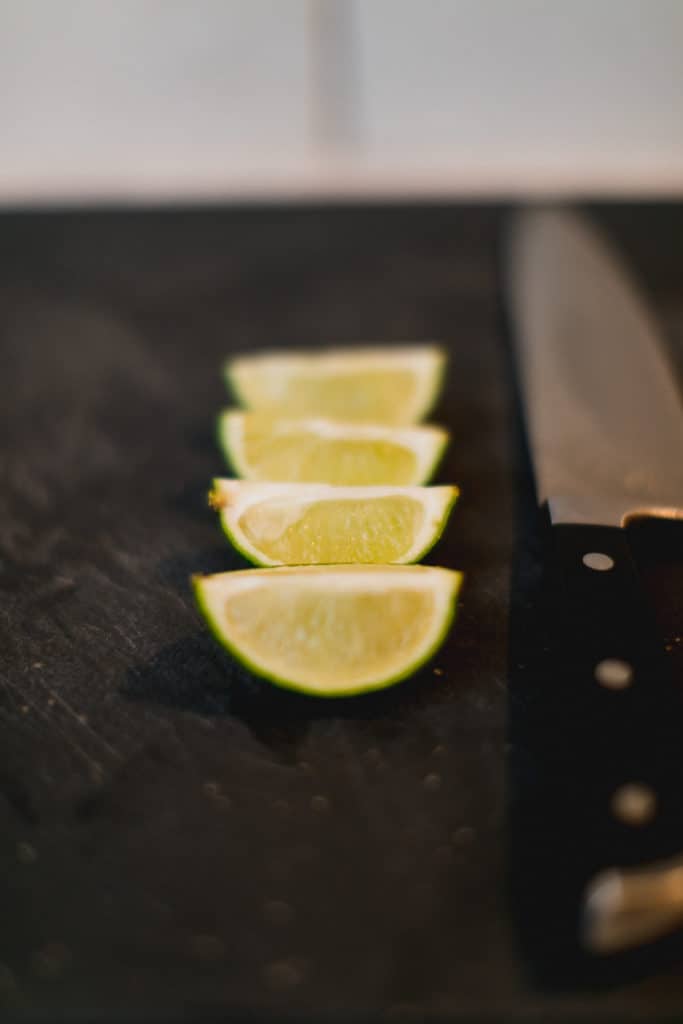 Seafood is a good starting point for pairings. Grilled shrimp or lobster are at the top of my list, as they have a sweet meat that compliments the acidity of a daiquiri. When it comes to the cranberry portion of the pairing, I like mesquite smoked chicken or even citrusy pork tenderloin. 
What You Need To Make This Drink
Necessary Ingredients
Traditionally a daiquiri will use a white rum. I am using Bacardi, but you can use any neutral rum you have on hand. You will want to avoid golden, dark, or flavored rums (like coconut).
When it comes to the best sugar to use, white granulated seems to be the most popular by far. Modern versions use simple syrup. I was even able to find several references using powdered sugar, though I'd suspect this would require turning it into a slurry first before adding in the sugar to avoid clumps. 
For the cranberry flavoring, I'm using homemade cranberry sauce. You can also use cranberry juice, though the true cranberry flavoring won't be quite the same. I don't want to affect the texture too much, so 1 tablespoon will be plenty to add into the cocktail. This will give it a slight cranberry flavor and color, but it will not overpower the lime or rum. This keeps it a daiquiri at heart!
Tools Required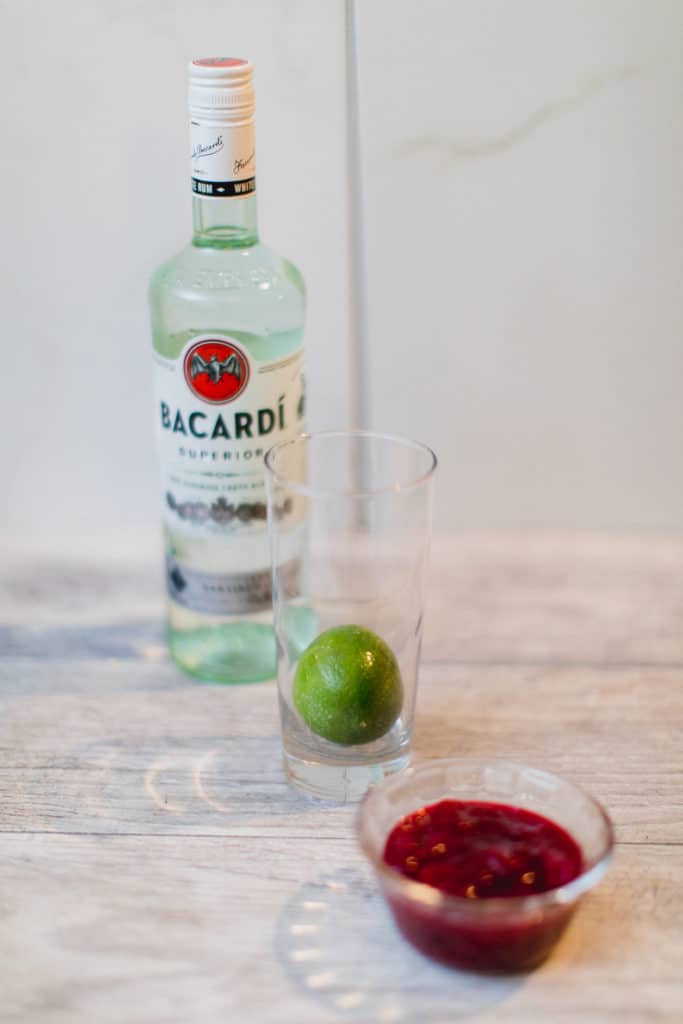 Since I am sticking so close to the original daiquiri, you won't need any shakers, blenders, strainers, or muddlers. To make this cranberry daiquiri recipe you will need to measure your alcohol, and cut lime wedges, and stir the final product.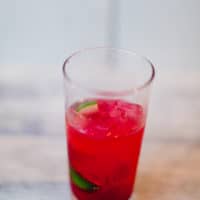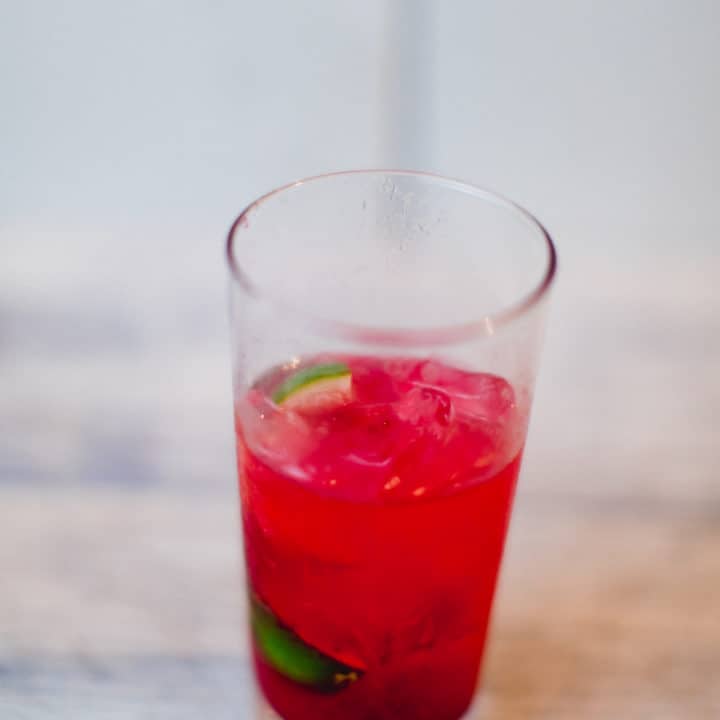 Ingredients
1.5

ounces

white rum

1

tablespoon

sugar

1/2

lime for juice

1

tablespoon

cranberry sauce

1

handful of ice
Instructions
In a tall glass add cranberry sauce, ice, and top with sugar

Squeeze the lime over the ice 

Add rum and stir until mixed

Serve chilled 
Nutrition
Calories:
172
kcal
|
Carbohydrates:
19
g
|
Protein:
0.2
g
|
Fat:
0.1
g
|
Sodium:
2
mg
|
Potassium:
23
mg
|
Fiber:
0.2
g
|
Sugar:
17
g
|
Vitamin A:
14
IU
|
Vitamin C:
5
mg
|
Calcium:
3
mg
|
Iron:
0.1
mg
Beginner's Guide to Mixed Drinks and Cocktails