As an Amazon Associate we earn from qualifying purchases.
As the weather cools down one of the best ways to keep warm and celebrate the holidays is with mulled apple cider. What makes this drink so perfect for the season is the aroma of apples and baking spices it fills your house with. 
I'll be making my mulled apple cider with spiced rum for that extra holiday spirit. The rum is just an added bonus, so if you're making this for a family affair with kids, feel free to leave the booze out – it will still be delicious!
What is Mulled Apple Cider?
Mulled apple cider is a hot cider drink made from apple cider, citrus, and baking spices like cinnamon. If you are ever wondering if you are drinking apple cider or mulled apple cider it is basically the inclusion of those other ingredients that makes the difference.  
What Makes a Good Mulled Apple Cider
To make a good mulled apple cider, the #1 thing you want is a great aromatic profile and the undeniable taste of apples. Your house should SMELL of the holidays. When you cook the spices in liquid the evaporating water will carry those smells and flavors.
My Approach to Mulled Apple Cider
My mulled apple cider with rum is really a cocktail combining two traditional drinks: mulled apple cider and a hot toddy. A hot toddy is traditionally made from mulling or baking spices and whiskey. I'll be making mine with rum because it combines very well with apples and spices. 
That said, you are more than welcome to use other spirits if that is your preference. One I have always been interested in trying is Apple Crown Royal, which I could also see fitting well into this cocktail. 
I taste with my eyes and nose before my mouth. So for my mulled apple cider we want it to be both visually stunning and aromatically pleasing. To enable this, I'm going to be using filtered apple cider (the clear kind). You can use unfiltered if that is your preference, though the end result is murky. We want my tasters to see the beauty of the spices and garnish I'm using. 
Developing Flavors
To put this cocktail together I'll need two things: a good mulled apple cider and the right alcohol. So, let's start off with a good mulled apple cider. To make mine I'll be using the following ingredients: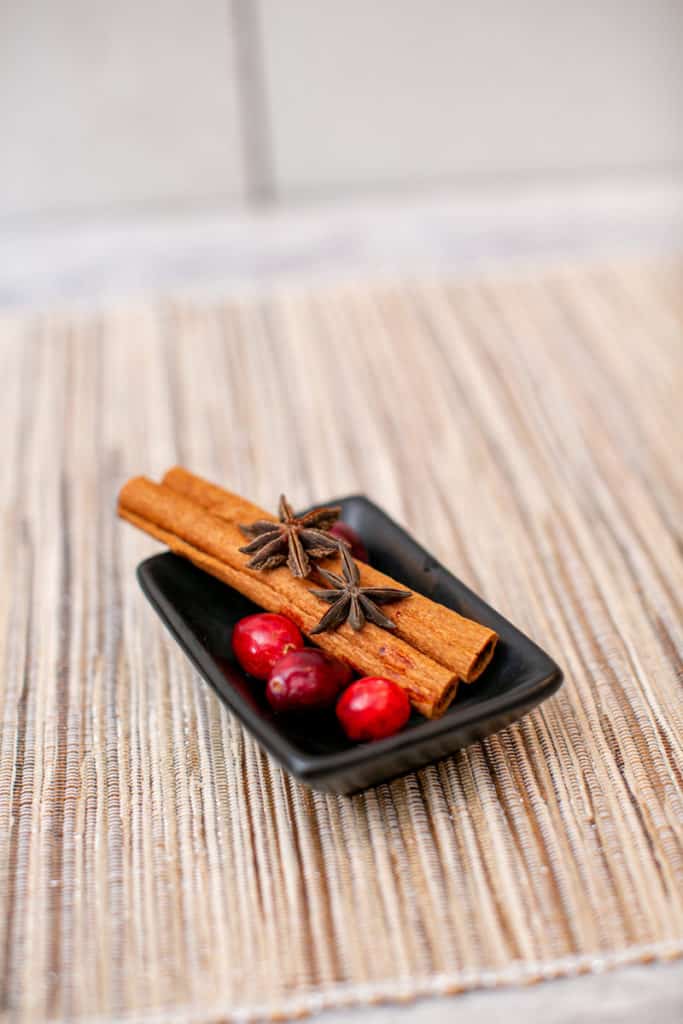 Cinnamon sticks
Star anise
Cranberries
Blood orange zest 
While it is not necessary to use whole spices, I prefer them visually in the final product. You can definitely use ground spice, but you will not have that beautiful see through cider at the end of the day. 
Cranberries
The cranberries are a bit of a "trick ingredient" that do two things. First, they will add a little tartness to the apple cider, which will play against the spice. Typically, apple cider is a sweet drink, so adding something tart like the cranberries can reduce the overall sweetness of the drink.
Second, cranberries bring color to the finished product. When you cook cranberries in liquid you can strip them of their red pigment. This will give you a rich dark amber color to your drink. 
To really concentrate the flavor of my mulled apple cider I'm going to reduce it down by about ⅓ of its volume. If you plan to mix any alcohol into your mulled cider, this step is critical. You want a strong flavored mixer to stand up to the spiced rum, whiskey, or bourbon that are the most common spirits for cider. 
Cinnamon and Spice
If you want to increase the flavors of your spices do not just add more of them! The best way to maximize the effectiveness of your spices is to slightly toast them prior to use. This will help bring the oil soluble flavor compounds to the surface. 
Orange Zest vs Orange Juice
I am using orange zest because that is where the essential oil of the orange is. The literal essence of orange is in the skin. If I were to use juice I would get some orange flavor, but the aromatics and impact would be lost. 
Should You Continue to Cook the Cider after Adding the Alcohol?
After adding the alcohol to the cider, minimal cooking is best. This is because I'm picking spirits that complement my flavor profile.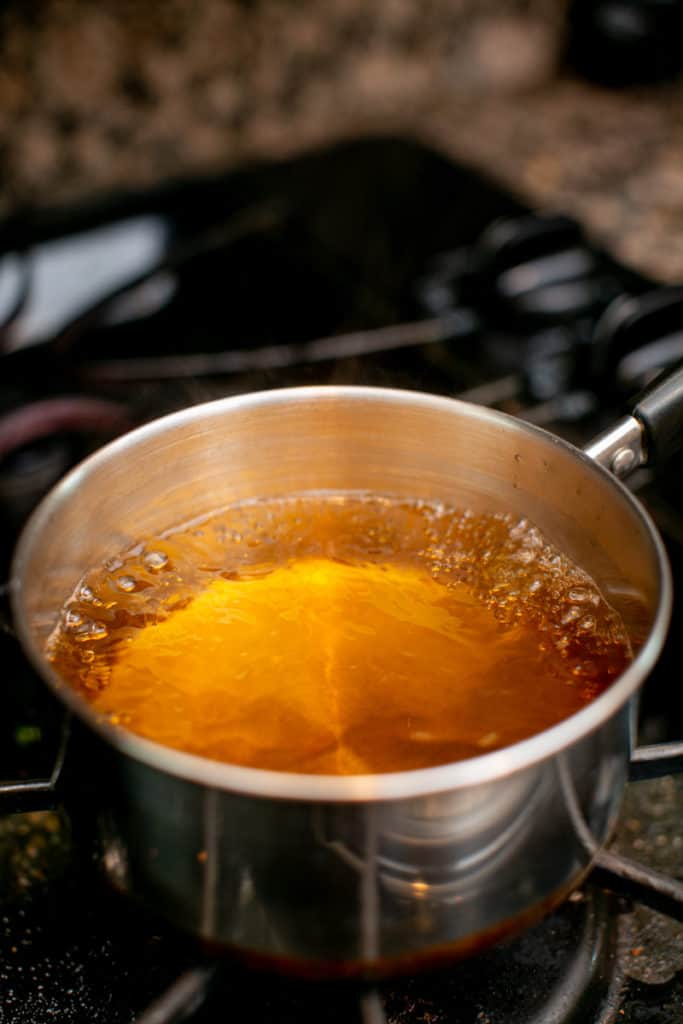 If you are using a lower quality spirit or just don't want that much booze in your drink, feel free to cook up to 5 minutes. Past this time frame, the alcohol would probably be almost entirely gone. 
Should You Add Sugar?
I do not believe you should add sugar to your mulled cider. Cider should have a little pucker to it. Additionally, because I am reducing mine down and concentrating on the flavors, more sugar would make the drink like syrup. 
Tools Required
I used a medium saucepan to cook my cider in. If preparing a large quantity, a slow cooker makes a great cooking and serving vessel and won't take up space on the stove. Outside of that, a knife and a cutting board are required. 
Some optional tools are a vegetable peeler for your orange peel and a microplane for zesting. A microplane can also be traded out for a cheese grater, or you can drag a serrated steak knife over the peel to get a little zest.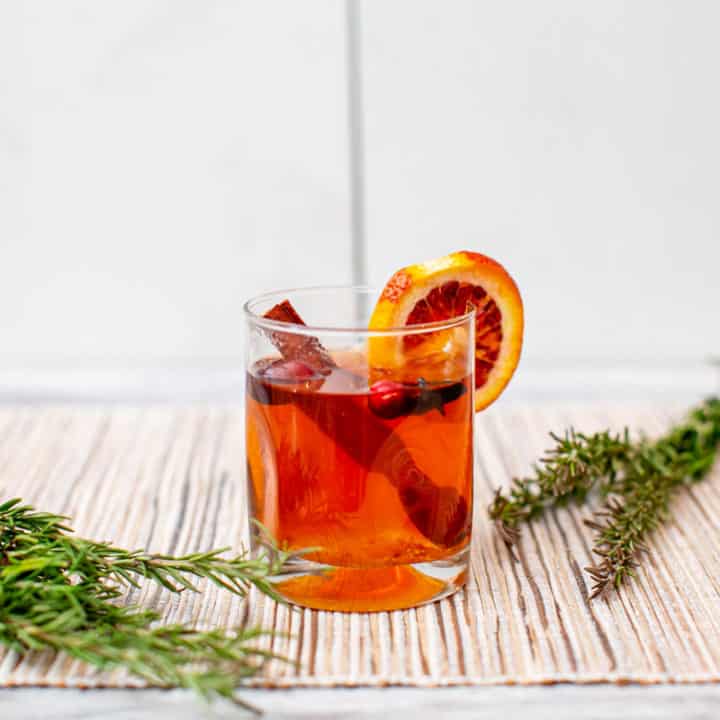 Ingredients
3

cups

filtered apple cider

2

cinnamon sticks

2

star anise

10

cranberries fresh

optional

2

orange peels

Zest of the orange

Slice

of the orange

2

ounces

spiced rum

bourbon, or whiskey
Instructions
Using the vegetable peeler, take 2 long peels from the orange 

Using the microplane or grater, zest the remaining parts of the orange. Set to the side.

Using a sharp knife, slice the orange into rounds 

In a medium saucepan, add cider, cinnamon sticks, star anise, half the cranberries, and the orange zest. Heat on medium-high.

Bring your apple cider to a boil then immediately to down to a simmer 

Cook until reduced down ⅓ of the volume (should be about 20-30 minutes on the stove top) 

Pull out the cranberries, as they should be white now

Put the fresh cranberries in and cook for 5 minutes more

Add your spiced rum and cook 1-5 minutes more depending on how boozy you like your drinks 

Pour into cup and enjoy
Nutrition
Calories:
254
kcal
|
Carbohydrates:
47
g
|
Protein:
1
g
|
Fat:
1
g
|
Saturated Fat:
0.1
g
|
Polyunsaturated Fat:
0.2
g
|
Monounsaturated Fat:
0.1
g
|
Sodium:
15
mg
|
Potassium:
417
mg
|
Fiber:
4
g
|
Sugar:
34
g
|
Vitamin A:
70
IU
|
Vitamin C:
21
mg
|
Calcium:
90
mg
|
Iron:
1
mg
Beginner's Guide to Mixed Drinks and Cocktails