As an Amazon Associate we earn from qualifying purchases.
Souffle is a fancy-sounding word, but that doesn't mean making one needs to be difficult. With a little know-how and direction, anyone can make a delicious souffle at home. 
What is a Souffle?
Souffles have been around in French cuisine since the 18th century. A souffle is an egg-based dish that utilizes the chemistry of egg whites to leaven and rise while it bakes. The word "souffle" comes from the French word "souffier" which essentially means "inflated".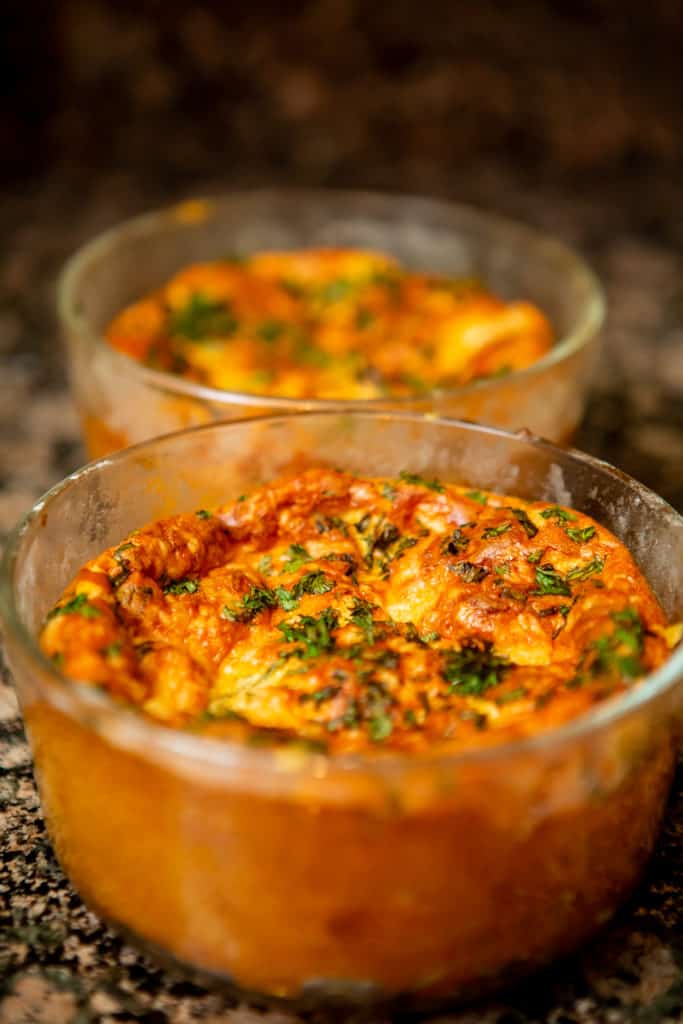 Souffles can be prepared in either savory or sweet variations. The most common variations of a souffle are the cheese one and the chocolate one.   
What Makes a Good Cheese Souffle?
A souffle is made up of just 2 parts, bechamel sauce and whipped egg whites. If you have read my article about Alfredo sauce, you're already one step ahead! In that article, I shared how to make a bechamel and a mornay sauce (the cheese version). 
When it comes to the egg whites, I have a few tips below to help. In short, all you are doing is whisking and beating them vigorously until stiff peaks form. A good souffle will have the texture of a very light quiche or an extremely fluffy scrambled egg (because it kind of is one). 
If you have ever gotten a steamed egg at Korean barbeque, it is a very similar texture to that, but not cooked with liquid.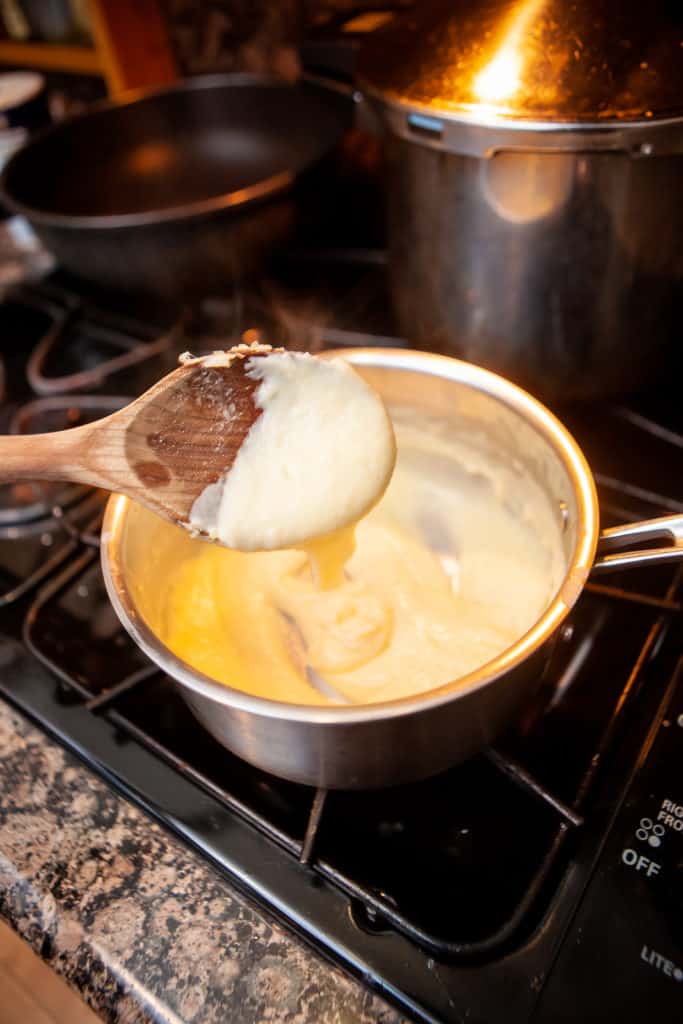 The Challenge with Cheese Souffles
The most difficult part of my French cheese souffle recipe is getting the cheese souffle to rise. This has nothing to do with the bake and everything to do with the prep. Like with most baked goods, the second you pop it in the oven, you're basically done contributing to the final product. 
The rise comes from the whipped egg whites and specifically keeping the air in them trapped until the bake.  
My Solution to Stiff Peaks for a Cheese Souffle
To overcome the challenge of still peaks, here are some tips:
Don't let any oil, fat, or egg yolk into the whites before beating them. This will drastically decrease the stiffness of your peaks and may prevent peaks from forming at all. 
Use a very clean bowl for mixing, especially if you have plastic mixing bowls, as oil likes to stick to plastic. Use hot water, lemon juice, or even a tiny bit of white vinegar to wipe the bowl down.  
Use cream of tartar or lemon juice when whipping your egg whites to help maintain stiff peaks longer. 
Start your mixer on slow and gradually increase the speed as bubbles form.
When combining together with your bechamel sauce, fold lightly. Do not mix or stir the two together. Harsh mixing will pop the air bubbles. 
Developing Flavors
There are only two areas to flavor your souffle: one is in the bechamel sauce and the other is at the very end when serving. 
Most of these options below can be added either directly into the bechamel or dusted on top of your final product, with the only exception being the sherry or wine, which can only go into the sauce.
Nutmeg: This is the classic add-in for a bechamel and perfect for the fall and winter seasons. 
Paprika: Less traditional for sure but good smoked paprika will add some welcome depth and a hint of sweetness like a nutmeg 
Garlic or Chive: An obvious choice when dealing with cheese dishes 
Sherry or wine: Adds some fruity complexity to your sauce  
Tools Required
You do not need too many tools to make this French cheese souffle recipe. Truth be told, you don't even need an electric mixer (remember souffles have been around for like 300 years). What you do need are the following:
Mixing bowl (very clean for your egg whites)
Small bowl for your egg yolks 
Small pot (for your bechamel)
Measuring spoon for flour
Measuring cup for milk and cheese 
Spatula for folding ingredients together 
4 individual ramekins or 2 medium ones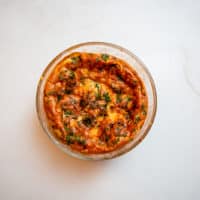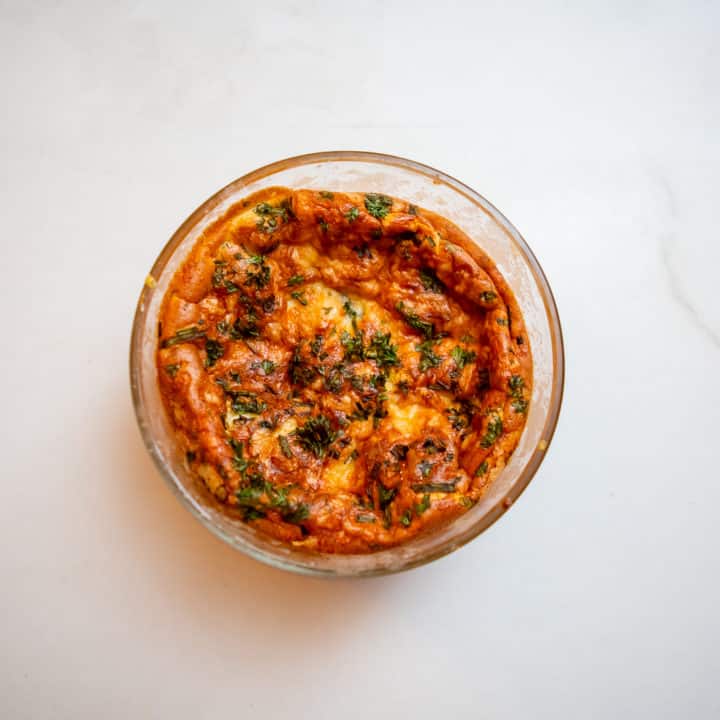 Ingredients
4

eggs

(separated into whites and yolks)

½

teaspoon

cream of tartar

(or 1 teaspoon lemon juice if you do not have cream of tartar)

1

sprig parsley

1

bunch chives

1

tablespoon

butter for bechamel + ½ tablespoon butter for coating ramekins

1

tablespoon

butter for bechamel + 1 pinch per ramekin for dusting

1

cup

cheddar cheese

1

cup

milk

Salt and nutmeg to taste
Instructions
Coat your ramekins with butter, dust with flour, and place in fridge. The texture on the sides will allow your souffle to climb up better. Grated Parmesan works even better but is decidedly less French.

Preheat oven to 375°F

Separate your egg whites into the mixing bowl and your egg yolks into the small bowl to keep for later 

Chop your chives and parsley into very small pieces (heavy things can sink in the batter) 

Make your bechamel and set aside (see the notes below on how to make a bechamel)

Whip your egg whites (see the notes below on tips for whipping egg whites)

Take half your bechamel mix at a time and fold into the egg whites (do not stir it or you will pop the bubbles)

Pour into the ramekins and place in oven

Bake for 30 minutes (do not open the oven until done)

Serve immediately in ramekin (they will deflate as they cool)
Notes
Preparing the bechamel
Melt butter in pot on medium to medium high heat 
Add equal parts flour and cook for 3 minutes
Add milk and stir until thickened – should take another 3-5 minutes
Add nutmeg and salt to season 
Turn off your burner
Add cheese and stir until combined 
Add yolks and stir until combined 
Whipping the egg whites
Add cream of tartar or lemon juice to egg whites 
Begin beating on low speed and gradually move to highest setting as bubbles form 
You are done when stiff peaks form (if you can't quite get stiff peaks on the highest setting of your mixer you may stop as well)
Nutrition
Calories:
532
kcal
|
Carbohydrates:
8
g
|
Protein:
28
g
|
Fat:
43
g
|
Saturated Fat:
23
g
|
Polyunsaturated Fat:
3
g
|
Monounsaturated Fat:
11
g
|
Trans Fat:
0.5
g
|
Cholesterol:
429
mg
|
Sodium:
632
mg
|
Potassium:
479
mg
|
Fiber:
0.03
g
|
Sugar:
6
g
|
Vitamin A:
1653
IU
|
Vitamin C:
1
mg
|
Calcium:
603
mg
|
Iron:
2
mg
8 Beginner Cooking Tips I Wish I Had Known