As an Amazon Associate we earn from qualifying purchases.
Some call them chickpeas some call them garbanzo beans. Either way you reference them, they are a staple of European and near east cuisines. One of the most ubiquitous forms of chickpeas is hummus (also called hommus or houmous). 
What is Hummus?
Hummus is a Levantine (near east) dip made from chickpeas, tahini, lemon, garlic, olive oil, and salt. Hummus is traditionally served as part of a mezze (or meze), which is an appetizer or antipasto course. Today, you will most likely find hummus paired up with falafel or pita chips in your local Mediterranean cafes.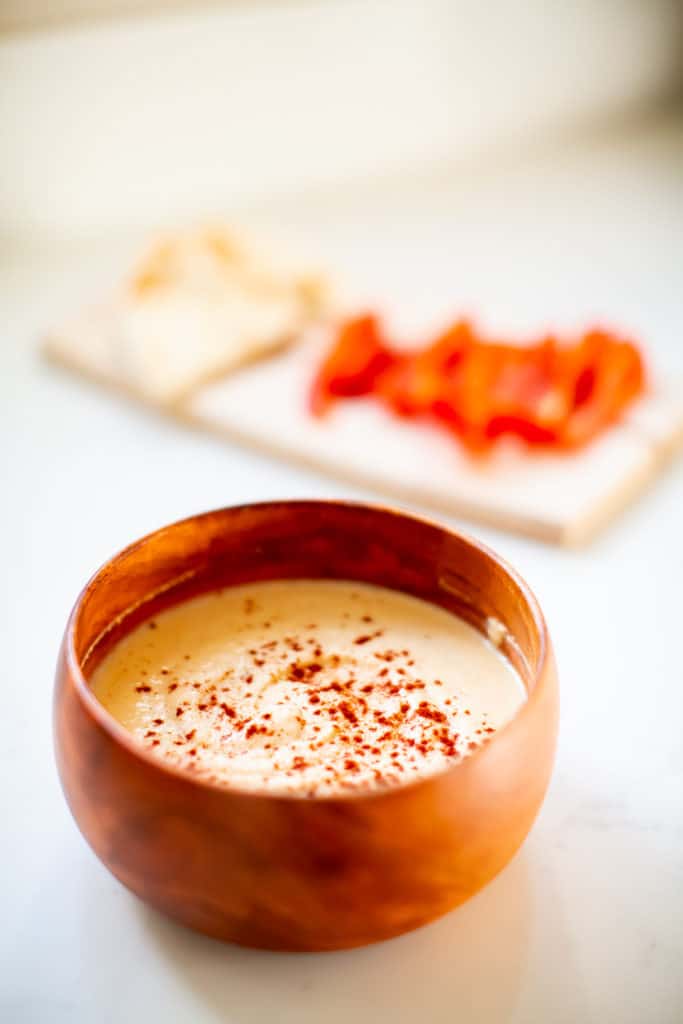 My Approach to Lemon and Roasted Garlic Hummus
When it comes to my roasted garlic hummus recipe, I want to do two things: 
Roast my own garlic in olive oil
Use fresh freshly squeezed lemon juice
Why is it so important to roast my own garlic? By doing this, I can smooth out the harsh sulfury bite of the garlic.
Roasting increases the sweetness of garlic, and it also helps me create garlic olive oil. When added to my hummus, that garlic olive oil will help spread the garlic flavor through the whole dip. 
The Challenge with Hummus
The challenge when making hummus is emulsifying the chickpeas in the oil. Emulsification is the process of combining waters and fats. In my case, I want to combine chickpeas and lemon juice (the water components) with tahini and olive oil (the fatty parts).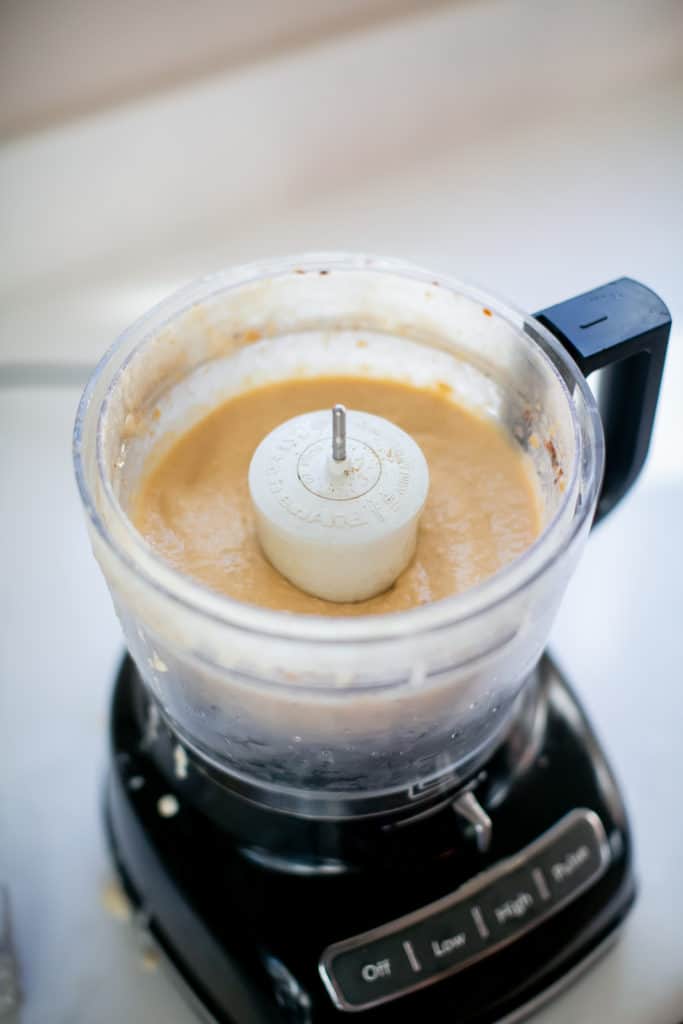 To emulsify my dip, I need to agitate it violently. This is why I will be running my food processor on high. I also need to be careful not to add too much oil in too fast. I want the particles of oil really spaced out and suspended in the dip. 
Adding the oil slowly while the processor runs on high ensures this even and spread out distribution. The end result should be silky smooth hummus.  
Developing Hummus Flavors
This lemon and roasted garlic hummus recipe should be used as a baseline for your own creations. Here are some ideas to get you started on developing your very own hummus recipe:
Add roasted red peppers to add some sweetness and deep char flavor
Add sundried tomato to give your hummus some additional sweetness and zing 
Add jalapenos to make a spicy hummus
Add curry powder to make a spiced hummus 
Add basil and cilantro to make more of a pesto hummus 
Pairings with Lemon and Roasted Garlic Hummus
When it comes to pairing with hummus, you can't really go wrong with pita. In chip form or bread form, pita is made for hummus.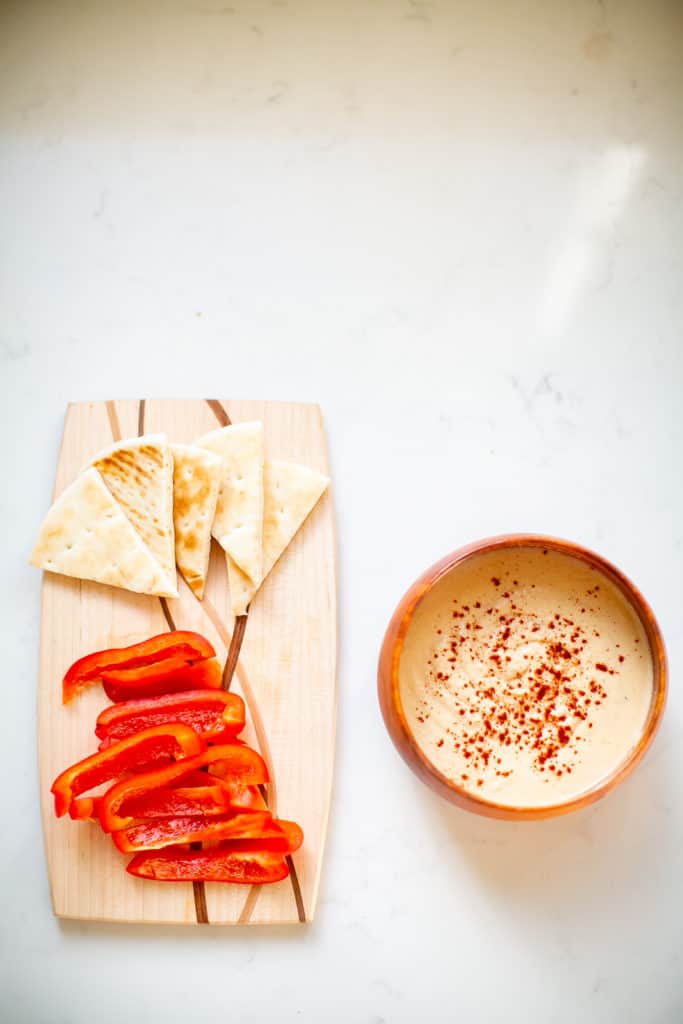 Other traditional mezze, like falafel, will also pair very well with this lemon and roasted garlic dip. Finally, could you ever go wrong with baby carrots or sugar snap peas? I certainly don't think so!
Tools Required
A food processor is required for making hummus. You could try to make this in a blender, though you may need to increase the ingredient portions to get everything to sit correctly in a blender. Also, if your blender is underpowered, you may not be able to get a fully smooth consistency in the dip. 
For roasting the garlic, you will need a pyrex or baking safe dish.
How to Make Lemon and Roasted Garlic Hummus
Making roasted garlic hummus is very simple, and it's a great recipe for beginner cooks! Also, this is a dip that will impress your friends and family, because it seems a lot more complicated than it actually is.
This also works as a great snack to give your kids as they get ready for their soccer game or extracurricular activities.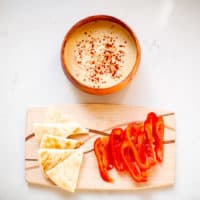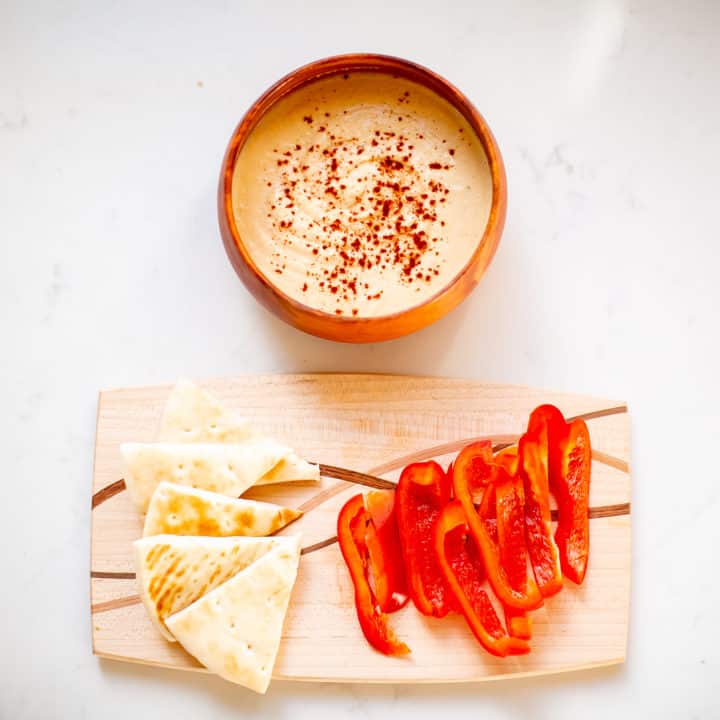 Ingredients
1

can chickpeas

¼

cup

tahini

1

lemon

juiced

½

teaspoon

salt

8

cloves

garlic

¼

cup

olive oil
Instructions
Preheat oven to 400°F

Add garlic and olive oil to a pyrex or baking safe dish and place in oven for 20 minutes or until golden brown 

Open and drain the can of chickpeas

Add chickpeas, tahini, lemon juice, roasted garlic, and salt to food processor

Process on high

Slowly add the olive oil while the processor is running to emulsify the mixture

Top with olive oil and/or paprika
Nutrition
Calories:
225
kcal
|
Carbohydrates:
8
g
|
Protein:
3
g
|
Fat:
22
g
|
Saturated Fat:
3
g
|
Polyunsaturated Fat:
5
g
|
Monounsaturated Fat:
13
g
|
Sodium:
298
mg
|
Potassium:
131
mg
|
Fiber:
2
g
|
Sugar:
1
g
|
Vitamin A:
17
IU
|
Vitamin C:
17
mg
|
Calcium:
39
mg
|
Iron:
1
mg