As an Amazon Associate we earn from qualifying purchases.
Fish is a great source of protein and many people have preferred eating fish over any other meat because of its many health benefits. However, fish bought from restaurants can be expensive. Hence, cooking fish sustainably at home will discuss in this article.
Cooking Fish Sustainably at Home
It's hard to beat cooking fish at home. Whether you choose to use high quality nonstick cookware to pan sear your fish, or opt instead for the BBQ,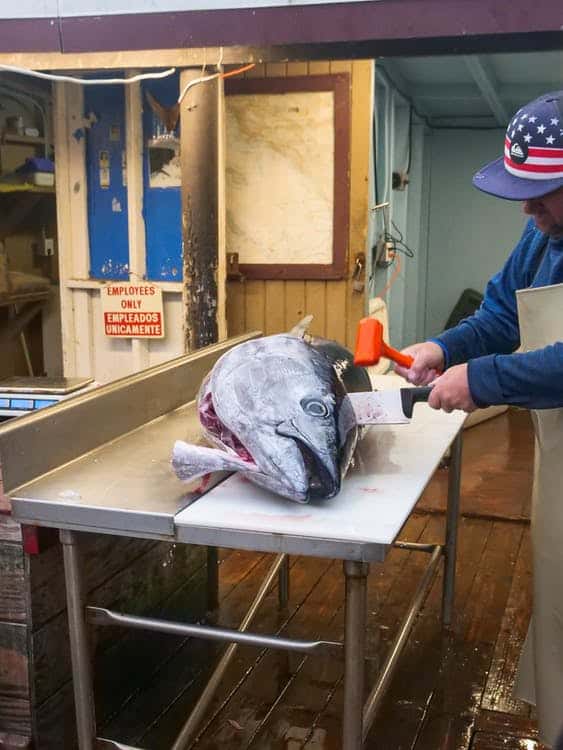 While fish is a healthy protein source, it is also in danger because of overfishing. Hence, while it's important that I make full use of the nutrients provided by fish, I need to discuss cooking fish sustainably at home and several options to go about it. 
I also provide a list of things related to fishing sustainability and how you can do it at home.
The Fishing Industry
Based on NOAA Fisheries statistics, the average American consumes 16.1 pounds of seafood a year. It expects to rise as fish continues to become popular in high protein diets like keto and paleo.
With most restaurants closed for business, it's hard to find a good source of a meal with fish in it. Even if you get one, it might be expensive to your liking. Hence, you might consider employing some sustainable fishing recipes at home to continue your fish diet. 
Another option is also to get in touch with small fisheries. People resort to direct-to-consumer sales as various restaurants and grocery stores close. You'll get the fish at a cheaper price and they'll be freshly caught. However, because of the high cost and low supply of fish, you might want to get on cooking fish in a sustainable way at home.
How to Choose Sustainable Fish
Choosing the fish you want for sustainability can be hard if you don't know a thing about fish. For starters, know what is locally abundant in your area. Local fishes are generally cheaper and local fishermen know how to preserve the fish population they've been fishing for years. 
In order to help you choose the right fish, I've compiled some recommended types of fish you can cook and eat sustainably. It's important you do your research on fish and when are they in season. Meal planning also helps to lessen your contribution to overfishing. 
Also, make sure to know how to pick a freshly-caught fish. Fresh fish usually have bright red gills and the eyes aren't sunken. You can also tell by the smell of the fish if it's fresh. Fresh fish usually don't smell a lot and have shiny scales.
Endangered Fish You Need to Avoid
Overfishing is dangerous for endangered fish species that are sometimes caught by fishermen as bycatch. Some fishermen willfully catch them knowing they are endangered because of how much they can sell. You should avoid buying these fish and report to authorities if you see some irregularities. 
Bluefin tuna: in the USA, there are policies in place that stop people from overfishing this fish. Still, the bluefin tuna population is still below the target population numbers so expect that there may be less bluefin tuna in the market. 
Wild Atlantic salmon: this salmon is mostly found in the Gulf of Maine. They are endangered and protected so catching one could land you in jail. They generally farm and reproduce back to their healthy population. 
Chinook salmon: mainly found on the Sacramento River and Columbia River. They are endangered except for Chinook salmon from Alaska. 
Coho salmon: endangered fish found on the Central California coast. Coho salmon from the lower Oregon coast, lower Columbia River, southern Oregon, and Northern California coasts are considered threatened. The only sustainable Coho salmon are in Alaska. 
Sockeye salmon: endangered fish only found in the Snake River. 
Steelhead trout: mostly found on the west coast and are considered endangered and threatened in most areas. 
Fatty Fish You Might Want to Avoid
Fish are generally lean. That's not to say fatty fish is bad. In fact, they contain healthy fat. You might want to consider getting a fatty fish if you want to sauté or grill a fish. Fattier fishes generally farm and not caught in the wild.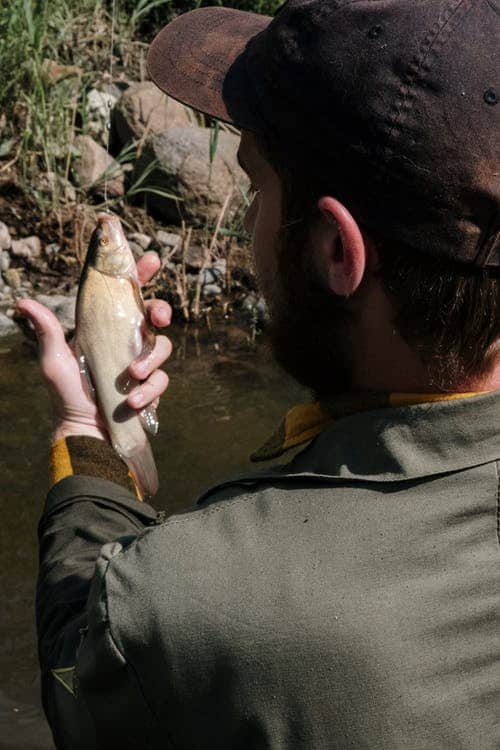 Carp: is a freshwater fish and generally uses in Chinese dishes and Eastern European Jewish dishes. There are various ways you can prepare carp like frying, poaching, or steaming. 
Chilean Sea Bass: white meat with rich flavor and has around 14% fat. They are usually processed and frozen on the fishing boat. However, they still taste great and are great for a quick meal with pan-searing accompanied with vegetables like spinach, peas, and fresh and healthy asparagus. 
Salmon: is one of the popular fish in the US and is the second most-consumed fish. It is packed with nutrients and can be cooked in various ways. Salmon can either be farmed or caught in the wild
Shad: part of the herring family with flavors similar to salmon, although not as fishy. It's not recommended to fillet since it has a lot of small bones. 
Recommended Sustainable Types of Lean Fish
Lean fish is the better option for diets with less fat. Lean fish usually cooks using wet cooking methods like steaming, poaching, and creamy sauce. 
Bass
Bass refers to a hundred different fish. They are usually abundant and are great for filleting. Be careful if you overcook it as it can easily dry. You want the skin to be nice and crispy while leaving the meat moist and juicy on the inside. 
Mahi-Mahi
Mahi-mahi is another great sustainable option if you want sweet-tasting, moist yet firm meat. Mahi-Mahis generally have less than 1% fat which is excellent for a low-fat diet.  Mahi-Mahi is available all year round. They are an excellent substitute for tuna in some recipes. 
Trout
Trouts are freshwater fish that are related to salmon. However, trout don't share the same pink meat because their diets are not the same. You want to get rainbow trouts which are commonly available in local markets. 
If you live in Iceland or Canada, Arctic char is a great substitute for salmon. It contains as much fat as salmon and is great when fried or grilled. 
Red Snapper
Red snapper is a saltwater fish usually found on the southeastern coast of the US. They usually sell as skin-on fillets to show they are authentic. It has a mild sweet taste and can cook in various ways.
The bones and head even use for fish stock. Red snappers are generally sustainable in the Florida Gulf, Texas, Louisiana, and Alabama and are available from July through September. I recommend grilling the red snapper to enhance its mildly sweet flavor. 
Tuna
Tuna is the most popular seafood in the United States. However, because of this, most tunas are prepared commercially like precooked and canned. This affects the flavor of the tuna. Difference species of tuna are available throughout the year. 
Albacore: available from May through November
Bigeye: available from July through October
Yellowfin (Ahi): available from June through September
Tuna is extremely popular because of its delicate meat with little to no fat. I recommend searing the Tuna for 30 seconds on each side. Seared ahi tuna is a go to choice for many. Make sure to add sesame seeds to protect the meat during searing. Add a bit of salt for flavor. 
Pollock
Pollock is in the cod family of fish and you can find it in the Atlantic and Pacific. They mostly catch in the waters off Alaska. They have flaky white flesh and are mild in flavor. Atlantic cods are generally sweeter than Pacific cods. 
Real Atlantic cod are only available from January through March while Pacific Pollock is available throughout the year. Cod and Pollock is mainly cooked baked, broiled, or in chowder. It's also an excellent substitute for chicken in piccata.  
Halibut
Halibut is a flatfish and is considered the largest of its species. They are generally found in the North Atlantic and Northern Pacific. Don't expect to get freshly caught halibuts. Halibuts can be large and are often sold frozen fillets. 
Halibuts are generally available from March through November. They are best cooked pan-seared with some salt. 
Flounder
Flounder is a saltwater fish and is a versatile fish. The fish can be:
Broiled
Sautéed
Stuffed and baked
Steamed
Flounders have edible skin so you can cook it pan-fried for a crunchy texture skin. Flounders are available from April through May.  
Pike 
Pike is one of the leanest fresh and brackish fish mainly found in North American lakes. They are great for baking with stuffing or sauce or poached. Its lean and firm meat is great for pickling too. Pickled pike is a great sustainable way of preserving fish for long-term consumption. 
Catfish
Catfish is a freshwater fish. They are oftentimes farmed throughout the world. Catfish have a simple skeletal structure that makes them easier to fillet. This is available throughout the year and can be prepared in different ways. 
Catfish can be fried, grilled, baked, poached, sautéed, or used in a stew. Most people fry them since some consider catfish since they are bottom feeders. You can even grow and breed them yourself for sustainability.
Swordfish
Swordfish is a meaty white fish found in warmer ocean waters. It works really well with a strong sauce, as it is a pretty mild fish that requires a lot of flavoring.
Other fish to try is jack fish.
Additional Tips for Cooking Fish Sustainably at Home
If you want to know more about cooking fish sustainably at home, follow these useful tips.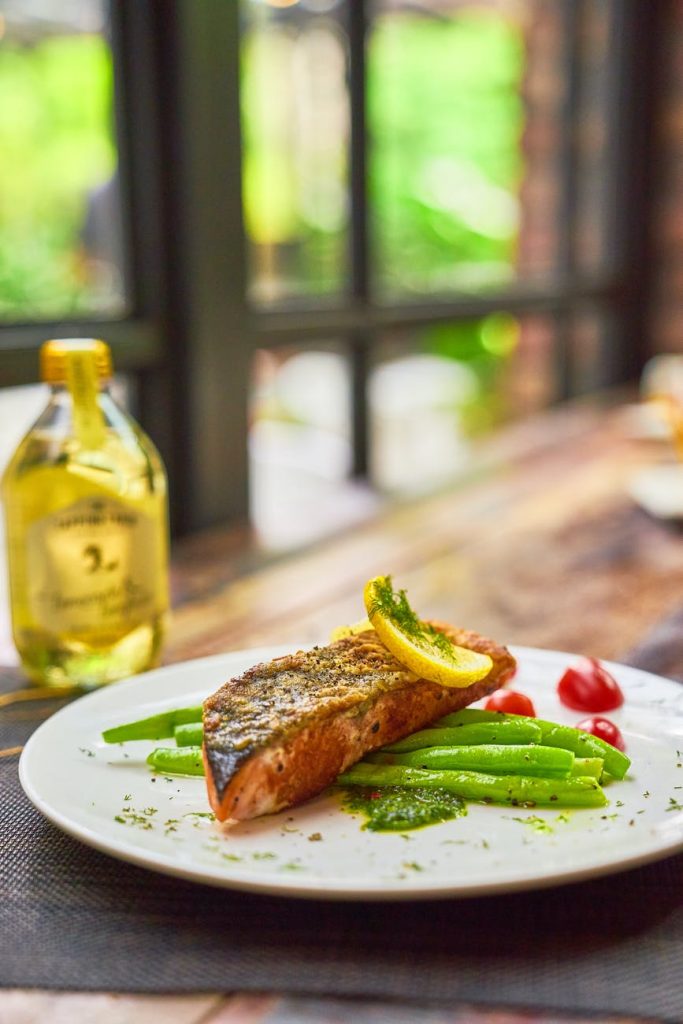 Explore New or Unfamiliar Options
A sustainable option for cooking fish may not mean it's something you are familiar with. It doesn't mean that you would be buying all fish from fishermen. It might encourage them to keep fish bycatch that is endangered. 
Instead, do some research and cook fish that are local to the area. You shouldn't always stick to the popular ones like tuna and salmon. Just because you want to cook fish sustainably at home doesn't mean you are limited with the type of fish to eat.  
For example, you might want to learn how to dry fish. Drying is a sustainable method of food preservation. This means you can store fish longer and eat them when needed. You don't even need a fridge to store dried fish. 
Try Different Methods of Cooking Fish
If you get a new fish, you might not know the different ways of preparing it. Fish is easy to cook since they taste great and liked best when grilled or sautéed in a hot pan. For example, Japanese sushi is probably the best sustainable way to prepare fish since it doesn't require fire. 
There are various methods throughout the world that have been used by people that are sustainable. For example, in the Philippines, there is a fish recipe called "kinilaw" which is raw fish mixed with vinegar, some spices, and sour fruits. You only need a knife to make it. 
Some of the ingredients may not be available to you locally, however, there is a similar recipe to it like the Ceviche from South America. If you want to lessen the use of electricity and fire, try exploring raw fish recipes for sustainability. 
There are lots of ways to cook fish. For example, you could try braising the fish in the oven with the best rondeau pan. Using a water bath such as a sous vide is another method emerging in popularity.
Embrace Simplicity for Cooking Sustainably
You don't have to add in a lot of ingredients to make fish taste better. Sometimes all you need is fresh fish and a bit of salt, cook it in a grill or pan with some olive oil and it will taste good. 
The lesser ingredients you need, the more sustainable it is for you. You should get used to simple cooking in case the supply runs low. As long as your dish contains the necessary nutrients for you, it is good. 
Make Use of the Whole Fish
Every part of the fish is valuable and they can contribute to you cooking fish sustainably at home. For example, you can use the bones of the fish for fish stock. The head can be used for making stews. The skin of the fish can be scaled and fried for cracklings. 
This way you can make a lot of meals just from 1 fish. 1 fish might even be enough for you to eat for 3 to 7 days depending on how you make use of its parts. In short, make sure you make use of all fish parts for cooking sustainably. 
6 Tips for Cooking Fish (so it Actually Tastes Good!)
Conclusion
Catching and cooking fish has been in practice since the beginning of man. Hence, there are traditional ways that you can follow that are sustainable and help with maintaining a healthy fish population. Fresh fish will always taste great even without added condiments so they are great for sustainability.