As an Amazon Associate we earn from qualifying purchases.
I am sure you've heard before that tuna is the "chicken of the sea." Well there are many kinds of tuna out there, and one of my favorites is ahi. You can really think of ahi as the "beef of the sea," specifically seared ahi which lends itself perfectly to rare seared style cooking. This type of tuna might as well be a tenderloin or ribeye because it cooks up just as flavorful and tender.    
What is Ahi? 
Ahi is the hawaiian name for tuna, and it's almost always yellowtail or bigeye tuna. Ahi is very popular in Japanese cuisine as an alternative to the dangerously overfished and rarer Bluefin tuna.
Be careful though – do not confuse its species name albacares with the much more common albacore tuna (the chicken of the sea kind). This will only be more confusing if you are living in Europe or at a French style restaurant, where yellowtail is often referred to as albacore.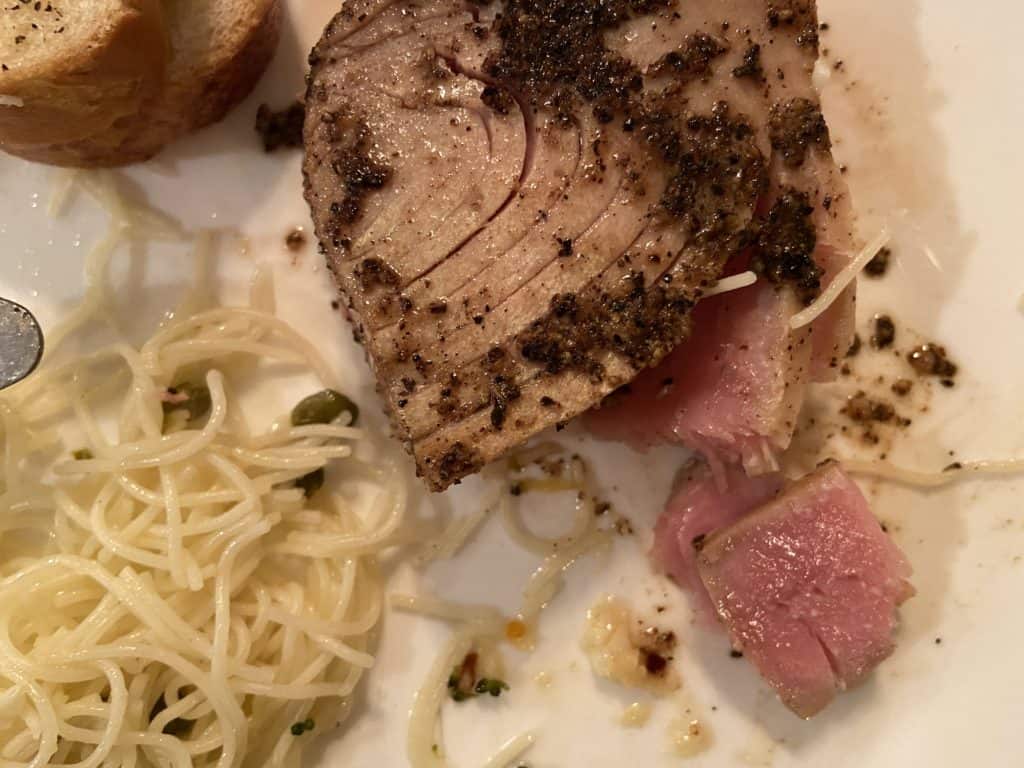 What is Peppered Seared Ahi?
Pepper seared ahi is about as close to a steak from the ocean as you can get. It highlights the unique ability of the ahi to be cooked rare as well as its meaty texture and flavor. 
My Approach to Peppered Seared Ahi
When it comes to seared ahi, I want to treat it just like I would a piece of prime beef. Freshness is key to flavor, since with seared dishes you are mostly tasting the meat itself. 
Next, I want to minimize the doneness in the center of my meat (and maximize the rare parts). To do this, using a sous vide is the best way to achieve a paper thin sear with the most perfect center. 
Is Seared Ahi Safe to Eat? 
Safety wise, if you are buying sashimi grade ahi from a reputable source, it is 100% possible to eat it completely raw. Safety wise, fish is a little closer to pork than it is beef, in that the main concern is parasites, not bacteria (that said, old fish or fish sitting out at room temperature is still dangerous). 
You won't have to worry about Sashimi grade meat, as this is both treated and inspected to ensure safety. Even if the inspectors missed something, these waterborne parasites die from cold temperatures, not just hot ones. 
Pretty much all commercially sold fish is frozen, so you should be fine. Unless you caught it yourself that day, even fish bought "fresh" from the docks was most likely frozen on the ship before it got there.  
What Makes a Good Peppered Seared Ahi
The best pepper seared ahi is going to have thin seared portions and a lot of rare meat in the middle. As I stated earlier, you can 100% eat ahi raw, meaning you don't technically need to sous vide it. But, I do believe you can achieve better mouthfeel and bite texture from bringing your ahi up to at least 105°F before the sear. 
The Challenge with Peppered Seared Ahi
The main challenge with peppered seared ahi is making sure you do not overcook the fish and you do not overcook the pepper. Yes, you can absolutely burn peppercorns and the taste is not great and very noticeable on delicate things like fish. 
To avoid both these things, be very strict with your timing. Set a hard limit of 60 seconds per side for the sear if doing two sides. If doing all six sides, no more than 30 seconds each.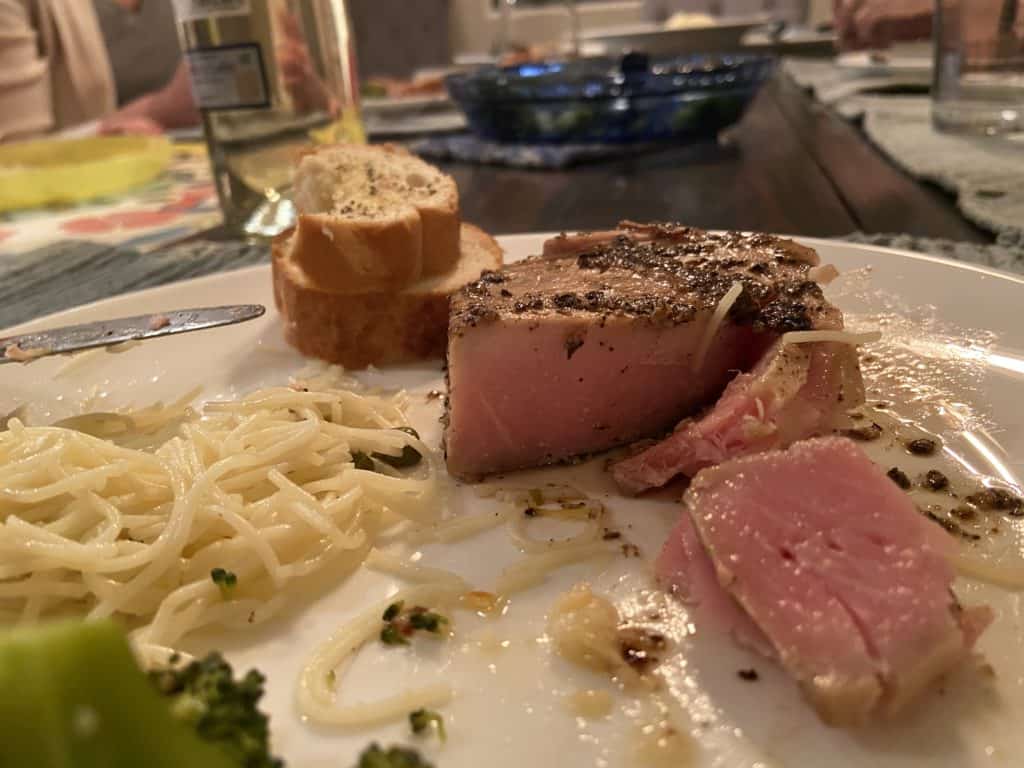 Alternative Crusts for Seared Ahi
Seared ahi has been a restaurant staple for maybe the past 30 years or so. In that time, people have found success with many types of "crust" for their ahi. 
Some of my favorite alternatives are: 
Black sesame for a much more Asian style flavor 
Macadamia nut for a sweeter Hawaiin style (watch out though, you have to sear on lower heat for these nuts)
Glazes for a sweet heat, miso, or teriyaki 
Use a high quality nut chopper to quickly prepare the nuts for your crust.
Pairing Ideas
My family being from Hawaii, I am really partial to white rice or sushi rice with my ahi. I use rice so frequently in Asian dishes that I purchased a top end rice dispenser for my kitchen.
That said, living in San Diego, I have really taken to avocado and wonton chips as a great side. If you're looking to make something a bit more continental, I would highly recommend fresh green beans, sea beans, or even a mango salsa. 
Tools Required
Sous vide
Tub or large pot to use the sous vide with
1 gallon size Ziplock bag
Medium sized skillet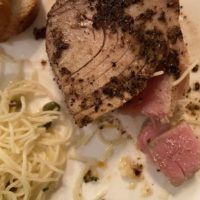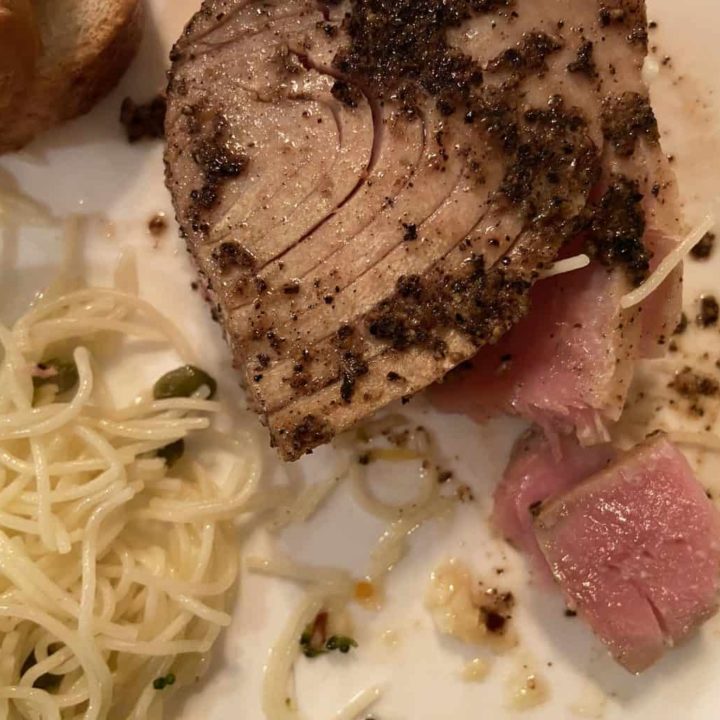 Ingredients
Salt

2

tablespoons

of coarse-ground black pepper per piece of ahi

2

tablespoons

of olive oil per piece of ahi

1/4

cup

teriyaki sauce
Instructions
Salt the ahi generously and let sit in the fridge for 1-2 hours prior to cooking.

Put the ahi in a ziplock bag with 1 tablespoon of olive oil per piece of fish.

Cook the ahi in the sous vide for 45 minutes at 105°.

While the ahi is cooking, grind up black pepper as coarsely as possible. Save for later.

When the ahi is done, remove from the bag and pat dry. Lightly coat the fish in teriyaki sauce, and then cover the ahi with black pepper. 

Sear for 30-60 seconds per side in a skillet. Serve immediately.
Nutrition
Calories:
171
kcal
|
Carbohydrates:
9
g
|
Protein:
3
g
|
Fat:
14
g
|
Saturated Fat:
2
g
|
Polyunsaturated Fat:
2
g
|
Monounsaturated Fat:
10
g
|
Sodium:
1380
mg
|
Potassium:
161
mg
|
Fiber:
2
g
|
Sugar:
5
g
|
Vitamin A:
33
IU
|
Calcium:
36
mg
|
Iron:
1
mg
6 Tips for Cooking Fish (so it Actually Tastes Good!)