As an Amazon Associate we earn from qualifying purchases.
When cooking in the kitchen, it's crucial that you use the best tools for the job. One of the easiest and simplest ways to achieve stellar results is by using cookware sets with nonstick coatings.
Top Nonstick Cookware Reviews
Here is our list of the top nonstick cookware sets.
Brand
AmazonBasics 8-Piece Non-Stick Kitchen Cookware Set
GreenLife CW0004970 Toxin-Free Healthy Ceramic
T-fal E765SC Ultimate Hard Anodized 12 Piece
Product
Material
Thermolon healthy ceramic non-stick coating
Brand
AmazonBasics 8-Piece Non-Stick Kitchen Cookware Set
Product
Brand
GreenLife CW0004970 Toxin-Free Healthy Ceramic
Product
Material
Thermolon healthy ceramic non-stick coating
Brand
T-fal E765SC Ultimate Hard Anodized 12 Piece
Product
AmazonBasics 8-Piece Non-Stick Kitchen Cookware Set
The AmazonBasics cookware set is just the thing you need to start a healthy cooking habit. This set is loaded with everyday essentials like saucepans, fry pans, and casserole pans. If you want more, you can go with the 15-piece set.
You can enjoy seamless cooking and cleaning thanks to its nonstick coating.
For better usability, all the pans feature a soft-touch, comfortable handlebar which stays cool even when you are cooking.
In addition to that, the glass lids have vents to let steam escape.
The pans are made from aluminum and feature spiral bottom design to provide a better and even heat distribution.
This means you can use them on glass, electric, and gas stovetops. However, they are not suitable for induction tops. Cleaning is a breeze, thanks to the nonstick coating.
However, they aren't dishwasher safe. You can't use them in the oven and always cook in low heat settings.
The only thing this set is good for is making omelets and scrambled eggs. You can also make buttermilk pancakes, but nothing more than that. It's a set that is suitable for cooking delicate food items.
No, this cookware is not safe for oven use, though it is BPA free.
PROS
Comfortable handle that stays cool

Aluminum body
Lightweight
CONS
Amazon Basics Non-Stick Cookware Set, Pots and...
8-piece nonstick cookware set includes 8-inch fry pan, 10-inch fry pan, 1.5 quart sauce pan with...
Aluminum body with non-stick coating for easy cooking and cleaning; made without BPA
Comfortable soft-touch handles stay cool during use, vented glass lids let steam escape
GreenLife CW0004970 Toxin-Free Healthy Ceramic
Cook healthy foods and live healthy with the ceramic nonstick cookware set from GreenLife. It's a 14-piece set that ensures a healthy cooking environment as the items are free of PFAS, PFOA, lead & cadmium.
Moreover, the Thermolon ceramic coating is safer than Teflon as it is completely toxin-free.
This coating also has better heat withstanding capabilities, and even if you do accidentally overheat the pan, it won't produce any toxin fumes.
The set comes with two frypan skillet, two saucepans, one sauté pan, one stockpot, and four nylon cooking utensils to prevent accidental scratches to the coating.
All the items in this set have a longer-lasting sturdy base because of the reinforced aluminum construction.
Not only that, but they also have better heat distribution thanks to the Thermolon coating.
This ensures that you get that perfect browning, searing, and frying every time you cook a meal.
Food release is effortless, and cleanup is a breeze. Speaking of cleanup, all the items are dishwasher safe.
To provide an ideal cooking experience, the handle is a soft touch stay-cool handle with an ergonomic grip for better movement and handling. The lids fit tight that keep the nutrients & moisture sealed in.
PROS
Toxin-free ceramic coating
All the essential cookware items included
Easy food release 
Sturdy construction
Can withstand more heat
CONS
Slightly expensive
Ceramic coatings don't last as long
GreenLife CW0004970 Soft Grip Absolutely...
Thermolon healthy ceramic non-stick coating manufactured without PFAS and PFOA
Aluminum reinforced body without lead and cadmium
Stay-cool Bakelite handle with soft-touch and oven safe up to 350°F
T-fal E765SC Ultimate Hard Anodized 12 Piece
For a long time, T-fal has been providing high-performing cookware products that home cooks can rely on. The T-fal E765SC nonstick cookware set in no exception. There are two versions of this set.
One is the hard-anodized titanium nonstick version; the other one is the copper stainless steel version.
It's a 12-piece set, but you can go with their 14-piece or 17-piece model.
This set comes with two fry pan, three saucepans with lid, one Dutch oven, a slotted spatula, and a solid spoon. This set can be considered a true workhorse in the kitchen.
T-fal used anodized aluminum to create a sturdy base that not only increases the longevity of the products but also retains heat much better.
The protective coatings and layers are also much stronger, which makes the surface scratch-resistant and corrosion-resistant.
To reduce hot spots, the bottom of the pots and the pans have a unique design base for even heat distribution.
There is also the Thermo spot indicator that lets you know when the pans are properly preheated. This makes the preheating process virtually failproof.
You can use them on gas, electric, halogen, and ceramic cook-top but not on induction cook-top.
Although they are labeled as dishwasher safe, I wouldn't put them in there.
PROS
Durable anodized aluminum construction
The interior is almost as strong as cast iron
Tight-fitting glass lids
Strong protective layer 
CONS
The skillets aren't very nonstick
T-fal B209SI Initiatives
The next set in this list is the T-fal B209SI from T-fal. It's a brand that most chefs are familiar with because of their quality products.
This is an 18-piece cookware set that is available in two different color options. In my opinion, this color looks gorgeous with its red exterior.
The set comes with two sauté pans, one egg wonder, three saucepans with see-through glass lids, one jumbo cooker, one Dutch oven, one griddle, and four nylon tools.
In short, it comes with everything you need for your day to day cooking. If you are setting up your kitchen for the first time, go with this set.
For more controlled cooking, the tempered glass lids are vented, and you can control the steam output via the adjusting knobs.
Even the outer part has nonstick coatings for easy cleanup. The handles are comfortable to hold and have an ergonomic shape for better handling.
Because of the spiral bottom design, these cookware's have better heat distribution. All the items on this list have a durable aluminum construction.
You can also use them in the oven, and don't worry about the handles because they can withstand heat up to 350 degrees Fahrenheit.
PROS
Durable aluminum construction
Ergonomic handle
Comfortable grip
Vented glass lids
Dishwasher safe
CONS
The coatings on them don't last very long
OXO Good Grips Non-Stick Open Frypan
This nonstick frypan from OXO Good Grips not only has a beautiful design, but it is also thoughtfully crafted.
Everyone from the professional chef to the home cook can easily use this frypan for their day to day cooking.
It has a three-layer nonstick coating that is completely PFOA free and scratch-resistant.
To ensure even heat distribution and cooking, the base is made from hard-anodized aluminum that also allows for better heat retention.
The edges of the pan have a unique rolled design that provides easy flipping of omelets and pancakes. You can also pour sauce without any dripping.
For secure hold and a comfortable grip, the handle is wrapped in silicone that is not only heat resistant but also stays cool during cooking.
The frypan is also oven safe up to 390 Degrees Fahrenheit. There is also a finger guard built into the handle to keep your hands safe. In short, this pan is built to last.
For those of you that are looking for a healthy way of cooking by using minimal butter or oil, this will be the ideal frypan for you.
The stainless-steel handle is riveted, which is durable but somewhat difficult to clean. You can easily use this pan on stovetops, but it's not suitable for induction top use.
The outer material and the bottom are very smooth and won't scratch your glass cook-top stove.
The pan has good surface contact, which makes it very easy to cook on an electric burner.
PROS
Recommended by America's Test Kitchen
Handle stays cool even when cooking
Sturdy base
Good heat retention and even heat distribution
CONS
OXO Good Grips 12" Frying Pan Skillet, 3-Layered...
America's Test Kitchen's highest rated nonstick skillet
Durable, hard-anodized body delivers excellent heat conduction and scratch resistance
Three-layer, German-engineered non-stick coating for years of performance using less oil
T-fal B208SA64 Initiatives
Another nonstick cookware set from T-fal made its way to our list, and this time it's the T-fal B208SA64 10-piece set.
This 10-piece set includes two saucepans, one Dutch oven, three sauté pans, and one steamer, and other accessories like lids and spatulas are there too.
The pans and pots have two layers of nonstick coating for easy cooking and cleaning. All the cooking items in this list are constructed using durable aluminum.
Thanks to the unique bottom design, the pans have no hot spots, which means the coating will last longer.
The spiral bottom design allows for better heat retention as well as even heat distribution.
This will not only give you consistent cooking results but also prolong the lifespan of the cookware.
Even the lids are made from tempered glass. Speaking of lids, they are vented. You can adjust the steam output by using the vent adjustment knob.
This gives you better control over your cooking. For handling, the handles are ergonomically designed to provide a secure and comfortable grip.
PROS
Distributes heat evenly
Unique heat base design to reduce hot spot
Double nonstick coating 
Comfortable handle and grip
CONS
The coating will chip away if you put them in the dishwasher
Farberware 21926 High-Performance
The Farberware 21926 nonstick cookware set is a good deal if you want something inexpensive.
It's a small set of pots and pans that comes with everything you need. And as a bonus, you will get a set of utensils as well.
It's a good set for a couple with no kids or for a single person.The pots and pans are Teflon coated, so you need to be extra careful when cooking.
I would recommend you only cook delicate food items in low to medium heat.
If you are setting up a new apartment and want something quick and easy to use, this set is the one you should go with.
Keep in mind that it won't last very long. The material is thin, and all the cookware items feel flimsy. The most common issue about them is the plasticky smell.
If I were you, I would only use them for 6 months and invest in something better. Now, for the first couple of months, you won't face any problems.
The 17-piece set includes two saucepans with lids, one Dutch oven that also comes with its own lid, two frying pans, one square griddle, and one cookie pan.
For the extras, you will get six kitchen utensils. Because of the nonstick coating, it allows for easy food release and easy cleanup.
If you are in a hurry and want something easy to use, this set is for you. However, you will need to replace them sooner because they won't hold up for long.
Even though they are labeled as oven safe, I wouldn't put them in there.
PROS
Heats up evenly and less hot spots
The set comes with everything you need for a new kitchen
Durable glass lids that are shatter-resistant 
Easy to clean & dishwasher safe
CONS
Farberware High Performance Nonstick Cookware Pots...
DURABLE LONG-LASTING COOKWARE BY FARBERWARE: Sturdy aluminum pots and pans heat quickly and evenly...
EASY TO CLEAN NONSTICK COOKWARE SET: Top-quality Smart Glide nonstick interiors release foods easily...
LOCK IN HEAT AND FLAVOR: Shatter-resistant glass lids on the covered pots and pans lock in heat and...
Cuisinart 54C-11BK Advantage Ceramica XT
Another nonstick ceramic cookware set in this list, and this time it's from Cuisinart 54C-11BK Advantage Ceramica XT. It's a medium size set that known to last longer. The core or base as you know it is aluminum and, on the bottom, features a protective metallic finish.
As for the coatings, this set features Cuisinart's Ceramica XT coating.
This means they have the best heat inductor and superior heat distribution.
Not only will you get better heat retention, but the aluminum core also heats up quickly, which means you can cook on low heat settings.
Thanks to the titanium-reinforced ceramic nonstick, this cookware set will last longer than its competitors.
The pans have tapered rims for drip-free pouring. This makes pouring sauce easy and clean without any dripping.
The base is thick, which is a good indicator that the heat distribution will be even across the cooking surface.
This is probably the only cookware set in this list that is freezer safe. The lids are made from tempered glass, which makes them shatter-resistant.
They also fit tightly. The only drawback here is that the lids don't have any vents. On the other hand, the lids will be better at locking nutrients and flavors when cooking.
Even though this set has quality components, you should avoid stacking nonstick cookware items.
PROS
Tapered rims for easy pouring
Toxic-free ceramic coating
Durable tempered glass lids
Premium-quality components
CONS
Not for a beginner home cook
Cuisinart 11-Piece Nonstick Cookware Set, Ceramica...
SET INCLUDES: 1.5-quart Saucepan with cover, 2.5-quart Saucepan with cover, 3-quart Sauté Pan with...
ULTIMATE CONVENIENCE: Experience professional performance with rims that are tapered to make pouring...
EXCEPTIONAL HANDLING: Each piece has a cool grip handles which are riveted silicone stick handles...
Cuisinart 66-7 Chef's Classic Nonstick Hard-Anodized
Cuisinart, a professional cookware brand that has been making quality products for more than 30 years. They know a thing or two when it comes to producing high-performing cookware sets, their products are designed to last a lifetime. The Chef's Classic cookware set is no exception.
For the base, this set features hard-anodized aluminum. Did you know that anodized aluminum is harder than stainless steel?
The core is pure aluminum in combination with hard-anodized exterior and Titanium reinforced nonstick coating interior. In short, you will get superior cooking performance with this set.
It's a 7-piece set that includes two saucepans, one skillet, and one stockpot. I know it's not much; it's the quality that matters, not the quantity.
In a sense, you are getting all the basic cooking tools to make everyday meals. The pots and pans are ovens safe up 500°F. And they are also dishwasher safe.
As for the handles, they are made from stainless steel. The handles are riveted to ensure durability and easy movement.
For better usability, there are also helper handles and side grips. They are wide and easy to grip. The lids are tightfitting to keep the flavors and nutrients sealed.
Do the handles stay cool during cooking?
Unfortunately, the handles get hot rather quickly, and you need to wear potholders to touch the handles when cooking.
PROS
Nice and heavy pots and pans
They conduct heat well
They have a professional look
Very easy to use 
CONS
The coating scratches easily, avoid using metal utensils
Cuisinart 66-7 Chef's Classic Nonstick...
8-quart stockpot, 3-quart saucepan, 1-1/2-quart saucepan (all with lids), 10-inch skillet
Sturdy 3 mm hard-anodized aluminum with durable Quantanium nonstick coating, safe for use with metal...
Riveted stay-cool steel handles
Cuisinart 55-11BK Advantage Nonstick 11-Piece
At the very last spot is another cookware set, and this time it's also from Cuisinart. Just because it's at the very bottom of this list doesn't mean it's bad in any way. The Cuisinart 55-11BK is an 11-piece cookware set that comes with one skillet, three saucepans, one sauté pan and stockpot.
The covers/lids are also included. However, you won't get any bonus utensils. With this high-performing cookware set, you can easily prepare a wide variety of dishes with professional cooking results.
These are aluminum-based cooking pots and pans that feature good heat retention and even heat distribution.
Even though it's at the very end of this list, in my opinion, this is the perfect nonstick cookware set in terms of value.
This can be a good option if you want to replace your beat-up old set or when you are setting up a new kitchen.
As for the specs, let's start with coating. This set features a premium coating that allows for easy food release as well as easy cleaning.
The silicon grip handles are riveted and stay cool even when you are cooking. They also have a comfortable grip. The rims are tapered, and the glass lids are tempered.
PROS
High-quality cookware set
Holds up well
Tapered edges
Soft-touch handle and grip
CONS
Suitable for beginners only
Cuisinart 11-Piece Nonstick Cookware Set, Black,...
INCLUDES: 1-quart Saucepan with cover, 2-quart Saucepan with cover, 3-quart Saucepan with cover,...
PREMIUM COOKING: perform all cooking tasks, large or small–Simmer, Saute, Fry, Boil or Braise....
EXCEPTIONAL HANDLING: stainless steel Cool Grip stick handles are contoured for a secure grip–...
Choosing the Best Nonstick Cookware
For beginner cooks, nonstick pans are by far the most popular choice. These cookware sets are very easy to clean due to their nonstick surface.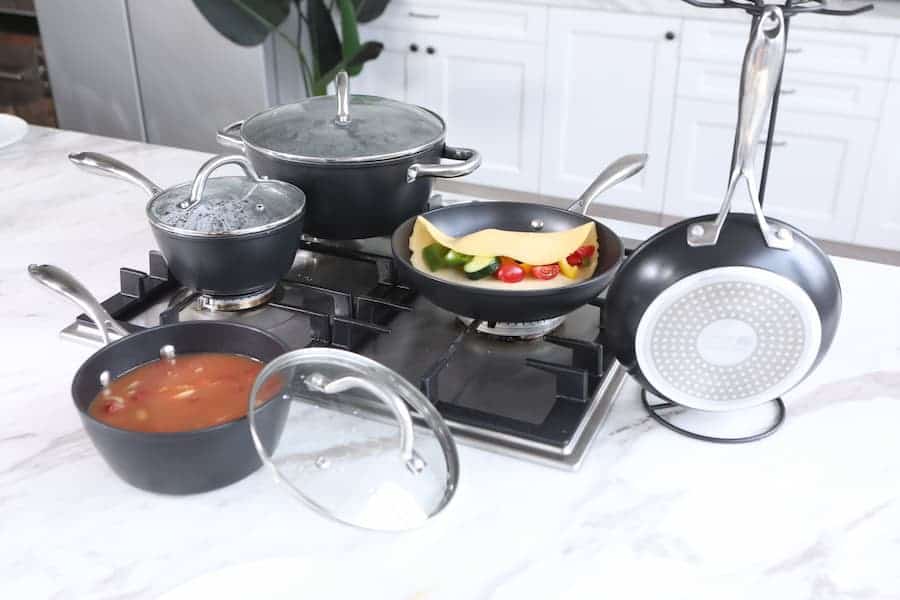 Even if they are not as tough as stainless steel or cast-iron cookware, there are some cooking jobs that are absolutely perfect for nonstick pans or skillets.
In general, nonstick coatings are not made by the cookware manufacturers themselves. Nonstick coatings are actually made by large chemical companies.
The chemical companies offer different grades from basic coatings up to premium multilayered ones. On the top end of the scale, some nonstick coatings are high heat safe and you can even use metal utensils on them (though we wouldn't recommend it).
It's the manufacturers that decide what type of coating they want to apply based on the price of the cookware and the price of the coatings they land on with the chemical companies. What does this all mean? It means you can get the most expensive cookware set or piece but it does not always mean that you are getting the top nonstick coating with it.
Size
Let's talk about the size first. The first thing you should look for in a set is how large the pans and pots are. Common sizes to aim for are,
Small Fry Pan 8in – 1-2 servings
Medium Fry Pan 10in – 3-4 servings
Medium Saucepan 2-3 Quarts – 1-2 servings
Large Saucepan 4-5 Quarts – 4-6 servings
Stock Pot 6+ Quarts – 8-10 servings
You don't want to buy a set and end not using half of the items. If you are cooking for a large family, a tiny pot won't do. That's why it's a good idea to check the size first.
If you plan on cooking big batches of soup, make sure to go with a set that includes a giant stockpot.
You can always add extra pots and pans later on, but if you don't even use two or more items in a set, it's not a good bargain.
Check the Included Items
Once you have picked the right size, check the items that come with that set. A larger set will usually contain a lot of cookware. I won't recommend any specific set here because cooking style and family size will vary from person to person.
Common included items are things like spoons, spatulas, whisks, etc. If you are setting up a new kitchen, these could serve as a good bonus for you.
However, for a fully furnished kitchen, you will probably never use these add-ons. If you have all your kitchen utensils in order, best to focus on cookware sets that are just pots and pans.
Types of Nonstick Coatings
The subject regarding their coatings can be really confusing. Different manufacturers brand their cookware using some marketing jargon that makes purchasing a daunting task.
To make it easier for you, I will only talk about the most commonly used coatings and not the hyped-up marketing gimmicks.
PTFE: The most famous PTFE coating is Teflon. It's a type of synthetic polymer used to reduce friction and repel water. Apart from cookware, PTFE coating is also used in joint replacements. Different companies make PTFE coatings that are for cookware.
Ceramic: It's not actual ceramic. This is more of a ceramic-like coating referred to as solution gel or sol-gel. It's a silica-based coating, and unlike PTFE, it doesn't use poly-fluoroalkyl polymers. The only downside of ceramic coatings is that they tend to lose their nonstick properties quickly compared to Teflon coatings.
Keep in mind that no matter how many layers of coating your set has, they are bound to chip away at some point. The reason why most people prefer using nonstick pans is because of the nonstick surface and for the fact that they are very easy to clean. You pretty much never buy a nonstick pan with the intention that it will last you a lifetime.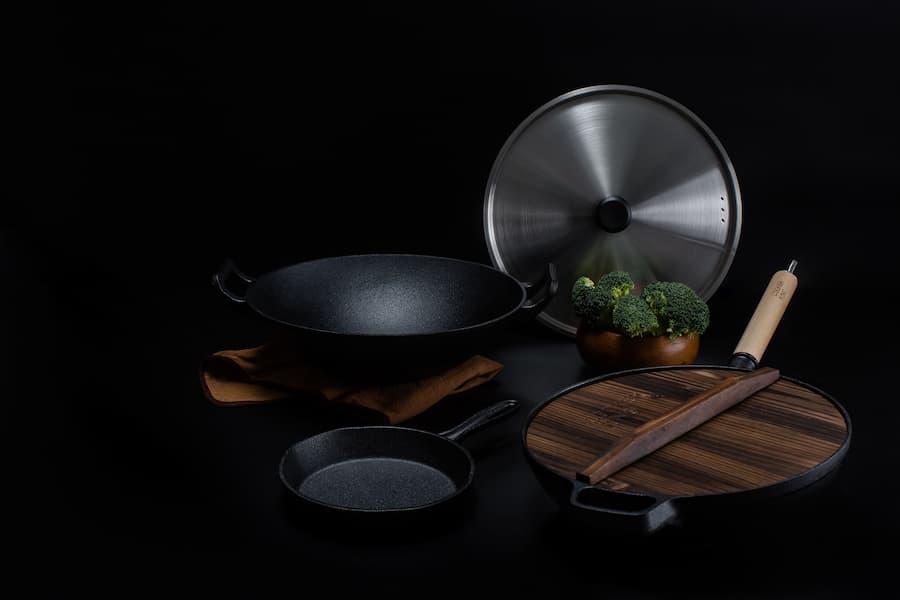 Heat Distribution
When buying a set, make sure the pans and pots can evenly distribute heat across the cooking surface. It will make the items last longer and keep your food from scorching. As for the material, go with pans or skillets made from hard anodized aluminum.
Aluminum is an inexpensive material that is durable and also great at conducting heat.
At high temperatures, the coatings on nonstick skillets or pans tend to break down faster. That's why you should always cook on low to med heat settings because hot spots on the pan can reduce their lifespan.
3-ply stainless steel is another great material of choice. It can distribute heat evenly, and you can use it on induction cook-tops. However, when compared to their aluminum counterparts, 3-ply nonstick pans are way more expensive.
As with all non-stick pans, Aluminum or Steel they will only last a few years, and so not worth spending that much money on these items for the long term. If you want to go down the pure value route, you can find a lot cast aluminum pans that have steel plates bonded on the bottom to increase heat retention. You can even use them on induction cook-tops.
Weight
The weight of nonstick cookware is also very important. Go with a heavier cookware set if you prefer durability over handling. On the other hand, if you want more maneuverability, go with a lighter model.
There are perks and downsides of both. A heavy pan will be more durable and will ensure even heat distribution when cooking. The downside will be obviously the weight.
Lighter models will have better handling but won't have better heat distribution and cause food to burn rather quickly.
Shape
If you want to flip fish fillets, pancakes, or eggs quickly and accurately, go with a nonstick pan with flared sides. Thanks to the wide shape, you can flip your food without a spatula.
You will have more room to move the food around. Compared to straight sides, flared ones promote more evaporation. This means you will have less water in the skillet lowering the chances of steaming your food on accident.
Handles and Lids
You can determine the quality of cookware set by looking at the lids and the handles. To cut costs, some manufacturers will skimp in these areas by using lower quality lids and handles.
And most of the time, the lid will break first, and then you will start to see problems on the handles. Welded handles are better at cleaning than rivets. Also, check the handle material. As for the lids, glass lids are better in every way.
Maintaining Your Nonstick Cookware Set
Healthy eating is now more important than ever. A lot of people are cutting down the use of oil and fat and trying to eat healthily.
This process of using a limited amount of fat or oil for cooking is very easy when you have a nonstick cookware set.
If you want to ensure the longevity of your nonstick pans or pots, take proper care of the nonstick surface. By nature, these items aren't durable.
You can easily scratch the surface, and they are not dishwasher safe. That being said, with some proper care, you can easily increase the longevity of these items.
Use silicone, nylon, wooden, or rubber spatulas to avoid damaging your pan.
Never use metal utensils.
Always allow pots and pans to cool thoroughly before washing to prevent cold shock
Avoid using rough scrubbing brush such as wool, steel, or stainless steel.
Never put them in the dishwasher.
Don't increase the heat too much when cooking. Keep the heat settings to low or medium.
Finally, don't put them in the oven even if they are labeled "oven-safe." Ovens are notoriously inaccurate temperature wise so you have a good chance of overheating your pans.
Frequently Asked Questions
Who Should Use Nonstick Cookware Sets?
If you are someone that wants easy cleanup and cook dishes that don't require high heat, go with nonstick sets. Also if you need to cook with or are trying to cook with less fat and oil non-stick is a good option for you.
Can I Cook Steaks and Chicken Thighs With a Nonstick Pan?
Proteins like chicken thighs, steaks, salmon, or burgers require a lot of heat, which is terrible for the coating. You can cook these things at a lower heat but you won't be searing anything in your non stick pans.
You should only cook delicate food items like eggs, pancakes, and lighter fish like tilapia.
Can I Cook Steaks and Chicken Thighs With a Nonstick Pan?
You can but it won't do too much more than just oil or butter would. I would say, yes you can but not worth it.
Can I Cook Steaks and Chicken Thighs With a Nonstick Pan?
Wash new cookware with warm water and mild detergent. Dry thoroughly. When you want to cook, heat them to medium heat, apply any fat or oil to the pan and then the food. Ensure you are using ~70%+ of the cooking surface to prevent hot spots from scorching.
How to Wash Nonstick Cookware?
As you already know, you should never put them in the dishwasher. The best way to clean them is by letting the cookware cool down for a bit.
And then use tap water to clean any excess oil or food items. Don't use any scouring pads or steel wool. Soft sponge and mild detergent are okay. Hang dry when done.
What Cookware Do You Actually Need?
Final Thoughts
Whatever non-stick cookware you buy make sure you take care of it. Even if you only expect to get 1-3 years out of the pieces, it is better for your health and your wallet to make the coatings last.