As an Amazon Associate we earn from qualifying purchases.
Whoever came up with the name spinach artichoke dip should win a prize in marketing. I don't think there is any dip that sounds so good for you but is sneakily so decadent. When it comes to game day or party apps there are few dips that top spinach artichoke. 
I'm going over how to make a spinach artichoke dip from scratch as well as what you can do to modify the recipe and tailor your ultimate party dip.   
What is Spinach Artichoke Dip?
Spinach artichoke dip is a dairy based dip made with cooked spinach and artichoke hearts. The exact proportion and base ingredients of spinach artichoke dip will vary by location and personal preference, with some featuring sour cream, others cream cheese, and many both. Additionally, preparation can vary with some being baked and others being cold dishes.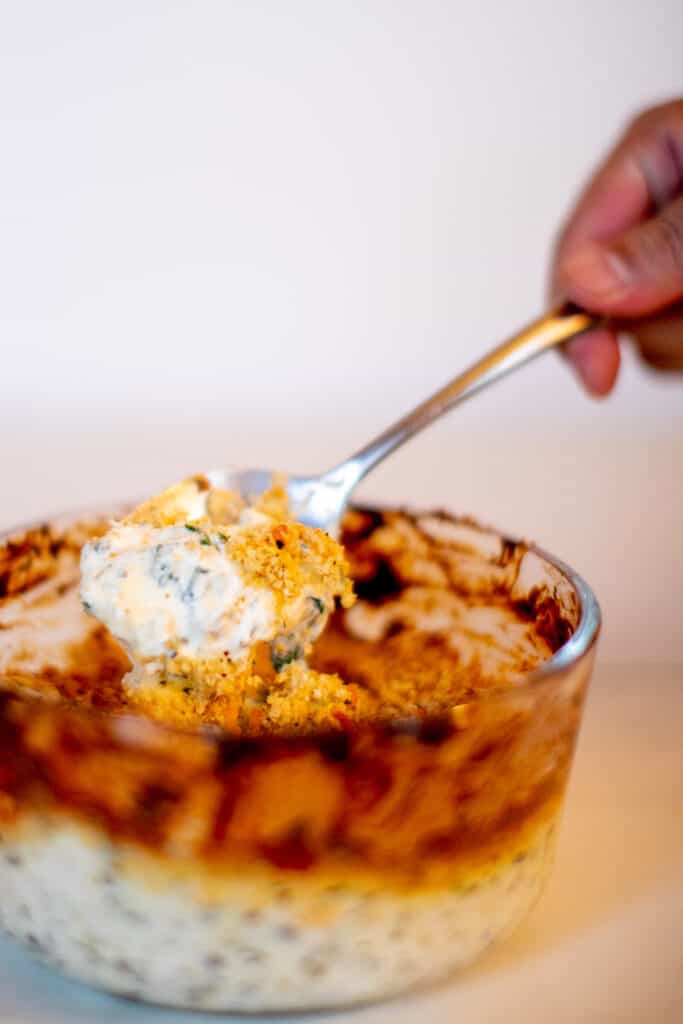 My Approach to Spinach Artichoke Dip 
When it comes to spinach artichoke dip, I like mine very rich, and the only way to do that is to bake it and serve it hot.  
Why Does Baking the Dip Make it Richer?
Very simply, melted cheese is easier to eat than a block of cheese. This goes for pretty much all forms of saturated fats, which make things taste "rich." 
Baking the dish allows for the texture and form to develop that is required for a dip (you can't "dip" into a block of cheese). It also allows for the flavors to mix and mingle together without the use of water (like in the case of sour cream-based dips) which will dilute the flavor. 
What Makes a Good Spinach Artichoke Dip
For a good spinach artichoke dip recipe, you need to taste the artichoke. Artichoke is not the most flavorful vegetable out there, and it also is not cheap. 
If all you want is to taste spinach and cheese, just do that and save the $5-$10 in artichokes for another recipe. If you want a spinach artichoke dip, you need to taste the artichokes with every bite.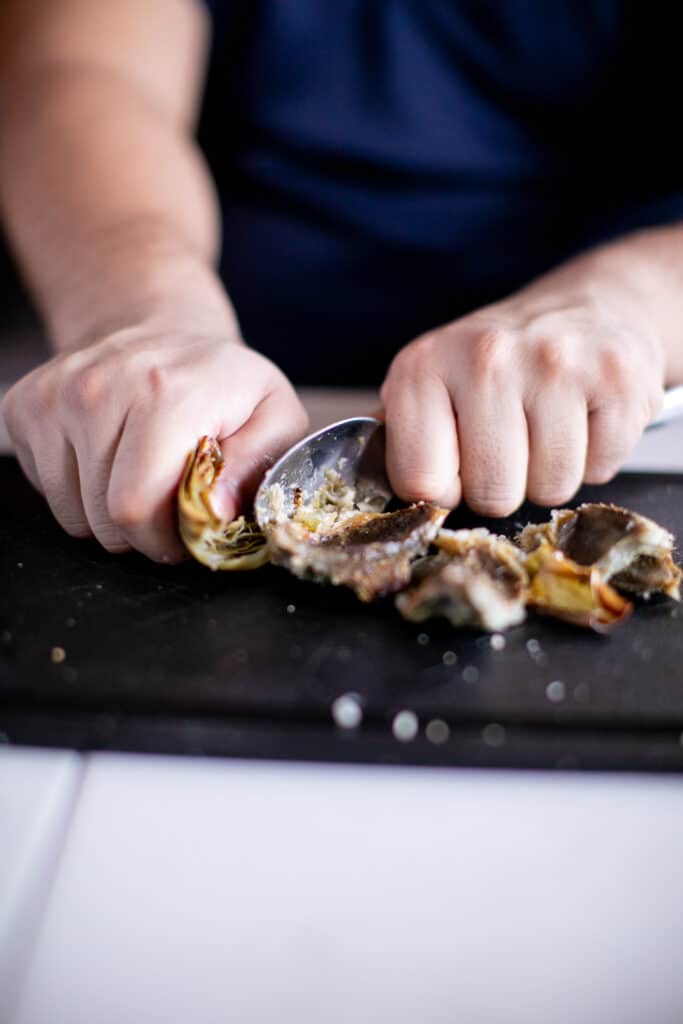 The Challenge with Spinach Artichoke Dip
Using real artichokes is the main challenge with a spinach and artichoke dip. When you roast your own artichokes, you get to control what flavor and texture you are adding to your dip. 
Luckily, I have a recipe for roast artichokes to get you started. 
Developing Flavors in Spinach Artichoke Dip
Fresh roasted artichokes will have the most flavor. You can substitute jarred or canned artichokes, but if you do, I still recommend you oven roast them first. They won't be as good, but whatever you do, do not add them straight from the jar. 
What Pairs with Spinach Artichoke Dip?
At my house, fresh baguettes would probably be my favorite pairing. But chances are, you are much more likely to have crackers on hand (especially when it comes to a party setting). 
I also find that flatbreads go very well with spinach artichoke dip, so pita and naan are wonderful combinations.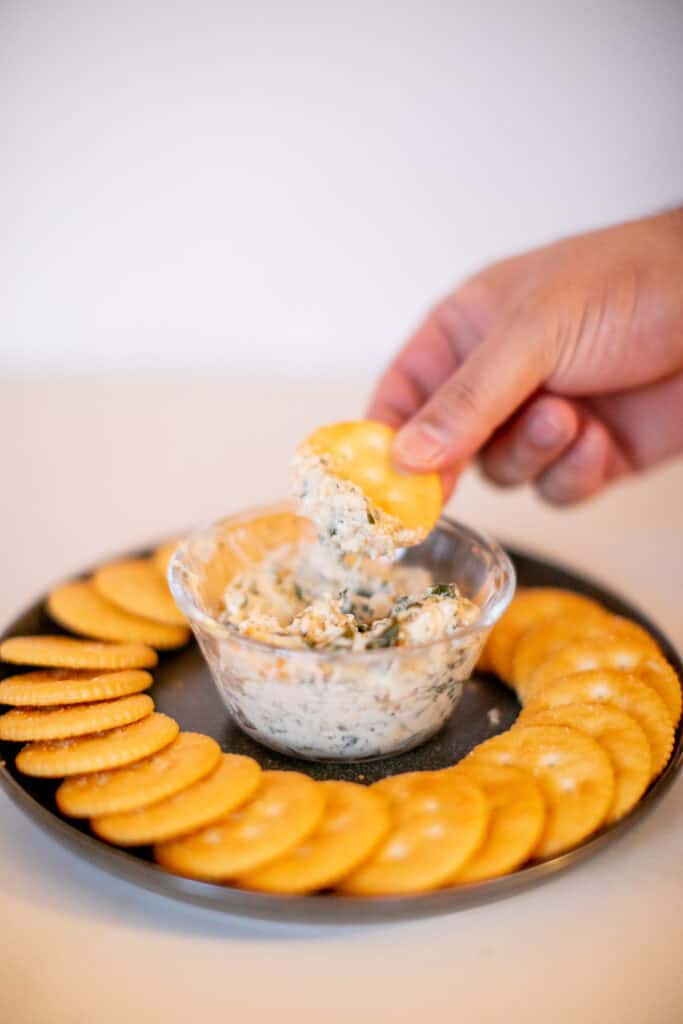 Tools Required
For the tools, you will need the following:
Oven safe bowl (pyrex or ceramic)
Measuring cups and spoons
Knife to cut up the artichoke hearts if they are still whole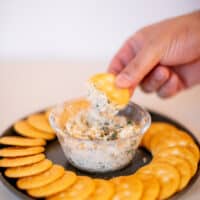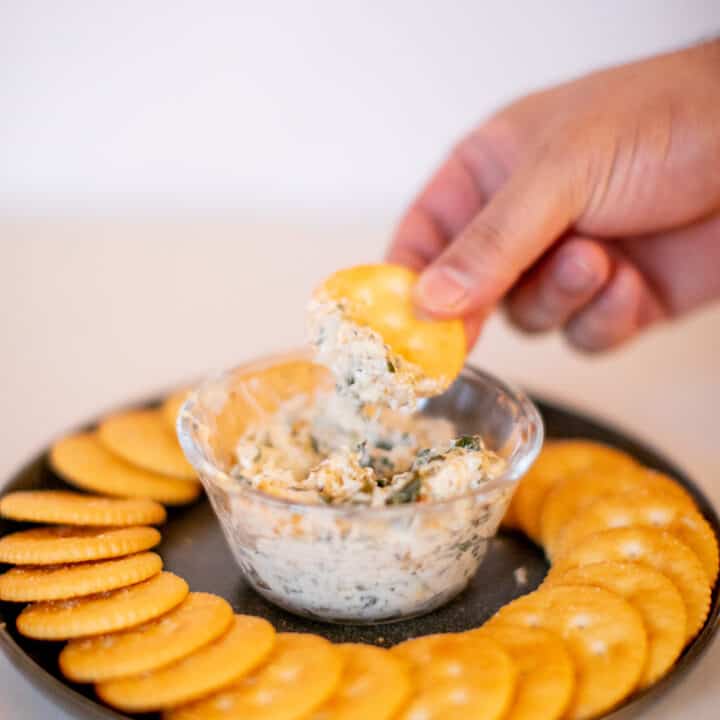 Ingredients
1/2

block cream cheese

1/4

cup

sour cream

4

cloves

garlic

1/2

cup

spinach

2

artichoke hearts

1/4

tablespoon

salt

1/4

tablespoon

pepper

1/2

tablespoon

melting cheese

1/4

tablespoon

panko bread crumbs
Instructions
Preheat at 350°F

Cut garlic

Cut artichoke hearts into quarters

In a Pyrex or casserole dish, mix all ingredients except the melting cheese and panko bread crumbs

Top with melting cheese and panko bread crumbs

Bake at 400°F for 20 minutes or until top is brown

Serve hot
Nutrition
Calories:
36
kcal
|
Carbohydrates:
2
g
|
Protein:
3
g
|
Fat:
2
g
|
Saturated Fat:
1
g
|
Polyunsaturated Fat:
0.1
g
|
Monounsaturated Fat:
0.4
g
|
Cholesterol:
6
mg
|
Sodium:
328
mg
|
Potassium:
68
mg
|
Fiber:
0.1
g
|
Sugar:
1
g
|
Vitamin A:
234
IU
|
Vitamin C:
1
mg
|
Calcium:
68
mg
|
Iron:
0.1
mg
Beginner's Guide to Making Sauces