As an Amazon Associate we earn from qualifying purchases.
Ever been through the struggle of forgetting to take out fish from the freezer when you planned to cook it for dinner? That's quite common. But you don't have to worry anymore as I have figured out ways to cook cod fish right out of the freezer and I'll teach you too.
How to Cook Frozen Cod Fish
Do you know frozen codfish is one of the quickest and easiest dishes to cook? Well, if you're not sure how to cook frozen cod fish, then this guide is all you need to get through. By reading the tips mentioned below, you will be able to save your time and create an amazing and quick fish dinner right out of the freezer.
Thawing to Perfection
The right way to thaw a codfish is by placing it in a sealed bag and immersing it in icy cold water. In this way, water will not find its way to absorb within the fish, leaving it tasteless. While many blogs would tell you that thawing reduces the flavor of your fish and leaves it soggy, I assure you that thawing the right way will keep the flavor of your fish intact.
Any other method apart from this, including microwaving, would leave your fish soggy and distasteful.
Quick Tip – Ensure cooking your defrosted fish as soon as possible without leaving it unattended for too long, according to the Food Safety and Inspection Service of the United States.
Poaching Using the Right Mix of Ingredients
If you are still worried about thawing reducing the taste of your fish, then try poaching. When you don't want to step outside of your comfort zone, poaching is one of the quickest and easiest ways to prepare your food.
All you need to do is soak your rinsed codfish in a mixture of vegetable broth, wine, or water, as you may like, then season it with the spices of your choice and bring everything to boil. Reduce the heat to low, cover the pan, and cook the fish until it is thawed and easily split with a fork.
Quick Tip – Use pre-simmer vegetables such as onions, carrots, celery, or zucchini in the broth for a few minutes before adding the fish. It would fasten up your whole process.
Exploring the Option of Steaming
The best way to steam your frozen codfish is by placing it on a steamer and steaming it using the vegetables of your choice, such as onions, bok choy, and leeks, over a pan of simmering water. Continue the procedure until the fish is completely thawed and flakes.
Another amazing way to steam is to place a frozen fish filet, steak, or whole fish on a piece of lightly oiled foil. The fish should then be rubbed with vegetable oil, herbs, lemons or mango salsa, and fresh basil before being folded into a packet. Cook for 8-15 minutes on high heat, or around 450 degrees Fahrenheit.
Quick Tip – Distribute your fish's weight evenly across the center of the plate to prevent it from tipping or shifting off the cooking ring.
Stewing All Along
Coat your fish with seasoned flour and let it brown on both sides with a tiny quantity of vegetable oil once it's completely thawed. Remove any accumulated liquid and place it in a small pan with the liquid broth. Bring the liquid to boil and place the fish on top.
Cook until the fish is fork-tender on low heat.
Quick Tip – If you have clam juice available, substitute it with the liquid used in stewing, and the results will get you amazed.
3 Quick Cod Fish Recipes for When You're Short on Time
Now when you have finally managed to learn how to cook frozen cod fish, why not learn some extremely delicious yet quickest recipes to try out from cod fish? Here are some of my favorite cod fish recipes that you would surely love!
Low-fat Spice Rubbed Cod
This recipe gives you a low-fat fish entrée that can be prepared in less than 30 minutes, making it ideal for people with busy routines.
Ingredients
Cod filets (4, 5 ounces)
Lemon (½)
Paprika (1 tablespoon)
Turmeric (½ tablespoon)
Ground cumin (1 teaspoon)
Ground coriander (½ teaspoon)
Procedure
Collect the ingredients.
Turn on the broiler. Nonstick cooking spray should be sprayed on a broiler pan or cookie sheet.
Combine the spices (paprika, cumin, coriander, and turmeric) in a small bowl.
The spice rub should be applied on both sides of the fish filets.
Arrange the filets in the prepared pan. Broil the fish for 5–6 minutes, flipping once, or until it flakes easily with a fork. Squeeze lemon juice over the cooked fish.
Plate and enjoy!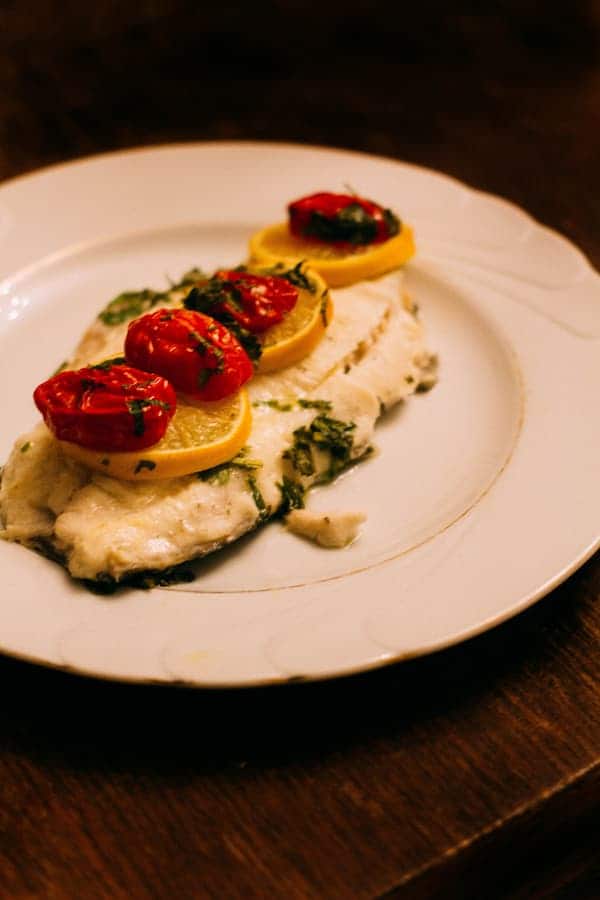 Skillet Fried Fish Nuggets
Skillet-Fried Fish Nuggets are a quick dinner option that also serves as a way to get your children to eat fish. The main ingredient in this recipe is ready-made pancake mix, which significantly reduces the cooking time. So let's start.
Ingredients
Canola Oil ( 2 tablespoons)
Fish fillets (3 pounds)
Lemon pepper
Garlic salt
Beaten egg (1)
Water (¼ cup)
Dry pancake mix (1 cup)
Seasoned bread crumbs (1 cup)
Procedure
Collect all of the ingredients.
Fish should be cut into bite-sized pieces. Season the pieces lightly with lemon pepper and garlic salt.
In a mixing bowl, whisk together the beaten egg and water. Combine the pancake mix and breadcrumbs in a large plastic food storage bag.
Place the fish in the bag to coat with the crumbs after dipping it in the egg and water mixture.
Fry the coated fish pieces for 7 to 8 minutes, or until golden brown, turning once.
Drain thoroughly on paper towels. Immediately serve fried fish nuggets with cocktail sauce or tartar sauce.
Enjoy!
Hawaiian Style Cod Fish Burger
This recipe is based on the Hawaiian fish sandwich recipe, found on almost all Hawaiian menus but with a twist.
Ingredients
Mahi Mahi or Cod fish filets (4 pieces)
Sea salt (¼ teaspoon)
Freshly ground black pepper (¼ teaspoon)
Paprika (¼ teaspoon)
Cayenne (optional)
Cooking oil (1 tablespoon)
Hawaiian sweet bread buns (4)
Tartar sauce (4 tablespoons)
Maui onions (4 slices)
Tomato (4 slices)
Procedure
Rinse and pat dry the fish filets. Combine the salt, pepper, paprika, and cayenne pepper in a small bowl (if using). Evenly coat both sides of the fish fillets with the spice mixture.

Melt butter in a large frying pan over medium heat. Add the hot oil to the pan and swirl it around to coat the bottom. Place the filets in the pan when the oil is hot. Cook, undisturbed, for around 3 minutes, or until the fillets are golden brown around the edges. Turn the filets over gently with a spatula and cook for 3 minutes more.

Divide the buns in two and place them on a plate. Tartar sauce should be spread on both the top and bottom of each bun. Top each bun with a filet, an onion slice, a tomato slice, and lettuce leaves. Serve immediately with the top buns.
6 Tips for Cooking Fish (so it Actually Tastes Good!)
Conclusion
I understand how cooking frozen fish can be a hassle, but with this guide, you will get the right tips to cook your frozen codfish and be able to experiment with some new and mouth-watering dishes.
The key to achieving the desired result is to follow each of the instructions mentioned above thoroughly without any changes. I hope you amaze everyone with a good dinner ahead!