As an Amazon Associate we earn from qualifying purchases.
There is a wide range of food varieties that taste better when toasted. A toaster oven is an invaluable machine that comes in handy whether you need to toast biscuits, bagels, or bread.
However, there are multiple toaster oven types available in the market that come with different features and they also have their own set of pros and cons.
In this article, I'll discuss different types of toaster ovens in detail and it'll help you choose the best product depending on your unique needs.
Types of Toaster Ovens
The following are the four basic types of toaster ovens that come with different features. Read the information discussed below carefully to make the most informed decision.
Standard Countertop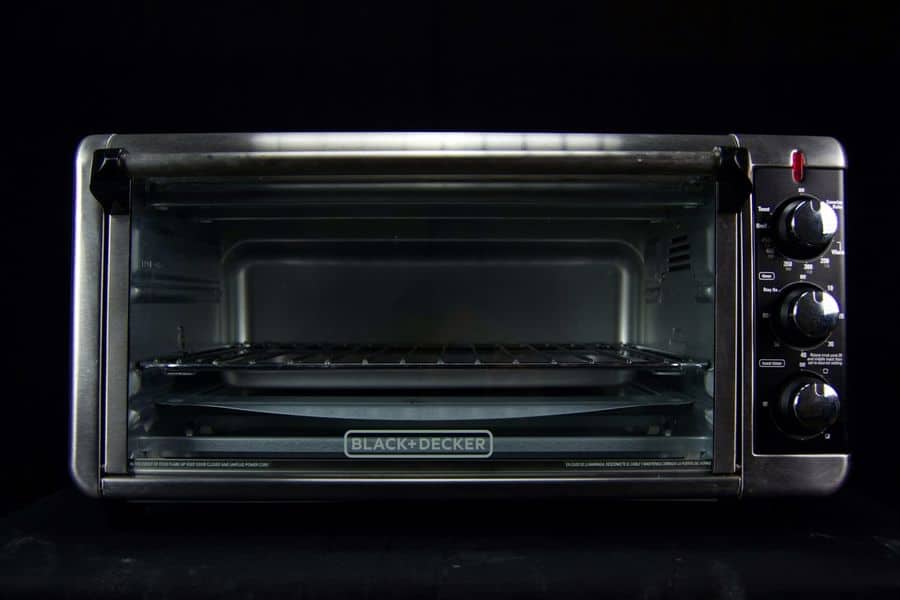 The standard countertop is the most commonly used and the simplest type of toaster oven. It's easy to use for simple cooking methods like toasting, heating, and browning different food items. You can use a standard-sized countertop oven toaster to toast up to six bread slices or bagels at the same time.
I recommend you choose a standard countertop model that comes with a cool-to-touch exterior body and offers temperature controls. It'll allow you to heat different food items at different temperatures and keep your hands from burning regardless of the interior temperature.
Pros
Straightforward working mechanism
A wide range of features and sizes to choose from
Compact form factor to save kitchen space
Toast meals quickly
More affordable as compared to other types
Cons
Cooking options and features can vary widely from unit to unit
Lack of versatility as compared to other types
Convection Countertop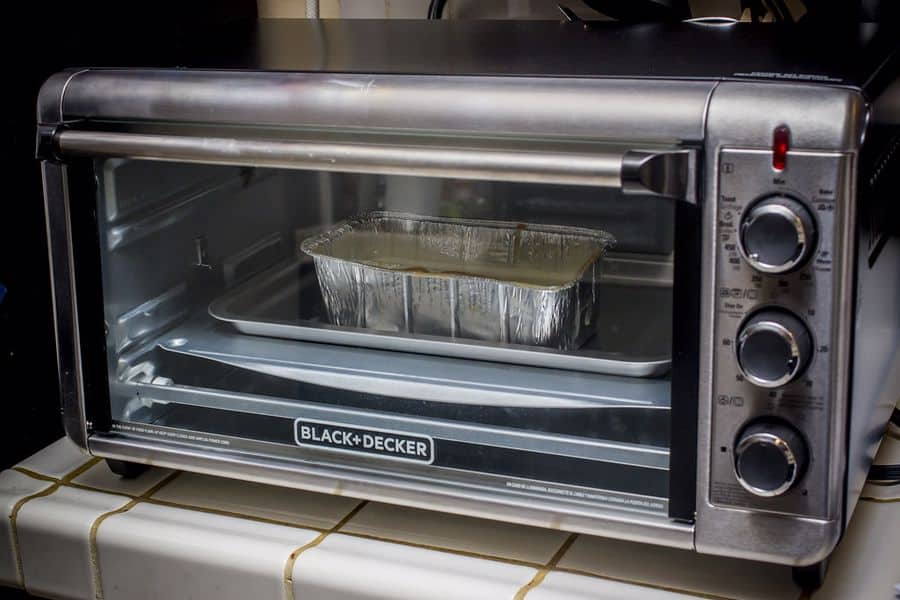 By Dennis Amith image license
The convection countertop toaster ovens are becoming increasingly popular because of their advanced technology. They come with built-in fans, which allows them to heat food more quickly than standard countertop models at a lower temperature.
The built-in fan circulates hot air inside the convection countertop toaster oven constantly. Not only does it save money (in terms of electricity bills) and time, but it also ensures that your food is cooked more evenly.
The presence of this advanced technology means that you'll need to pay more to buy a convection countertop model. However, it's worth the investment if you can afford it.
Some manufacturers now also offer convection microwaves as well. These appliances act just like a traditional microwave oven but are based on the same unique cooking style (as a convection countertop model) to save time and electrical energy.
Pros
Cook food quickly and evenly for a better quality
Easy to use
Can be used for different cooking tasks such as broiling frozen fish, roasting pheasants, and baking
Usually bigger than a standard countertop model
Offer a lot more cooking freedom
Cons
More expensive price tag
Cooking options and features vary from model to model
Infrared Countertop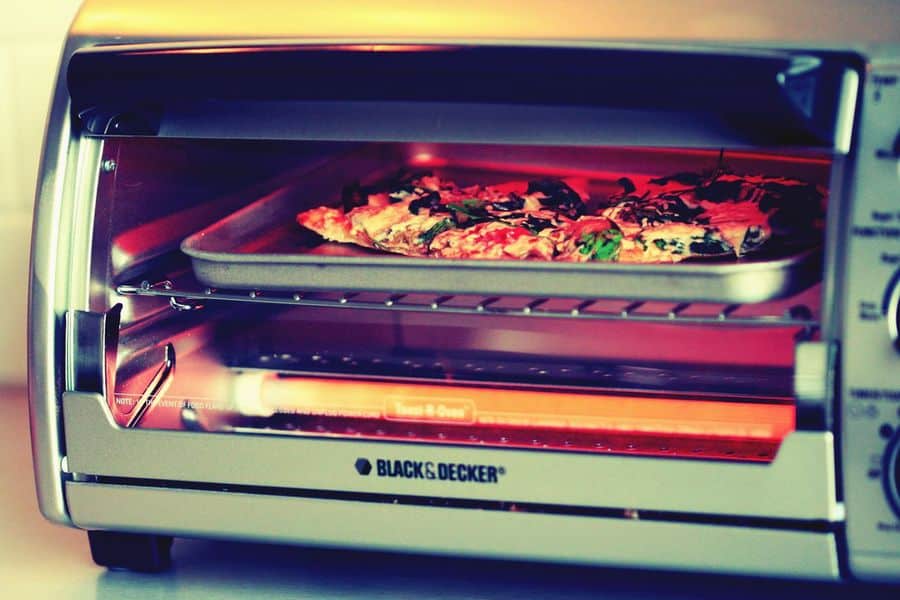 By sharyn morrow image license 
Infrared countertop toaster ovens are equipped with a new cooking technology. They use the infrared band of light to cook your food rapidly and evenly. These appliances are incredibly efficient and you can also use them to heat frozen food items. It means you won't need to perform the additional step of defrosting food before cooking it.
You can use these ovens for a range of different cooking methods including drying, curing, pre-heating, and baking. It's important to note that these ovens offer a smaller interior space than other types. In addition, they're also not as widely available as standard and convection countertop models.
Some manufacturers offer convection countertop models that feature infrared technology. They're obviously more expensive but allow you to enjoy the best of both worlds using the same appliance.
Pros
Cook food evenly and quickly
Save electrical energy and time
Can be used for frozen food items
A convection countertop can also feature the infrared technology
Cons
Come with a small cooking space
Not user-friendly for beginners
Not widely available
Rotisserie Countertop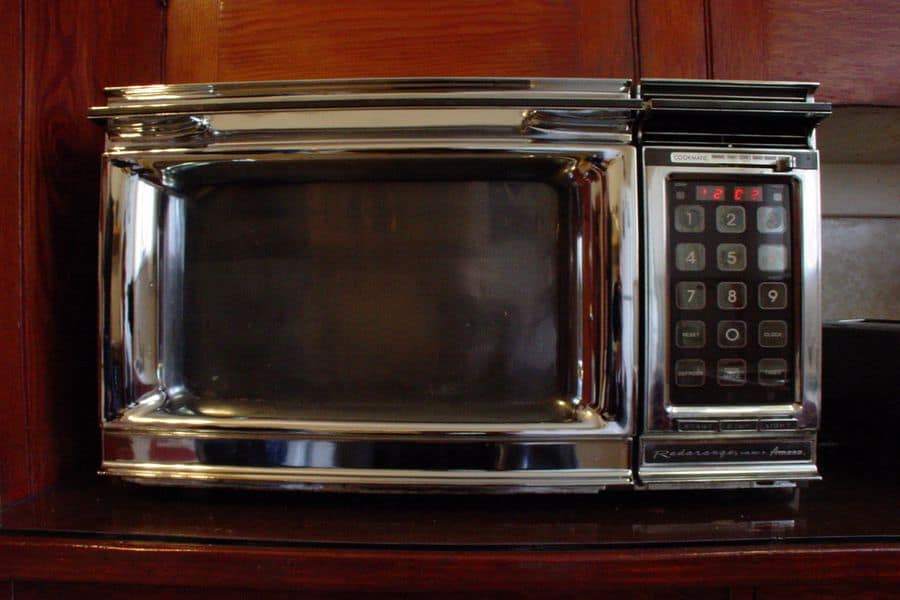 A rotisserie countertop toaster oven is designed to serve a very specific use case, which is to cook and roast meat such as chicken, and simple turkey cuts. It comes with a rotating spit that allows the appliance to cook the meat evenly without drying it out.
Some models of this toaster oven type come with a big enough interior to fit an entire chicken, which also means they'll take up a lot of space on your countertop. Cooking meat using a rotisserie countertop model will take time but it generates great results.
If you don't want to buy an appliance that serves only one purpose, you can go with a standard or countertop model that offers rotisserie functionality as an add-on. It'll cost you a pretty penny but you'll be able to use the standard toaster oven features when you don't need to cook meat using the rotisserie function.
Pros
Best toaster oven type for cooking meat
Cook meat evenly without drying it out
Offer a large interior space
Cons
Fulfill just one purpose
Can take a lot of your countertop space
Can be very expensive
Frequently Asked Questions
The following are the most commonly asked questions about the types of toaster ovens.
How Do You Choose the Right Type of Toaster Oven?
Determining your needs and budget is the best way to choose the right type of toaster oven. First, you need to determine the amount of money you can easily spend on this appliance. Then you'll need to decide your needs such as food types you need to heat/toast/cook and the cooking features that a toaster oven offers.
What Is the Best Toaster Oven to Cook Meat?
The rotisserie countertop is the best toaster oven to cook meat because it's specially designed for this purpose. Some rotisserie countertop models come with a very large interior space and can cook an entire chicken in one go. So, if you need a toaster oven to cook meat, you can't go wrong with the rotisserie countertop oven.
What Cookware Do You Actually Need?
Final Words
If you aren't looking for anything fancy like a French door toaster oven, these are the common types of toaster ovens available in the market along with their pros and cons. I hope this detailed guide will help you choose the right type depending on your budget and unique cooking needs.