As an Amazon Associate we earn from qualifying purchases.
Do you love Thanksgiving and Christmas food? Has your family always been the turkey type for the holidays? Are you now on your own or with your significant other and can't justify a 20 pound turkey for two? Most of all, does chicken just not sound all that special? Well have I got the perfect bird for your next roast: pheasant! 
What is an Oven Roasted Whole Pheasant?
Pheasant is the perfect small scale holiday bird. It has a neutral white meat between chicken and delicious fatty skin like a goose or a duck. 
Roast pheasant is a preparation of pheasant where it is cooked whole under dry heat. Pheasant is a traditional game bird that originated in Asia but is now cultivated around the world. While hunting pheasant is still popular in many parts of the country, the ones you get from the store are most likely going to be farm-raised.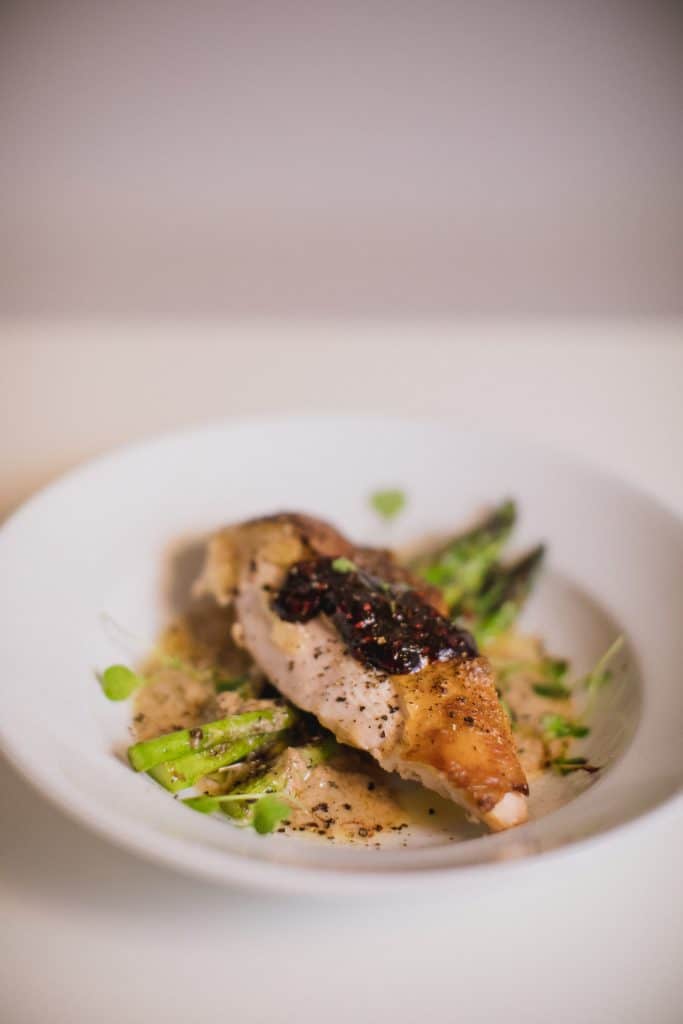 While all pheasants contain fattier skin than their chicken counterparts, their intermuscular fat is leaner more like a turkey. This means that pheasant is not as likely to dry out than a turkey but care must still be taken to ensure juicy results.  
My Approach to Roast Pheasant
When cooking a roast pheasant you want to maximize moisture retention in the white meat. To accomplish this I am going to dry brine the meat and apply extra fat to keep it moist. When it comes to brining, you have options for wet and dry; both are effective. 
Most of the time brining discussions are centered around Thanksgiving turkey but since pheasant cooks very similarly to turkey, the technique has much relevance. 
The option for dry brining is still my preference for any whole roast. That said, a pheasant is small enough where if you wanted to do a wet brine, it is considerably easier than wet brining a turkey. 
What Makes a Good Roast Pheasant
Much like turkey, I want crispy skin and moist tender meat in my roast pheasant. To achieve this I am going to dry brine my pheasant to remove moisture from the skin, start it on very high heat to brown and crisp the skin, then slowly finish to minimize heat pressure in the meat that could force juices out. 
The Challenge with Roast Pheasant
Pheasants much like turkey contain much less fat in their meat than chickens so the main challenge is keeping the meat moist. To achieve moist results it is critical you brine the meat before cooking to dissolve the muscle fibers responsible for moisture loss.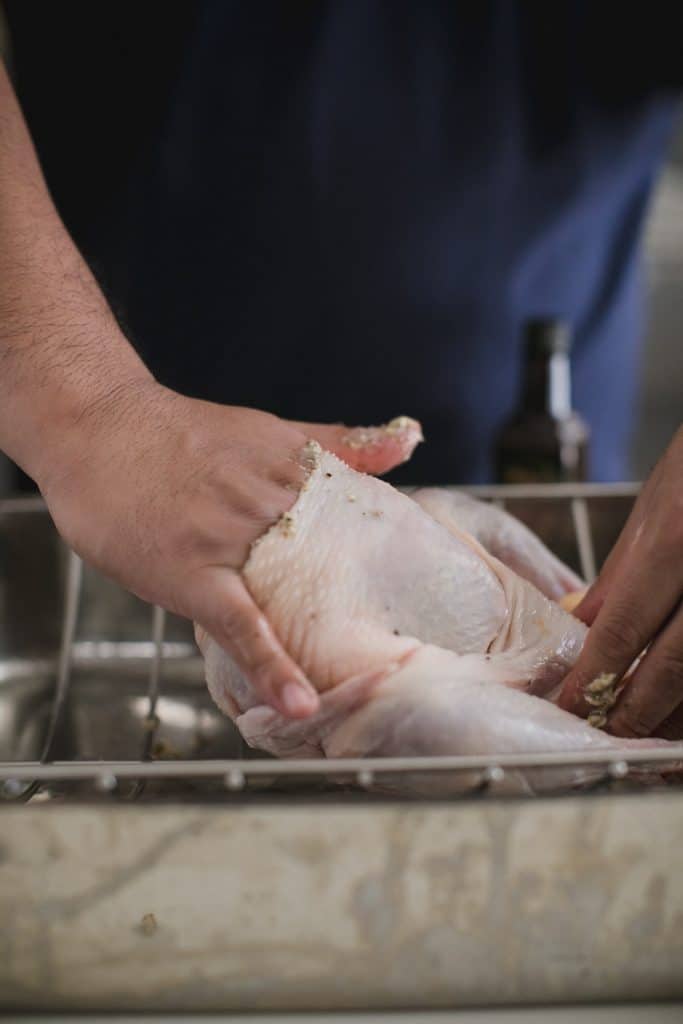 Next, it is important to add your own source of fat to the leaner parts of the meat. One of the most common ways to cook pheasant (and turkey for that matter, is with bacon layed over the breast meat). I will not be doing this in my recipe as that doesn't apply the fat directly to the meat where it needs to go. 
Also, cooking with bacon on top prevents you from getting that perfect brown skin on the outside of your bird. So, if bacon on top is not the answer, what is? Since skin is made to be waterproof, I need to add the moisture under the skin. Yep, you want to apply the fat to the meat under the skin. The skin can then help trap and baste your meat while it cooks.  
Developing Flavors
Roast pheasant has a pretty amazing flavor all on its own. In general, I'd recommend a "less is more" approach with pheasant, especially as it costs similar to a turkey but is the size of a chicken. 
That said, I can still help the pheasant shine by taking a few steps: 
Brining the pheasant will keep moisture in the meat ultimately leaving more flavor and a vehicle for that flavor to your mouth. 
Next, I'll want a brown crispy skin – pheasants have fattier skin than chickens and if you crisp it up it is delicious. 
Finally, the potential for a pan sauce – you will get drippings so you can definitely use them with a bit of heavy cream to make an amazing pan sauce for your roast.  
What Pairs with Roast Pheasant?
Roast pheasant should be treated the same as roast chicken or turkey so vegetables and starches are a great starting place for pairings. 
For the version I made for this article, I am pairing my roast pheasant with pan fried asparagus, Yukon gold potato puree, pan sauce made from the dripping with some heavy cream, and topped with a bit of chili raspberry reduction.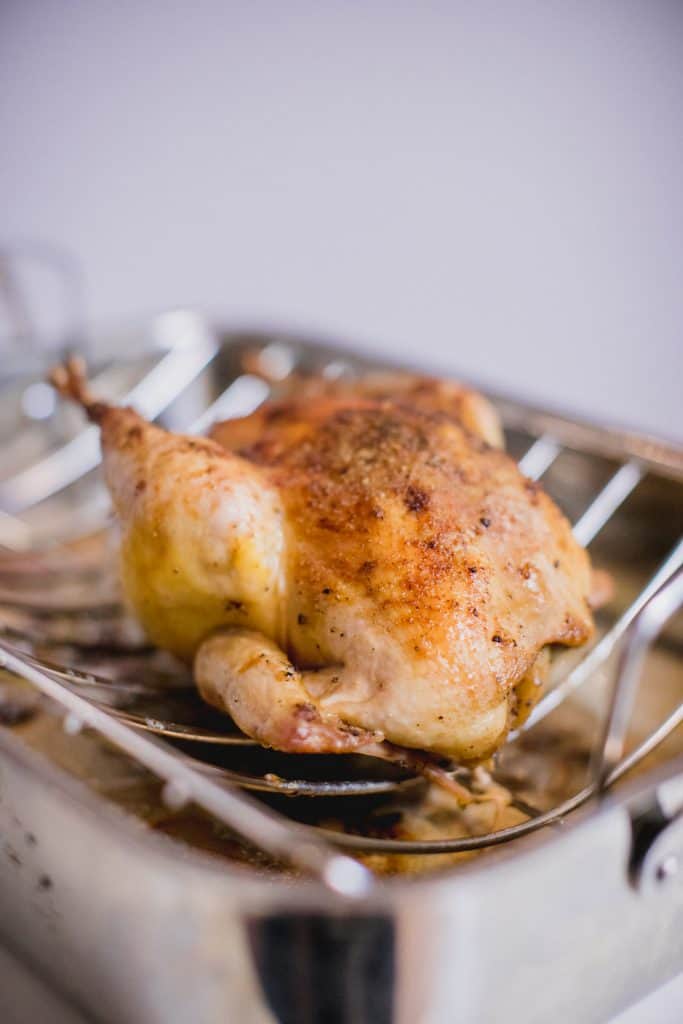 Tools Required
The only tools you really need are a roasting pan or worst case, a lipped baking tray (there will be drippings for a pan sauce). If you don't have a roasting pan with a rack, you can make a small ring out of tin foil to keep the bird off the pan itself.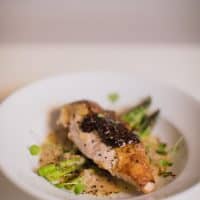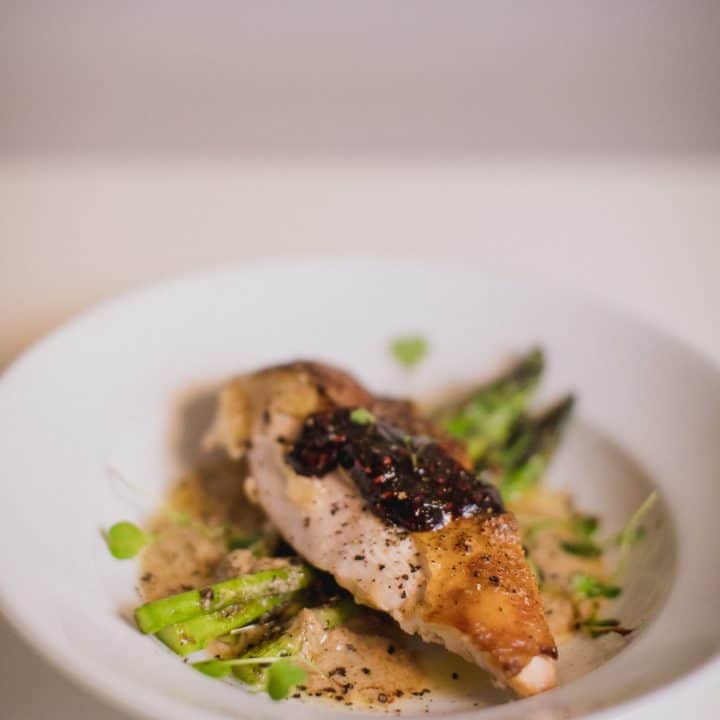 Ingredients
1

whole pheasant

1

tablespoon

salt

2

tablespoons

butter

1

teaspoon

liquid smoke

optional, but great to use if possible
Instructions
Remove gizzard and organs from pheasant

Soften butter in microwave, 10 seconds at a time

Mix butter, salt, liquid smoke together in bowl

Apply half butter mixture under the skin on the breast meat

Apply rest of butter mixture on outside of pheasant skin

Refrigerate for 2 days

Preheat oven 450°F

Place over thermometer into thickest part of thigh and set for 150°F

Roast on 450°F for 10-15 minutes or until skin is golden brown

Reduce to 325°F and cook until 150°F, about 1 hour

Remove from oven and rest a minimum of 15 minutes

Cut and serve
Nutrition
Calories:
668
kcal
|
Carbohydrates:
0.01
g
|
Protein:
78
g
|
Fat:
37
g
|
Saturated Fat:
13
g
|
Polyunsaturated Fat:
4
g
|
Monounsaturated Fat:
16
g
|
Trans Fat:
0.2
g
|
Cholesterol:
257
mg
|
Sodium:
1928
mg
|
Potassium:
831
mg
|
Sugar:
0.01
g
|
Vitamin A:
779
IU
|
Vitamin C:
18
mg
|
Calcium:
44
mg
|
Iron:
4
mg