As an Amazon Associate we earn from qualifying purchases.
A good stock pot is one of the largest physical purchases home cooks will make, so they also need to provide a lot of value for the space they take up. An excellent way to get more value from your stock pot is to use it for sous vide cooking. With today's wand-style immersion circulators, any large container can be used for sous vide, making the humble stock pot a perfect choice!
Sous vide cooking requires vertical space for the immersion components and lots of water capacity to cook your food. To ensure I have the best stock pot for sous vide, I need to consider size, material, build, and price. This article will review the top stock pots to use with sous vides.
My Top Stock Pot Reviews for Sous Vides
The best sous vide pot will have a large capacity of water, plenty of vertical clearance for my immersion circulators, and make cooking and cleaning easy. Since my goal is for this stock pot to serve double duty, the best pot will also have good even heat distribution, allowing it to cook evenly even at high temperatures and with large batches of food.
Brand
HOMICHEF Commercial Grade Stock Pot With Lid
Cuisinart 766-26 Chef's Classic 12-Quart Stockpot
Learn To Brew 5 Gallon Stainless Steel Stock Pot
Product
Brand
HOMICHEF Commercial Grade Stock Pot With Lid
Product
Brand
Cuisinart 766-26 Chef's Classic 12-Quart Stockpot
Product
Brand
Learn To Brew 5 Gallon Stainless Steel Stock Pot
Product
HOMICHEF Commercial Grade Stock Pot With Lid
My top recommendation for a sous vide pot is the HOMICHEF Commercial Grade Stock Pot with Lid. The HOMICHEF is an excellent all-around stock pot with the space and features to sous vide like a professional cook.
At 20 quarts capacity, you will be able to cook just about anything on your gas, electric, or induction stovetop and a sous vid immersion circulator. This pot is tied for holding the largest capacity on my list with the Learn to Brew pot.
The pot's dimensions are perfect for sous-vide cooking since the dimensions are 14 inches tall and 12 inches wide. This will leave plenty of room in the pot for large pieces of meat or bigger vegetables you want to cook.
The HOMICHEF is top of the line with building materials. The HOMICHEF boasts a 7mm 3-ply base construction with nickel free stainless steel. Specifically, the internal pot body is made of JYH21CT SS (21/0), and the outer base is made of 430 (18/0), all surrounding a high conductive solid aluminum core. Home cooks will get the best of fast and even heat conduction hypoallergenic rust-resistant metallurgy.
With this pot, you aren't giving up any of the modern-day comforts like stay-cool handles or tempered glass vented lids. Pair that with the 6 year warranty and you will be happy with your HOMICHEF purchase for years to come!
Pros
Nickel free stainless steel is hypoallergenic and reduces energy by 12-15%
7mm in base thickness is commercial grade and very durable
See-through glass vented lid
Induction ready
Stay-cool handles
1-month trial and 6-year warranty
Cons
5.7 pounds makes it a heavy pot when you have to hold it
Not dishwasher safe or oven safe
HOMICHEF Commercial Grade LARGE STOCK POT 20 Quart...
THIS 20QT STOCKPOT IS A NECESSARY ADDITION TO YOUR KITCHEN - This large 20QT stockpot features the...
NICKEL FREE HEALTHY COOKWARE - Made of food grade NICKEL FREE stainless steel, non-toxic,...
QUALITY BUILD & ELEGANT APPEARANCE - Look noble & elegant: mirror polished exterior, matte polished...
Cuisinart 766-26 Chef's Classic 12-Quart Stockpot
Perfect for small families and couples, the 12 quart Cuisinart 766-26 is an excellent kitchen workhorse. You won't be cooking a Christmas roast or Easter ham in this pot, but you can make quick meals of steaks, chicken, and pork with your sous vide.
The aluminum encapsulated base ensures fast and even heat distribution over electric, gas, and induction stovetops. What sets the Cuisinart 766-26 apart from the HOMICHEF and the Learn to Brew is the features. With the Cuisinart pot, you get a cool-grip handle, drip-free pouring, dishwasher safe material, and a lifetime warranty against manufacturer defects.
A downside to the Cuisinart pot is that the diameter is only 10 inches, which is smaller than the other pots on my list. This might not initially seem like a big deal; however, sous vides are typically 2-3 inches in diameter, which can then limit the amount of food you place in the stock pot.
Cuisinart has always been a name cooks trust, and their lifetime warranty against defects stands behind that quality construction reputation. With the 766-26, you get a quality stock pot that will last forever and works well as a sous vide pot.
Pros
Aluminum encapsulated base heats quickly and spreads heat evenly
Drip-free pouring, which is a big plus when dumping large amounts of hot liquid
Dishwasher safe
Lifetime warranty against manufacturer defects
Cons
12-quart capacity is not enough for large items like roasts and hams
10-inch diameter means a 2-3 inch diameter sous vide will take up considerable space
The lid is not see through
Cuisinart 12-Quart Stockpot w/Lid, Chef's Classic...
PROFESSIONAL DESIGN: induction-ready, mirror finish, classic looks, professional performace....
PREMIUM COOKING: drip-free pouring, tightfitting cover seals in moisture and nutrients for...
MUST HAVE FEATURES: stainless steel cooking surface does not discolor, react with food or alter...
Learn To Brew 5 Gallon Stainless Steel Stock Pot
This classic steel design from Learn to Brew has been used for ages to make soups, stews, and sauces. Now, it also works perfectly for sous vide meals you want to cook. At 20 quarts of capacity, you will be able to cook just about anything you can think of.
The 12 inch base diameter and 14 inch vertical height will ensure maximum clearance for your immersion cooker compared to the 10 inch base on the Cuisinart. That extra height also makes perfect space for wall balls if you are looking to run longer sous vide sessions overnight or over multiple days.
The best value sous vide pot for new cooks on my list is the Learn To Brew 5 Gallon Stainless. At a very competitive entry price point, you won't be afraid to experiment and push your cooking boundaries.
While the base layer on the Learn to Brew is thin for a traditional stovetop cooker, it is perfect for induction cooktops sous vide cooking. It also works perfectly for on-the-go cooking as campsites or seafood boils. Just remember to have oven mitts readily available when using this, since there are no stay cool handles.
Pros
Stainless steel construction
Great value for new cooks
Induction ready
Cons
Simple design
A thin base layer makes it easier to burn foods on the bottom of the pot
No glass lid
Not safe for the dishwasher
Features to Consider for Sous Vide Stock Pots
The top feature to consider when choosing your sous vide pot is the capacity. You can sous vide in just about anything that will hold water, so the most significant determining factor in what you can cook is how big it is.
Since I also want my sous vide pot to be durable, I'll want to make sure it has the material and build features of something I'll want to use and live with when cooking on the stovetop.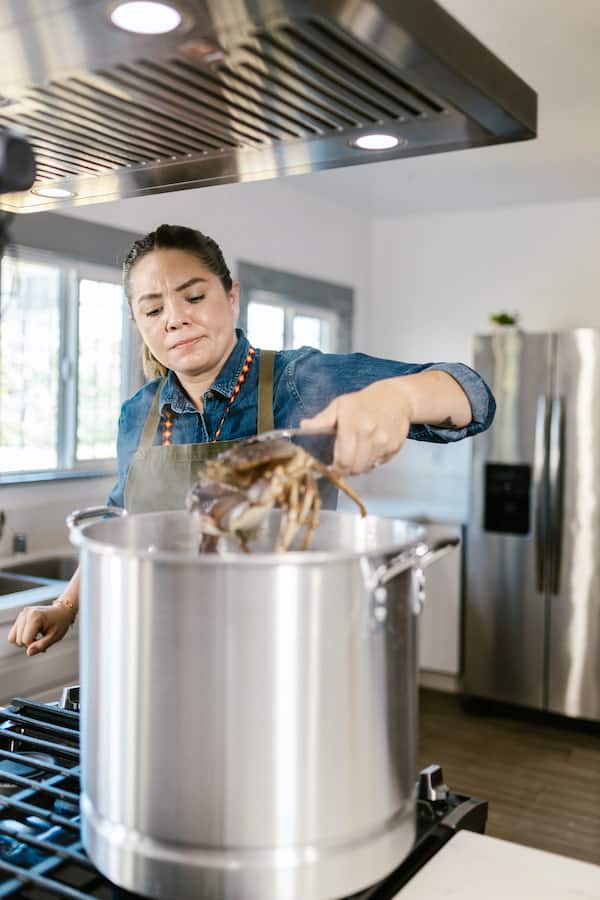 Capacity
Capacity is the most significant factor in choosing a stock pot, as it will determine what you can and cannot cook. When it comes to sous vide cooking, capacity is even more critical. Stock pots are circular, so a sous-vide wand takes up a greater amount of internal space than a square or rectangular vessel.
When looking at pots to use, make sure you measure the part of your sous vide machine that must be immersed in water. For example, I have tried using my Anova Precision Cooker in an 8-quart pot before, and the pot was not tall enough to allow the sous vide machine to circulate the water efficiently.
Next, know what foods you intend to cook in the sous vide pot. If the food and circulator are too close together or there is not enough water, the sous vide will not be able to maintain even heat distribution. Cooking a rib roast will take much more clearance than a couple of ribeyes.   
Material
The most common materials for stock pots are aluminum and stainless steel. While an aluminum pot will be lighter and provide fast, even heat distribution, it is only a pound or so lighter in context to the 20-30 pounds of water you may be using to cook your food, so the total effect is minimal.
Aluminum is less desirable as it allows heat to transfer out quickly into the environment. As heat transfers out of your pot, it will require more energy and more time to cook your food to temperature.
Stainless steel as a material will also last longer. It is non-toxic, does not chip, and does not leech into acidic foods.
Stainless steel is also safe for using in the oven. Even the tempered glass lids usually are oven safe up to a rated temperature. While I don't really recommend it, materials like stainless steel also tend to be dishwasher safe.
One material that you definitely want to avoid is cast iron. Since you are filling your pot with water to use a sous vide, cast iron would end up rusting over time.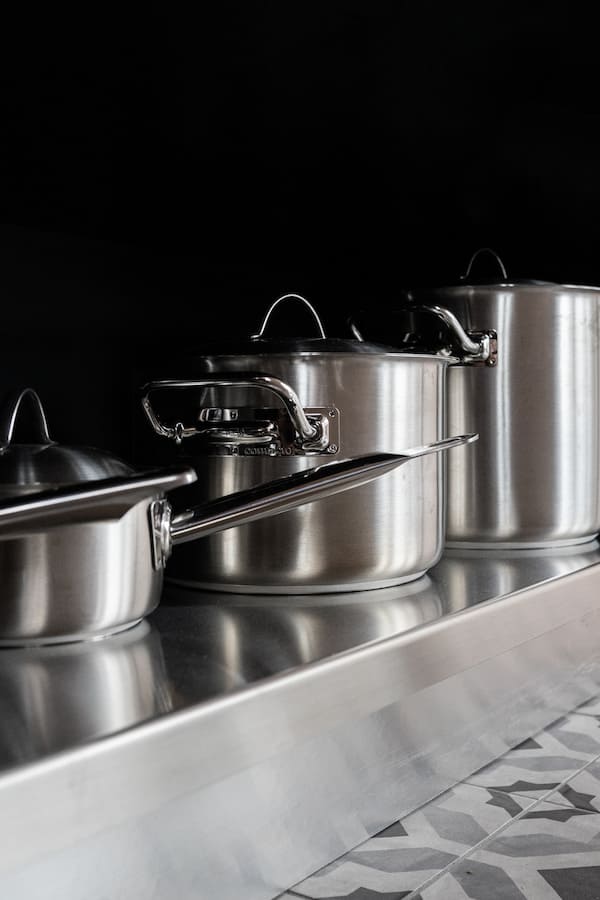 Design
Since you want a stock pot for sous vide and normal cooking, design features like a tapered rim, pour spout, and strong riveted handle will be much appreciated when pouring out 30 pounds or more of hot water.
Additionally, a tight-fitting, glass, vented lid will allow you to monitor your food for boil-over and water levels. Finally, stay cool handles are always welcome. They add comfort to the kitchen, making life easier and cooking more enjoyable.
Frequently Asked Questions
How Do I Stop Evaporation When Sous Vide Cooking In a Stock Pot?
You can never entirely stop evaporation with sous vide cooking, but you can manage it with a compatible lid or insulating water balls (basically food-safe ping pong balls). Covering the liquid will retain heat and water levels over long cook sessions.
What Size Stock Pot Is Best for a Sous Vide?
For 4-6 people, a sous vide pot of 12-20 quarts is ideal. If you have an apartment or galley-type kitchen, aim at the smaller side. Measure how much water must be immersed to circulate water (there will be a "fill" water line on the device). Then, make sure you have cabinet clearance for your sous vide pot and immersion circulator.
Can You Use a Stainless Steel Pot With a Sous Vide?
You absolutely can and should use stainless steel pots for sous vide. Stainless steel will provide slightly better heat retention than aluminum pots for long sous vide cooking sessions. Stainless steel will also hold up better long term against rust and will not leech into the water over time. 
Conclusion
Every home cook wanting to sous vide food needs a good stock pot. Looking at the best cooking pots for sous vide stainless steel construction is the best way to go. Look for a sous vide pot in the 12-20 quart range depending on the size of your kitchen and stove.
When preparing large batches of food, the best stock pot for sous vide will be able to fit on your counter or on your stove with enough clearance for the sous vide machine. If you need it to be dishwasher safe, then go with stainless steel cooking pots.