As an Amazon Associate we earn from qualifying purchases.
Fresh cranberries are a real seasonal treat. Chances are many rarely see cranberries in my local supermarket until just before Thanksgiving and ending right around Christmas. Fresh cranberries, unlike blueberries or raspberries, are insanely tart and a tad bitter when raw. 
While you could try eating a handful of them, I would not recommend it. What I would recommend is combining those fresh cranberries with a little simple syrup and sugar to make amazing sugared cranberries.  
What are Sugared Cranberries?
Sugared cranberries are fresh cranberries coated with simple syrup and dusted with sugar. Fresh cranberries are very tart and a tad bitter. 
The simple syrup provides a baseline sweetness as well as allows the granulated sugar to stick to the berries. There is also a short application of heat that will start breaking down the berries and mellowing out the acidity as well.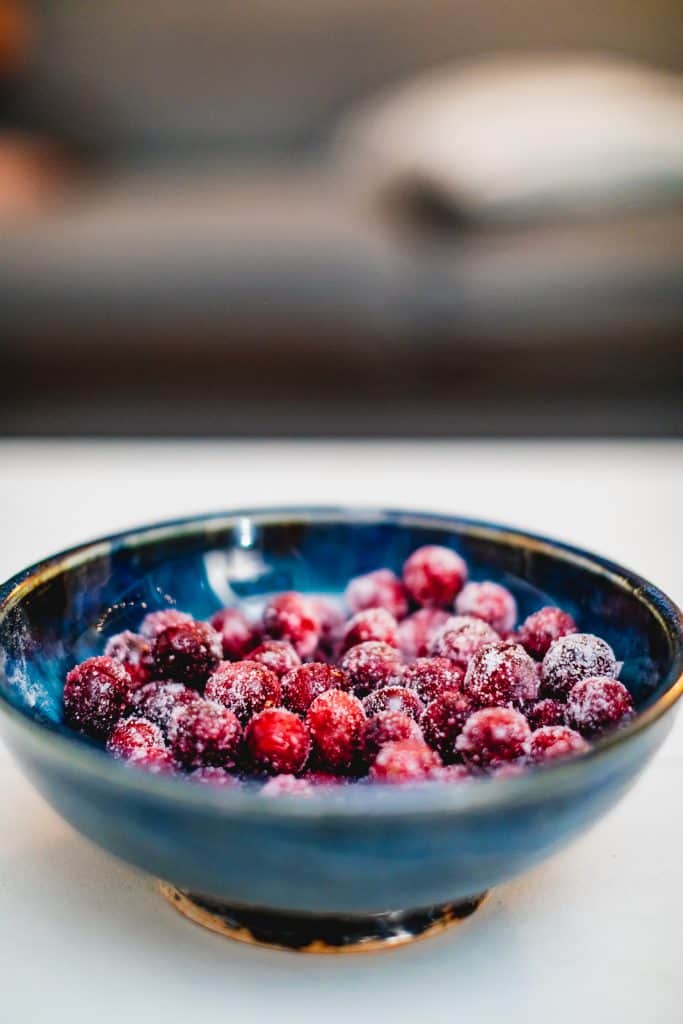 My Approach to Sugared Cranberries
In developing this recipe I wanted to make the smallest, simplest, and fastest practical amount of sugared cranberries possible to cook at once. This will allow you to augment the syrup, sugar mix, or batch size to your heart's content. 
Due to the extremely fast and simple nature of this recipe you will end up with a slightly more coarse sugar dusting. If you want the finest sugar coating, you will need to air dry longer before dusting and minimize contact with the cranberries (slotted spoon rather than sieve, baking rack rather than mats / parchment). 
You can of course also use finer grained sugar like caster sugar (the fine grain kind not powdered). 
What Makes a Good Sugared Cranberry
Fresh cranberries are so tart that you really can't eat them raw. When I sugar cranberries balances out the acidity. Sugared cranberries are not just balanced and edible, they are delicious. Think kind of like a reverse sour patch kid, sugary on the outside tart on the inside. It is so easy to scarf down an entire bowl of these!
The Challenge with Sugared Cranberries
The main challenge I identified while developing this recipe was the proper simple syrup ratios and sweetness. I settled on a 2:1 sugar to water ratio with no reduction. 
If you do a standard 1:1 simple syrup, like for cocktails, it will not be viscous enough to stick to the cranberries. You could definitely go 3:1, but the resulting sugared cranberries will be straight up candy.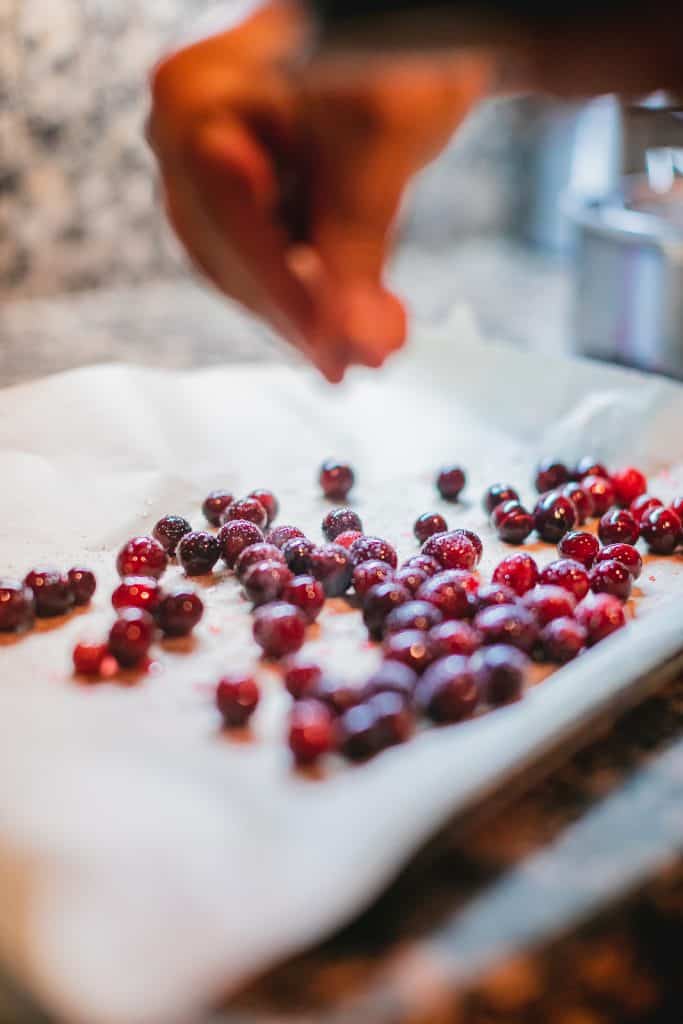 I recommend 2:1 if you want to keep that fresh cranberry flavor and lip smacking goodness that'll keep you coming back for more. 
Developing Flavors
I developed this recipe so you can easily augment the flavor profile of your sugared cranberries. The two places you can change and develop flavor are going to be in the syrup and in the dusting sugar. 
Syrup Additions
Orange Zest: Orange is the obvious combination when it comes to cranberries. The two are like the peanut butter and jelly of the holiday fruit scene. Some fresh orange zest is a great way to tune up your syrup 
Fruit Juices: Lemonade, Orange Juice, Grapefruit, and Grape all work really well with cranberries 
Alcohol: I often throw some bitters into my fruit dishes, Angostura or orange are great options. 
Vanilla: It wouldn't be the holidays without a little vanilla in the mix 
Herbs: Mint and rosemary go well with cranberry
Food Coloring: This won't change the flavor but you can get the cranberries beet red 
Sugar Additions
Cinnamon: Cinnamon works with cranberries but I do think you need to cook them down a little longer (~2-3 min more) as you are entering savory territory.  
Cardamon: For those not familiar Cardamon is like somewhere between vanilla and nutmeg it brings a nice sweetness and exotic taste to cooked fruit. 
Citric Acid or Ascorbic Acid: If you want the full sour candy experience you can cut your dusting sugar with citric or ascorbic acid. The resulting mix is the same stuff sour patch and other sour candies are coated with. 
What Pairs with Sugared Cranberries?
Sugared cranberries are excellent dessert and cocktail toppers. If you are making a holiday cosmopolitan or a cranberry cheesecake or cobbler, throw some of these berries on top. Sugared cranberries go surprisingly good with vanilla ice cream, and of course, you can always eat them plain.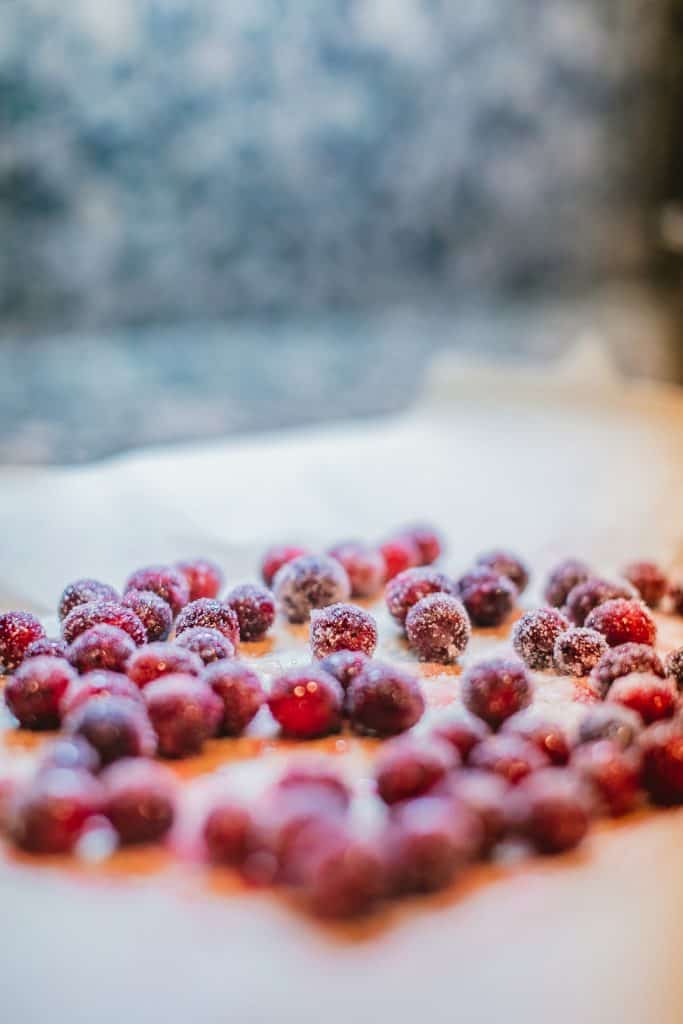 Tools Required
You can make sugared cranberries with a few common kitchen tools like a medium saucepan, measuring cup, sieve, and wooden or silicone spoon. While not strictly required a silicone mat or parchment paper really helps with the drying portion. 
When making any confectionaries involving melted sugar you will want either parchment paper or silicone tools and work surfaces as they do not stick to sugar.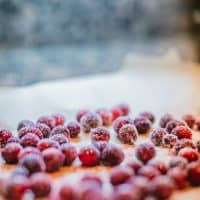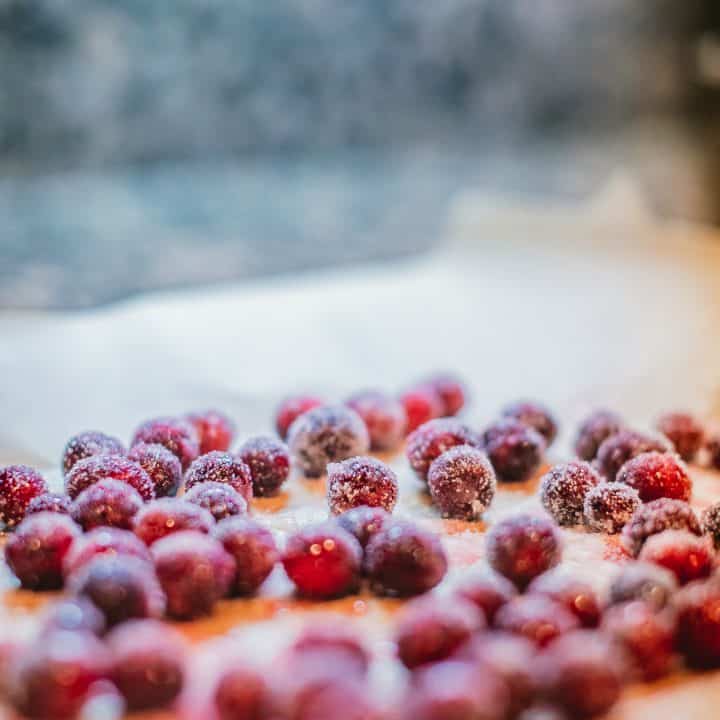 Ingredients
1

cup

cranberries

1/4

cup

sugar for syrup

1/8

cup

water for syrup

1/4

cup

sugar for dusting
Instructions
Add the sugar for the syrup and water to a medium saucepan and bring to a boil

Immediately turn off burner, add the cranberries, and let sit for 3 minutes 

Strain cranberries in sieve

Place cranberries on parchment paper or a silicone mat

Dry for 5 minutes

Dust with remaining sugar to coat

Let stand at least 20 minutes

Enjoy
Nutrition
Calories:
216
kcal
|
Carbohydrates:
56
g
|
Protein:
0.2
g
|
Fat:
0.2
g
|
Saturated Fat:
0.01
g
|
Polyunsaturated Fat:
0.03
g
|
Monounsaturated Fat:
0.01
g
|
Sodium:
2
mg
|
Potassium:
41
mg
|
Fiber:
2
g
|
Sugar:
52
g
|
Vitamin A:
30
IU
|
Vitamin C:
7
mg
|
Calcium:
5
mg
|
Iron:
0.1
mg
8 Beginner Cooking Tips I Wish I Had Known