As an Amazon Associate we earn from qualifying purchases.
If the bloody mary is the king of the brunch cocktails I think I can agree the mimosa would be the queen. Lighter and more elegant, the mimosa combines the special nature of drinking something sparkling with the prolific ubiquity of orange juice with brunch foods.   
What is an Orange Cranberry Mimosa?
Named after the flower, a mimosa is a sparkling wine cocktail made with equal parts sparkling wine and citrus juice. While many might refer to it as champagne cocktail, I will want to remember that champagne refers to only a small subset of sparkling wines from the region of Champagne, France.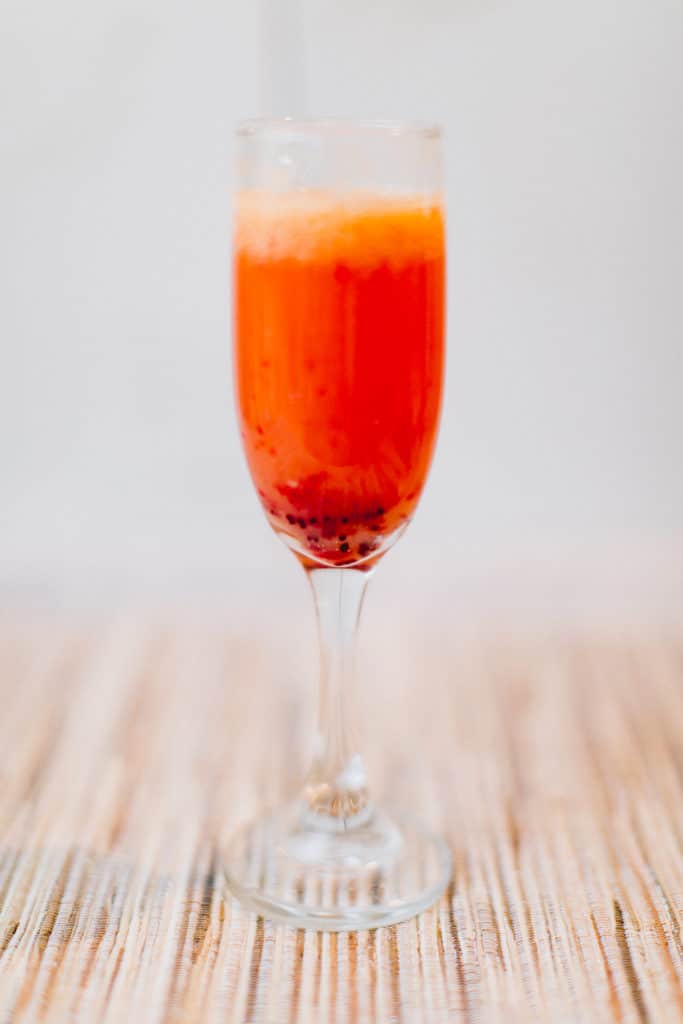 My orange cranberry mimosa gives the drink a bit more substance and brings together two famous partners – cranberry and orange.  
Champagne to Use in a Cranberry Orange Mimosa
In this recipe, I chose to use a rosé champagne which traditionally will have a bit more flavor in it from the extra contact with the grape skins. The idea here is that the wine would better stand up to and compliment the addition of cranberry to the mix. 
If you don't have a rosé on hand or prefer another type of champagne, stick with a brut. The dryness of this champagne will be balanced out by the juiciness of the cranberry juice.  
Orange Juice Types to Consider
Besides the wide variety of brands available for orange juices (I typically go with Simply Orange), the amount of pulp is something you'll want to take into consideration when crafting your orange cranberry mimosa. 
No Pulp  
I think the popular version of mimosas today has a much more elegant look with no pulp. If you want to make a mimosa closer to what you'd get at your local brunch spot, go no pulp.
As I'll go into below, the addition of pulp adds texture and physical changes to the drink that I think are important to understand before trying it out. 
High Pulp
I was really split on this – I ended up using high pulp for this cocktail because traditionally I'd imagine no one was straining their fresh-squeezed orange juice 300+ years ago.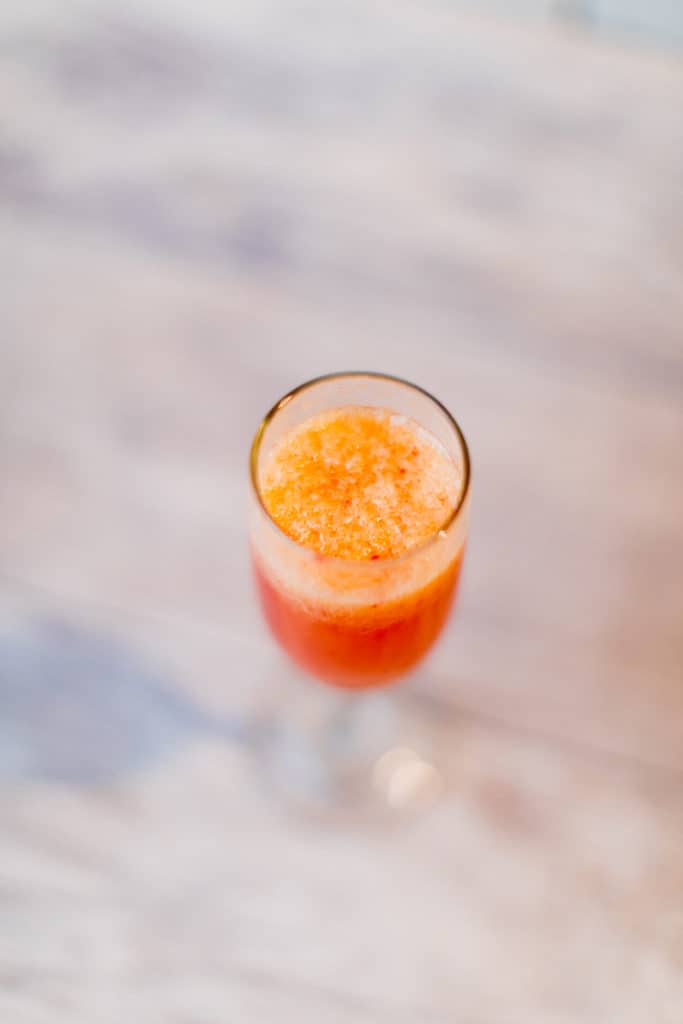 An issue pulp brings is several nucleation points (places where bubbles can form or hold). This means the mouthfeel and look of the effervescing bubbles are affected, as they will basically just attach to the pulp which floats at the top. 
The end result was a much more rustic texture and mouthfeel, but I would say that exactly matches the expectation of going with a pulp-heavy juice.  
What are the Origins of a Mimosa? 
I wasn't able to find much information on the origin of the Mimosa. It is very possible it was developed independently across multiple regions independently given its simple nature of being citrus and wine. 
While sparkling wine methods have originated in several regions and names like Champagne in France, Cava in Span, and Prosecco in Italy, the availability of oranges was not so widespread. 
This lends some credence to the idea that the original combination of orange and bubbly may have actually come from Spain or the Iberian peninsula where oranges like Valencias were more common.
Variations on the Mimosa
My personal belief is that this two item cocktail likely developed independently based on the availability of regional sparkling wines and fruit juices. Ever since alcohol was discovered, it was mixed with fruits and juices (really, the alcohol was just fermenting fruit juice). Some common alternatives to the Mimosa are: 
Poinsettia: sparkling wine + cranberry juice
Lemosa: sparkling wine + lemonade 
Soleil: sparkling wine + pineapple juice 
What Pairs with a Cranberry Mimosa?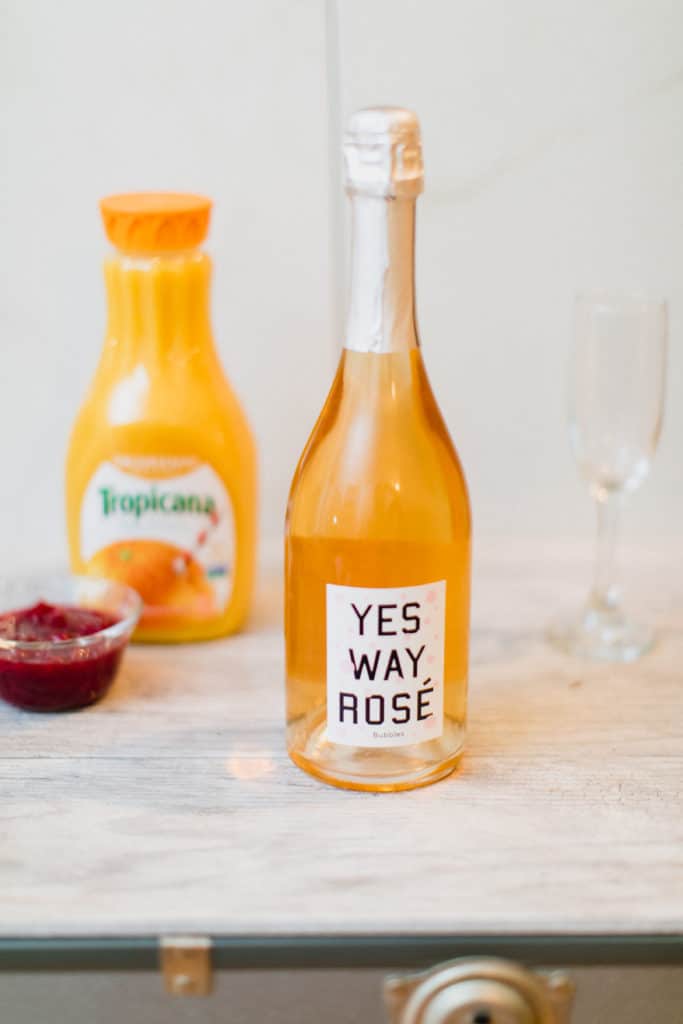 Using the 1 part orange juice to 1 part sparkling wine ratio means this is a much juicier cocktail than something like a Buck's Fizz, which is primarily wine. As a result, I can pair much closer to a tart orange juice than to a dry white wine in terms of the flavor profile. 
As such, it is no surprise that many breakfasts and brunch foods tend to go pretty well with the mimosa as orange juice is often served as a breakfast staple. Both sweet and savory brunch foods work well with this champagne cocktail drink.
Tools Required
To make a cranberry mimosa all you need is a champagne flute to pour into.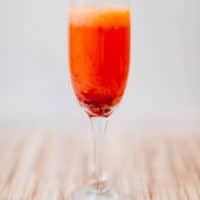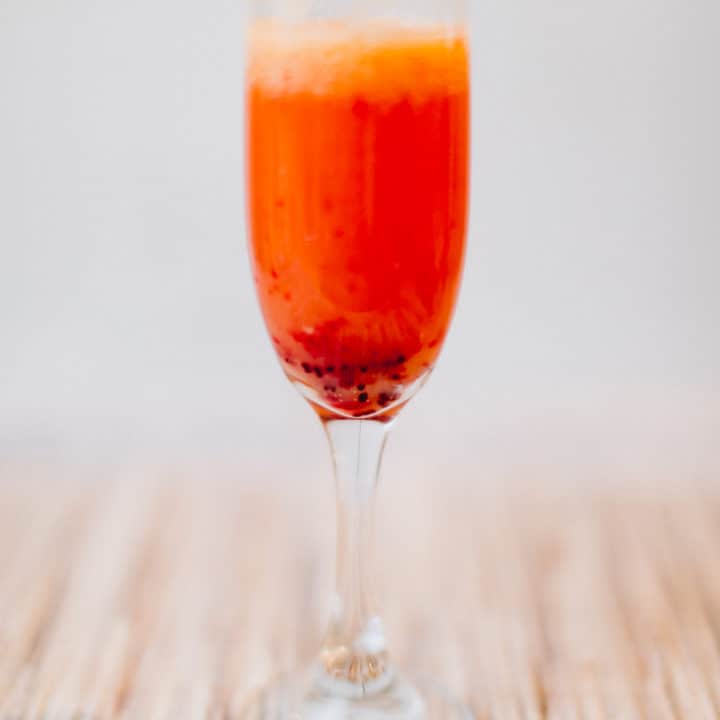 Ingredients
1

teaspoon

cranberry sauce or 1 ounce cranberry juice –

(Cranberry Juice: you will get the taste of cranberry and the smooth texture of a traditional mimosa. Cranberry Sauce: you will get way more flavor and complexity but it will result in a more rustic drink and mouthfeel.)

2.5

ounces

sparkling wine

(Champagne, Cava, Prosecco, Roses)

2.5

ounces

orange juice

(pulp level of your choice)
Instructions
In a champagne flute, add cranberry sauce or juice to the bottom

Add orange juice

Add sparkling wine 

Drink responsibly
Nutrition
Calories:
74
kcal
|
Carbohydrates:
10
g
|
Protein:
1
g
|
Fat:
0.2
g
|
Saturated Fat:
0.02
g
|
Polyunsaturated Fat:
0.03
g
|
Monounsaturated Fat:
0.03
g
|
Sodium:
6
mg
|
Potassium:
206
mg
|
Fiber:
0.2
g
|
Sugar:
8
g
|
Vitamin A:
144
IU
|
Vitamin C:
35
mg
|
Calcium:
14
mg
|
Iron:
0.4
mg
Beginner's Guide to Mixed Drinks and Cocktails