As an Amazon Associate we earn from qualifying purchases.
As I head into the fall and winter season two things are generally on my mind. First, this is when most foods start getting spiced. Second, fruits start hitting the end of their season, so I need to figure out a way to use them before they go bad. 
If you ever wondered why fall and winter seem to be the time of the year for fruit pies, cobblers, and preserves, there is a good reason for that. Before the days of vast commercial farms and shipping networks, when the season ended your fruit disappeared. 
Even today, while you can get fruit year-round, the flavor and quality still vary wildly from the traditional season to the "year-round" versions. So, to celebrate the transition to the colder months I'm going to be making spiced vanilla and wine poached pears. 
What is a Spiced Vanilla and Wine Poached Pear?
A poached pear is a pear that has been cooked in a sweet wine reduction until soft. I then add vanilla and spices like cinnamon and allspice to elevate the dish and bring out more flavor from the pear.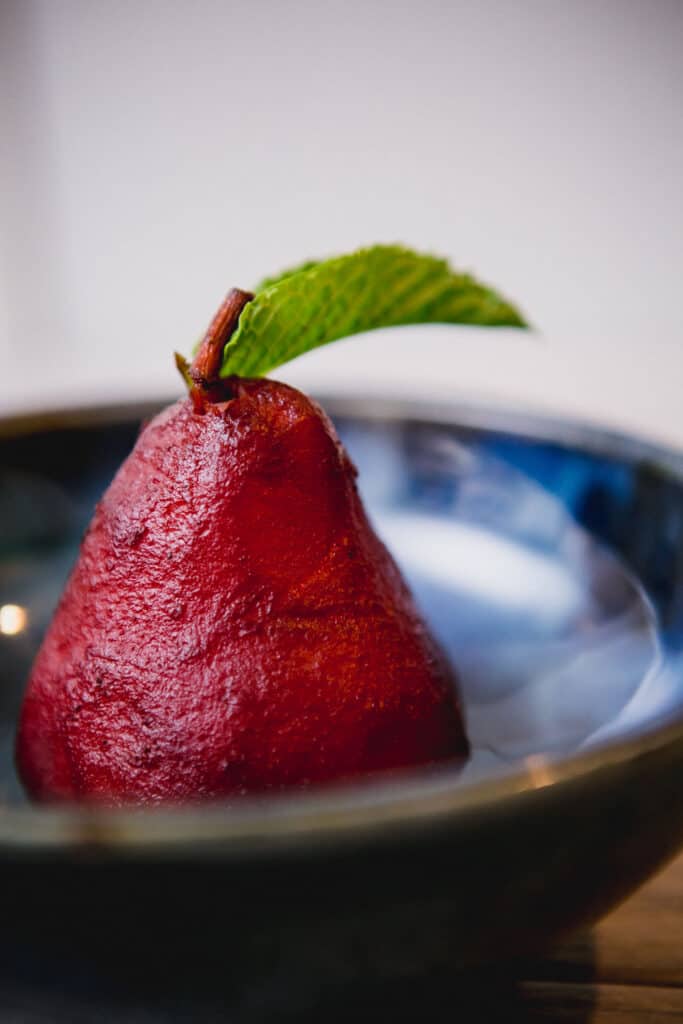 Just like how you'd poach and egg or chicken, poaching just means to cook in liquid. What works really well for fruit-like pears is that I can flavor my liquid and allow it to penetrate into my fruit, taking a plain old pear to otherworldly sophistication. 
Originally, a poached pear was called "Poire à la Beaujolaise," or basically a "Beaujolais Pear" in English. It was a traditional dessert of the Beaujolais region in France, often made with Beaujolais wines (effectively Pinot Noir varietals). Today, it is very common to see pears poached in pretty much every red wine on the market, with some common non-traditional standouts being Port or Merlot. 

Fun fact: European continental foods are often just named for the place they came from. I've already made a few dishes like this, including the hamburger steak and bolognese. Keep an eye out for more as it is a pretty common food name trope!
Why Do I Poach Things?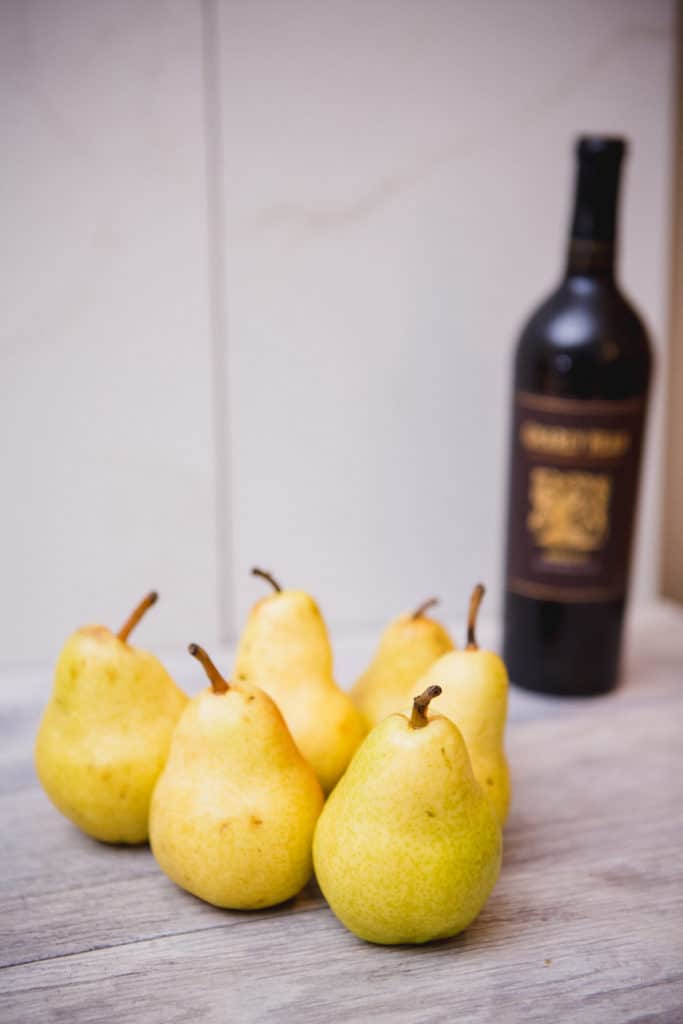 The main reason I poach things is that poaching gives a very predictable and consistent application of heat. Because you are submerging the food in a water-based liquid (cooking in fat is either confit'd or fried), the temperature is regulated basically to 212°F (100°C). 
This is because water cannot stay water above boiling temperatures (it turns to steam). So, anytime your food is in the liquid it is basically not exceeding boiling temperature. This is a really good thing for dishes like poached pears because it means I can work with sugar without worrying about burning it. 
An additional benefit of poaching is that the food is not drying out the same way it would in the oven. To be clear, this does not mean you won't get dry food – it just means you aren't losing moisture the same way. Also, depending on what you are poaching in, you get an exchange of flavor. For my pears, I'm using red wine to infuse that complex wine flavor into the pears. 
The Challenge with Poached Pears
A major challenge with poaching pears is picking them at the correct ripeness. You do not want overly ripe or mushy pears. It is critical the pear maintain some structure when cut and cooked. Otherwise, you will end up with something closer to apple sauce than a delicate poached pear. 
For my recipe, I am using America's #1 pear: the Bartlett, a.k.a Williams pear. Bartletts are the most common pears here in America and grow through the beginning of fall. Best of all, you can tell they are ripe when they turn from green to yellow. Find some yellow ones that aren't mushy, and you are good to go!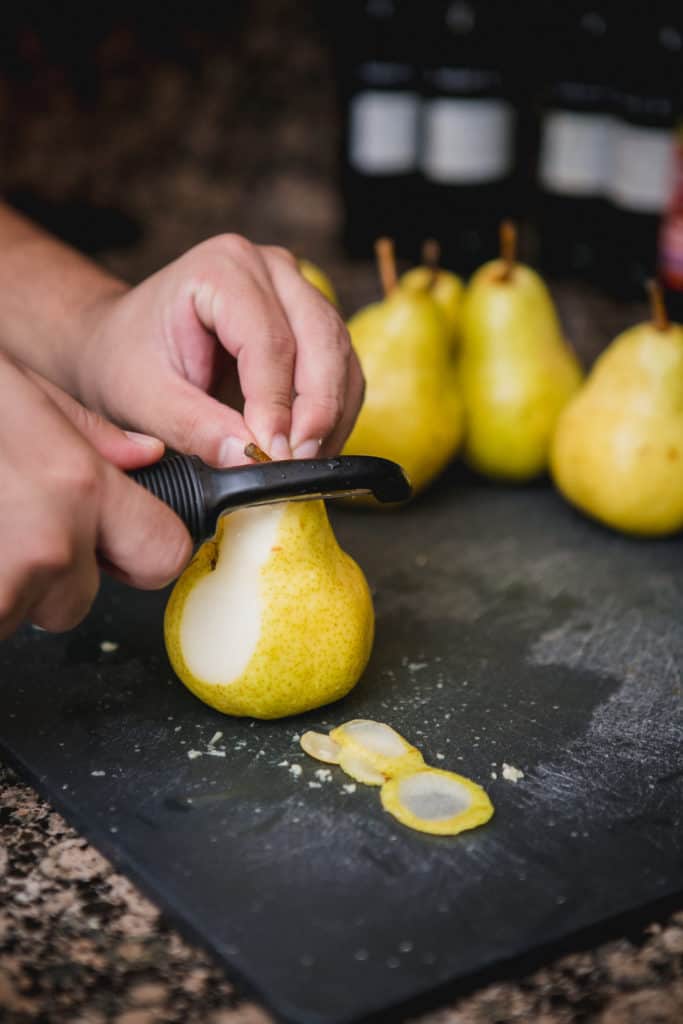 If you are shopping in the later months, the more European friendly D'Anjou and Bosc varieties can grow pretty much through winter. These varieties will be harder to know if you are picking out ripe pears, as they do not change color. Even ripe Bosc pears are pretty hard to the touch. 
Can You use Asian Pears? 
I have not personally tried poaching an Asian pear, though I would not recommend it for a couple of reasons:
They can cost 4 times what a normal pear cost. I try to make my recipes budget-friendly, so using Asian pears will increase the overall spend on this dish.
They are best enjoyed cold and fresh, rather than warm. 
Asian pears have a much higher water content (this is what I love about them – the juiciness). If you were to cook one down, especially in liquid, I'd expect it to lose structural integrity much faster than the American or European ones. 
They also have a coarser and grained texture that would only become more pronounced if poached or baked. All that said, it probably isn't impossible nor would it result in something horrible if you were to use this pear for the dessert.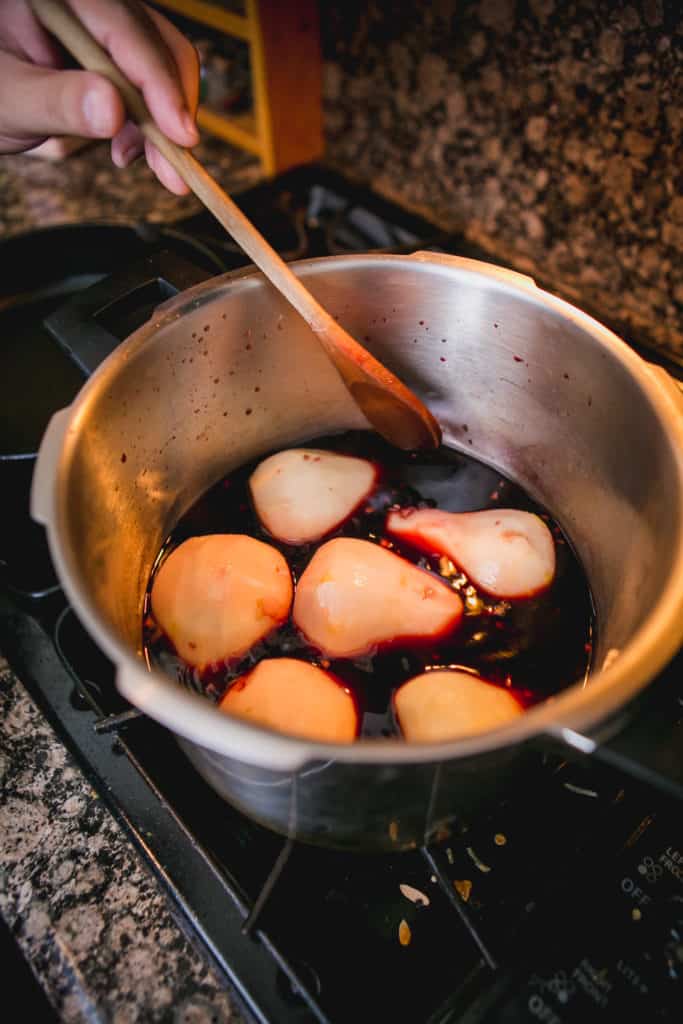 If you are really keen on spending the money on poached Asian pears, I recommend cutting the cook time in half. Because of the water content in this pear, you'd run a big risk of overcooking it into mush. You could steam them; however, steaming applies the different heat energy and dissolving powers of poaching, as there is far less water contact in steaming.    
Developing Flavors
The biggest components of flavor for your pear are going to be from your poaching liquid. I opted for a reasonably priced Merlot which is a sweet wine, and I am going with a fairly limited amount of sugar. 
If you were to use a dry Cabernet Sauvignon or a spicy Zinfandel, that is going to impact the flavor of your pears. I don't think you really want a dry bitter pear, so if you are picking dryer wines, you may want to add more sugar to compensate. 
Wine aside, your add-ins will make a huge difference as well. I'm using pretty standard spices, including cinnamon, vanilla, and allspice. If you have more exotic spices like cardamom, vanilla beans, or star anise, these would all compliment poached pears wonderfully.
To maximize the impact of your spices, you can toast them a bit first to separate and activate the oils that carry the flavor.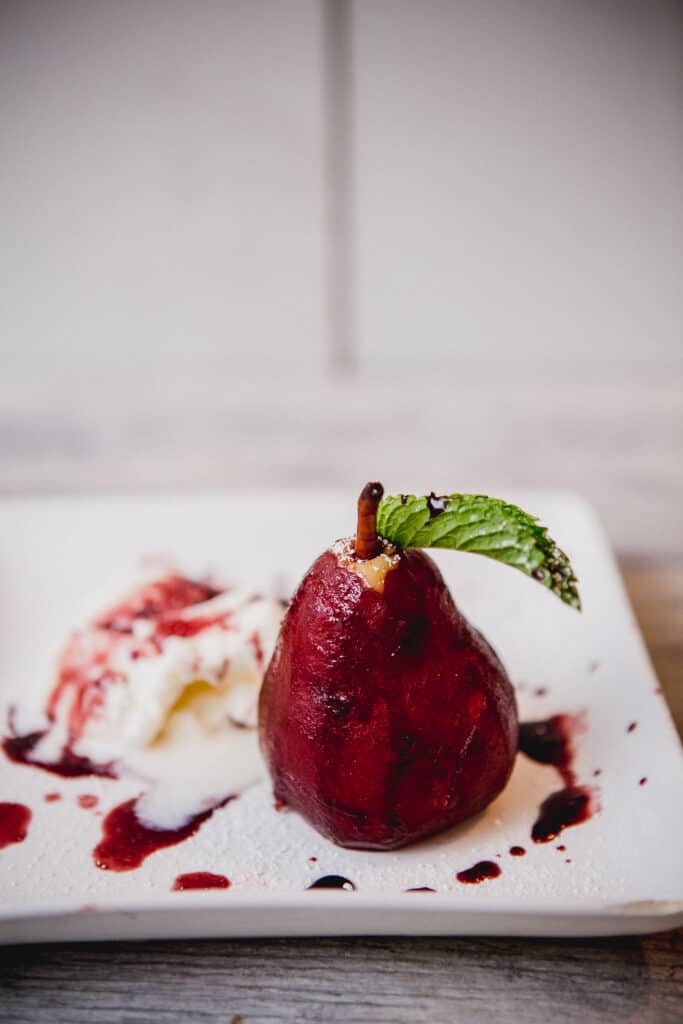 Pairing Ideas with Poached Pears
Ice cream is probably the number one compliment for poached pears. Creme Anglaise or Cool Whip would also work well. When it comes to incorporating poached pears into other dishes, you can use them to top pies, cobblers, pancakes, tarts or other baked goods. 
Tools Required
The most important tool here is your pot or saucepan. It must be big enough for your pears and enough liquid to cover them 3/4th of the way up (completely covered is even better). Don't pick something too wide, or you will be spending more money on the wine to submerge everything. The base diameter should be just a bit larger than all your pears together.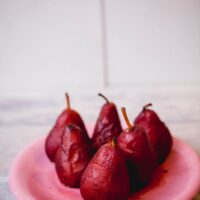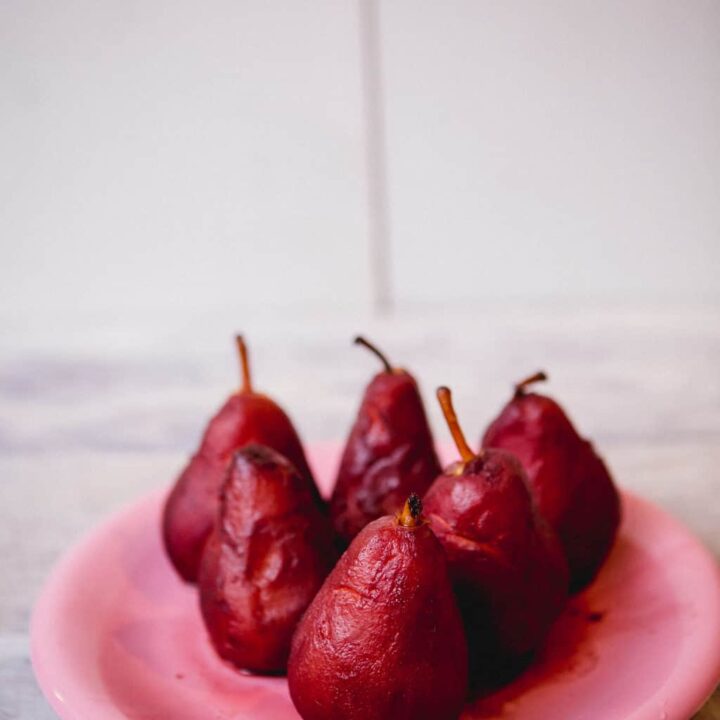 Ingredients
2

cups

red wine

half a bottle

1/4

cup

sugar

1

teaspoon

vanilla extract

1

teaspoon

All Spice

1

clove

1

cinnamon stick

6

Bartlett pears
Instructions
Add wine, sugar, vanilla, and spices to large saucepan on medium-high heat and bring to a boil

While water is heating, peel pears

Once liquid reaches boil, turn it down to low

Add pears to liquid and simmer for 15 minutes or until tender, turning every couple minutes 

Remove and let cool to room temperature

Serve with ice cream and enjoy 
Nutrition
Calories:
217
kcal
|
Carbohydrates:
38
g
|
Protein:
1
g
|
Fat:
0.4
g
|
Saturated Fat:
0.01
g
|
Polyunsaturated Fat:
0.01
g
|
Monounsaturated Fat:
0.003
g
|
Sodium:
6
mg
|
Potassium:
289
mg
|
Fiber:
6
g
|
Sugar:
26
g
|
Vitamin A:
55
IU
|
Vitamin C:
8
mg
|
Calcium:
31
mg
|
Iron:
1
mg
8 Beginner Cooking Tips I Wish I Had Known