As an Amazon Associate we earn from qualifying purchases.
When was the last time you enjoyed a glass of hot chocolate? For many, hot chocolate is associated with holiday memories, but not something I partake in very often. Well, that's about to change. 
Today I'll be making some delicious peppermint hot chocolate from ingredients you probably have in your pantry right now. The best part is, I will be ditching the pre-made syrups and powders that you typically get when you order peppermint drinks from Starbucks or other coffee shops. 
What is Peppermint Hot Chocolate?
Peppermint hot chocolate is a mixture of cocoa, sugar, and milk with peppermint extract. It's a perfect holiday drink and a great base for a boozy nightcap. The kind of peppermint for a peppermint hot chocolate can either come from pure extract or can be melted out of peppermint candies like peppermint swirls or candy canes.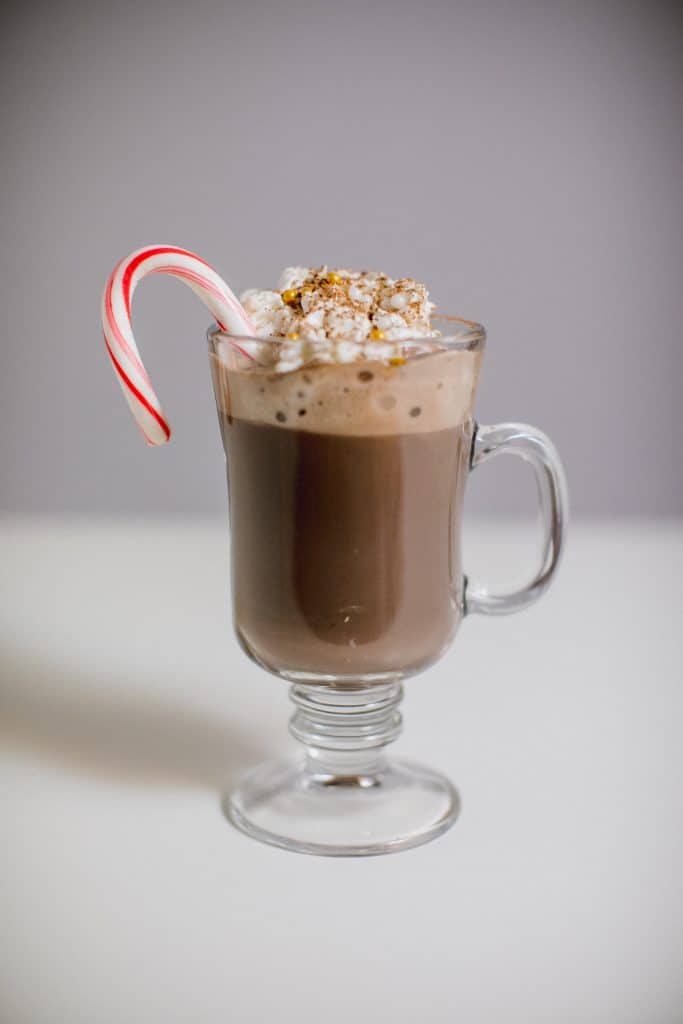 This more mature peppermint hot chocolate is perfect for your next holiday date night or party. It is easy enough to whip up on the fly. I recommend serving this peppermint hot chocolate in a jar or fancy glass mug!
My Approach to Peppermint Hot Chocolate
My approach to peppermint hot chocolate is to start with the chocolate. Chocolate syrup is something I almost never have on hand, so I'll be making my chocolate portion of hot chocolate from scratch. I don't use it enough and frankly the store bought just doesn't compare to the quality and versatility of homemade. 
My recommended base ratio for chocolate syrup is 1 part cocoa powder, 1 part water, to 2 parts sugar. This will give you a thick chocolate syrup so it will not dilute whatever you want to put it on. 
From this basic ratio, you can add and augment the syrup to any number of things. 
Want to make Mexican hot chocolate? Maybe add some cinnamon or chili pepper to the mix. 
Looking to make peppermint hot chocolate like I am? Just add some peppermint extract or melt some peppermint swirls into the mix.  
What Makes a Good Peppermint Hot Chocolate
To make good peppermint hot chocolate, you can't burn the milk. With my peppermint hot chocolate recipe, this is much easier to control than with the powdered variety. Because I'm using homemade syrup, I build-up to the milk and then heat it slowly.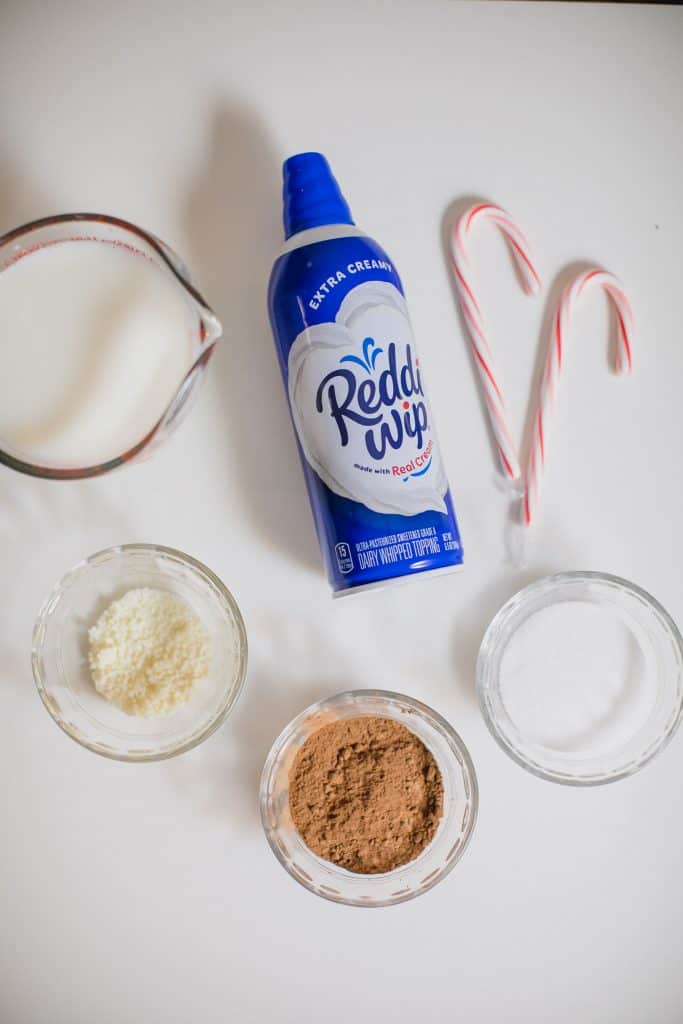 Best of all, syrup doesn't have an issue dissolving into milk, so no need to worry about those stubborn lumps. 
For me personally, I like my hot chocolate "warm" not hot. Last thing anyone wants is to burn their tongue on their festive drink. 
The other reason for going a bit cooler is so your toppings don't melt before you can enjoy them. Too often, your whipped cream turns into liquid cream before you can get remotely close to finishing a cup of the hot drink. 
The Challenge with Peppermint Hot Chocolate
The main challenge I experienced with peppermint hot chocolate was candy sticking to the pot. If you are using peppermint swirls or candy canes make sure you are stirring constantly, ideally with a silicone spatula or in my case cake froster. If the candy melts and sticks to the pot it will burn. By physically moving it around the pot it will dissolve thoroughly. 
Flavorful Additions to Peppermint Hot Chocolate
I topped my peppermint hot chocolate with whipped cream and sprinkles. If you have the time, I highly recommend crushing up peppermint swirls or candy canes and giving your topping some peppermint kick too! Extra bonus points if you want to make your own peppermint whipped cream from scratch. 
What Pairs with Peppermint Hot Chocolate?
I serve my peppermint hot chocolate with peppermint bark in the photos. I also really enjoy peppermint hot chocolate with my eggnog bread pudding and churro bread pudding recipes. Making hot chocolate for a special breakfast in bed? Try it out with my eggnog french toast! 
Substitutions and Alternative Ingredients
The number one substitution most people will be making is for the peppermint source. If you are lucky enough to have peppermint extract, use a few drops and you are all set!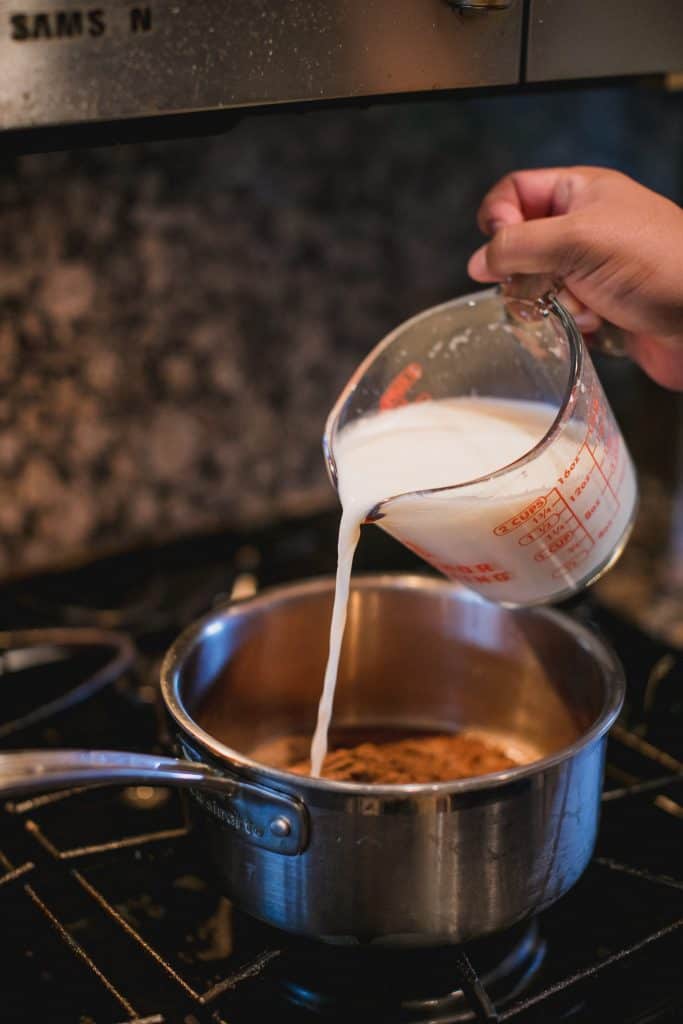 If you are using candy canes or peppermint swirls, the more you break them up the easier it will be to dissolve. That said, you can still dissolve whole canes and swirls so long as you are stirring constantly. 
Tools Required
To make peppermint hot chocolate you will need measuring cups, a saucepan, and ideally silicone stirring utensil. If you only have wood that will work too, but the peppermint will stick to it a bit easier (keep stirring and it will melt off).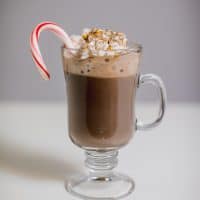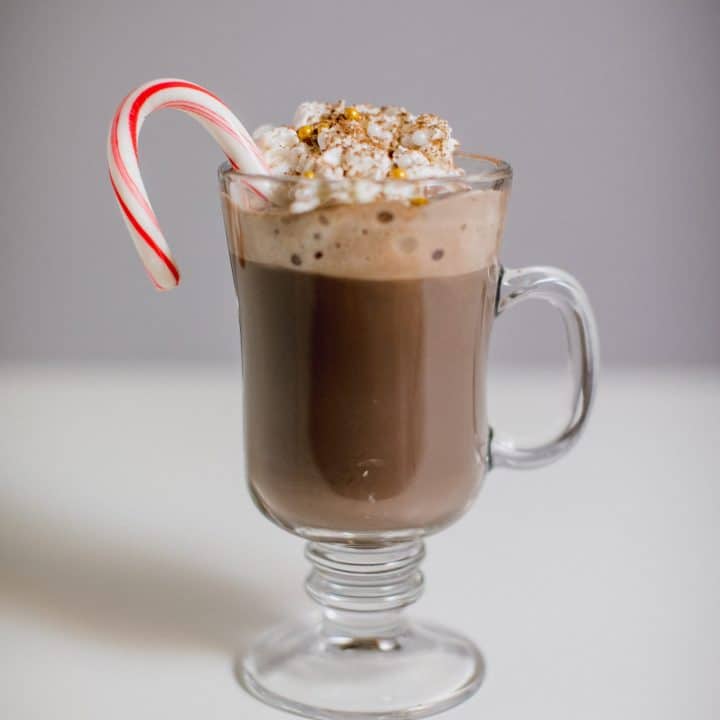 Ingredients
2

cups

milk

1/4

cup

cocoa powder

1/2

cup

sugar

1/4

cup

water

6-8

peppermint swirls or 2 candy canes

Sprinkles

optional

Whipped cream

optional
Instructions
Break up peppermint swirls or candy canes into smaller pieces so they dissolve more easily

Add sugar, cocoa powder, and water to sauce pan and heat on medium stirring constantly

When all solids have dissolved, add the peppermint swirls/ candy canes and continue stirring

When all peppermint swirls have dissolved, add milk

Heat milk to desired temperature (typically only needs 1-2 minutes)

Serve in a mason jar or mug with whipped cream, candy cane, and sprinkles
Nutrition
Calories:
424
kcal
|
Carbohydrates:
82
g
|
Protein:
10
g
|
Fat:
9
g
|
Saturated Fat:
5
g
|
Polyunsaturated Fat:
0.3
g
|
Monounsaturated Fat:
2
g
|
Cholesterol:
29
mg
|
Sodium:
97
mg
|
Potassium:
530
mg
|
Fiber:
4
g
|
Sugar:
72
g
|
Vitamin A:
395
IU
|
Calcium:
315
mg
|
Iron:
2
mg