As an Amazon Associate we earn from qualifying purchases.
I am a huge fan of homemade sauces, and one of my favorites is barbeque sauce. You would not believe how easy it is to make a quality cranberry barbeque sauce at home that will blow the store bought sauce out of the water in just a few minutes on the stove. 
I'll be using fresh cranberries to make my cranberry barbeque sauce recipe that will pair perfectly with your next ham, turkey, or roast. 
What is a Cranberry Barbeque Sauce?
Cranberry barbeque sauce is a tangy sweet sauce used to top or glaze meats and vegetables. It is often served during the holidays but can be canned or frozen for longer periods of time.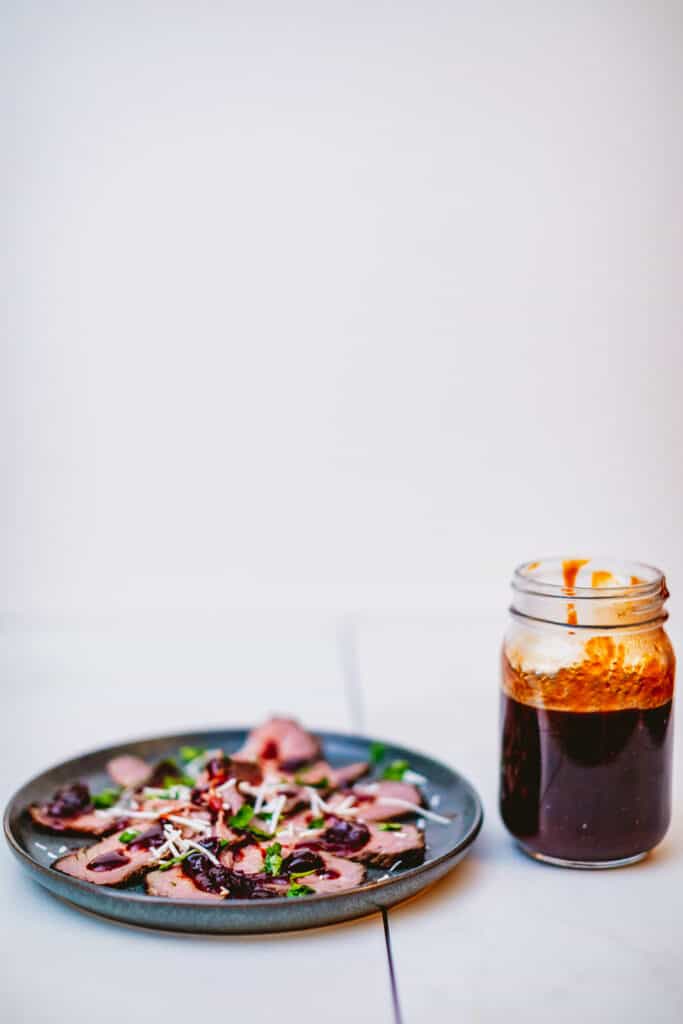 My Approach to Cranberry Barbeque sauce
When developing this recipe I wanted to keep two things in mind: 
Minimize the different measurements of ingredients to keep things easy
Make it quick to cook
What Makes a Good Cranberry Barbeque Sauce
A good cranberry bbq sauce needs to have tang and a distinct cranberry flavor. Texture wise, a good barbeque sauce needs to be able to stick to things. If the sauce is too runny, you won't be able to glaze meat or develop a bark. 
The Challenge with Cranberry Barbeque Sauce
The challenge with homemade barbeque sauces is balancing out the sweet, acidic, and savory components.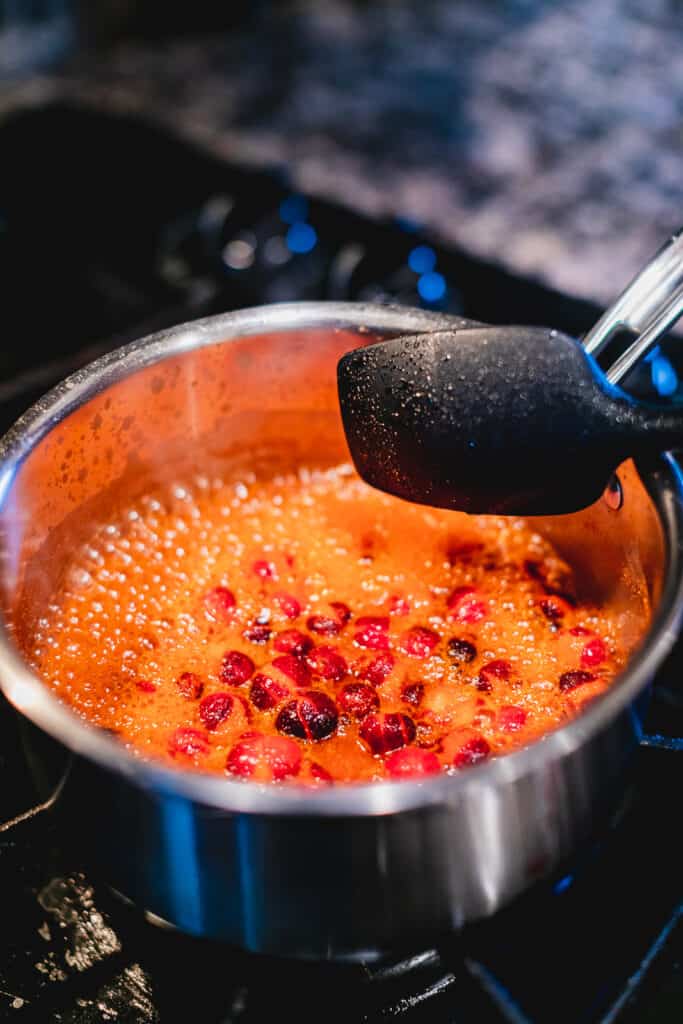 My Solution
What most people do not realize is that cranberries become very savory as you cook them down. Yes, those pucker inducing tart bombs become almost meaty when cooked down, making them great additions to bbq sauce. 
I'll be cooking my cranberries down a few minutes past where they start breaking down. This will tone down the acidity while keeping the iconic cranberry taste profile. 
Developing Flavors
The flavor profile of this sauce is based on a Kansas City style with a few Texas / Southwest influences mixed in. When it comes to developing flavors, I'll be toasting my spices to draw the fragrant oils. 
Unlike most barbeque sauces, I have removed the mustard or powdered mustard, as the cranberries will add both texture and acidity. One addition I think works really well for this sauce is cumin.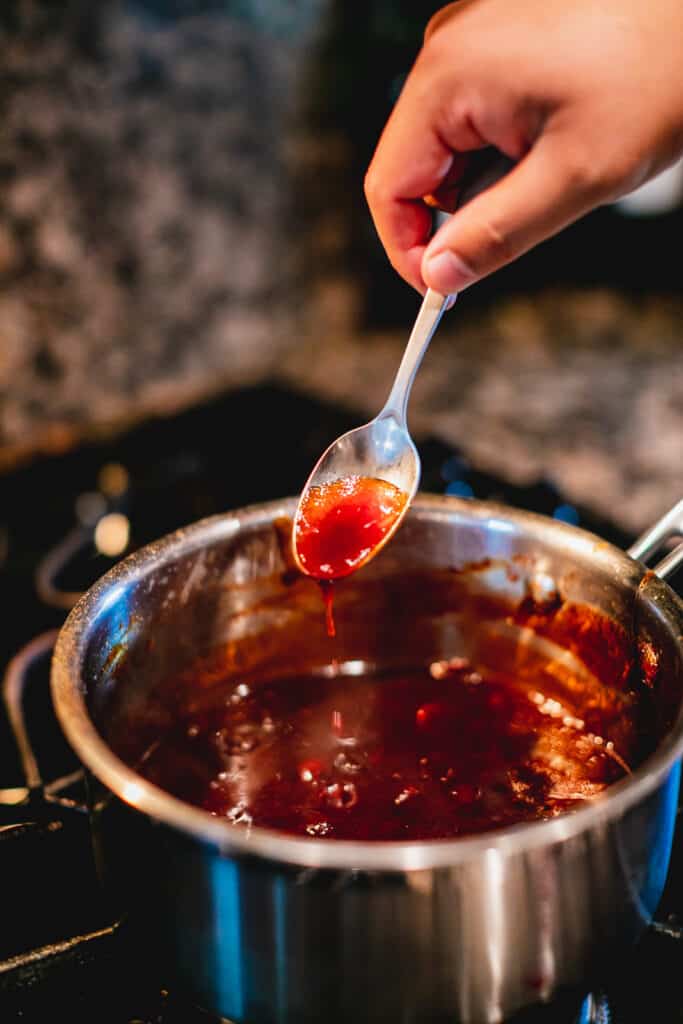 I'll then cook down the cranberries to decrease their tart, bitter flavor and make them more tangy and savory. Finally, I'll be combining all my sugars to make the sauce. 
I also have the option of adding cayenne or other peppers to the mix. While KC BBQ is not traditionally "spicy" there is nothing stopping you here from kicking up the heat. I personally like some chopped up chipotles and a bit of the mole in my BBQ sauces (though this is not for the faint of heart). 
What Pairs with Cranberry BBQ Sauce?
Cranberry barbecue sauce can be used in place of traditional cranberry sauce for all your holiday meals. Cranberry BBQ sauce goes particularly well on roast meats like chicken, tri-tip, prime rib, ham, and turkey!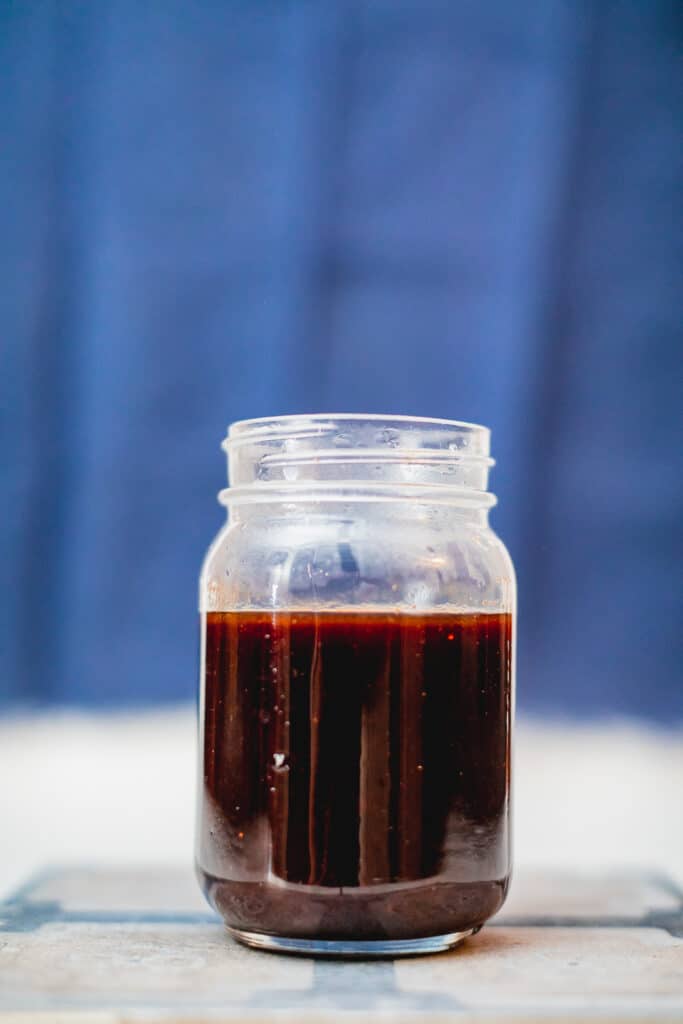 Tools Required
I developed this recipe to be as light on measurements as possible. You can make this entire recipe with a ¼ measuring cup and a teaspoon. In terms of cooking, you'll need a saucepan and a silicon or wooden spoon to stir.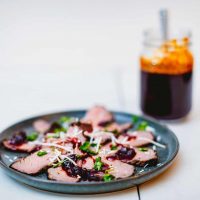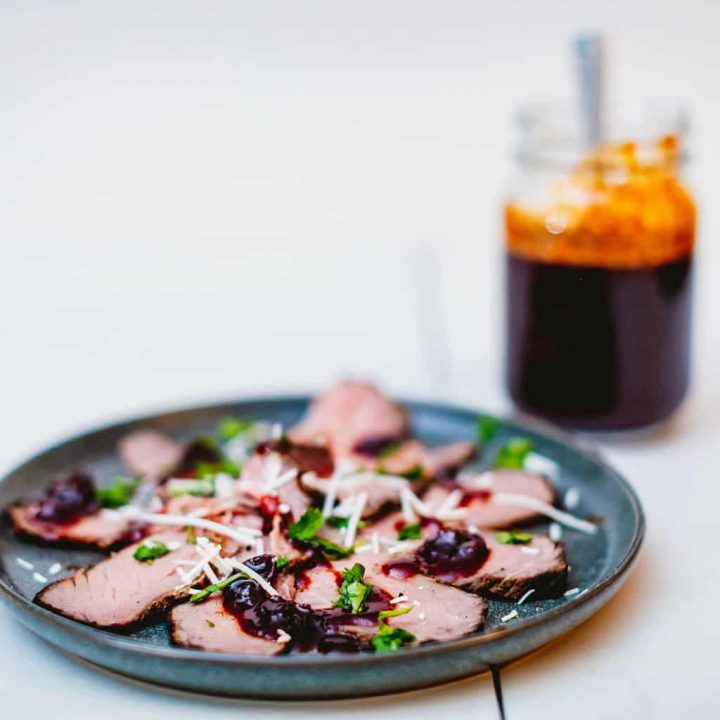 Ingredients
1/2

cup

brown sugar

1/2

cup

cranberry

1/4

cup

ketchup

1/4

cup

apple cider vinegar

1/4

cup

molasses

optional but highly recommended

1/4

cup

water

3

teaspoons

honey

1 tablespoon

1

teaspoon

liquid smoke

we recommend hickory

1

teaspoon

paprika

1

teaspoon

garlic powder

1

teaspoon

cumin

1

teaspoon

salt

1

teaspoon

cayenne

or to taste
Instructions
Add paprika, garlic powder, salt to saucepan and heat on medium until fragrant

Add water, apple cider vinegar, cranberries and cook for 3 minutes stirring frequently or until cranberries have burst

Add sugar, ketchup, molasses, honey, liquid smoke, cayenne, and mix well 

Reduce until it coats spoon (about 3 minutes more)

Cool and serve
Nutrition
Calories:
142
kcal
|
Carbohydrates:
36
g
|
Protein:
0.4
g
|
Fat:
0.2
g
|
Saturated Fat:
0.03
g
|
Polyunsaturated Fat:
0.1
g
|
Monounsaturated Fat:
0.1
g
|
Sodium:
493
mg
|
Potassium:
300
mg
|
Fiber:
1
g
|
Sugar:
34
g
|
Vitamin A:
363
IU
|
Vitamin C:
2
mg
|
Calcium:
52
mg
|
Iron:
1
mg
Beginner's Guide to Making Sauces