As an Amazon Associate we earn from qualifying purchases.
When you think of beef for dinner, steak probably comes to mind. Grilled hot and fast with that perfect tender rare meat inside; few things could compare right? As amazing as steak is, I can't eat steak everyday – it's too expensive and it is only part of what makes beef so delicious. 
That brings me to today's topic: pot roast. Yes, the humble pot roast – perfect for cheaper and "tougher" cuts of beef that aren't part of the "steak" family. What these cuts lack in fat marbled steak goodness, they more than make up for in hearty beefy flavor and when cooked the right way tender lip smacking texture. This savory dish is the perfect meal for a lazy Sunday dinner! Wear your most comfortable yet stylish outfit while you enjoy this comfort food at home with your friends and family.
What is a Stovetop Pot Roast?
A stovetop pot roast generally refers to a braised meat that has been seared first then cooked in liquid. Contrast this to an oven roast, which is cooked using dry heat. Pot roasts are ideal for meat that contains gelatin from bones or lots of connective tissue from muscle. This makes pot roasts ideal for "tougher" cuts of meat not used for steaks or oven roasts.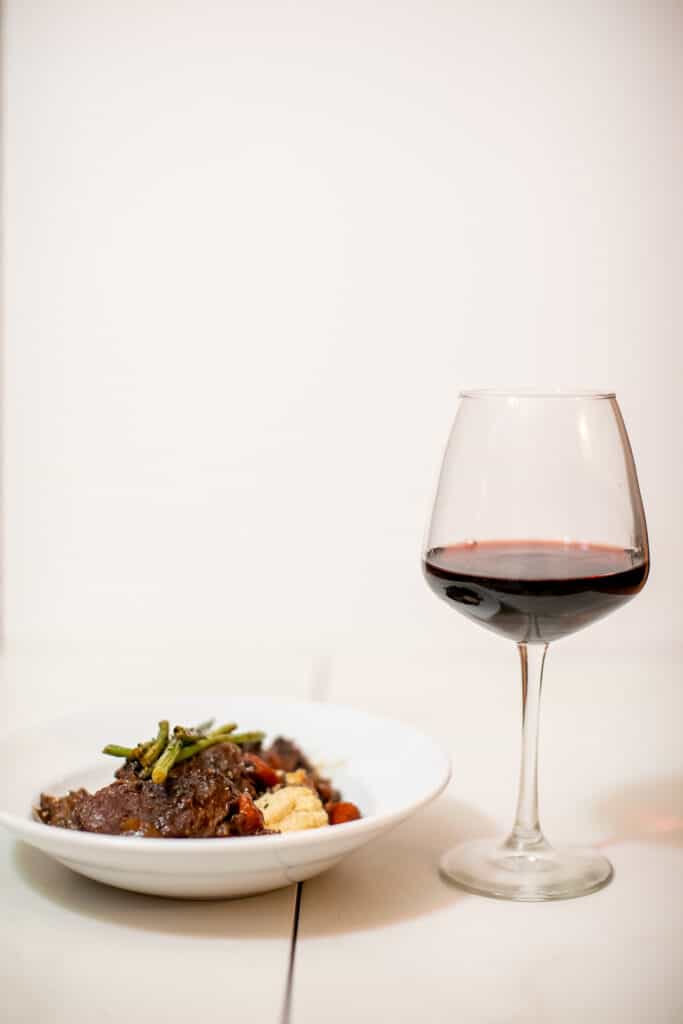 My Approach to Pot Roast
My approach to pot roast is to teach the general technique of braising. The hope is that my readers develop an appreciation and openness for the technique and use for the other non-steak cuts of beef. 
What Makes a Good Stovetop Pot Roast
Fork tender meat with a lip-smacking good sauce is what I am looking for in a good stovetop pot roast. This isn't a stew or soup, so it needs to be thick and the meat should be very tender. 
The Challenge with Pot Roast
The main challenge with pot roasts is the time investment. The weight and shape of the meat both make a huge difference in how long it will take to become tender. In general, expect at least 1 hour per pound of meat braising and at least 30 minutes to reduce the liquid down at the end. 
Developing Flavors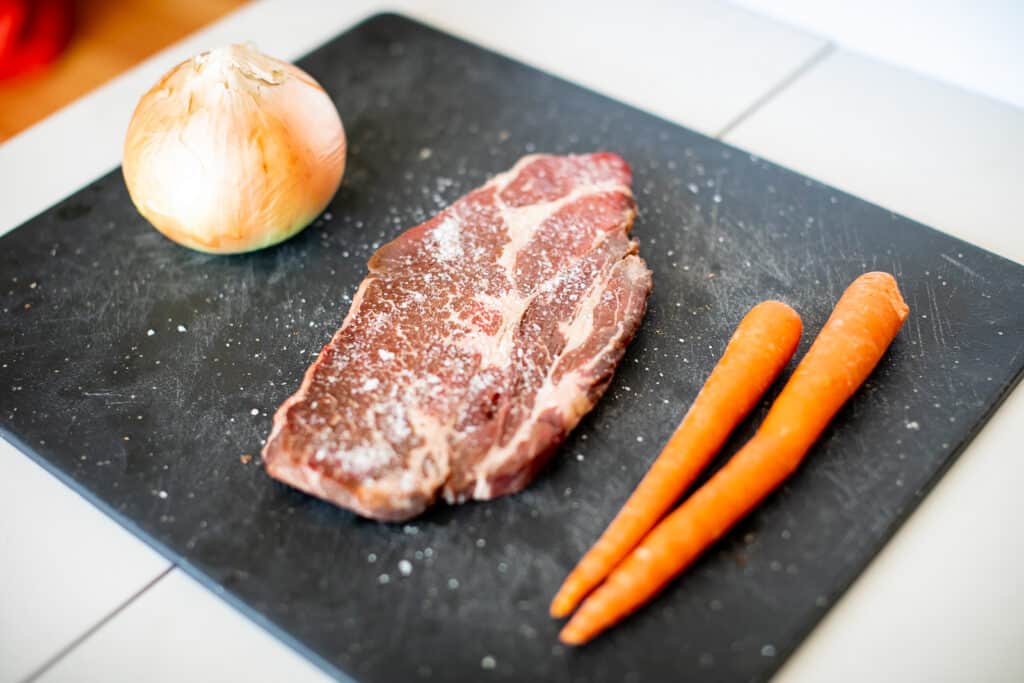 Pot roast is a textbook way to demonstrate the development of flavor while cooking. I sear the meat to encourage browning through the Maillard reaction. 
I cook down the meat over a long time to dissolve the fat, connective tissue, and gelatin to create a thick delicious sauce and tenderize my meat. Finally, I reduce down the liquid content of the sauce to concentrate its flavor. 
What Pairs with Pot Roasts?
Mashed potatoes are my favorite pairing with a pot roast. Why? Because of gravy. Since you are using a wet cooking method, you always end up with sauce that can be reduced down into gravy at the end. This makes already luxurious mashed potatoes into something spectacular. 
When it comes to wine, pot roasts is the stuff cabs and bordeaux are made for. I encourage you to go full body and flavor on your wine when pairing it with a pot roast. If you want to try something a little out of left field, try a rioja or barbera with your next roast.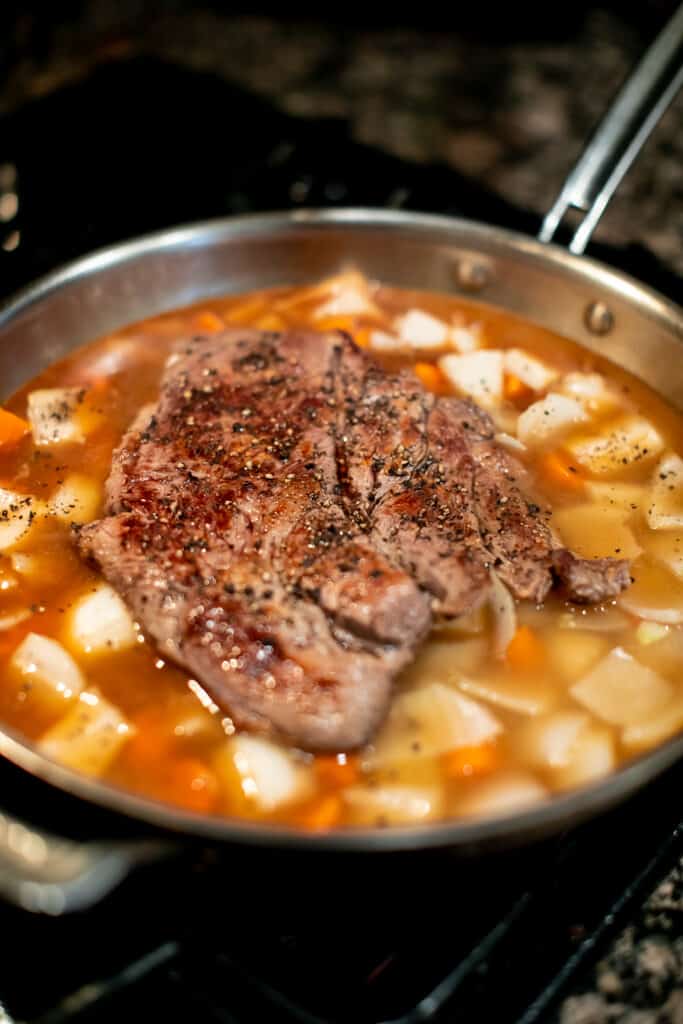 Tools Required
The beauty of the pot roast is that you can cook the whole thing in 1 pot or a rondeau pan. You'll still need a cutting board and knife to prep, but cooking should be nice and simple.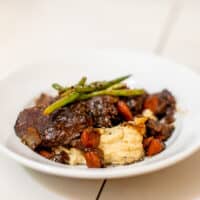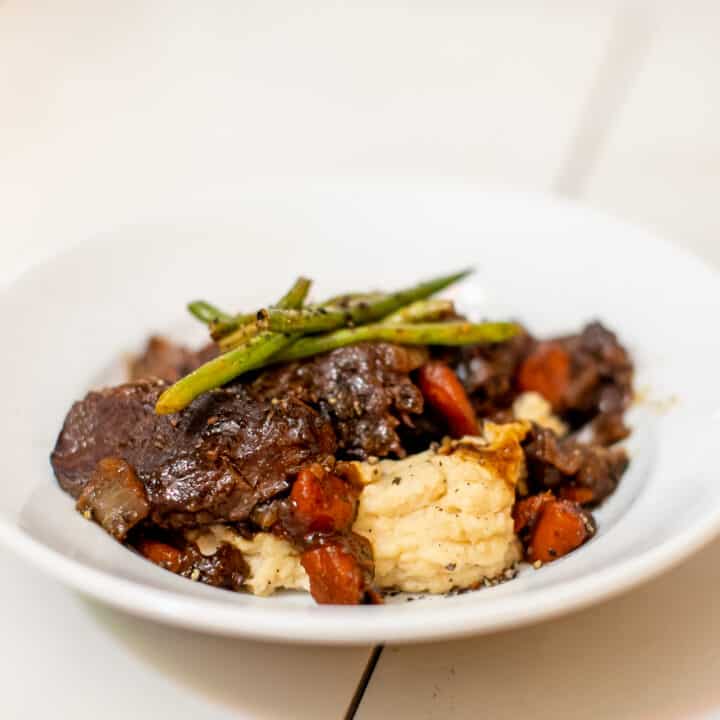 Ingredients
1/2

onion

1

carrot

1

lb

chuck

1

tablespoon

salt

1

tablespoon

pepper

1

quart

stock or broth

1

cup

red wine

1

tablespoon

sage
Instructions
Cut onions and carrots

Salt and pepper the chuck

Sear on both sides in a pan (2 minutes per side)

Add onion and carrot into the pan (or, if you prefer to cook in a pot, then transfer your seared chuck into a pot and add onion and carrots to the pot)

Add broth, wine, and sage and bring to a boil

Cover and simmer for 1.5 hours

Uncover and cook on high for 30 minutes to reduce 

Serve
Nutrition
Calories:
285
kcal
|
Carbohydrates:
9
g
|
Protein:
22
g
|
Fat:
13
g
|
Saturated Fat:
6
g
|
Polyunsaturated Fat:
1
g
|
Monounsaturated Fat:
7
g
|
Trans Fat:
1
g
|
Cholesterol:
78
mg
|
Sodium:
2796
mg
|
Potassium:
548
mg
|
Fiber:
1
g
|
Sugar:
4
g
|
Vitamin A:
3076
IU
|
Vitamin C:
2
mg
|
Calcium:
50
mg
|
Iron:
3
mg
Beginner Guide to Cooking Meat