As an Amazon Associate we earn from qualifying purchases.
Perhaps the best side in the world for red meats is mashed potatoes. I am not sure who came up with the idea to pair them together originally but the world has certainly been a better place for it.
I love mashed potatoes – for something seemingly so simple they can be so delicate and decadent at the same time. After a few iterations, I've worked on creating the best garlic mashed potatoes recipe in the world.
What are Garlic Mashed Potatoes?
Garlic mashed potatoes are normally made from white or gold potato varieties, mixed together with garlic infused fats like olive oil or butter. Often dairy or stock is also added to increase the flavor and texture of the mix.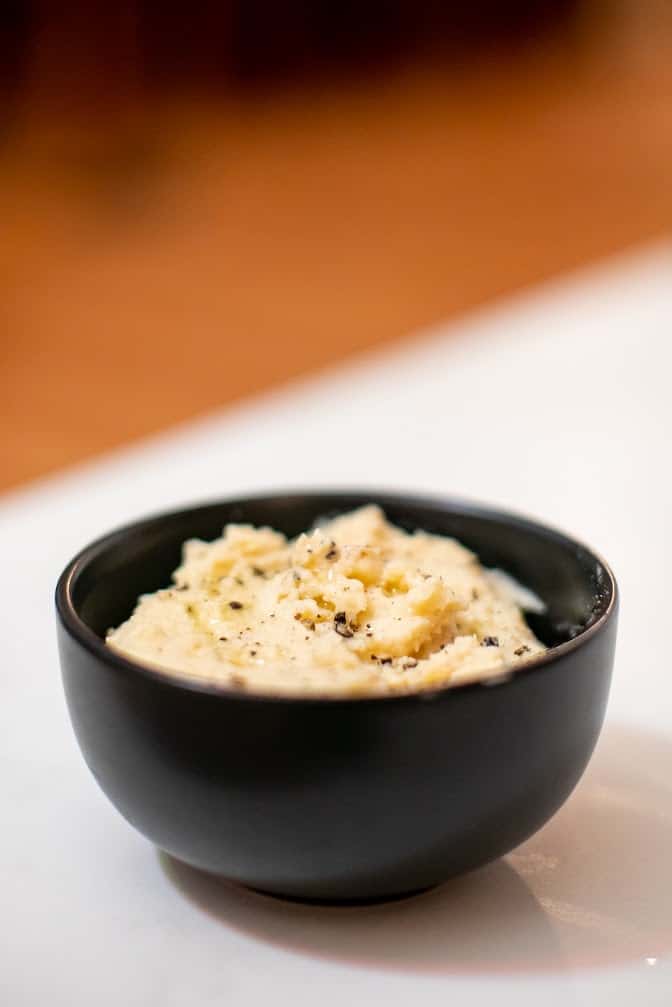 Developing Flavors
The main flavor we are pushing here is garlic. To get the flavor out of the garlic and into everything else we need to do 2 things: 
Maximize surface area of garlic
Cook with olive oil or butter
The first is to maximize surface area to volume ratio. This is a fancy way of saying we want more exposed garlic parts than non exposed garlic parts. We accomplish this by cutting the garlic up really small or pressing it to break all the cell walls open and expose it to the cooking medium. 
The second thing we need to know about garlic is that flavor is fat soluble. In other words, garlic flavors transfer better through butter or oil than it does through water. No surprise there – if you ever had garlic bread or garlic olive oil this is why those things work. 
Putting all this knowledge together we know that we need to cook our garlic in olive oil or butter to maximize its flavor. 
To Truffle or Not to Truffle?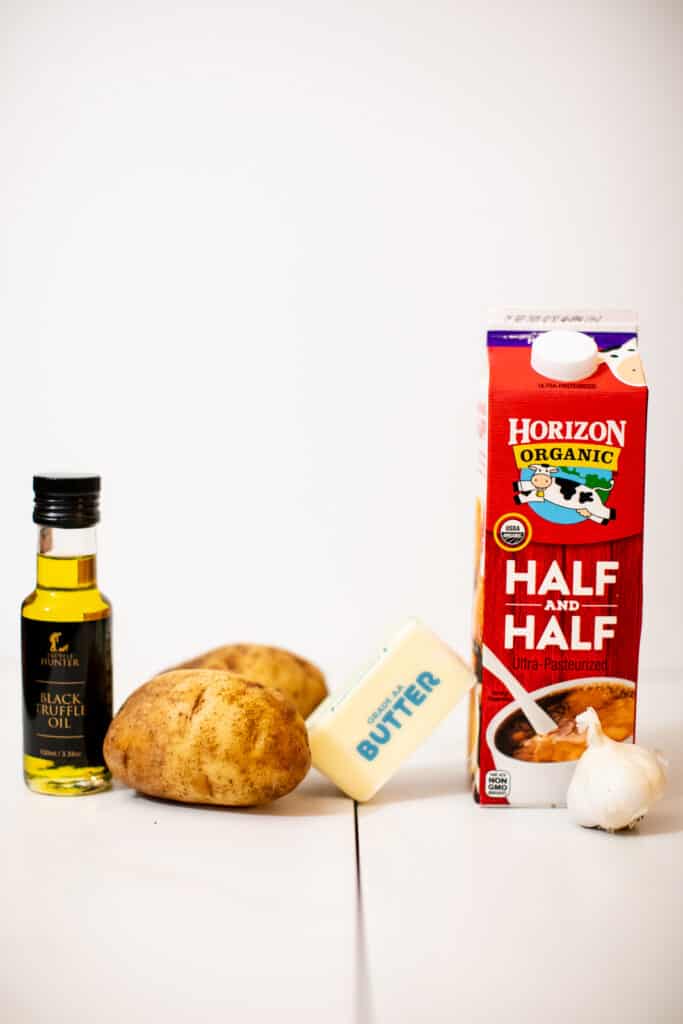 I am in the truffle camp when it comes to potatoes. I actually think they are maybe the best thing truffle was ever paired with – bold statement, I know. 
If you have access to whole truffles, by all means use them. The same factors which help the garlic flavor mix with the potatoes will carry the truffle too. 
Don't want to break the bank of a $50-100 ping pong ball of flavor? No worries, truffle oil is a good alternative. It won't be nearly as fresh or powerful but it will still give the potatoes that luxurious umami character. 
What Pairs with Garlic Mashed Potatoes?
Garlic potatoes work amazingly with all meats – red meat, white meat, doesn't matter. When it comes to mashed potatoes, my favorite pairings are braised meats like short ribs or pot roasts with the sauce or gravy on top. Seriously, that combination is just a little piece of heaven on a fork. 
Tools Required
You will need a big pot for boiling potatoes and a little pot for your garlic butter, a rondeau pan would be perfect for this. In a pinch, you could microwave the butter and garlic but it won't develop the same nutty brown flavor of doing it on the stove. 
Do You Need a Ricer?
One thing that I've always heard is that the best way to make mashed potatoes is with a ricer. Well, after many years I finally caved and bought the LHS Stainless Steel Potato Ricer Masher and have not looked back since.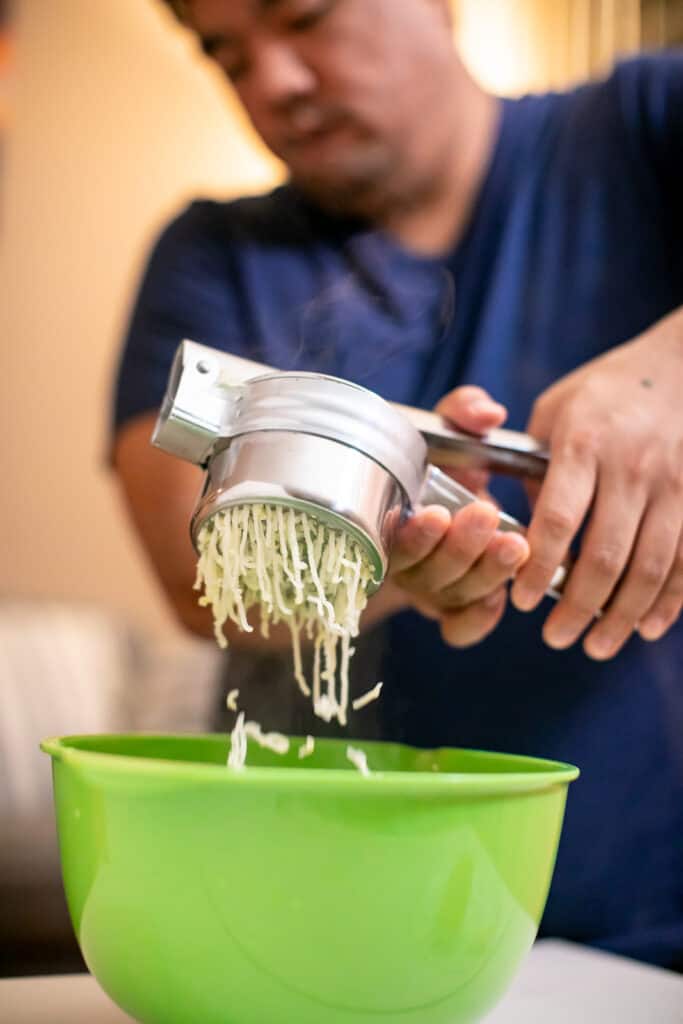 While you won't need a ricer to make good mashed potatoes, the best garlic mashed potatoes are definitely riced, not mashed. The texture of a riced potato vs. a smashed one is like the difference between a pillow and a tortilla.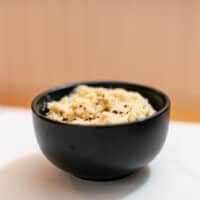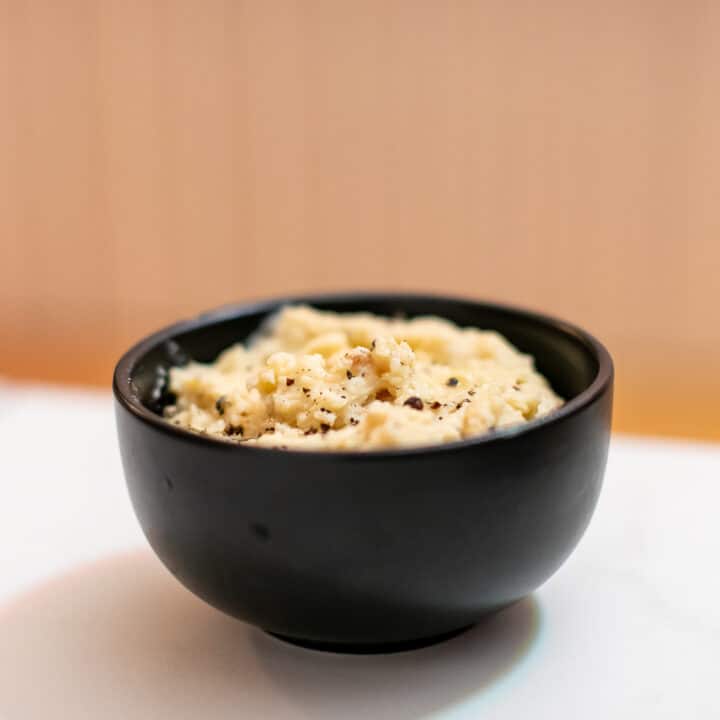 Ingredients
2

russet potatoes

1

teaspoon

salt

4

garlic cloves

4

tablespoons

butter

1/2

cup

half and half

Any herbs you like

optional
Instructions
Finely chop or press garlic

Scrub potatoes with water

Add potatoes to pot and cover with water until 1 inch above potatoes

Bring to a boil for 40 minutes or until fork enters easily

Add butter, salt, garlic, and any herbs to small sauce pan

After potatoes are done, cut them in half and rice them into mixing bowl. If you don't have a ricer, you can use a potato masher or a fork to mash them up.

Add half and half to butter mixture and then add to riced potatoes

Stir briefly (like 5 full circles, do not over miix)

Serve
Nutrition
Calories:
457
kcal
|
Carbohydrates:
43
g
|
Protein:
7
g
|
Fat:
30
g
|
Saturated Fat:
19
g
|
Polyunsaturated Fat:
1
g
|
Monounsaturated Fat:
8
g
|
Trans Fat:
1
g
|
Cholesterol:
81
mg
|
Sodium:
1391
mg
|
Potassium:
999
mg
|
Fiber:
3
g
|
Sugar:
4
g
|
Vitamin A:
917
IU
|
Vitamin C:
15
mg
|
Calcium:
111
mg
|
Iron:
2
mg