As an Amazon Associate we earn from qualifying purchases.
When you think of Mediterranean dips and sides, you probably think of hummus. If you want something that is lighter, smokier, and more flavorful than hummus, you need to try baba ganoush. While you may be thinking that you hate eggplant or there is no way it can be as good as hummus, I think I can change your mind with this flavorful vegan baba ganoush recipe. 
What is Baba Ganoush?
Baba ganoush, also known as baba ghanouj, is a dip or appetizer made from roasted eggplant and tahini. Often, baba ganoush will include garlic, olive oil, and lemon juice for flavoring. Plus, this baba ganoush recipe is vegan friendly!
Those who are familiar with my hummus recipe may remember that these dips or appetizers are part of a starter course in Mediterranean and Levantine cuisine called "meze."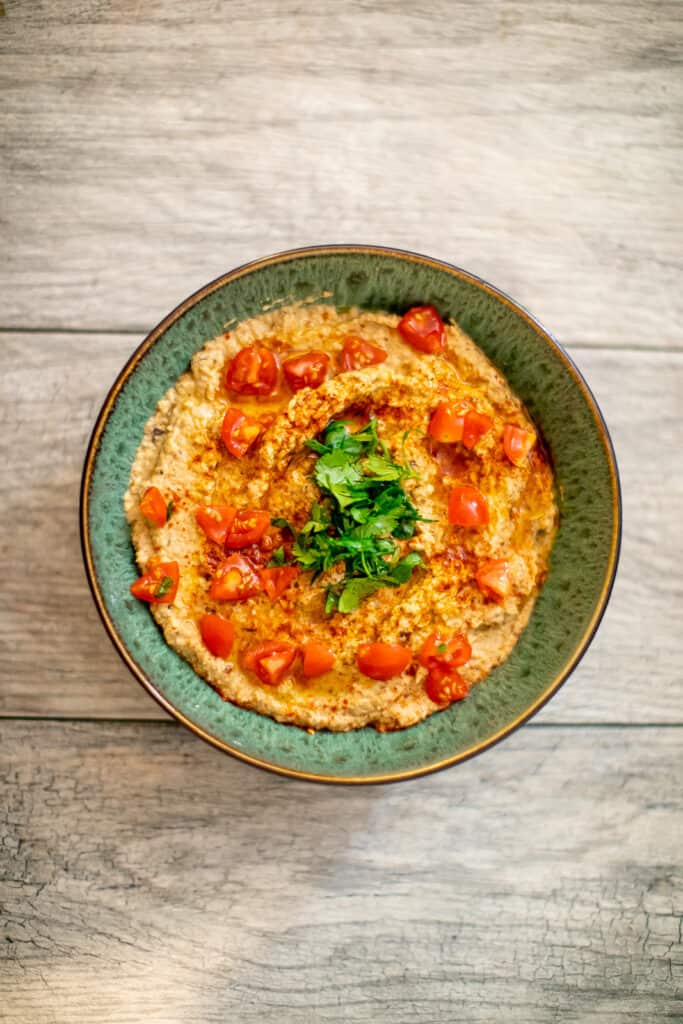 My Approach to Baba Ganoush
I really wanted to make this baba ganoush recipe as simple as possible. When it comes to technique on this recipe, there really isn't one. You'll roast the ingredients on a pan, throw it into a food processor, and puree till smooth. 
What Makes a Good Baba Ganoush
I personally believe that what sets a baba ganoush apart from a hummus is the lighter texture and smoky flavor. For this reason, I do like leaving the skins on my eggplant, but this is totally optional. If you are adverse to even the slightest hint of bitterness, then you can peel and discard the skins. 
The Challenge with Baba Ganoush
Since there are so few techniques required for this recipe, I didn't really see many areas to trip up on. I think the only real risk you run is potentially cutting your eggplant too small and burning them in the oven. 
If the outside of the eggplant is anything darker than nutty brown, you need to pull it out immediately. If you burn the eggplant (dark brown to black) it will be so bitter and smoky it will overpower the dip. Should this happen, you can just cut the dark parts off and still use the inside parts of the eggplant. 
Developing Flavors
By roasting the eggplant, I am creating flavors through the Maillard reaction. I am also caramelizing some of the sugars in the eggplant. Additionally, when roasting I am removing some of the water and breaking down the cell walls making the eggplant more tender and concentrated.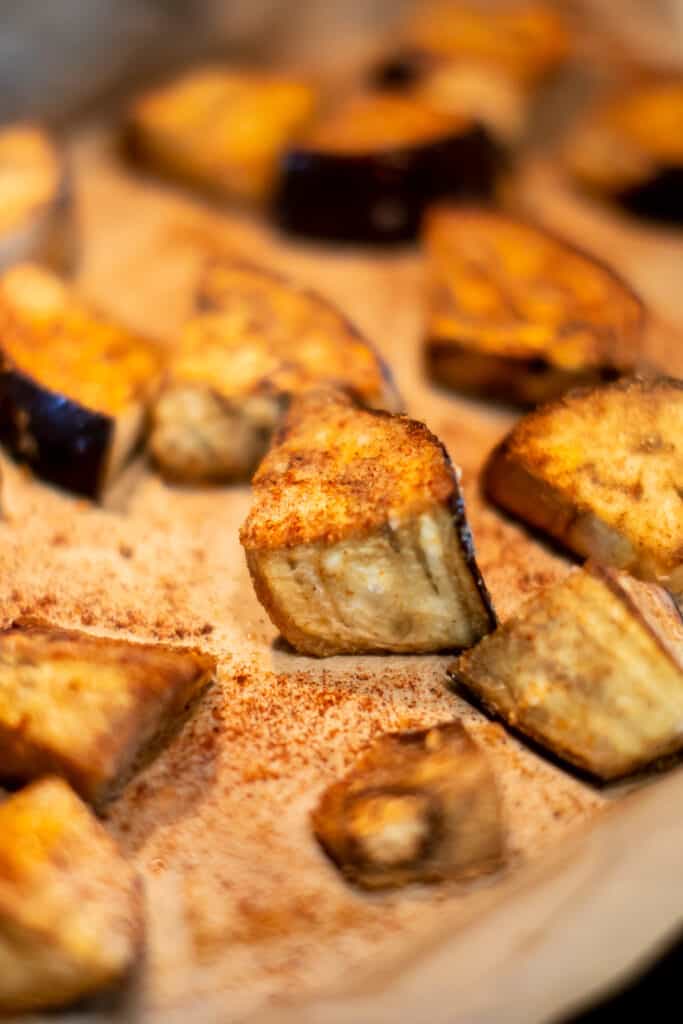 Flavor additions
Anything you put into hummus, you can put into baba ganoush. Some ideas are:
Roasted red peppers
Sun-dried tomatoes
Roasted garlic
Basil
Rosemary
My favorite and the simplest by far is roasted garlic. If you have the time to roast your garlic in olive oil and then use those in the recipe, you will not regret it. Because roasted eggplant has a smoky mild taste, the roasted garlic really helps compliment with sweet and savory notes. 
Citrus, like lemon juice, may also be added to increase shelf life and give it a bit more zing. 
What Pairs with Baba Ganoush?
Treat baba ganoush like hummus. You can put it on pita bread, chips, eat it with carrots, or just eat it plain as a side. 
Tools Required
To make delicious vegan baba ganoush at home you will need the following: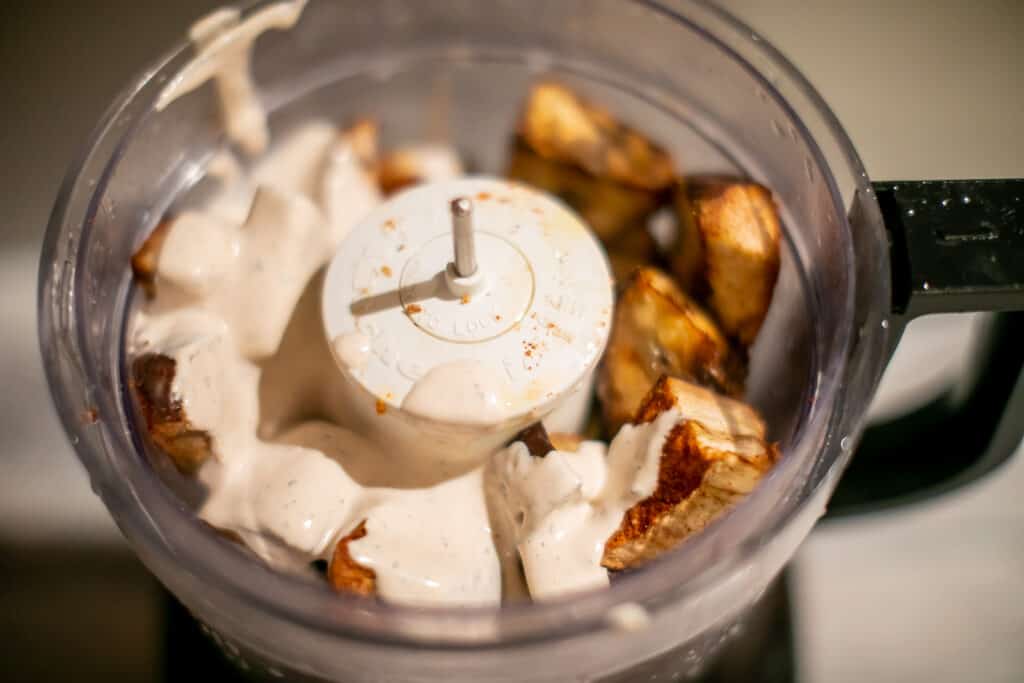 Cutting board
Knife 
Baking sheet
Measuring spoons/cups
Blender or food processor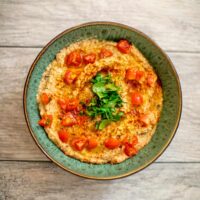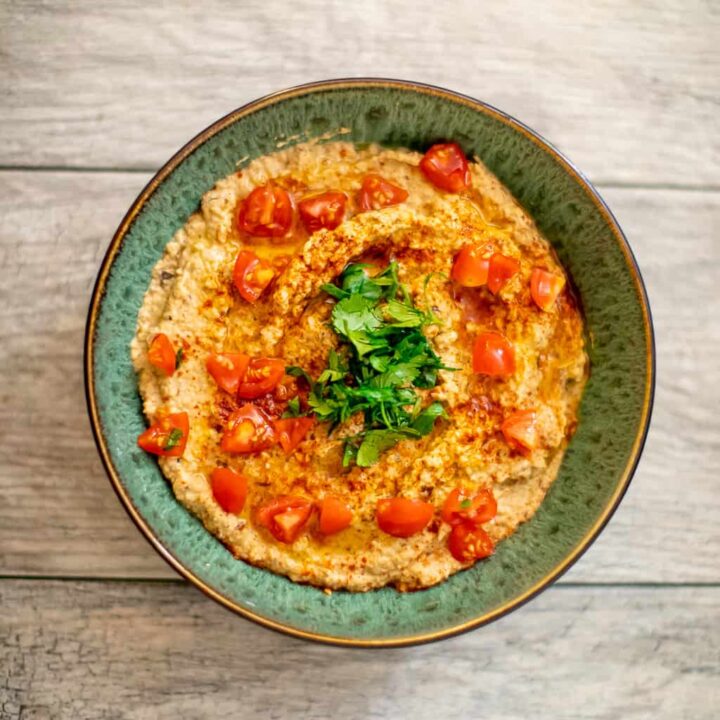 Ingredients
1

eggplant

3-4

cloves

garlic

1/4

cup

olive oil

1/4

cup

tahini

2

teaspoons

paprika

2

teaspoons

salt

2

teaspoons

pepper
Instructions
Preheat oven to 300°F

Wash and cut eggplant into 1-2 inch cubes

Lay eggplant evenly on a baking sheet

Season with salt, pepper, and half the paprika

Roast for 1 hour

Place eggplant, garlic, tahini, half the olive oil into blender or food processor

Puree on high until smooth (about 30 seconds) 

Top with remaining olive oil and paprika and serve
Nutrition
Calories:
245
kcal
|
Carbohydrates:
12
g
|
Protein:
4
g
|
Fat:
22
g
|
Saturated Fat:
3
g
|
Polyunsaturated Fat:
5
g
|
Monounsaturated Fat:
13
g
|
Sodium:
1172
mg
|
Potassium:
377
mg
|
Fiber:
5
g
|
Sugar:
4
g
|
Vitamin A:
535
IU
|
Vitamin C:
4
mg
|
Calcium:
43
mg
|
Iron:
1
mg