As an Amazon Associate we earn from qualifying purchases.
When it comes to my pantry, staple items you'll find are flour, sugar, dried pasta, rice, beans, and tomatoes. What do these things all have in common? They are cheap and last for years. The challenge with these items is how to turn them into something more appetizing than their humble beginnings in a box, bag, or can suggest. 
Today, I'm going to focus on one of my favorite canned tomatoes and turn them into a delectable full-bodied, homemade rustic tomato soup. 
What is a Rustic Tomato Soup?
A rustic tomato soup is full-bodied, filling, thick, and earthy. For an added rustic touch, I will also smoke mine. That's right, my rustic tomato soup isn't going to be a watery gazpacho or the sugary canned soup. In this recipe, I'll teach you the methods to develop the flavors found in my rustic tomato soup recipe.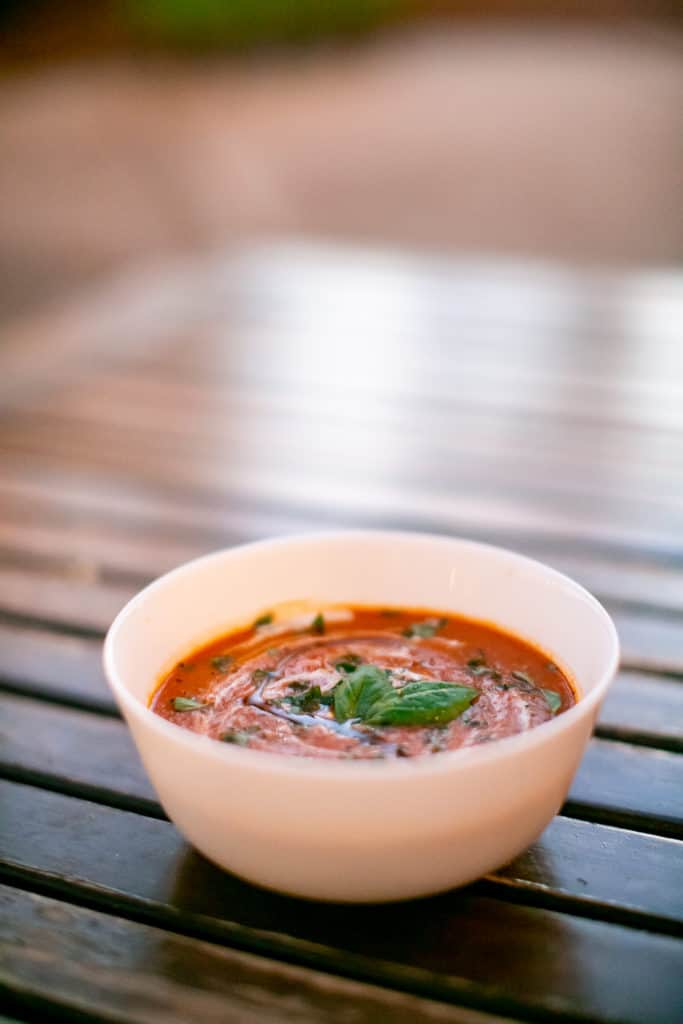 Qualities of a Good Homemade Tomato Soup
To start, homemade tomato soup has to taste like tomato. While my approach is to make sure the canned tomatoes actually taste like fresh tomatoes, I also need to develop and complement the flavor profile of the tomato. 
Have you ever wondered why the canned soup is so sweet? It is because tomatoes are naturally acidic, and adding sugar makes them more palatable to me. This is also why basil and tomatoes commonly go together. Basil is sweet, and the flavor of basil helps accent the freshness of tomatoes (think of the smell of tomato of the vine, it tricks me into those same thoughts). 
The Challenges to Making Tomato Soup
In developing this tomato soup recipe, I wanted everything I do to the flavor of tomato and shape it to being its bold and beautiful self. There are 3 main areas that I need to focus on when it comes to the challenges of making this:
Balance Challenges 
When it comes to balance and tomatoes, you are normally talking about one main thing: the acidity. 
Tomatoes are not the most naturally sweet vegetables out there. Because of that, I will need some form of sugar to balance out the acidity from the tomatoes. Sure, I could just add granulated sugar like so many sauce recipes and canned soups tend to do. The problem with doing that is it won't help give the soup more flavor or depth. The goal is to find a way to balance the soup by adding sugar into the recipe without adding straight sugar.
Depth Challenges 
Tomatoes are trickier than you'd think. Their flavor is very one-note and it isn't very complex or grounded. It's also a thin flavor and doesn't stick around much. 
This creates depth challenges and could result in a light and watery soup if I'm not intentional about how I prepare and cook it. For my tomato soup, I want full-bodied flavor. 
Flavor Challenges 
If you have been following my blog, you know what I'm going to say here: water is the enemy of flavor. 
Tomatoes are mostly water, and while I definitely need liquid for my soup I need to control the amount of water in the final product to concentrate the flavors into every spoonful.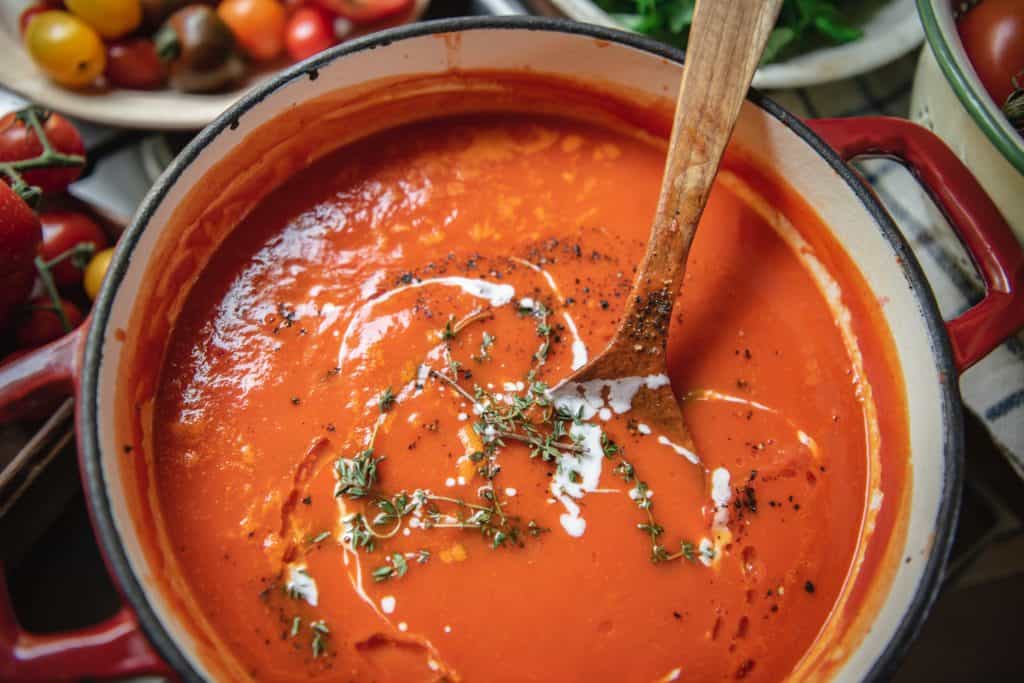 My Solution
I need to meet each of these challenges head-on, so my solution will be through a combination of the right ingredients and the right cooking methods to maximize their effects. 
Balance and Add Depth to Tomato Soup
To add depth and balance to my tomato soup, I'm going to use two things: carrot and red bell peppers. Specifically, roasted carrots and bell peppers. 
Why carrots and bell peppers, you might ask? The long story is that the flavors of these vegetables are culturally, significantly and culinarily linked. I could go on about this, but I'd be here awhile. So, the short story is that I am very accustomed to these flavors going together. 
With these vegetables, I want to roast them for 3 reasons: 
Roasting vegetables makes them sweeter which addresses the acidity in the tomatoes.
Roasting vegetables, especially if I can get a little browning or even a char on the peppers, will greatly increase the depth of flavor. 
Roasting removes water and concentrates flavor.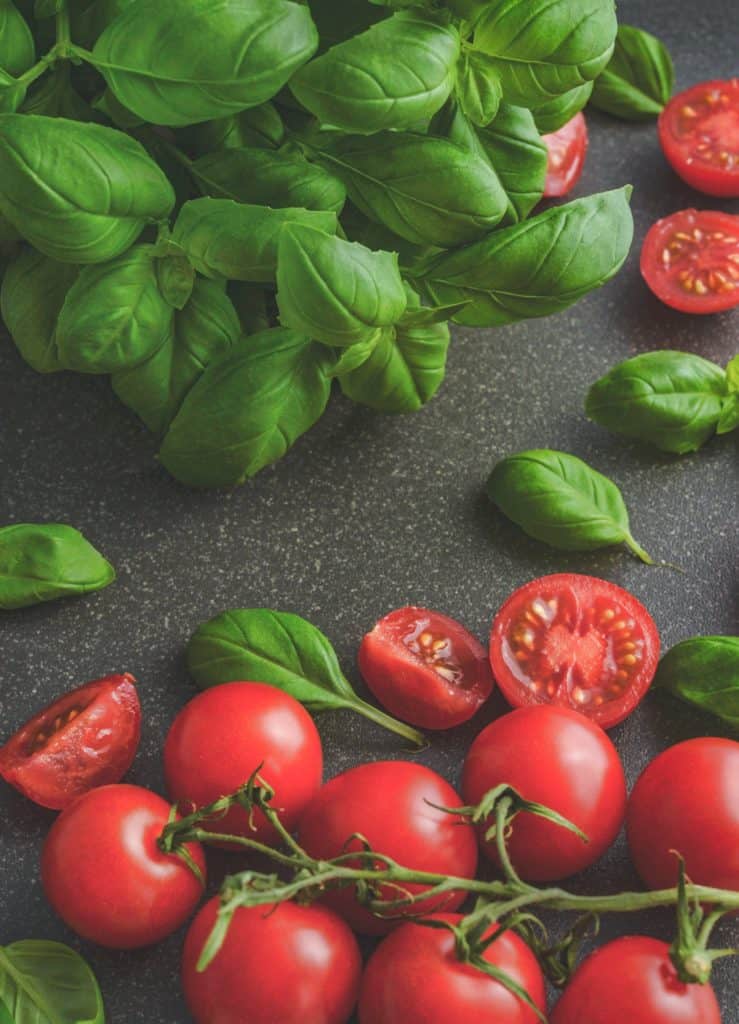 Thicken Tomato Soup
To thicken soup you have a couple of options:
Add ingredients that aren't more watery than your soup. 
Limit or remove water that is already in your soup, mostly through reduction by simmering or boiling it off. 
Thicken your soup with science. For example, you could use a roux (flour mixture), or slurry (cornstarch mixture). 
For tomato soup, I recommend the first 2 options. In my case, I'll be adding in a red pepper and carrot puree while keeping all added water to a minimum. 
Flavorful Twist and Additions
Now that you have the basic tomato soup theory and a good solid recipe to get you started, here are some alterations you can do to it. Use this as inspiration to get you thinking about how to take this tomato soup recipe and make a bunch of variations to impress your family and friends.
Mix with fresh tomatoes

My only recommendation with this is you will need to reduce out more water at the end. 

Roast more vegetables

Garlic is a clear candidate here.
Readers of my blog will know I can't stand it, but celery is an obvious choice as well for pairing with tomatoes. 

Roast some herbs

You can definitely add more flavor to your soup by roasting herbs with your peppers and carrots. Rosemary or thyme immediately come to mind as good options, along with sage and oregano.

Bacon, Pancetta, or Prosciutto

These are all rich, savory meats that would pair beautifully in a full-bodied sauce.

Drizzle a spiral of heavy cream onto your soup

This is a good indicator of if your soup is thick enough. If your soup is dense enough the cream should stay floating on top.  

Drizzle a bit of good olive oil in a spiral to compliment your soup

You can even use flavored olive oils to bring more tasting notes to the party.

Top with croutons to add flavor, body, and texture to your tomato soup
Top with some fresh basil leaves to add some sophistication to your dish
Sprinkle some cheese on it

Anyone who grew up with grilled cheese and tomato soup knows how good cheese is with this classic soup.

Add spice

If you are on a spice kick, feel free to roast any chiles you want to increase the spice levels

Smoke it

I recommend smoking with apple wood, but you could use cherry or even hickory as well.

Zest it

Citrus and tomato are not at odds, so there is definitely a case for lemon, orange, or lime zest as an option to brighten up your soup. 

Salt it

If you have fancy fleur de sel, smoked salt, himalayan pink, hawaiian black, or one of my favorites, merlot finishing salt, this is the time to put it out on the table. There is a special kind of magic in the popping crystals of flavor that make up finishing salts.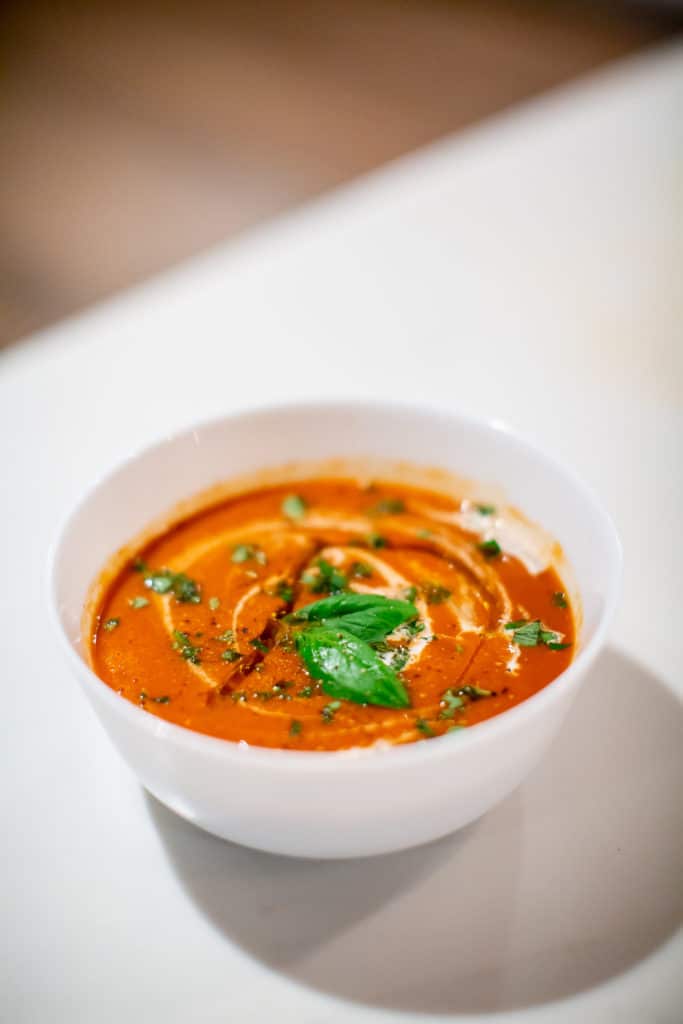 Pairing Ideas for Rustic Tomato Soup?
When in doubt pair it with a grilled cheese sandwich. Want to play into the smoked theme, I highly recommend smoked gouda or cheddar for your sandwich. If you are feeling a little less classic with your pairings the depth of this soup allows it to transition much easier into full entrees than as a mealy side dish. You should have no problem going from this soup to a juicy steak or roast chicken. 
Tools Required
Roasting or baking tray: This will be used to roast the vegetables.
Blender or food processor: This will be needed to break down the canned tomatoes and vegetables and mix them with the broth.
Medium pot (optional): Yes, you read that right. A pot, or a rondeau pan is optional because you don't actually need to heat this recipe if you don't want to!
Smoke gun (optional): I highly recommended using a smoke gun if you want that deep complex flavor that will really bring out the roasted traits of the soup.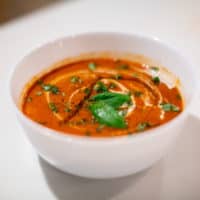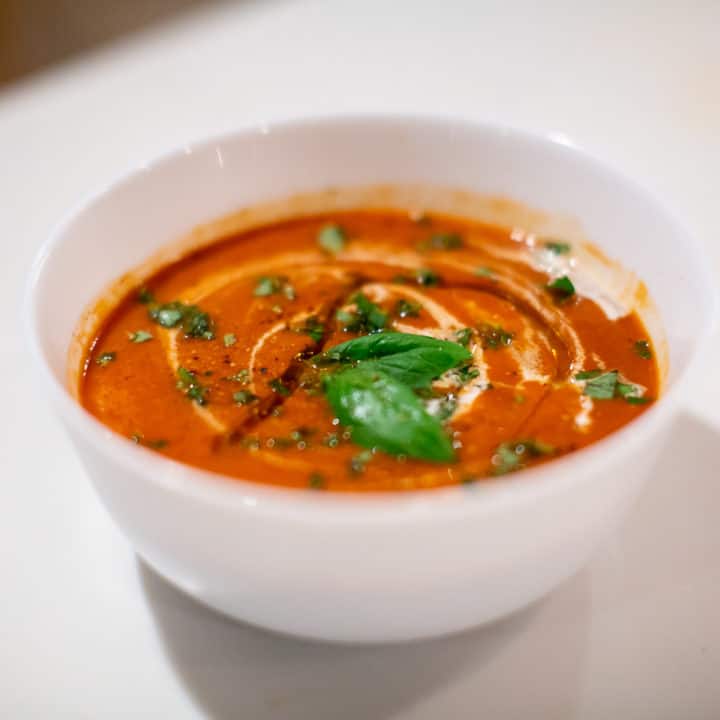 Ingredients
1

can of tomatoes

1/2

onion

1

carrot

1

bunch basil

2

cups

vegetable broth

2

tablespoons

tomato paste

2

tablespoons

heavy cream

Good olive oil

Salt + Pepper to taste

Apple wood smoke
Instructions
Preheat oven to 450°F 

Cut tomato, onion, carrott, and red pepper into long strips about an inch thick (this is a very rough cut) 

Add to baking sheet and drizzle with olive oil, salt, and pepper 

Bake at 450°F until you see a tiny bit of char (about 20 minutes)

Add tomatoes, broth, paste, and roast vegetables to blender

Add smoke to blender and cover 

Blend on high until pureed

Pour into soup bowls

Drizzle cream and olive oil 

Top with basil
Nutrition
Calories:
50
kcal
|
Carbohydrates:
6
g
|
Protein:
1
g
|
Fat:
3
g
|
Saturated Fat:
2
g
|
Polyunsaturated Fat:
0.1
g
|
Monounsaturated Fat:
1
g
|
Cholesterol:
8
mg
|
Sodium:
547
mg
|
Potassium:
158
mg
|
Fiber:
1
g
|
Sugar:
4
g
|
Vitamin A:
3036
IU
|
Vitamin C:
4
mg
|
Calcium:
16
mg
|
Iron:
0.3
mg
8 Beginner Cooking Tips I Wish I Had Known