As an Amazon Associate we earn from qualifying purchases.
I think Italian food might just be my favorite cuisine of all time. I always make Italian food at home and while most of it is pretty straightforward, there are a few I tend to leave to restaurants, like veal parmesan.
Veal parmesan can definitely seem a bit intimidating. Many don't cook with veal on a regular basis, and frying at home is not too common either. But with a little know-how and a little multitasking, I can enjoy veal parmigiana anytime at home! 
What Is a Veal Parmesan With Spaghetti?
Veal parmesan, also known as veal parmigiana, is a breaded fried cutlet of veal topped with tomato sauce and mozzarella cheese. It comes from the Parma region of Italy and features their signature cheese. Veal parmesan is served as a secondi or main dish in Italian cuisine.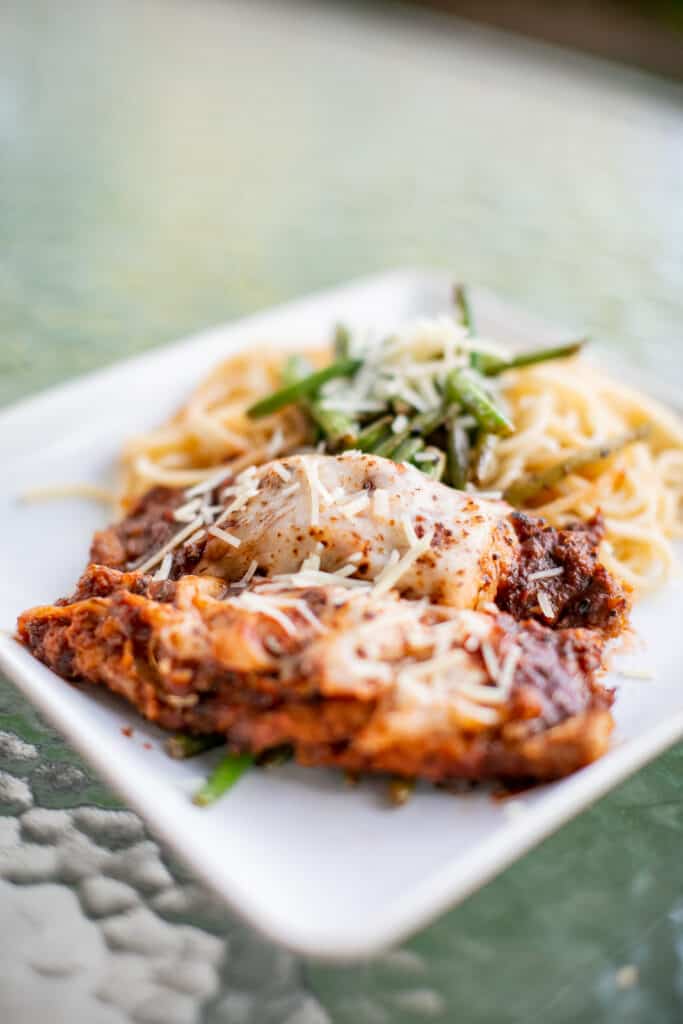 While a secondi traditionally comes after a pasta course (the most common primi – first course), today it is very common to serve it with spaghetti or another kind of pasta at the same time. 
The Challenge with Veal Parmigiana
With any fried dish, there is a lot going on. With veal parmigiana there is even more as you are also baking and cooking noodles at the same time. As a result, time management and organization are critical. 
You can't leave the sauce in the oven too long or it will dry out and burn. You can't leave the veal frying too long or it will dry out. Plus, don't even get me started on soggy overcooked noodles! Needless to say, time organization is key. 
My Solution
The easiest way to provide a solution is by giving you a chart for how to manage your time when it comes to cooking all of the necessary components of this dish. Below, I've broken down the 3 main surfaces you will be working with and what you should be doing at the appropriate timeframes. 
By following this, you'll be able to have your veal, spaghetti, and sauce done at the proper times. You will want to reference the specific directions at the bottom of this article for the exact steps to take as well.
| | | | |
| --- | --- | --- | --- |
| Est Time to Start | Countertop | Stove | Oven |
| 0:00 | Get plates, dishes, tools ready | | |
| 0:05 | | Get pot of water salted on on the stove (don't start the heat yet) | |
| 0:07 | | | Get dish sauced and in oven, preheat 350°F |
| 0:09 | Make dredging stations | | |
| 0:15 | | Heat oil in pan for frying, begin heating pot of water for noodles | |
| 0:17 | Dredge and bread your veal | | |
| 0:20 | | Start frying the veal in batches | Remove dish from oven and use for finished veal |
| 0:30 | | Add spaghetti to boiling pot of water | All veal should be done and in the oven dish now. Top with cheese and sauce and place back in the oven. |
| 0:45 | | Strain spaghetti | Remove from oven |
| 0:45 | All Done | All Done | All Done |
Developing Flavors
Veal flavor is very delicate and it is a lean meat. You don't want to add too much to either the sauce or the seasoning. I'd avoid most spices with veal outside of a little black pepper.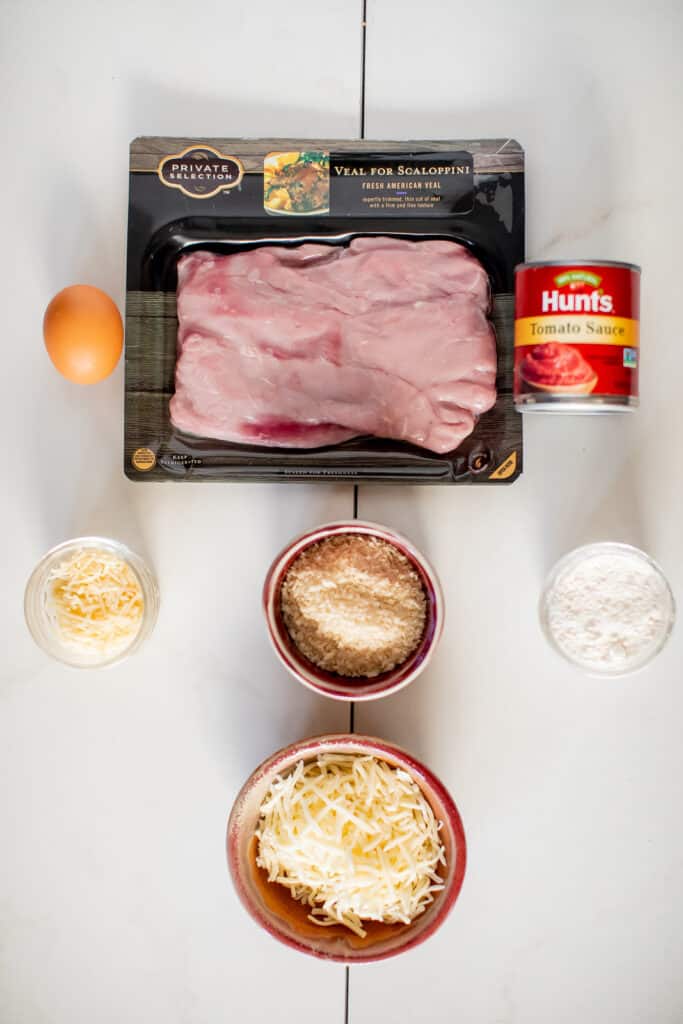 In terms of ways to deepen the flavor, salting overnight will definitely help keep your veal more moist and tender through the cook. 
The best recommendation for flavor is to use real Parmigiano-Reggiano and grate it by hand, but this is both hard to come by and pretty expensive. 
What Pairs With Veal Parmesan?
Veal is fairly mild-flavored meat, but in the parmigiana preparation, you are adding fat, fruit, and acidic notes from the sauce and cheese. 
Therefore, I recommend a light to medium body red wine like a Pinot Noir or Chianti to go with this dish. A little bit of tannin is fine but you don't want anything too bold or overpowering.   
Tools Required
For the tools, here is what you'll need for the spaghetti:
Large pot for the water
Stirring device, such as a wooden spoon
Strainer (optional)
For the veal parmigiana, there are quite a few tools you'll need. Since this is a multiple stage cook, let's break down the equipment you'll need for this recipe by its purpose and stage.
Measuring:
Frying:
One dish to hold your veal as well as flour it 
One mug and a spoon or whisk to beat the eggs
One dish for your egg wash 
One dish for your breadcrumbs
One cast iron, dutch oven, or high sided pan for frying
One thermometer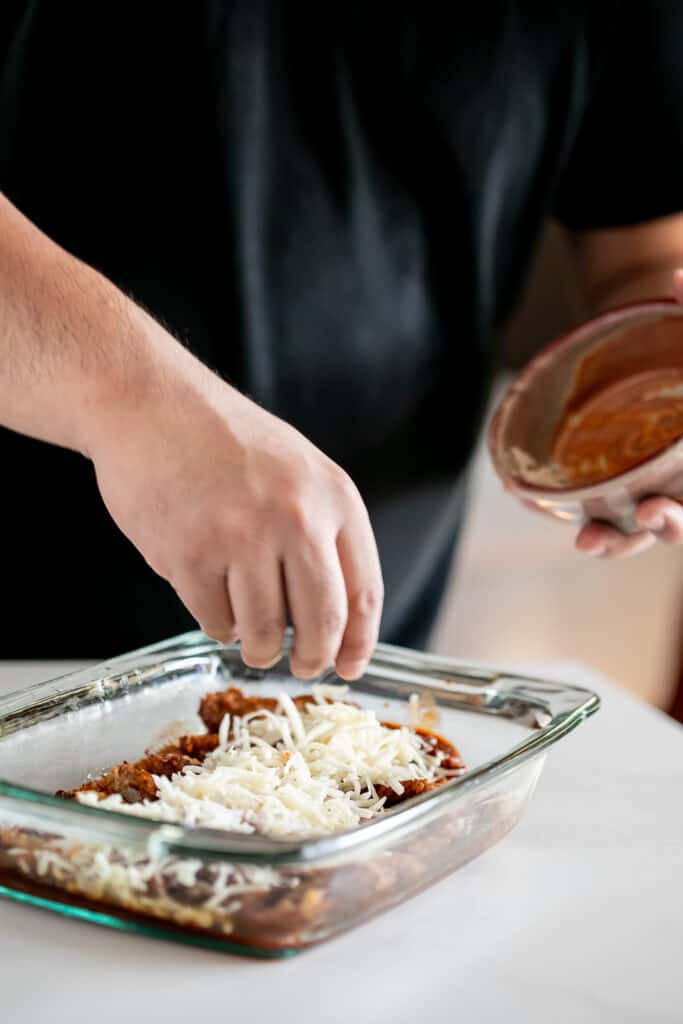 Baking: 
Can opener (optional if you are using a canned tomato sauce) 
One baking dish for finishing in the oven
Serving:
A trivet or pot holder if you are going to place the baking dish on a non cook surface
Serve from the baking dish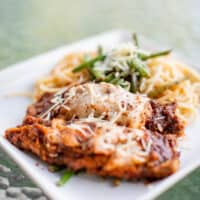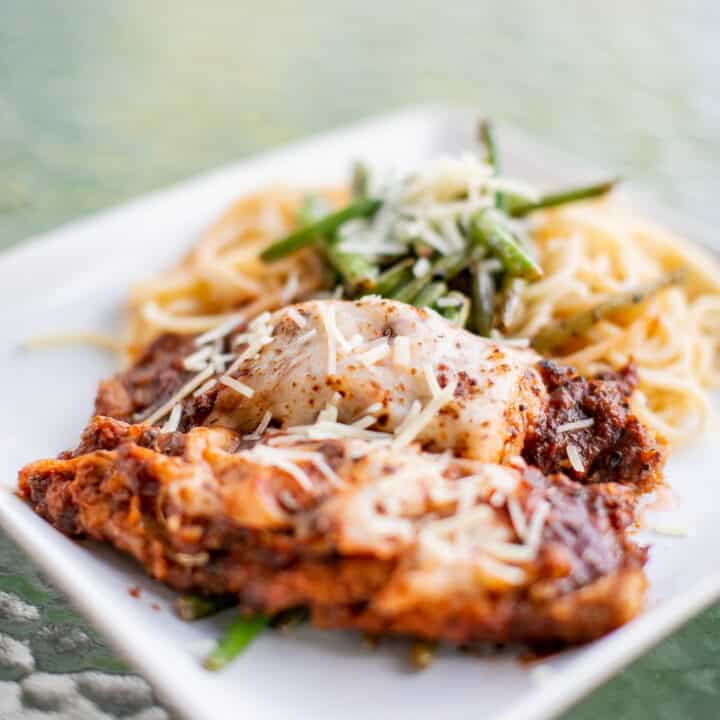 Ingredients
½

pound

spaghetti pasta

1

egg

1/2

cup

flour

1/4

cup

bread crumbs

1/4

cup

Parmesan

1/2

pound

veal for scallopini

1/2

cup

olive oil

1

cup

tomato or pasta sauce

1/2

cup

mozzarella
Instructions
Spaghetti
Fill pot with water ¾ of thee way up

Add heavy pinch of salt

Bring to a boil

Add dried spaghetti

Cook for 12 minutes or to desired texture

Strain and set aside 

Optional: you can add a little olive oil if you are making this ahead of time to limit the pasta from clumping together, but the sauce will not stick as well.  
Veal Parmesan
Salt the veal (day before if possible)

Using half the flour dust both sides of the veal, this will be your first dredging station 

Beat the egg and pour into another dish or plate, this is your second dredging station 

Mix breadcrumbs, Parmesan, and the other half of the flour, this is your third dredging station 

Pour half the sauce into the bottom of your baking dish and place in oven

Preheat oven 350°F with pan in it

Move the veal into the egg and coat on both sides

Move the veal into the breadcrumbs and coat on both sides

Move to the oil and fry for 3 minutes per side or until golden brown, do not overlap or stack any pieces. You will need to do multiple batches depending on the side of your pan.  

Once fried place into baking dish

Cover with 2nd half of the sauce

Top with mozzarella

Bake for 15 minutes or until browned

Serve with spaghetti

Nutrition
Calories:
711
kcal
|
Carbohydrates:
63
g
|
Protein:
28
g
|
Fat:
38
g
|
Saturated Fat:
9
g
|
Polyunsaturated Fat:
4
g
|
Monounsaturated Fat:
23
g
|
Trans Fat:
0.01
g
|
Cholesterol:
103
mg
|
Sodium:
594
mg
|
Potassium:
549
mg
|
Fiber:
3
g
|
Sugar:
4
g
|
Vitamin A:
468
IU
|
Vitamin C:
4
mg
|
Calcium:
195
mg
|
Iron:
3
mg
Beginner's Guide to Making Sauces