As an Amazon Associate we earn from qualifying purchases.
What makes food "California style"? If you said avocado, you're right! California produces about 90% of my nation's avocados, about 35% of which come right out of San Diego county (my home!). With all that green tasty goodness right in my backyard, I want to celebrate the avocado in its most iconic dish with this spicy guacamole recipe.
What is Spicy Guacamole?
Guacamole is a traditional sauce or dip made from avocados, cilantro, lime, and salt. It is often combined with onions, jalapenos, and sometimes tomatoes. What makes a spicy guacamole is the jalapenos or the preferred chili pepper you have on hand.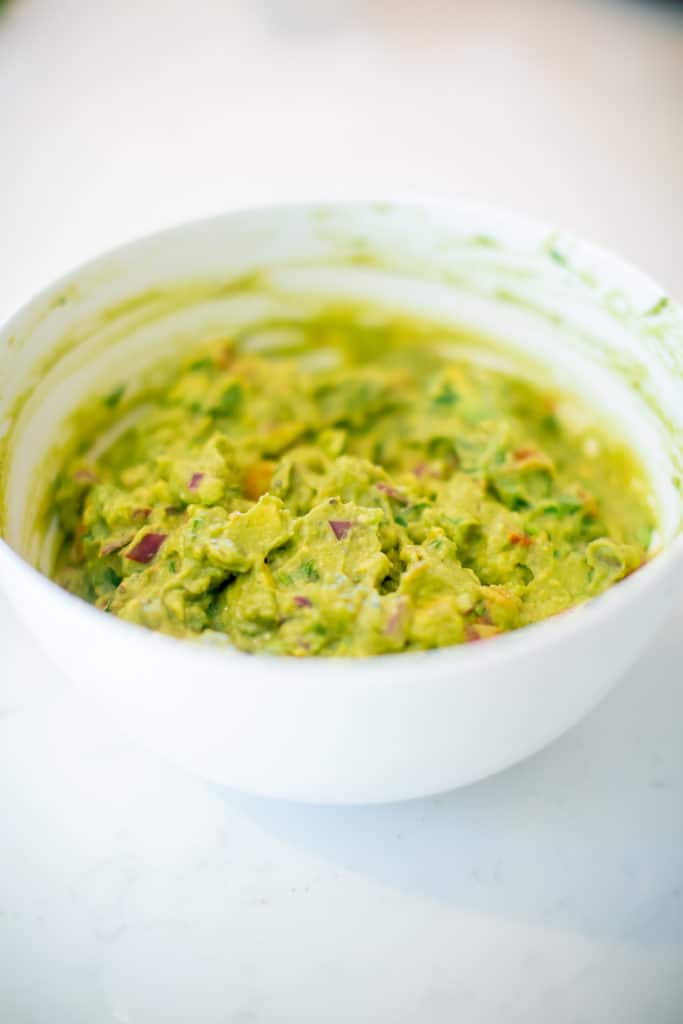 The name guacamole comes from the words "ahuaca" (sounds like ah-hwa-ka) and "mole" (moh-lay), which translates into avocado sauce. This translation should come as no surprise to any fans on Oaxacan cuisine, as you'd know moles are just another word for sauces. 
If you read my spicy pico de gallo recipe, you may remember that "salsa" also means sauce in Spanish (this is because they come from different dialects). 
Adjusting the Spice Level
While the most common spicy guacamole recipe involves jalapeno peppers, I recommend taking a step up on that old Scoville scale. To give the guacamole a spicy kick, you should use serranos, which are the jalapenos' more potent cousin (seeds and all). 
Keeping Guacamole from Turning Brown
Guacamole turns brown due to a reaction between polyphenol oxidase and air. In order to keep those avocados green, you are going to want to limit air content and bring as many air blockers to the dip as possible.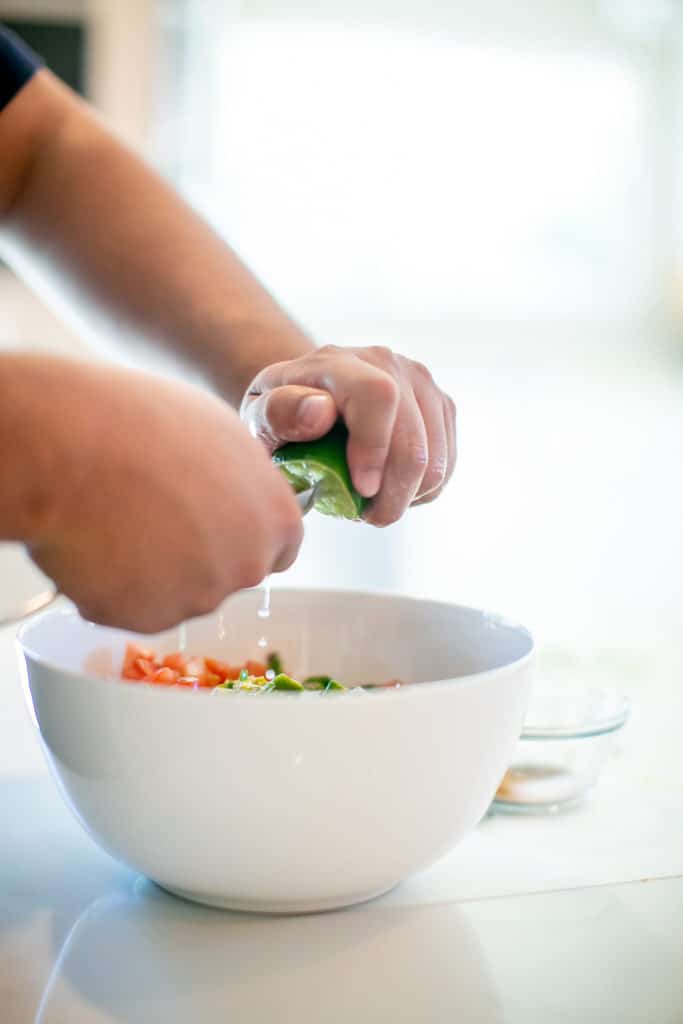 The beauty of guacamole is there are two big antioxidant factors already in the mix: lime juice and red onions. 
When it comes to storing your spicy guacamole with cling film, make sure you press the film all the way down. It should touch the guacamole and not leave any air in the bowl. 
Follow these tips and you should be able to stave off browning for a couple of days in the fridge!  
Tools Required
Traditionally, guacamole is made with a shallow mortar and pestle called a molcajete. I'll just be using simple everyday tools, like a bowl and a fork or spoon for smashing.
Chef's knife
Cutting board
Spoon 
Bowl  
How to Make Homemade Spicy Guacamole
This homemade spicy guacamole recipe takes about 20 minutes to make and serves 4.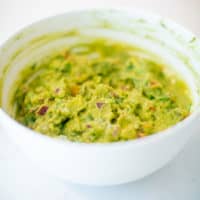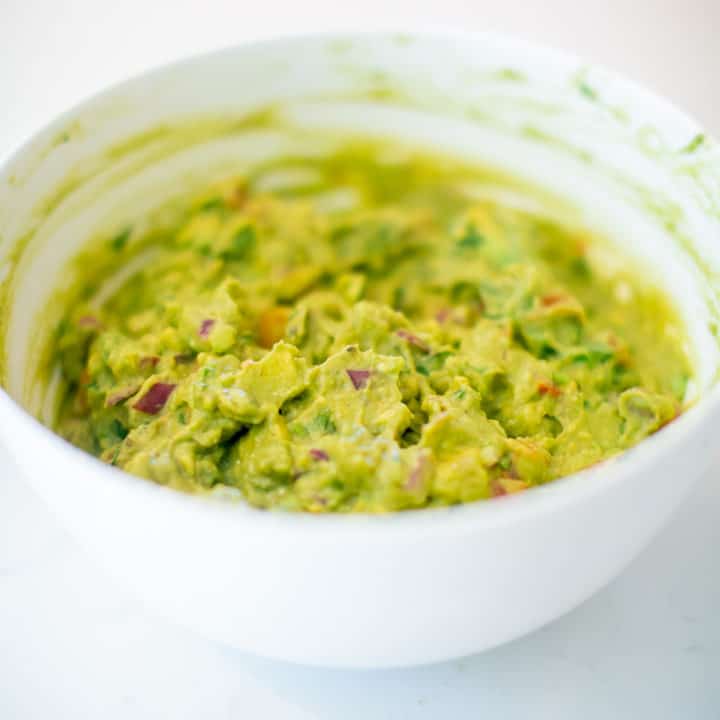 Ingredients
3

medium avocados

or 2 large avocados

1/4

red onion

highly recommend red onion as it is sweeter than white and complements the rich avocado more

5-7

sprigs cilantro

leaves only, don't use the stems

1

teaspoon

cumin

1

tomato

2

lime juice

Salt / Pepper
Instructions
Dice the onion and tomato

Remove the cilantro from stems and chop 

Cut avocado, remove core, and score the meat

Add onion, tomato, cilantro, avocado and seasonings to bowl  

Squeeze lime juice into bowl 

Mix with spoon until desired consistency
Nutrition
Calories:
128
kcal
|
Carbohydrates:
8
g
|
Protein:
2
g
|
Fat:
11
g
|
Saturated Fat:
2
g
|
Polyunsaturated Fat:
1
g
|
Monounsaturated Fat:
7
g
|
Sodium:
7
mg
|
Potassium:
427
mg
|
Fiber:
5
g
|
Sugar:
1
g
|
Vitamin A:
329
IU
|
Vitamin C:
13
mg
|
Calcium:
16
mg
|
Iron:
1
mg