As an Amazon Associate we earn from qualifying purchases.
Late summer to early fall is one of my favorite times of the year because it is the peak season for stone fruits. What are stone fruits, you might ask? They are fruits like peaches, nectarines, or plums – basically, most of the delicious fruit from trees with a big seed in the middle. Even though in California I can get many of these fruits year-round, they taste the best when the heat of summer starts to fade into autumn.
What is a Grilled Peach Salad?
A grilled peach salad can include a variety of ingredients, though the focus will be on the sweet, grilled peaches. My salad will be made with baby spinach, red onion, fresh feta, an orange vinaigrette and of course, grilled yellow peaches.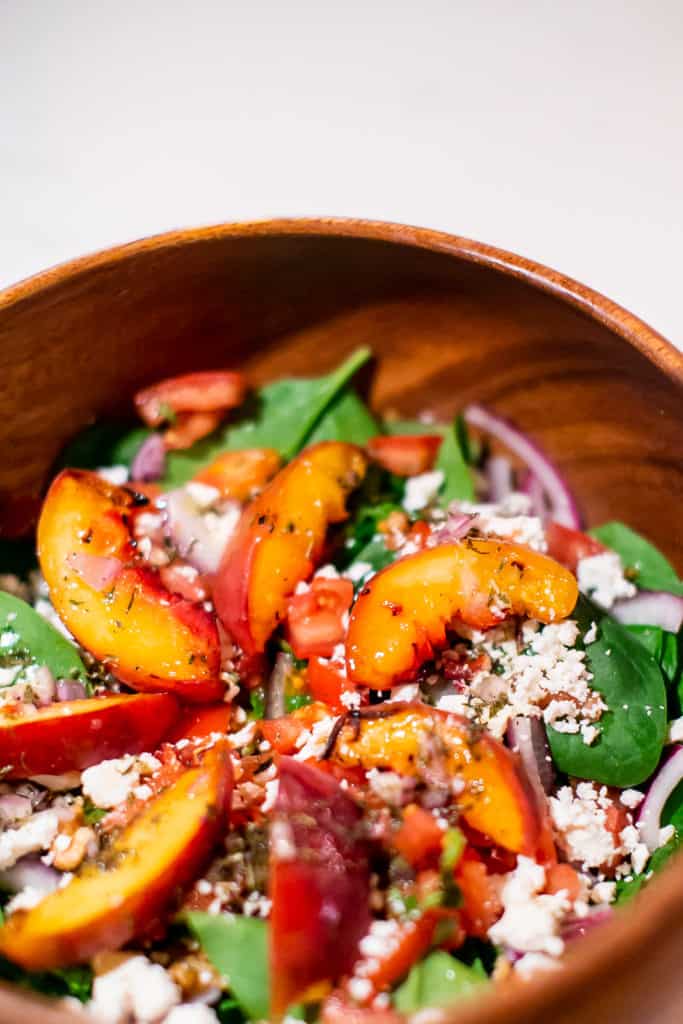 My Approach to Grilled Peach Salads
A good grilled peach salad recipe should balance the sweetness of the fruit with the other components of the salad. In my case, I am using spinach for a neutral base, walnuts to add depth and earthiness, red onion for sulfury savory flavor, fresh feta for salt and body, and cranberries for sweet and tart flavors. I'm tying it together with an orange vinaigrette for a tart fresh flavor and extra body from the olive oil. 
Make short work of the nuts needed with the best nut chopper on the market.
What Makes a Good Peach and Spinach Salad
Good salads can only be made with good ingredients prepared with care. This might sound a little cheesy, but hear me out. Since most salads feature no cooking and minimal added seasoning, there really isn't a place for subpar ingredients or prep to hide. When it comes to making my grilled peach salad recipe, the obvious standout ingredient needs to be the peaches!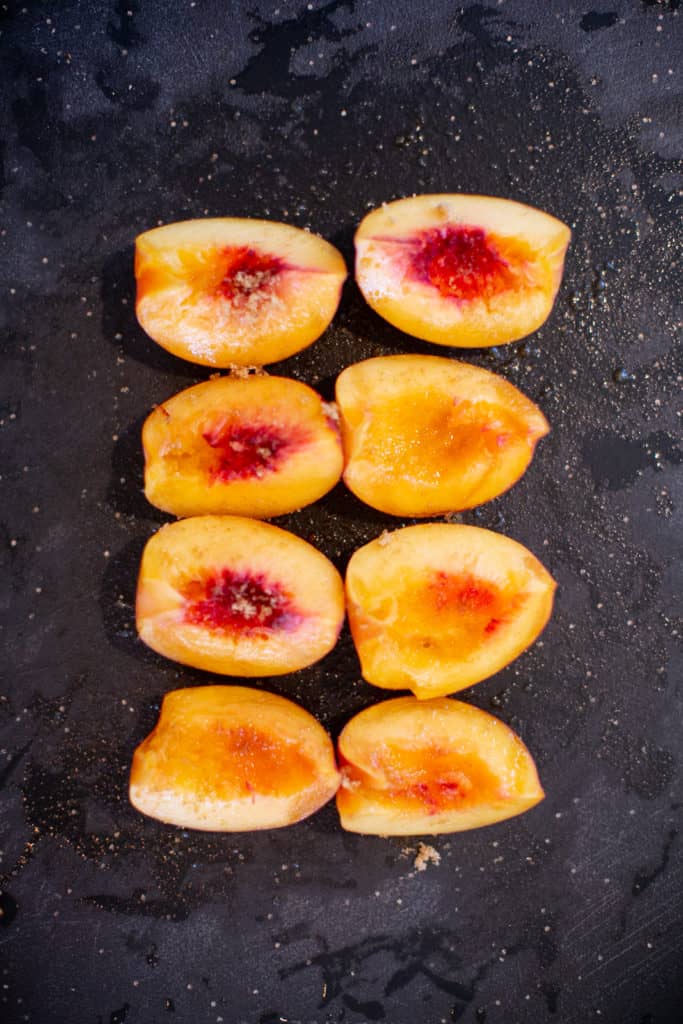 For a good example of what not to do, there is a famous Family Guy scene I love about pizza place salads and how they are always a disappointment. Feel free to take a quick break from cooking and watch that clip!
How to Pick Good Peaches
Picking fruit at the store can seem like a bit of a gamble at times, so I'll walk you through a surefire way to get it right. 
Here are the things you need to know to pick the best peaches: 
Understand Seasonality: There's a very good reason I still refer to there being seasons for fruits and vegetables. It's because that's naturally when they taste better. Ideal times for peaches is between July and September.

You can get them throughout the rest of the year, but will typically be underdeveloped. There's also a chance they will be a far off import, which means peaches are deliberately shipped under ripe to survive the trip.
Know the Right Color: For ripe peaches, you do not want any shades of green. No green spots, no green hues – green is bad! If there is still green in your peach it means you're too early and starches are not broken down yet.

Why is green on a peach bad? As you likely know, fruits change color when they ripen. Plants contain chlorophyll, which I see as green. 
Chlorophyll is used to make starch in the plant (food banks for the plant). As the plant reaches maturity, it doesn't need starch anymore (it needs sugar). It stops producing chlorophyll and breaks down the starches to sugar, which also releases water from the cells. 
What you end up with is red fruits that are sweet and juicy, and this is how you know the fruit is ready to eat. 
Identify Sweet Aromatics: Most ripe fruits have a clear and distinct smell, and peaches are no exception. If you hold the peach up near your nose, it should smell sweet, floral, with a tiny underlying musk as well. The more intense the smell the riper it is.
Feel It: The peach should feel soft but not mushy. If you press lightly with your finger, it should give without leaving a serious indent or break any skin. That said, please check everything else on this list first. If you aren't buying the peach, be considerate and don't bruise it for the next person.
The Challenge with Salads Containing Grilled Peaches
The main challenge with this grilled peach salad recipe is cooking the fruit thoroughly enough. With cooking, you want to release the juice and sugars and develop caramelization without turning the fruit to mush. I recommend cooking the peaches slowly to prevent burning the sugars and giving you easier control of the texture.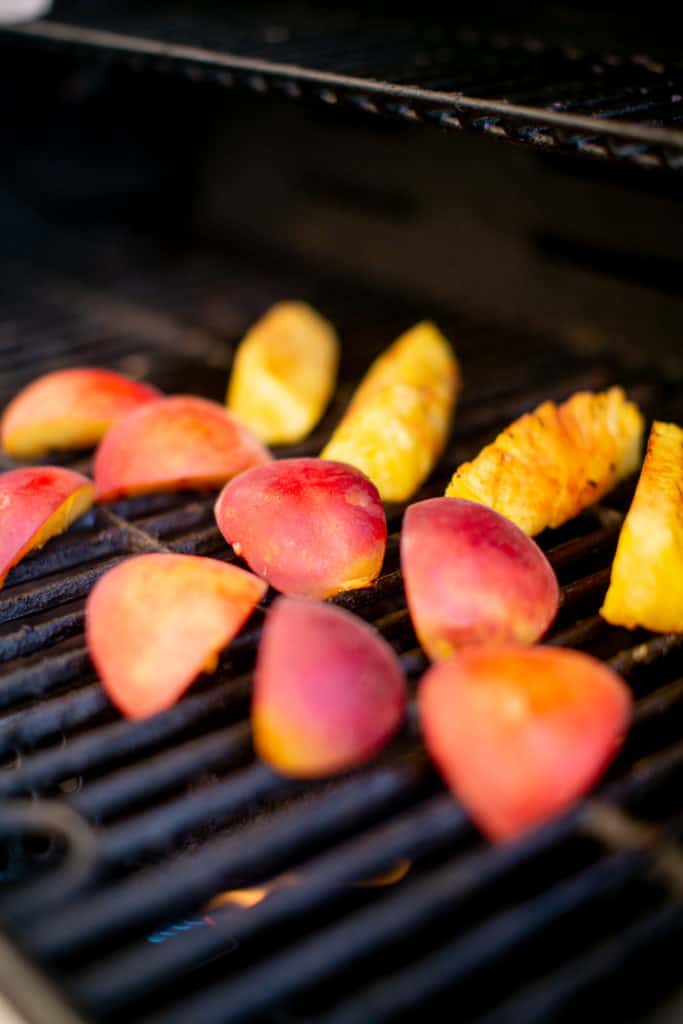 As a quick tip, if you cook the peach and it squishier than your thumb, it's overdone. 
The other main tip is to let the fruit completely cool off before integrating it into the salad. Trust me, you do not want your grilled peaches cooking your spinach, melting your feta, and separating your dressing! If you are making the salad in a hurry, place the peach slices in the fridge for a few minutes after they come off the grill before mixing them into the salad.  
Flavorful Substitutions
I'm going to give a big list of ingredients for this salad. If you don't have every single one, that is fine since there are no chemical reactions and processes that happen in a salad when you add or remove certain ingredients. I'm going to share some simple substitutions you can do for the following ingredients:
Spinach
Peaches
Feta
Walnuts
Substitute for Spinach 
If you don't want to have your entire salad base be spinach (or you don't want to use it at all), try arugula or butter leaf. 
Arugula will give your salad a much more bitter and peppery flavor. This works really well if you were also added some prosciutto into the salad! Butter leaf as a good alternative, as it is a fairly neutral-flavored leafy green.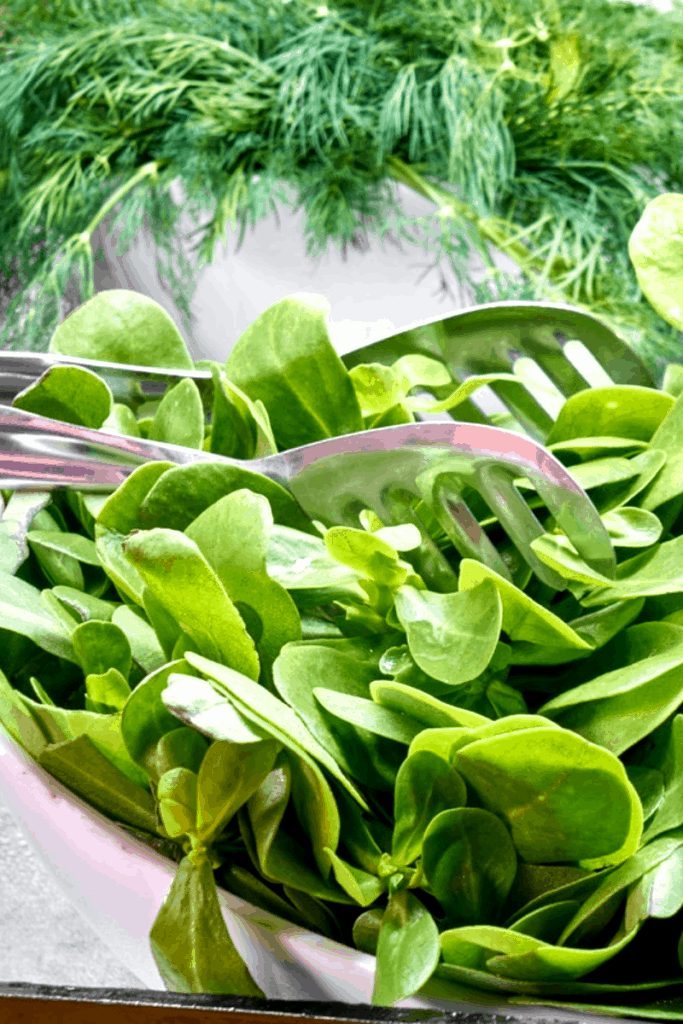 Substitute for Peaches 
The other big members of the stone fruit family are nectarines and apricots. Of those two, nectarines are a clear alternative for peaches, and apricots work in a pinch. Apricots will be drier, denser, more bold-flavored, and a bit muskier than the flavors found in peaches.
Substitute for Feta
An alternative to feta would be goat cheese for the salad. Goat cheese tastes really good in a salad like this because of its tanginess. That said, it doesn't really hold its shape, so visually it is hard to make it look as appealing as feta. Goat cheese also tends to stick together and clump up, so you might not get as good of a distribution of flavor.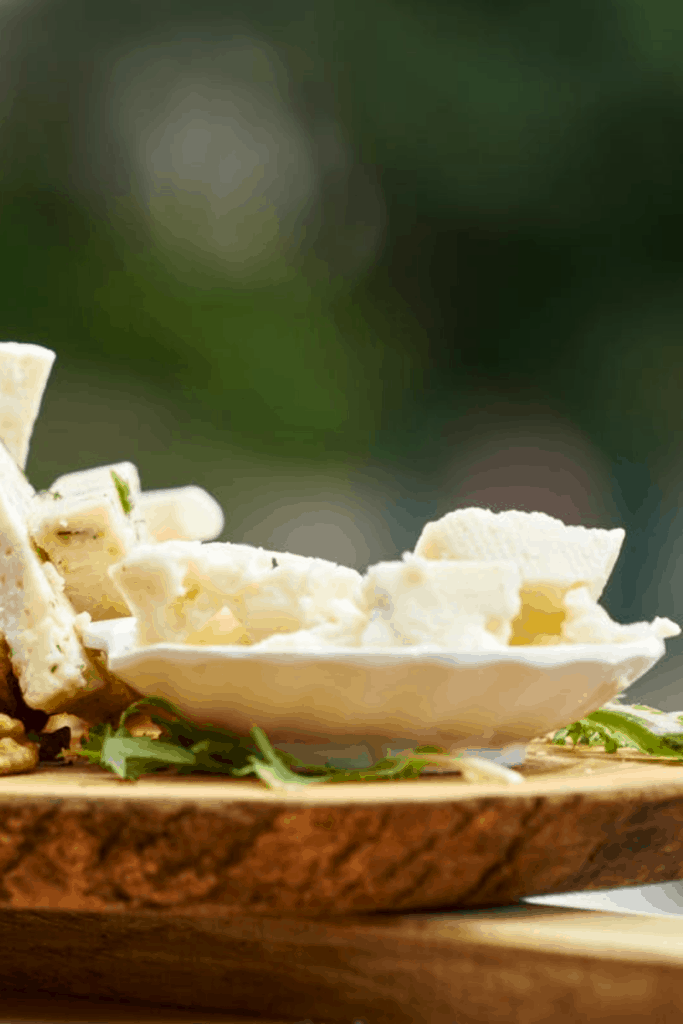 Substitute for Walnuts
When developing this recipe, and in practice, I often use pecans rather than walnuts. It really just depends on what I have currently stocked in the pantry or what nuts are looking good at the store. Both walnuts and pecans are going to give you a great added flavor to the salad. When possible, buy in the nuts in bulk rather than from a tin or pre-sealed bag. 
Pairing Ideas
Pretty much any summer-themed or grilled food goes well with this salad. Protein-based entrees pair particularly well since I don't have meat within the salad. Here are a few pairing ideas you can do with this peach and spinach with feta recipe:
Grilled chicken seasoned with lemon and herbs
Fresh tasting basil pesto topped over pasta
Whitefish
Tools Required
There are 5 main tools you will need to make this salad:
Gas grill
Chef's Knife
Cutting board
Shaker / glass and cling film / mason jar with lid

This is to mix your vinaigrette in. You will need to shake or mix pretty vigorously, so a good seal makes a big difference.

Salad bowl
How to Make a Grilled Peach and Spinach Salad with Feta
While there are several ingredients for this grilled peach salad recipe, it is very simple to make. There are only a few items to chop, so the total prep and cook time for the spinach salad is under 30 minutes.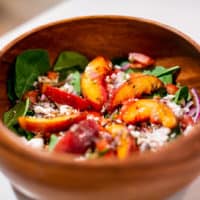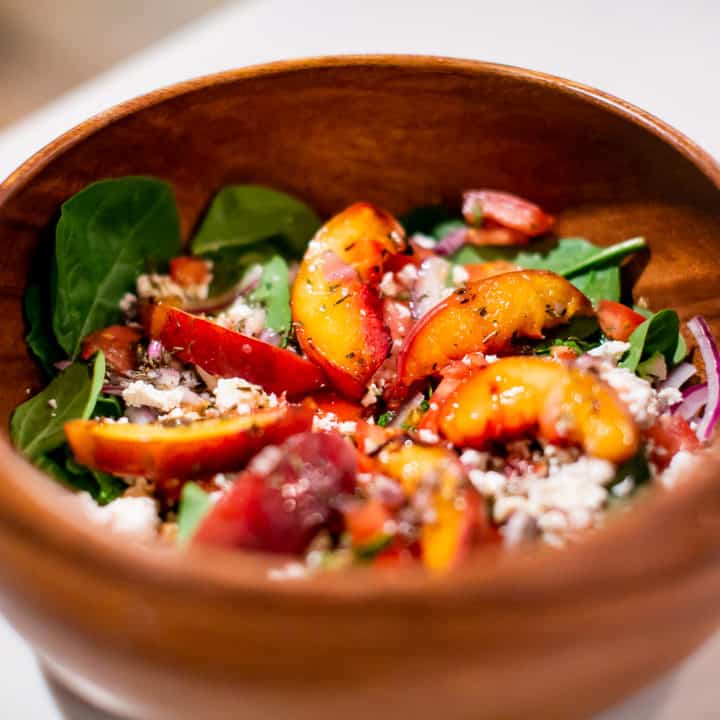 Ingredients
2

tablespoons

sugar

1

tablespoon

cinnamon

2

peaches

¼

red onion

6-8

ounces

spinach

(should be 1 bag or box)

½

cup

walnut

¼

cup

cranberries

¼

cup

feta

Fresh cracked black pepper to taste

¼

cup

orange juice

¼

cup

olive oil

1

teaspoon

Italian herb mix
Instructions
Grill Peaches
Slice the peach (think half-sized orange slices)

Mix the cinnamon and sugar in a small bowl

Dust both sides of the peaches with the sugar mix

Grill for 3-5 minutes on medium or until just softening

When done, immediately pull off and cool in the fridge
Make Salad
Wash and add spinach to salad bowl

Slice onion as thinly as you can and add to bowl. You want it to be between paper thin and the thickness of your fingernail. This greatly limits the raw onion flavor and sulfur taste per bite.

Add 80% of your walnuts, cranberries, and feta to the bowl. You don't want to add all of them before mixing your salad, so you can present with some garnish on top.

Make Vinaigrette. Add juice, oil, and herbs to shaker and shake vigorously to combine.

Add rest of walnuts, cranberries, and feta on top
Nutrition
Calories:
323
kcal
|
Carbohydrates:
22
g
|
Protein:
6
g
|
Fat:
26
g
|
Saturated Fat:
4
g
|
Polyunsaturated Fat:
9
g
|
Monounsaturated Fat:
12
g
|
Cholesterol:
8
mg
|
Sodium:
152
mg
|
Potassium:
460
mg
|
Fiber:
5
g
|
Sugar:
15
g
|
Vitamin A:
4324
IU
|
Vitamin C:
24
mg
|
Calcium:
138
mg
|
Iron:
2
mg