As an Amazon Associate we earn from qualifying purchases.
Sometimes you just want something clean, healthy, fast, easy, and refreshing. This green smoothie recipe is just that. Spinach makes it green and citrus and pineapple make it deliciously tropical. Add in some ice and you have a quick healthy pick-me-up perfect for a meal replacement or after-workout treat. 
What is a Green Smoothie?
A green smoothie is one that mixes leafy greens like kale or spinach with fruits and sometimes other vegetables to make a blended drink that hides the flavors of the greens. Typically, you would make a green smoothie to ensure you are getting enough greens in your diet without having to just eat foods like salads day in and out.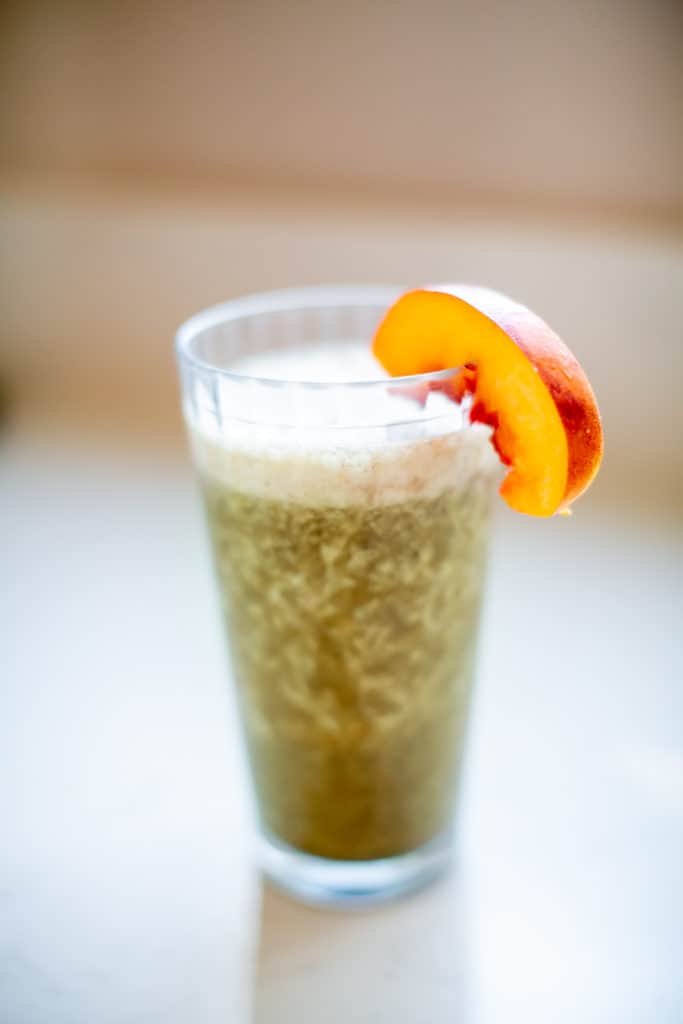 What Makes a Good Green Smoothie 
I am going to be using spinach in my green smoothie recipe. Spinach is mostly neutral-flavored. It has a slight iron mineral flavor and is a little sweet, making it an easy green vegetable to incorporate into a drink. Spinach is also a very vibrant green color, so it can make your smoothies look very unique. 
Finally, I'll be using strong citrus and tropical flavors to be the main palette for my smoothie. This will help to mask the mineral flavors from the spinach and give it a fruity taste instead.  
If you want to add protein to this, try adding a couple scoops of protein powder or Greek yogurt into it as well. My fiance shoots weddings, and she loves having this as she's packing up her flashes and prime lenses for weddings!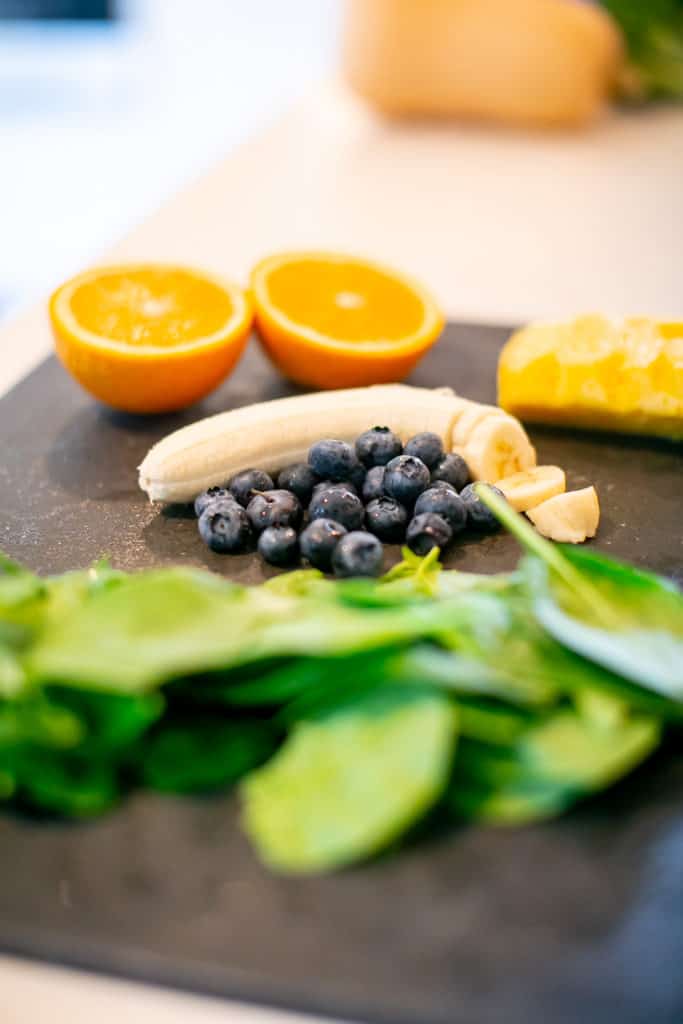 The Challenge with Spinach Smoothies
The main challenges with spinach-based smoothies are keeping the smoothie color green and not reminding the person drinking it they are eating vegetables. 
When it comes to the green color, the number one thing to remember is not to add anything red into your smoothie – no strawberries or raspberries. Red plus green equals brown, and a brown smoothie does not look very appetizing. Of course, if you're not concerned with the visual appeal of your smoothie, go ahead and add that bright red fruit into it.
Next, when it comes to texture, you want to blend in a very high setting. You want no trace of pieces of spinach – it should basically turn all the way into green juice.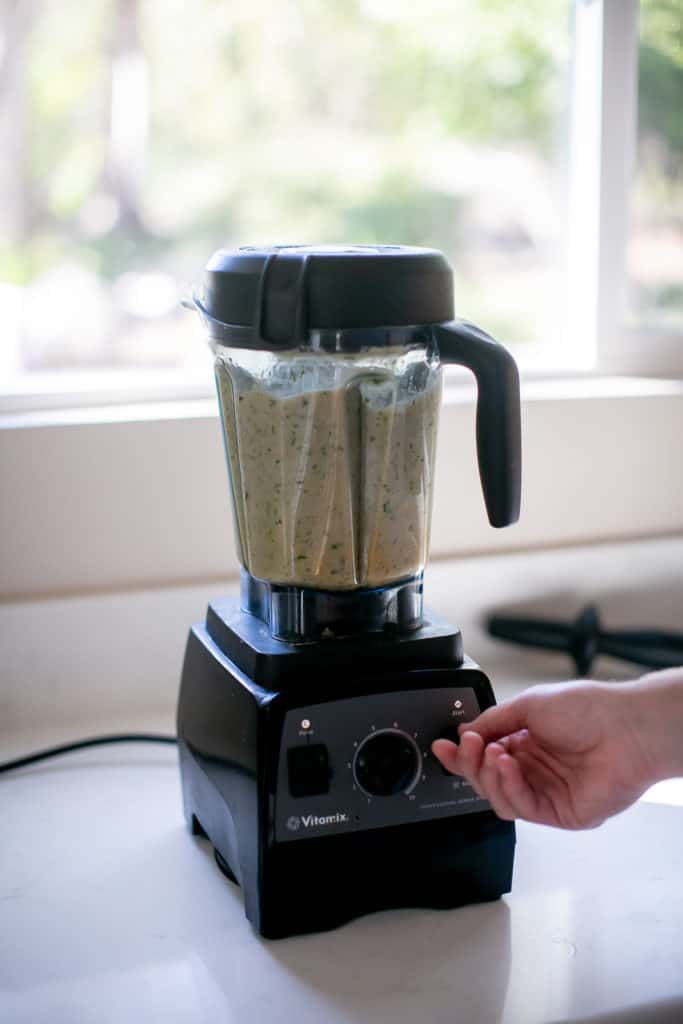 Tools Required
All you need is a high powered blender. I'll be using a Vitamix, and if you have a Blendtec or Ninja that will work fine. You definitely need power to both completely puree your spinach and to crush the ice fine enough for a smoothie. 
How to Make a Banana and Spinach Green Smoothie
My smoothie is going to contain 4 different fruits to give it a tropical taste. Pineapple is one of my favorite fruits (if you haven't tried out my grilled cinnamon pineapple recipe yet, this needs to be on your list!), so I'm going to use that as the primary fruit to mask the spinach taste.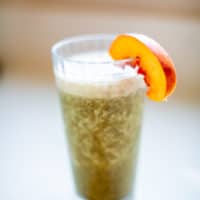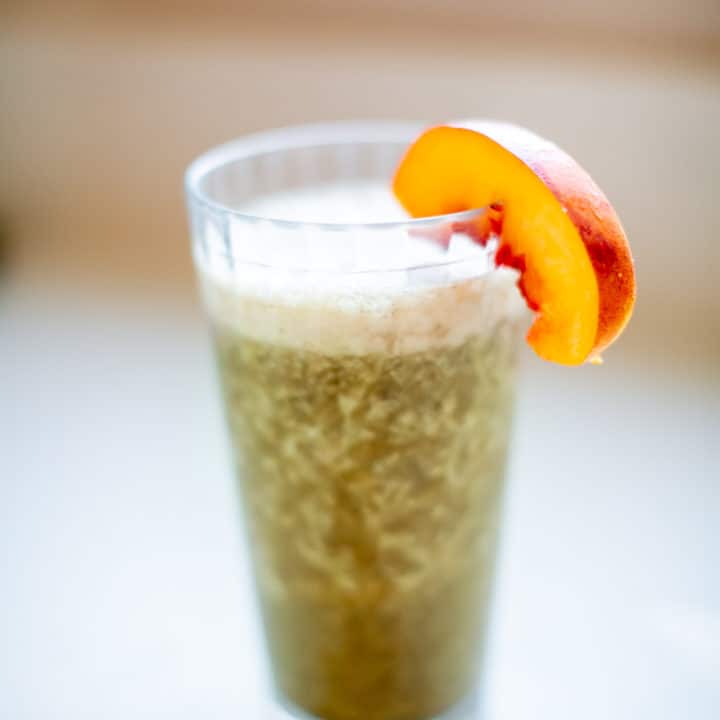 Ingredients
1

cup

pineapple

1

cup

spinach

1

banana

2

cups

orange juice

1

cup

ice

1

handful blueberries

optional
Instructions
Cut the pineapple

Wash blueberries

Peel the banana

Measure out spinach

Add pineapple, blueberries, banana, and spinach to the blender

Measure juice and add to blender

Measure ice and add to blender

Blend on high until combined
Nutrition
Calories:
209
kcal
|
Carbohydrates:
51
g
|
Protein:
3
g
|
Fat:
1
g
|
Saturated Fat:
0.1
g
|
Polyunsaturated Fat:
0.2
g
|
Monounsaturated Fat:
0.1
g
|
Sodium:
22
mg
|
Potassium:
881
mg
|
Fiber:
4
g
|
Sugar:
36
g
|
Vitamin A:
1989
IU
|
Vitamin C:
173
mg
|
Calcium:
59
mg
|
Iron:
1
mg