As an Amazon Associate we earn from qualifying purchases.
During fall and winter spaghetti squash is easily found in your local market. While this might seem a bit intimidating to the beginner foodie, spaghetti squash is actually one of the easiest things you can cook! Maybe even easier than the pasta it replaces. 
What is a Spaghetti Squash?
Spaghetti squash is a yellow oval shaped gourd with flesh that turns into pasta-like strands when cooked. Spaghetti squash keep for weeks and can be found pretty much year-round in most grocery stores. They will be most plentiful and ripe during the fall and winter months.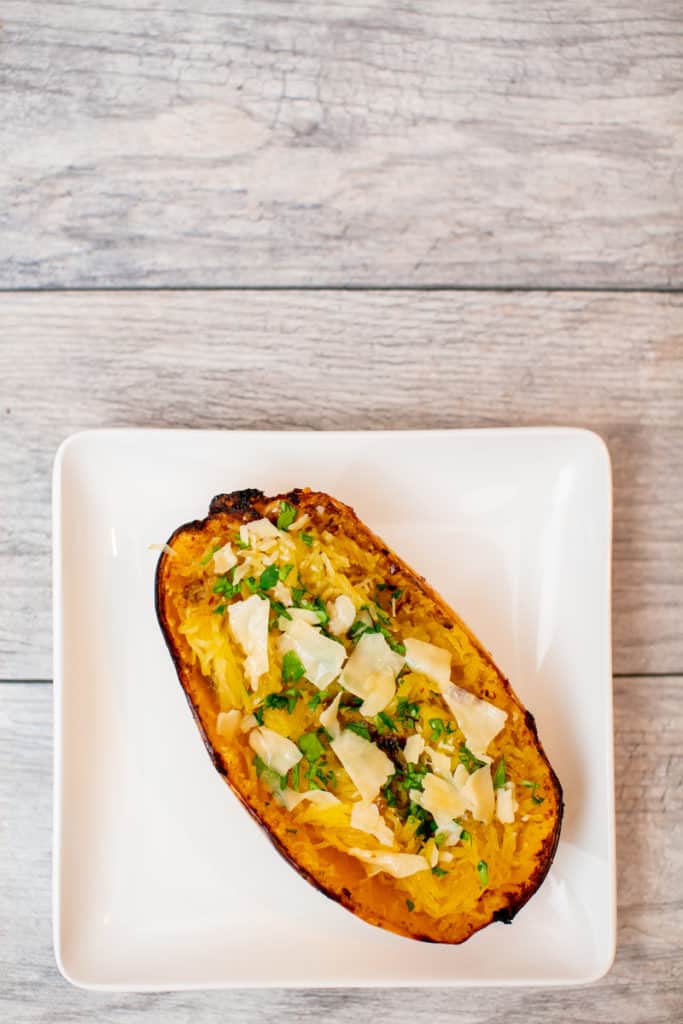 Microwave vs Oven Baked Spaghetti Squash
I have always been a fan of microwaving my spaghetti squash because of how fast and easy it is. That said, there are many people claiming that the oven is the only way to go when it comes to cooking this squash. For this recipe, I decided to do both methods to see if the extra work and time in the oven is worth the effort. 
My Approach
After cutting the spaghetti squash in half lengthwise, I seasoned both sides the same way. I kept it simple with olive oil, salt, pepper, and a little red pepper. From there, the test of microwaving vs oven baking began!
One half of the squash went into the oven at 400°F. I had it open side down for 40 minutes, followed by open side up for 20 minutes. 
The other half went open side down into the microwave in a bowl with 1 inch of water and topped with cling film for 12 minutes. 
The Microwaved Spaghetti Squash
Obviously, the microwaved squash was done first, but it isn't quite as fast as you'd think. Microwaved squash comes out extremely hot. After it came out of the microwave, I waited a good 10-15 minutes for the steam to die down before shredding it with a couple of forks. 
Overall, the texture is perfect and the flavor is primarily that of the squash itself.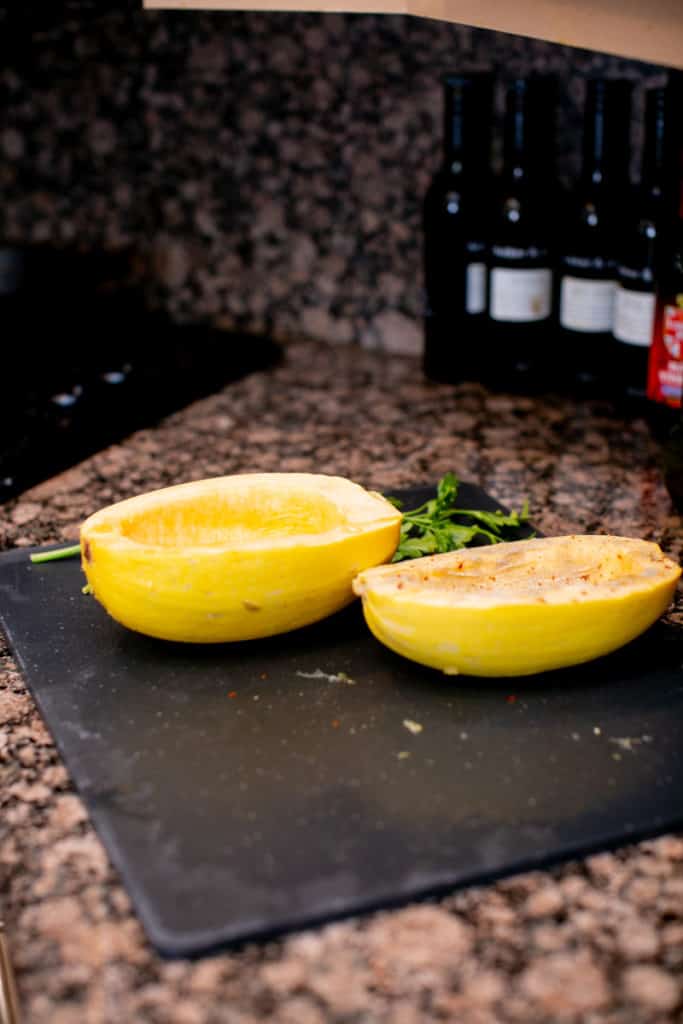 The Oven Baked Spaghetti Squash
The oven squash took longer for the initial cook (about 60 minutes). What I really liked was that it developed a nice crust and had a nuttier earthier flavor to it. 
The issue with the oven outside of the cook time is the flavor intensity. If you are cooking a half squash, the flavor is really slight, because so little surface area is exposed to the heat. Most of the spaghetti squash is not seasoned and not crisping up. This means that besides the very top part of the spaghetti squash, it is cooking almost identically to the microwaved version. 
I should note, if you take the time to cut your squash into rounds rather than halves, you will increase the surface area to volume ratio. Cutting the squash is the most difficult part of preparing it, and depending on what sauce you are making it may not make any difference. 
The Challenge with Spaghetti Squash
The biggest challenge is definitely cutting the squash. The skin on a spaghetti squash is very tough. You will want a sharp, sturdy knife to cut it. Consider even sharpening or honing your knife prior to attempting the cut. If your squash is particularly round, you can put a dish towel under the squash to help stabilize it. 
Next, it is really important that you let the knife do the cutting. Do not just push down into the squash. I recommend that while your goal is to cut it lengthwise, it is easier to start the cut near the non-stem side and work your way to the stem. This is because the less cross section you need to cut through, the less friction there will be on your knife.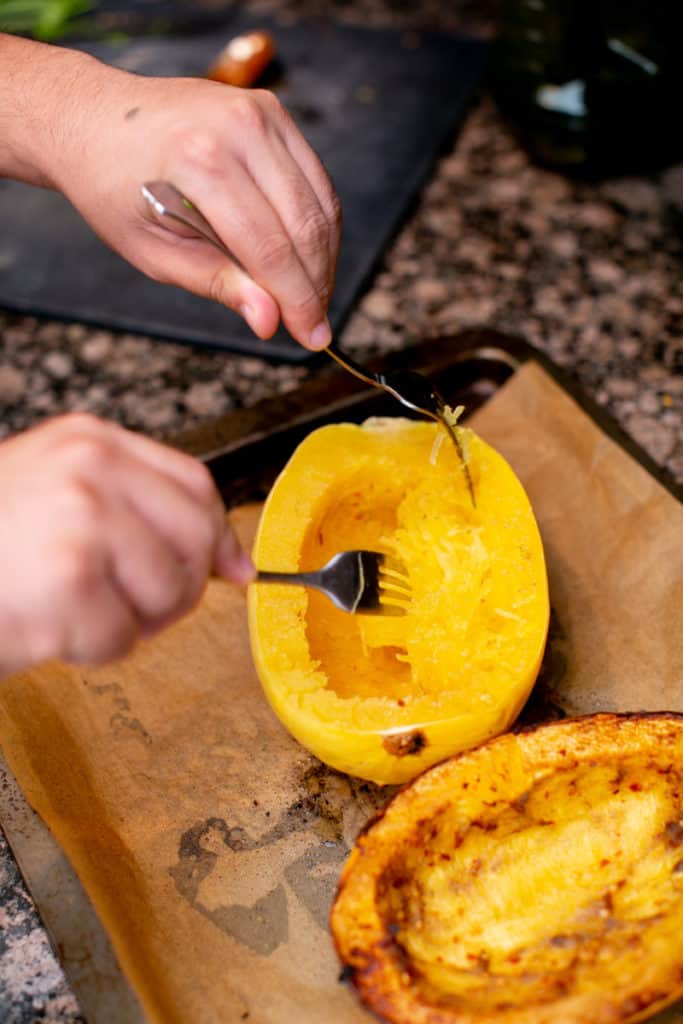 Flavoring the Spaghetti Squash
The sauce or preparation you are aiming for is a big factor in if oven baked is going to make sense for you. Most sauces I prefer are quite flavorful and would naturally mask or downplay any real difference in the squash cook. 
For example, if you are planning for a rich garlic alfredo sauce, a robust tomato sauce, or a hearty bolognese sauce, you are unlikely to taste the positive effects of oven cooking. 
Conversely, if you are doing a simpler preparation like olive oil, cheese, and herbs, the extra nutty flavor will be able to shine through when using the oven. 
As a rule of thumb, if you're planning to do a light seasoning or coating, use the oven. If you're planning to cover the squash in a sauce, you can microwave the vegetable.
Tools Required
For both spaghetti squash preparations, you will need a good sturdy knife. 
For the oven prep you will want a baking sheet lined with parchment paper or aluminum foil. For the microwaved prep you'll need a large deep bowl and some cling film or saran wrap.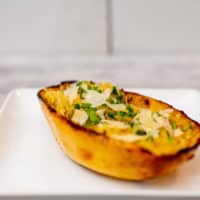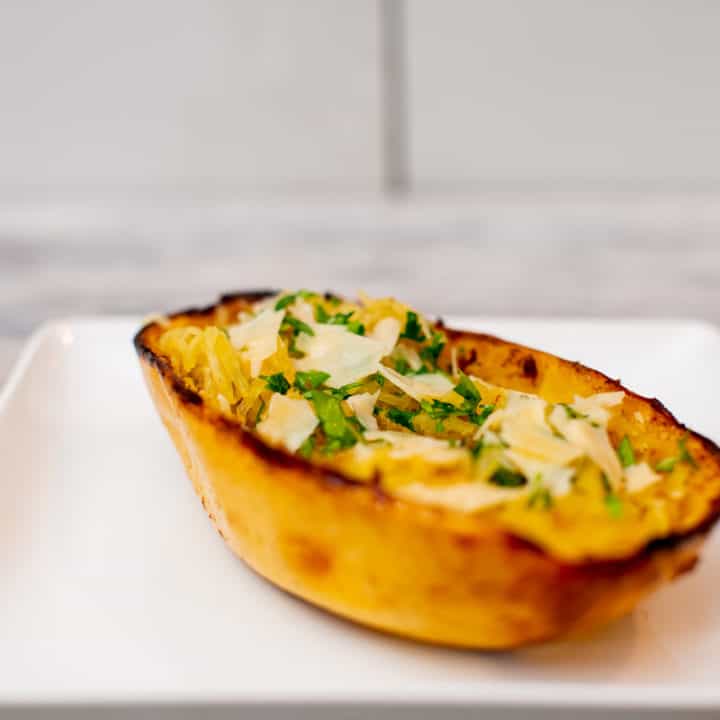 Ingredients
1

spaghetti squash

4

tablespoons

olive oil

Salt and pepper to taste
Instructions
Cut squash lengthwise 

Add 2 tablespoons olive oil per side to the opening

Add a pinch of salt and pepper per side to the opening

Spread the oil and seasoning over the open sides of the squash
Oven Baked Spaghetti Squash
Preheat oven to 400°F

Place cut side down onto a parchment lined baking sheet

Bake for 40 minutes at 400°F

Flip over and bake for another 20 minutes

Take out of oven and shred with two forks (be careful not to touch the squash with your hand when it comes out as it will be hot)

Sauce and serve
Microwaved Spaghetti Squash 
Place cut side down into bowl with 1 inch of water

Seal bowl with saran wrap or cling film 

Microwave for 12 minutes 

Let it cool for 10-15 minutes

Shred with two forks (careful not to touch the squash, as it will still be hot)

Sauce and serve
Notes
If you do choose to use the oven (though overall, I recommend the microwave method), your cook time will be 1 hour rather than 30 minutes.
Nutrition
Calories:
199
kcal
|
Carbohydrates:
17
g
|
Protein:
2
g
|
Fat:
15
g
|
Saturated Fat:
2
g
|
Polyunsaturated Fat:
2
g
|
Monounsaturated Fat:
10
g
|
Sodium:
41
mg
|
Potassium:
261
mg
|
Fiber:
4
g
|
Sugar:
7
g
|
Vitamin A:
290
IU
|
Vitamin C:
5
mg
|
Calcium:
56
mg
|
Iron:
1
mg